Moldova through the eyes of the world's travel bloggers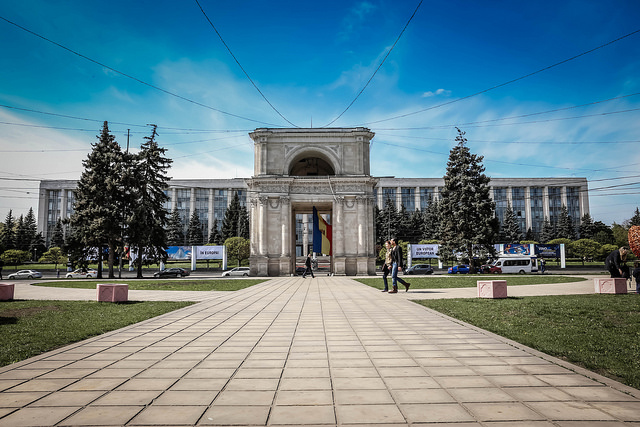 It seems to be a "terra incognita" for most travellers in the world. Republic of Moldova is never put in the top of the dream travel destinations bucket list. Very often, it is overlooked or ignored by tourists. Basically, it's called the least popular European destination. But, is the situation really a hard row to hoe and Moldova doesn't possess any touristic charm? Or maybe we are talking about a not well-known country that hasn't developed yet its entire potential? We could figure it out by checking out the travel posts of some popular bloggers that managed to visit Moldova.
First, any travel itinerary that includes Moldova mentions several important stops: Chișinău – the capital of the country, Orheiul Vechi – the most popular destination of Moldova where every tourist is driven to, and the famous wineries – the treasure of the country each and every citizen is proud of. Certainly, every traveller that was in Moldova has seen all these places. Still, perhaps they discovered something more and went beyond the conventional touristic brochures' recommendations.
"I'm going to make an embarrassing confession. Until recently I couldn't point to Moldova on a map"
Kristin Amico is a travel blogger from Boston, US that, together with a team of curious fellows, strolled around the cities and villages, danced and tasted local food, learned about the complicated history and made new friends during her visit in Republic of Moldova in 2017. "It may take a little effort before locals warm to you, but they will. A conversation over a cup of strong coffee or a shot of local brandy and you'll have a friend for life." mentions Kristin in her article.
Among the Kristin's favourite experiences were the lunch at the home of the most popular percussion-playing grandmother in Moldova, Lidia Bejenaru, the shopping at "Piața Centrală", the city's main outdoor market, and the tortuous guided tour in the Mileștii Mici huge cellars. She was surprised by the taste of the home-made snacks with sunflower seeds and nuts available at roadside stops, and enjoyed the local "Plăcintă", a savory pastry filled with salty cheese or meat.
"There aren't a lot of visitors to Chișinău, or Moldova, but perhaps that's exactly why you should visit."
Richard Collett is a traveller and freelance writer from the UK. He writes travel blogs with a dash of journalism and takes photographs along the way, as he mentions on his website called "Travel Tramp".
In 2016, he visited Chișinău, "the inelegant, yet chaotically transfixing capital of a small state at the edge of Europe", as he described it. Richard didn't see any other tourists around, but this fact didn't upset him at all. He is a travelling hippie, searching for places that usual tourists don't visit, abandoned places and countries that don't exist.
In Moldova, he discovered the Stalin's paranoiac reminiscence of running trains on a separate gauge to the entire central and western Europe, took a tour to the monumental socialist statues in the capital while enjoying the tiny fares for public transportation, and had the chance to glance at the "last surviving haven of the Soviet Union" – Transnistria. "This is one of those regions the Foreign Office advises against all travel to. Moldova doesn't want anyone going there. There are no embassies, there's no outside help if anything goes wrong. Entire armies are lined up on every side of the river, just waiting for something to kick off. This is the darkest of political black holes, a place accused of gun running and drug smuggling. And I didn't even speak a single word of Russian." At the end of the day, crossing the Transnistria's border turned out to be a shockingly easy process. Roaming on the streets, he couldn't miss the tanks and armoured vehicles at every check point ready to follow orders, the proud and nostalgic display of Lenin's bust, and the strong taste of the 10 years local cognac. "For a country that doesn't exist, they sure know how to make good, strong liquor."
"It's not the trip for beautiful places, it's for the experience!"
Kamila Napora is a Polish solo traveller that adventured to take the road to a lot of countries. She finally made it to Moldova out of the clear blue sky after her flights to Balkans were cancelled.
So, she took the chance to feel the vibe of the place and almost sneaked into the abandoned Chișinău circus, had some local-produced kvas and artisan roast coffee, and remembered her childhood while inspecting the socialist architecture. "You will not find beautiful architecture or exciting attractions there, but still I really enjoyed my visit to Chișinău and I think it's worth to spend at least a day there" she notices in her article about Moldova.
Of course, her trip wouldn't have been complete without a short escape to Transnistria.
"The thing about Chișinău is you can't help but be taken on a completely random journey while you're there. That's when you really get under the skin of the place."
Macca Sherifi, a travel blogger, photographer and presenter that has the travelling in his genes, was born in Jordan and was carted from a young age by his parents to the most exotic countries of the world.
Macca describes on the blog he writes the highlights of his experience. Among his top five things to do in Chișinău, he recommends wandering in the National Museum of History, visiting churches and, especially, doing something really random. "There are a number of random festivals in Chișinău, and if you're staying for a few days it's almost guaranteed there will be something on."
"It is definitely a different world here."
Geoff Matthews and his wife Katie are a Canadian couple who can't stop travelling. They also made a journey to the "tiny landlocked country that seems kind of 'left behind' by the rest of the world" – Moldova.
Just like the other tourists in Moldova they were trying not only to explore the country, but also to feel the atmosphere of the places they went to. Therefore, in order to catch the glimpse of the local culture, the couple decided to head to Trebujeni: "a sort of 'open air' museum complex of ruins and ancient monasteries in caves," as they heard about it. "A little over an hour later we were on the side of the road, in the middle of nowhere.
Outside of the capital city, Moldova really is like stepping back in time." Certainly, they were astonished, and how could one not be? The Orheiul Vechi area was huge, there were no clear direction signs and the local people proved to still be living in the era when there really was no farm equipment.
"The one thing I never expected was to fall in love with Moldova."
Leyla Giray Alyanak, a perpetual expat born in France and an inspiring woman, travelled to Moldova in "a bit of funk". Leyla already heard from the others that it's boring but was ready to see everything with her own eyes. Just like the majority of the tourists coming to Moldova, she took the train from Romania and, of course, she learned the way the wheels were changed on the train – "This is not a quiet event. The existing wheels are unfastened and rolled away, and new wheels take their place, a sort of Communist industrial dance with geopolitical undertones."
Even though the travel by train was rather exotic than pleasant, it would lead Leyla to some unexpectedly interesting experience. She had a breath of fresh air in the Chișinău's parks and was really amazed to discover wi-fi and electrical outlets installed in the city centre, walked along the flower market to nose out their perfume, and enjoyed some local food in the restaurants and cafes. Leyla even drove around the countryside and experienced a rudimentary form of agritourism. "If you'd rather drive than take a local bus or taxi, I'd go for it. You can head north to some of the smaller cities, hunt for monasteries, or even travel south to Gagauzia."
In her article, she touches the main facets of the economic, cultural and social contrasts: "This is a country of extraordinary diversity and just when you think you've understood a thing or two, another layer of complexity appears. You'll find fast cars and snazzy shops in the capital, but in some rural areas the poverty is shocking." Still, she expressed her willing to come back one day: "Nothing will take away the fact that it is one of the most interesting countries to visit in this region, and certainly one of the most welcoming."
Conclusion? Well, all these travel bloggers, as most of the tourists coming to Moldova, had lowered expectations before visiting the country. They were told that it's a poor country with no fascinating natural attractions or sumptuous architecture, with a huge social gap and a couple of shady autonomous regions on its territory. That's right. Moldova is certainly not a destination were the tourism is flourishing. Yet, all these people expressed a special excitement about several aspects: the assortment of local food and wine, the diversity of local culture and the special aura that covers some post-soviet places. This is what Moldova has now and, maybe, there is no need to reinvent the wheel. With a proper "wrapping", all these things could make Moldova a unique place for visitors.
Featured image source: wandertooth.com
Stories from Diaspora / Irina Madan: "I live between two worlds and I try to bring them together"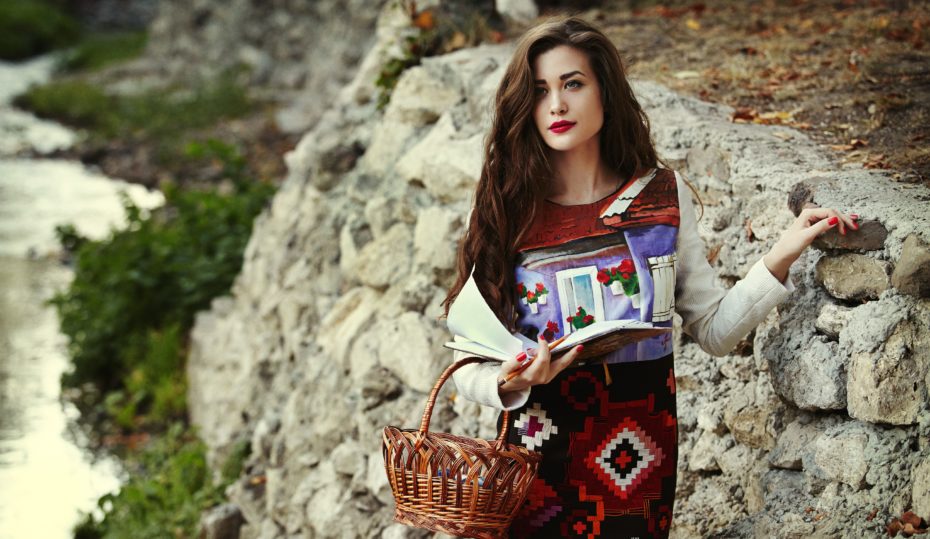 It's time for a new story from Diaspora – the series of articles meant to demonstrate once again that there are so many exceptional people from Moldova who can move mountains even though they are far from their homeland.
This is a story of a dedicated and extremely creative woman – Irina Madan who gave a new definition to painting. She blends fashion with art painting and spices it up with traditional ornaments brought from Moldova. Each of her works is a unique masterpiece.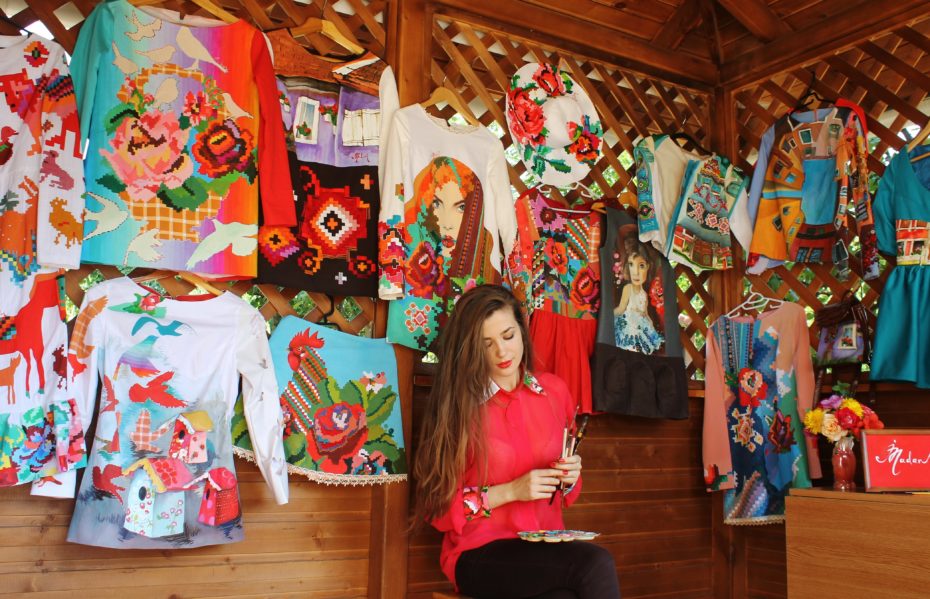 About the path to achieve her biggest dream
Irina is passionate about art and fashion design since her childhood. That was the moment when her talent started to crystallize. "I remember my favourite activity back then – drawing and making dolls' clothes," recalls Irina. She always wanted to learn professional painting but was given this opportunity only at the age of 19, when she took her first painting course in order to prepare for the entrance examination at the Academy of Arts in Chișinău. "The art education offered me the possibility to fulfil my childhood dream and showed me the path I want to follow," she says. During the 5 years of activity, she managed to accomplish a lot of her dreams and tried to enjoy every step to her biggest dream.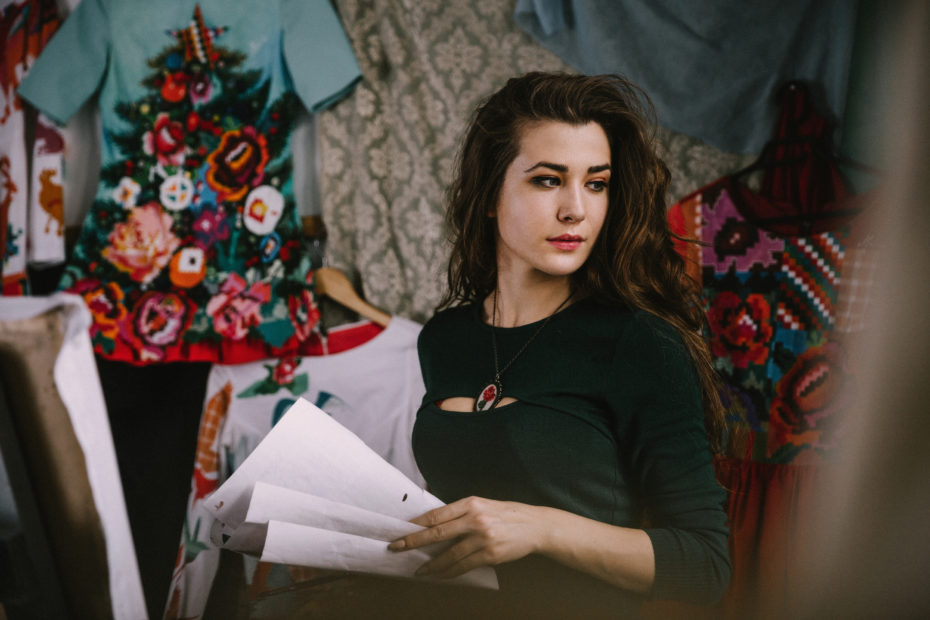 "I dream of having my own fashion house, go to the street and see happy people dressed in my painted clothes. I want paintings to be dressed all over the world."
About leaving home
It wasn't easy to leave Moldova and to move to San Diego, a city located in California, the Unites States. "I faced many difficulties in the US, but there were beautiful things as well. Every day is a new challenge as one must start it from scratch," states Irina. "San Diego is a truly artistic city and I am glad that I can live here." A young artist like her manages to make a living by selling art work, but at the same time, there are many other possibilities for employment.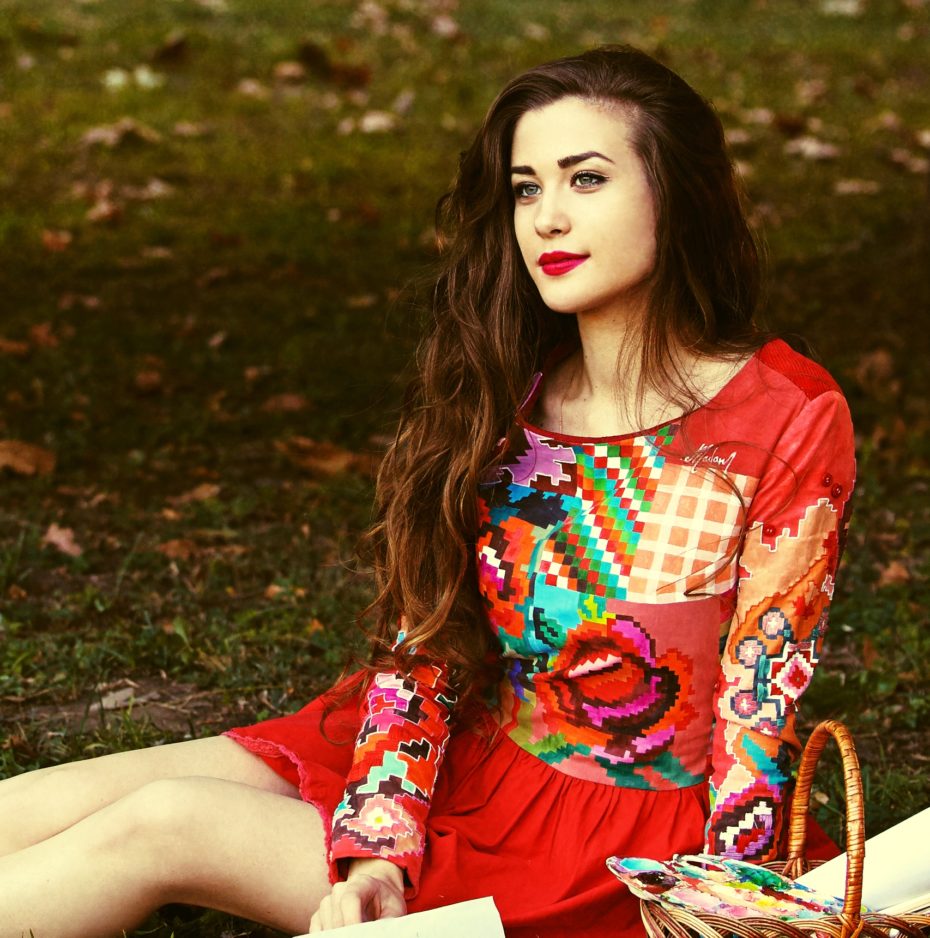 According to Irina, the hardest thing in the adaptation process is to cope with the internal struggle, not to surrender to the obstacles. "A part of my soul remained in Moldova because that is the place I was born in and that is the place where my dearest people live. That makes me think of home and miss it a lot," Irina says. She returns home every half a year.
"I really wanted to make my dream come true at home, but from the inability to do it, I had to leave."
Irina believes that a person that lives abroad can contribute to the well-being of his home country by promoting its values. "Most Americans do not know where Moldova is, although in California it happened several times to meet people who had heard about our country and had known more details about its history," declares Irina. The thoughts about Moldova offer her peace of mind. "I always try to emphasize the beautiful things about my homeland. Moreover, I feel proud to represent Moldova through my creations that show how wonderful my country is," Irina states.
About her works
The idea of painting on clothes came in 2013 while Irina was working on her bachelor's graduation collection. The source of inspiration for her first collection was Venice – the city that helped our protagonist discover her vocation. "I did not know that I was going to create a hand-painted collection. I was sure that I won't find such fabrics in the regular shops, so I started to produce it myself by painting it," mentions Irina. In the summer of the same year, she obtained her bachelor's degree in fashion design. At the beginning of autumn 2013, Irina began to create custom-made clothes and continues to do it.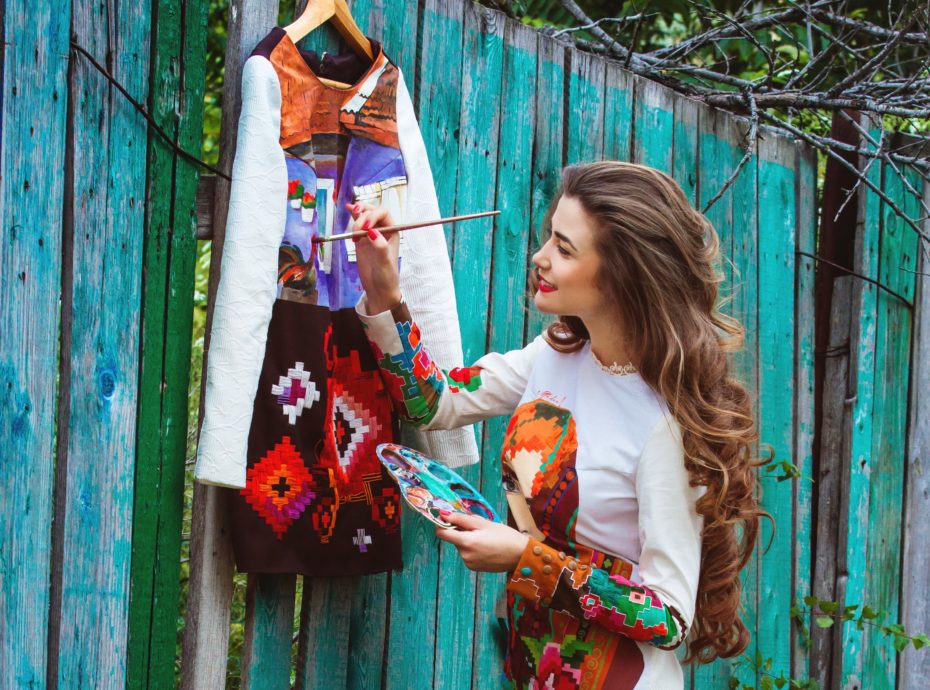 The today's stimulus for Irina's creations are her own feelings. "I'm trying to play with colours and tell a tale through each of the paintings on the vestments. I am also inspired by artistic and vibrant places from nature, and by music," specifies Irina. She never looks into the works of other artists because that would be unconsciously translated into her creations. Thus, there would be no room for originality.
"I think we can create trends by ourselves because what comes from inside, characterizes us. Every person is unique, and the inspiration can be found in nature and in our inner world."
A manually painted dress hides a large amount of work and emotions behind it. The entire process lasts for two weeks on average and begins with shaping the idea. Then, the composition is sketched on a piece of white cloth. The next stage is painting. After the painting has dried, the clothing details are cut and the entire process of sewing a garment follows. "I have to execute the entire process by myself. Therefore, it lasts longer," says Irina. Yet, the result of her efforts and the fact that it is appreciated by people inspires and motivates her to create more. "There is no greater happiness for an artist than the appreciation of his creations," says Irina with a bright smile on her face. The works of Irina Madan won a multitude of international awards, including the 3rd place at the Top Designer Award Fashion Week in San Diego, in October 2018.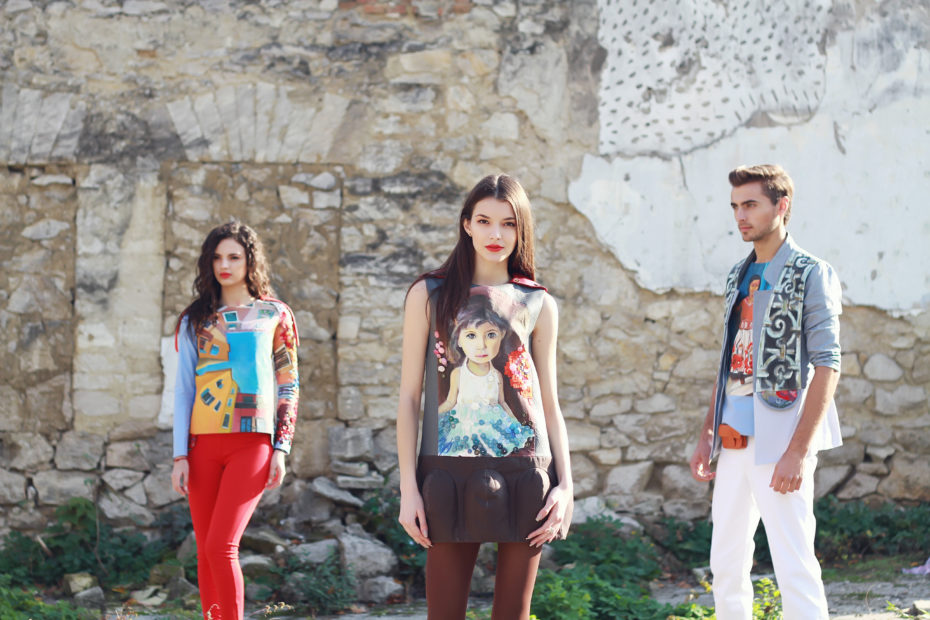 Irina's most precious work is called "Fata Moșneagului", a fantastic dress inspired by a Romanian fairy tale character – a hard-working and kind girl that managed to make her dream come true. "That is the work I would certainly never sell. I remember when I was at a presentation in London, in 2015, and a lady wanted to buy this particular dress. She was really insistent, but I did not sell it anyway. This dress reflects my personality and I have a spiritual connection with it," confesses Irina. Some of her works can be found here.
We are happy that Irina found her vocation and wish her all the best in the future. Her work springs from her soul and spirit and it deserves to be recognised.
More of Irina's works as following:
Photo source: personal archive
A new year – new electoral concerts and gifts. The tricks used by the Moldovan politicians before the parliamentary election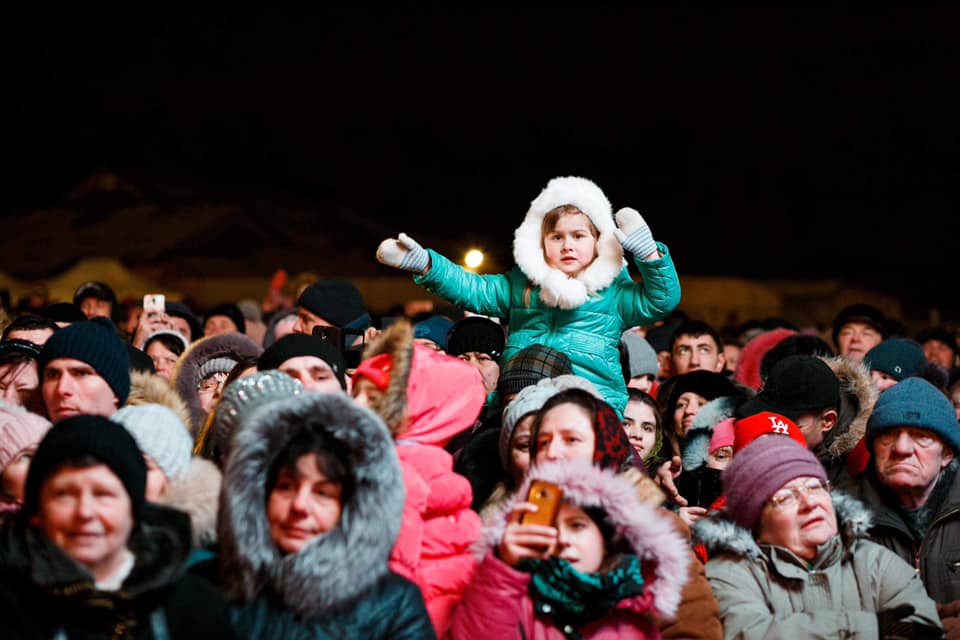 Beside the fact that the new electoral system is really tangled and confusing for the citizens who will vote on February 24th, it brings new elements of cheating, propaganda, electoral corruption and defiance of the electoral regulation. And that's only the beginning of the electoral period in Moldova.
The confusing electoral system
The parliamentary elections, in February 2019, will be held based on the mixed electoral system. That means that every Moldovan citizen will have to vote on 2 electoral lists: one list will include all the candidates from the political parties running for 50 places in the parliament, representing the national constituency. Another list will include the candidates for 51 places representing 51 uninominal constituencies, the lists being different for every uninominal constituency that, generally speaking, corresponds to the country's districts. That's already quite confusing, right?
The position of the Republic of Moldova in the top of countries by the Democracy Index, elaborated by The Economist publication, goes lower and lower from one year to another. Whereas in 2017 Moldova ranked the 78th in the top, it got one position lower in 2018, keeping the decreasing general trend since 2006 on.  In the Republic of Moldova, the democracy is deteriorating. This is what The Economist report mainly shows. It happens while the electoral concerts are organised, while people receive small amounts of money in order to protest for a cause they even can't name, and while the previously accused figures of the Great Bank Robbery in Moldova are running for the parliamentary elections.
The electoral tricks
In the first week of 2019, the candidates for the uninominal constituencies were started to be announced. Among them are some artists like Nicolae Botgros, a popular Moldovan musician and bandmaster, that decided to run as an independent candidate for the uninominal constituency representing the district Cantemir, where he was born. It wouldn't be a problem so far, as any person has the right to become a politician and to run for a place in the Parliament. However, Botgros gave a speech in Strășeni, another uninominal constituency, offering his support for a candidate from the Democratic Party (DPM), namely for Pavel Filip, the current prime minister of the country. Taking into consideration the above-mentioned fact, we could suppose that Nicolae Botgros, the independent candidate that may become a member of the parliament, will support the DPM party in the future as well. The more independent candidates support the DPM, the bigger the possibility that they will hold a majority government is.
One more example of the electoral tricks used during the electoral period is the appearance of a so-called independent candidate that has almost the same name as one of the candidates of extra-governmental opposition. Therefore, people could be confused when having to choose between Andrei Năstase, the leader of the Dignity and Truth Platform Party (DTPP) and Andrei Nastas, an independent candidate, registered on the same uninominal constituency. Both candidates' names will appear next to each other on the electoral ballot. It is hard to call it a coincidence, as on the same uninominal constituency nr. 33, which includes several suburb cities of Chisinau, runs Constantin Țuțu, the candidate from the DPM. Andrei Năstase, the DTPP leader, declared that it is not more than a trap for voters in order to divide the number of votes.
A similar situation was registered in 2016 at the presidential elections, when in the very last moment a new candidate appeared on the ballots – Maia Laguta, an independent candidate with the logo "MAIA" and had, supposedly, the role of distracting from one of the most important candidates – Maia Sandu, the leader of the Party of Action and Solidarity (PAS).
The expensive electoral concerts
But all of this seems like a drop in the ocean compared to the fact that such persons as Ilan Șor and Vladimir Plahotniuc will participate in the ellections. Ilan Șor was sentenced in trial court to seven and half years in prison for involvement in the Moldovan Great Bank Robbery. Vladimir Plahotniuc is one of the most controversial persons in the Moldovan politics that directly owns several media platforms and TV channels and was reported by the press as having undeclared assets.
Even worse is that their supporters seem to not care about that, saying the mind-blowing phrase: "Anyway, all of them steal. These guys, at least, share something with us as well." A detailed portrait of such voters is described here. The behaviour of the people that come to the Ilan Șor electoral concerts of hundreds of thousands of dollars, but don't care or don't want to know about the source of this money, as well as about the Șor's biography, can't be explained.
According to the second Promo-LEX monitoring report on parliamentary elections, at least 3 political parties (DPM, the Șor Political Party and PSRM) that registered their electoral candidates for the parliamentary elections organised  events that can be qualified as gifts during the electoral period. These include charity campaigns, New Year's Eve celebrations, concerts, festive meals and trips organised in the period between December 10th, 2018 and January 8th, 2019. Also, cases of involvement in electoral activities of charity foundations associated with certain political parties were registered. Out of 100 events qualified by Promo-Lex as being acts of electoral corruption, 42 were organised by the PSRM, 41 by the Șor Political Party and 17 by the DPM.
At least 7 moderators, 22 animators, 23 artists (including international ones) were involved in the respective activities. Promo-LEX estimated an amount of minimum 3,776,917 lei (almost 200 000 Euro) as financial means that brought political and electoral advantages but were not included in the financial funds reported by the parties.
Adding the declarations of the extra-parliamentary opposition leaders regarding the intimidation exercised on the parties' members and activists, the picture of the future election becomes depressing, justifying the aforementioned low Democracy Index in the country.
According to Petru Grozavu's declaration in one of the recent editorials in Ziarul de Gardă, "Vladimir Plahotniuc and the DPM will fight at the parliamentary elections not with Igor Dodon and PSRM, but with Maia Sandu, Andrei Năstase and the electoral bloc ACUM. They will seek any possible and impossible way to discredit them nationally and in diaspora, and to remove them from the list of Western sympathies. The 2016 scenario is repeated. What's new is that the DPM will try to exploit the anti-Russia and pro-American ideas as much as possible, in the context of the Russian-American tensions in the Black Sea. At least, this is what Andrian Candu did during his last interview for The Washington Times," declared Grozavu.
All of these happen while the Moldovan citizens are not interested in politics, are not willing to vote at the election but hope to live in a better country in the future.
Featured photo source: Facebook/The Șor Political Party
Stories from Diaspora/ Carolina Sclifos: "No matter how far away you are from home, if you are willing to contribute, you will find your own way to do it."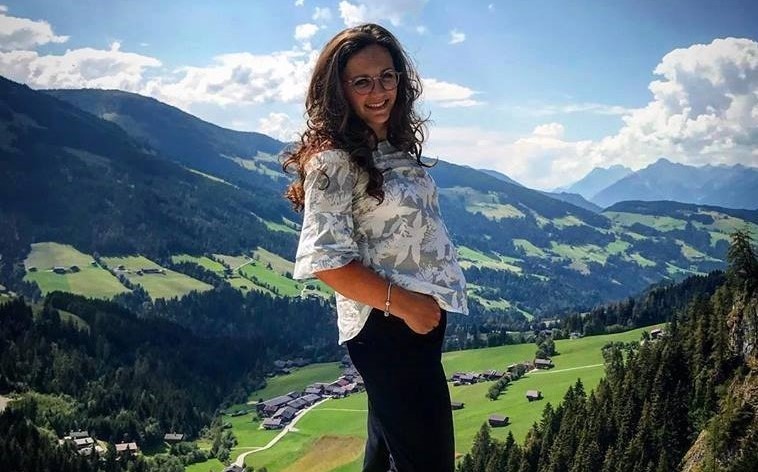 She calls herself a global citizen, being involved in international projects and aspiring to restyle this world. Her next dream – working in the UN. Her name is Carolina Sclifos – the protagonist of  the story from diaspora for this week.
About her beginnings
Carolina was only 12 or 13 years old when she started to be involved in extracurricular activities. It happened in Criuleni, the city in the Republic of Moldova where she is from. While dreaming of having the power to change her homeland for the better, Carolina was participating in volunteering activities such as debates on wide interest topics with local authorities or youth and community development projects.
Her weekends were scheduled for attending trainings, workshops and meetings at the Resource Centre for Youth she was working at, whereas her holidays were planned with projects and volunteering activities. This is where Carolina got her enthusiasm to be active and to inspire others for doing more. "All that time I had wonderful people next to me who contributed to my formation and development. Being enormously grateful to them, I consider it my own duty to contribute to the development of other young people, to tell them about the experiences I had, and to encourage their participation in their own communities," says Carolina.
That idealistic, tenacious, even though sometimes hesitant teenager has grown up into a fine, active and successful young lady that never gave up on her old dreams. Today, Carolina is part of the active youth, with a sharp critical thinking and an intense desire to find out new things. And that means, for her, to get out of her comfort zone, to accept new challenges and to continuously grow.
"I'm a humanist in my heart and my mind, and I want to dedicate my further activity to this cause."
About her studies
Being passionate about volunteering, youth policies and diplomacy, Carolina clearly knew in what direction she wanted to go. First, she graduated in European Studies from Babeș-Bolyai University in Cluj-Napoca, Romania. Then, she got her master's degree in Security and Diplomacy at the National University of Political Studies and Public Administration in Bucharest. "From 2011 until now I have studied and lived in four European countries. Each of these experiences was unique and very useful. I became aware of the importance of education and professional development. Even though I took a study break, I'm not giving up on the desire to move forward, hoping to attend soon a PhD in London," states Carolina.
In addition to her studies in Romania, Carolina earned an Erasmus scholarship twice and went for exchange studies to Prague, Czech Republic and to Bonn, Germany. "Another key element was to discover the importance of cultural interaction. As a follower of tolerance, solidarity and of other European values, I plead for the positive impact of diversity, as I know how much it contributes to the social development and progress," she adds.
About her job
When referring to the job she has, Carolina mentions that the European Union offers a lot of freedom combined with competitiveness, where one can't make it without clearly set strategy and objectives. That's what she did.
Carolina became a Young European Ambassador at the end of 2016. Since then, she has been involved in numerous projects, launched in the Eastern Partnership countries, as well as in the European Union. The projects were aimed at informing about the European education opportunities. "This experience combines two of my passions: involvement in youth policies, and the opportunity to advance in my job in the field of European studies, where I have graduated," our protagonist mentions.
"I do not even imagine having an office job with a simple routine. It is possibly because we have always had continuous challenges, cultivating the spirit of non-formal education and engaging in various activities."
Carolina's mission, as a Young European Ambassador, involves explaining how the European Union has contributed to her personal development and encouraging young people to follow their dreams and passions by accessing opportunities offered by the EU. "I like the fact that we can contribute to the activities of our network and we can do it remotely as well, through the content on social networks and communication in the online environment," Carolina reveals. The most rewarding about her job is that it takes her home. As she mentions: "in the period of 2017-2018 I visited Moldova within the project I work more than I did it in the period when I was a student in Cluj-Napoca and Bucharest."
About Moldova
In one of the most multicultural environments one could be, Carolina's mission extends to the way she spreads the word about her homeland. "The opinion about Moldova depends on the interaction with Moldovan people," says Carolina, "but sometimes you have to be ready to combat the stereotypes, if necessary, and explain that some news or general facts do not represent the whole picture."
As she lives in London at the moment, Carolina is proud to hear about Moldova from British people that have good friends in Moldova or know something about the Moldovan wines, sweets and hospitality.
Carolina knows from her own experience how a young person that left Moldova can still contribute to the country's development even being far from home. "During my studies in Cluj-Napoca, I was a member of an NGO for three years and promoted the involvement of students in the community formed there. While I was studying in Germany, I became a Young European Ambassador for the Republic of Moldova. My work included the promotion of our culture, the development of various social, economic or political projects and changing minds about Moldova," highlights Carolina.
Thus, the protagonist of our today's story is the person that found her own way of combining her passions with her job, and the need to return home and have an impact. We congratulate her for that.