Interview with Heritage director, Robert Ford: "A society investing in education lays the foundation for prosperity, peace and ability to face the challenges of the future"
What made you take up educational work? Give us your essential bio.
Like all good teachers, it was the influence of a number of great teachers I was fortunate enough to be taught by as a student that not only gave me a passion for subjects like History, Sport, Literature, Maths, Science, Art, Design, but also showed to me the transformative and aspirational power of learning and knowledge. The intellectual curiosity that was such a strong feature of my school and my university is something that has made my sense of the world and my place in it something I want to pass onto my students and my own children. This September it will be 25 years since I left university in York and began teaching at an incredibly inspiring international school in that ancient city in the north of England, and for my entire career it has always been an absolute privilege to work with young people and to work with school communities. Education is the ultimate public good and for any society having belief in young people and investing in education lays the foundation for prosperity, peace and being able to face the challenges of the future. I come from a working-class background in the UK, from the very beautiful border country of England and Wales, so I know the importance of identity, hard work, education and aspiration.
Connecting classrooms across the world has been such a joy to be involved with as a career and vocation. I have been involved with the UK government's outstanding world-renown organisation, the British Council, for nearly 20 years and have advised and spoken at conferences for schools, school boards and ministries throughout the world. In May of this year, I gave evidence in the UK Houses of Parliament to MPs and Lords about global education as only one of two school leaders to be asked to come to London. I have set up the International Baccalaureate in a number of international schools, advised especially in the USA, and established the group of schools in the South West of England as the first chair. I have contributed a number of articles and pieces for books on international education, leadership and curriculum to publications.
I am very proud of the four years I was principal of Wyedean School, the writer J. K. Rowling's former school, in the UK, where together with a brilliant team of colleagues, students and a wider community we transformed the school to be one of the leading schools in the UK, known for our innovation in digital, global, creative and sustainable learning.
In what way did Heritage and Moldova appeal to you and why did you accept the challenge of relocating and work in the local educational system?
I have worked with countries from Eastern Europe for a number of years, probably around 20, and one of my first successes was in the late 1990s and early Millennium, working with schools in Russia. It's always part of my mentality as a student of history and politics to see what we have in common as a continent rather than the artificial differences. I started working with educators and schools from Moldova about 6 years ago. I was really impressed by the students and teachers, that strong Moldovan commitment to education and the power of transformation and opportunity through learning. The high standards, especially around language learning, was something I envied where in the UK learning a second language is in such decline.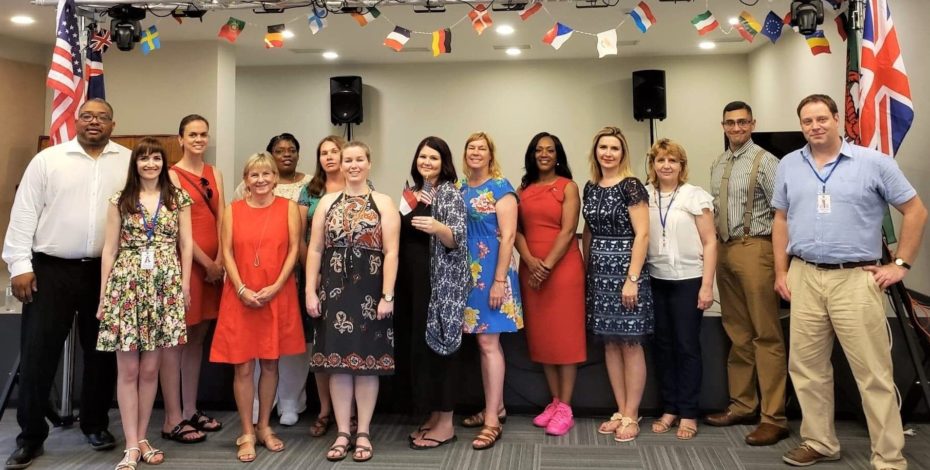 I knew Heritage International School from when it started in 2017 because of working with colleagues and students there on eTwinning projects and we were skyping between the UK and Moldova almost weekly. The vision of the founders to have a truly international school in Moldova appealed to me immediately. The impact of having a world-class school in the country and the development of future leaders is an incredible responsibility. There is a strong sense of duty from the founders in the vision for the school, especially at a time when migration, giving young people a stake in their country is vital and the question of identity and a globalised world is something our young people need to balance in their beliefs. It is similar to the national mission in countries like Ireland and Wales. Having a school committed to international education and international curricula can benefit everyone and it was a virtual no brainer not to work in such an organisation. It is a privilege to lead our fantastic school community.
What do you think is your role as the Director of Heritage International School and what is the school mission under your leadership?
Leadership can be interpreted in many ways, often in a school it is seen as a managerial role as opposed to a strategic leadership role. I have worked with school systems around the world where the national context often means there isn't really leadership in the organisation and therefore ideas, innovation and development of future leaders and teams doesn't happen, to the detriment of the organisation. I believe completely in people – staff and students. I am an ardent advocate of servant leadership, trust in people, developing people and teams, distributing leadership, humility in leadership and being prepared to own mistakes and to say when you are wrong. Learning only happens when we reflect on the experience and often the failures. My role is to lead the school community and be a visible sign of our international school ethos and culture, to use my experience and strategy to truly make Heritage International School an outstanding world-class school where students and potential staff are queueing to get in because they want to be a part of our success story. My role, now that the school is established and underway, is to take it to the next level and so we stand out as something good and decent in education for our communities and country, to be proud of the educational values and culture we represent.
Heritage has already taken its place as a prestigious international school and the only Cambridge School in the country. What are the directions for development at Heritage for the next school year in terms of academic work, curricular and extracurricular activities?
As we go onto our third year we need to consolidate as a school the great work we have made in the first two years. We are thrilled to have been able to recruit both locally and internationally, teachers who want to work in Moldova and at Heritage International School. We have to continue to define and shape ourselves as an outward facing school. We are not too far away from our new Lyceum starting and we are involved in discussions with the International Baccalaureate Organisation who want to support us directly in getting the IB to Moldova and this really would put us on the map in a network of 5000 of the very international schools around this world. The continuing collaboration in our wider global networks of schools and organisations such as the brilliant work we have with America House and the British Council, gathers pace and more sophistication going into the new school year. Our primary school is looking at the further development of the International Primary Curriculum with colleagues working with established partner schools in Romania and the UK. Our new student support centre is going to provide innovative pastoral care and developed approaches to student wellbeing, befitting an international school going into the 2020s. We will also be continuing with our focus on STEM and looking to bring into school more opportunities for Coding and Cyber education.
We want to also look at how we can engage our school in our local communities further and part of this is using our values in our "GO Heritage" social responsibility programme to support local schools and projects. The principal of Somerville College, University of Oxford, Baroness Jan Royall, has extended a personal invitation to our older students to spend time in Oxford University, this is the college Margaret Thatcher went to, and we will be taking the offer of the UK Houses of Parliament to visit Westminster and London. Making more opportunities such as these, that will transform lives is the name of the game in our approach towards the holistic curriculum. Engaging with the wider world from Moldova through these opportunities is not only the ambition of any international school but it is the hallmark of the very best. We are looking to the programme of outside speakers coming into Heritage International School to share the vast array of experience we have in our wider school community and part of preparing our young people for the 21st century world is not to have education in an abstract bubble.
What makes Heritage stand out and why should parents enrol their children in the school?
At Heritage International School, our education is lighting the fires of imagination, intellectual curiosity and opening ambitions and aspirations in our brilliant young people every day. There is nothing ordinary or mundane about our education here at Heritage. We have high standards of learning and the trust of a young person's education and development is something we don't compromise on as a school. They have one chance at education as a child.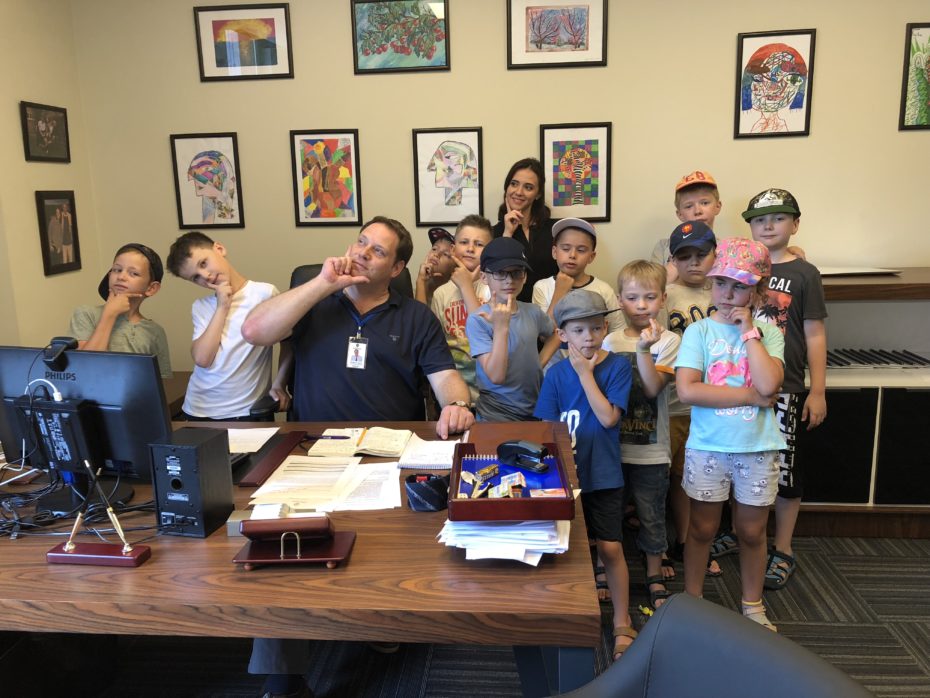 Open Day at Heritage International School is every day and my team and I invite any potential student and their family to visit our incredible school, meet with our staff and students and come to see the power of our learning and international education.  Come and see what we are all about.
If you want your child to be balanced, positive about school and enjoying learning, to be a global citizen and proud of their identity & community and to be able to study, work, live and access the world, then Heritage is for you. If you want your child to be stretched and challenged in their learning in a positive school culture and respectful learning environment that allows them to progress through educational experiences, to study in the very best of international curricula, then our school is for you. If you have a high ambition for your child to be immersed in a school with a global education ethos and values, that nurtures and cares for every individual, believing in them and the possibility of transformative learning opportunities through outstanding teachers, all within a professional world-class, purpose-designed, 21st century new school, then Heritage International School is for you. If you want the very best international education for your children, then Heritage is the school for you.
The future begins here!
Please see the full version of the interview here: http://heritage.md/ro/noutati/interview-with-heritage-director-robert-ford/