Interview: Condemning Communism, a European Perspective
Interview Condemning Communism European Perspective
Interview of Mr. Goran Lindblad, swedish-european parliamentarian, by Gabriel Gherasim for Moldova.ORG
Motto: "Growing up in Sweden, so close to the Evil Soviet Empire, I have always been against communism… This was the first time ever that an international body of parliamentarians condemned communism… All Western communist parties got sponsoring from the Soviets, but also from D.D.R. (East Germany)…" – Goran Lindbald
by Gabriel Teodor Gherasim, New York
Gabriel Gherasim: Mr. Lindbald, please give us some biographical information about yourself, both before and after your election to the Parliamentary position you hold now.
Goran Lindbald: I've been active in politics since my teens, vice-president of the National Union of students 1976-77. I gave my dental exam at "Goteborg University" in 1977. I've been practising dentistry ever since. I've been a prison dentist for almost 20 years. I still keep up my skills about once a week, in my own dental clinic. I was elected as a member of The Goteborg City Council in 91-97; Vice-President and subsequently, President of the township in Goteborg, in about the same era. I've been a member of the Swedish Parliament since 1997. I've been a member of the delegation to the PACE European Council, since 2004. I'm currently the President of the Swedish delegation to PACE. I am also an observer on Iran's nuclear situation. I'm married, I have four children ages 4, 7, 9, and 28.
G.G.: Describe to our readers what is and what motivated you to write "The motion to condemn communism", that you have proposed for voting to the Parliamentary Assembly of the Council of Europe on January 25th, 2006?
G.L.: The motion was actually already proposed, when I became a member of PACE, by one of the MPs signing it; Mr. Van der Linden authored it. However, I volunteered to become an observer, when the position became vacant, as my Portuguese colleague, the appointed observer, was not re-elected. Growing up in Sweden, so close to the Evil Soviet Empire, I have always been against Communism.
G.G.: The majority of the "free Europeans" voted down the motion you are referring to. What were the "arguments" of those who fraternized with Communism, a system that has made itself guilty of killing over 100,000,000 so far, for NOT considering this a criminal regime?
G.L.: Actually, the resolution was adopted by PACE; this was the first time ever that an international body of parliamentarians condemned Communism. However, the recommendation for action, which needed two-thirds majority, was voted down by only 15 votes. This means that the condemnation in the resolution is adopted, but a recommendation for actions among member countries was voted down. Yet, any member country can act anyway they see fit on this issue. You can read the whole debate on www.coe.int, look for January session 2006.
G.G.: Lenin used to say that he needs the "useful idiots" of the West (the Western communists), in order for Moscow to eventually control their countries. To what level are the Western communists (socialists, left in general) ignorant about communist made genocides and persecutions and to what level have they simply became dependent on the Russian payroll, irrespective of the crimes against humanity that (neo)communists have been committing every day in the East?
G.L.: Lenin used the term "useful idiots" about everyone collaborating without knowing. I think that it is impossible to calculate how many leftists from the West are idiots and how many are on the Russians' pay role. However, very few can have been unaware of the Communist atrocities of past and present. All Western communist parties got sponsoring from the Soviets, but also from DDR (East Germany). Some went to Black Sea for vacation, others to East Berlin for education in Marxism-Leninism, and all got gifts like vodka and beer for Christmas.
G.G.: One of the communist methods of dealing with critics of their crimes is to "attack the messenger". In fact, following your role in condemning Communism, a plethora of Communist/Socialist mass-media from Western Europe and the USA (sic!), started a campaign of "ad hominem", gratuitous invectives, against you. I think the "preferred" one is to call you a "fascist". Has this bombardment of slander discouraged you from prompting the Europeans to condemn Communism and its crimes, or have they gotten you even more determined? Did you ever feel threatened in your safety following this initiative?
G.L: I am not easily discouraged. Ironically, in addition of being on the leftists "black list" for condemning Communism, I'm also blacklisted by the… aryan/fascist movements. The latter don't like that I am in favour of immigration. It seems like I have "the right mix" of enemies. I did not feel threatened by these extremists' name-calling, however the Police have been watching me carefully for a while.
G.G.: What was the reaction from the Eastern European parliamentarians, already members of the European Union, to your recommendation? Were they predominantly supportive, or against this recommendation? What did that say to you?
G.L: Actually, colleagues from Eastern Europe, some of them socialists notwithstanding, voted for my recommendation. On the other hand, for some strange reason, both Labor from Great Britain, as well as, social democrats from Finland, voted against it. Also, the whole Greek delegation voted against it. Their motivations to oppose this might be due to mercantilist, hideous reasons, or due to actual ideological conviction to support Communism.
G.G.: In Eastern Moldova (Transnistria), Russia still maintains an occupation army, despite Moscow's commitment that they would withdraw it by 1996. A group of ethnic Romanians are still kept behind bars for simply wanting to speak Romanian (which the Russians call 'Moldavian') in their country. What is it that the E.U. can do in terms of leverage, in order to pressure Russia into respecting sovereign nations and their rights?
G.L.: From my perspective, things are going backwards in Russia. However, some EU countries seem more concerned about buying cheap gas and oil than to promote human rights.
G.G.: Eastern Europe (including Central Europe) has a preponderance of (neo)communist politicians in power, many of whom have literally had their parents torture and kill people by the thousands. Since there was never a Nuremberg Trial for Communism, these politicians are now still leading their countries. What kind of justice can be done to the victims of communism?
G.L: Regarding the neo communist politicians, for me, it is strange that they get (re)elected, but apparently they must be liked by their voters. With regard to justice for the victims of communism, we still have to be working on that.
G.G.: Earlier this year, the Romanian president Traian Basescu, was asked to condemn communism and he stated that he had to have a commission "evaluate" the evidence first, in order to make an informed decision. What kind of evidence did you have that the Romanian president didn't posses, to convince you about the necessity of condemning this most atrocious system of inhumanity of all times?
G.L: I do not have any idea about why this information is "lacking" to the Romanian president. But to me, there is more than enough evidence in public sources, (and has been for decades), about communist atrocities. I see no need for a commission to look into the "if" there is evidence; however, I could suggest a commission that could investigate further into secret archives, in Romania's Securitate records, so that Romania could bring to trial some communist criminals into its courts.
G.G.: Many American corporations have been doing sweet deals with the tyrannical Chinese Communist governments of the pre and post Tianamen Square massacre of 1989. Tell us a little bit about the reality of Chinese Communist society and whether these corporate-communist deals are benefiting the Chinese population at large.
G.L.: Not only American companies are responsible of this, but also European ones. I do not think isolation of China is a good way of promoting the downfall of the Chinese Communist Party, instead I suggest open exchange, BUT without Lenin's "useful idiots". There have been too many naïve visitors in China. Lots of trade and student exchange, tourism etc., will help change things in China. We also must always be observant, in order to condemn promptly organ harvesting and forced labor. Also, we should be aware that China's GNP growth is creating an all together catastrophic environmental disaster. In China, I predict a change towards democracy within 4 years.
G.G.: What do you think are the reparatory measures that England/USA have to make for Yalta? That the Russians (and their Eastern European acolytes) have to make for Communist oppression? And that the Communist/Leftist governments of the EU nations have to make for misleading and justifying the Communist crimes, to millions of people in their own countries?
G.L.: I suggest an open debate, continuously upgrading the teaching of recent history in schools, as well as, giving at least moral restitution to the victims and their families.
G.G.: What do you think future generations are going to say to this generation, for being either indifferent, or for actively supporting Communism, despite the Communist holocausts?
G.L.: That this generation was naive.
G.G.: How can our readers get involved in educating and lobbying European and American politicians, on the importance of an official condemnation of Communism?
G.L.: Keep the debate alive, never let the politicians forget.
G.G.: What are your future professional plans?
G.L.: Keep up the work against all kinds of repressive regimes, whether they are ideological, religious, or just in the form of evil power.
G.G.: How may our readers contact you?
G.L.: E-mailing me at:
[email protected] is the easiest way.
G.G.: Thank you, for your time and we wish you a lot of SUCCESS in these future endeavours!
G.L.: Thank you too and best thoughts!
———–
This interview in Romanian
The electoral bloc ACUM about fake news, trolling and illegal use of public funds during the electoral period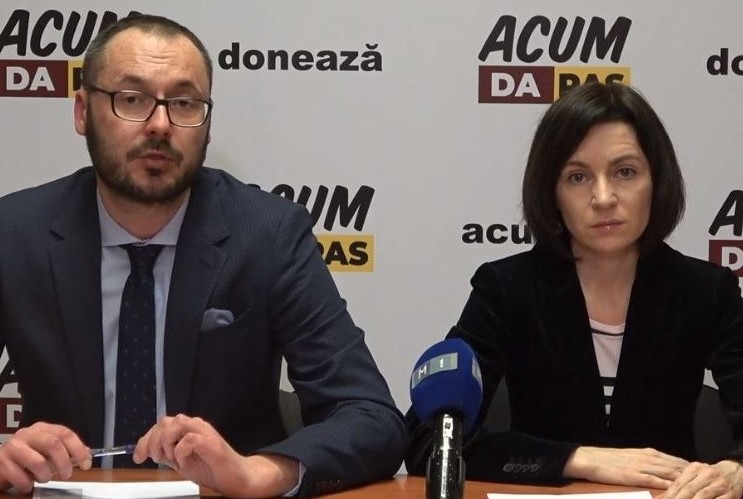 The electoral bloc ACUM, formed of the Party of Action and Solidarity (PAS) and the Dignity and Truth Platform Party (DTPP), organised today a press conference where some declarations were made concerning the fake news that have been spread during the electoral period, and the Facebook investigation that resulted in deletion of Moldovan fraudulent pages and accounts on the platform.
"Every day we are witnessing the abuses committed by the Democratic Party of Moldova (DPM) and its activists: voters' bribery, illegal use of public funds, undeclared costs of the electoral campaigning, obstruction of the voting process for the Moldovan citizens. Still, the biggest problem of these parliamentary election is misinformation. The government spends millions on producing and distributing false information in order to confuse people and to get their vote through lies, "said the leader of the PAS, Maia Sandu.
Sandu mentioned that false information was spread also online through fake news pages and websites and trolling activity. "The troll farms from Moldova have the same style as those from Kremlin and use the same working principles as those used in the elections in the USA or for the Brexit referendum," claimed Sandu.
"All of us were aware about the troll farms. Now, we also know where its epicentre is – right in the Government," declared Sandu referring to the Facebook investigation that resulted in the deletion of over 160 profiles and 28 Facebook pages and 8 Instagram accounts "for engaging in coordinated inauthentic behaviour targeting people in Moldova," as it is mentioned in the Facebook press release.  According to the press release, about 54,000 accounts followed at least one of these pages and about $20 000 were spent for advertising. Moreover, Facebook also discovered that some of this activity was linked to employees of the Moldovan government.
According to the 4th Promo-LEX Observation Mission report, in the period of January 23rd to February 5th, at least 85 cases of illegal use of public funds and properties were identified, out of which 45 are related to the DPM activity, 33 to the PSRM, 3 cases – Our Party, 3 cases – the electoral bloc ACUM and 1 case – the PCRM. The DPM was noted as using the state institutions in order to promote the electoral initiatives launched by the faction. "A part of the state officials use the public funds and the official state cars for paying visits, during their working time, to Moldovan localities and telling people how good it is to live in the Republic of Moldova," declared Sergiu Litvienco, the member of the electoral bloc ACUM.
In this context, the bloc ACUM expressed its intention of asking the Central Electoral Commission to exclude the PDM from the electoral race.
Additionally, Sandu claimed that after the Facebook's announcement, and the trolls' public exposure, another fake information related to her was launched online. Namely, a video and photos appeared online, trying to prove she is a lesbian. Maia Sandu denied that it was her on the photos and video.
"After the denouncement of the trolls, the DPM switched to some more primitive methods. I am not a lesbian and I have never been one, to the disappointment of trolls and their controllers. It is a poorly fabricated lie. The video is recorded in Munich, where I have never been to."
She addressed a direct message to the DPM: "There are still 10 days left until the elections. What will be the next fake news you will issue about me? Will you accuse me of murder? Will you try to poison us? Will you remove the screws from our cars' wheels, hoping for an accident? You will not succeed in intimidating us, no matter what measures you take. It's because we care about the people of this country," declared Sandu.
Moldovan Ambassador to Russia Andrei Neguta met President Dodon in Chisinau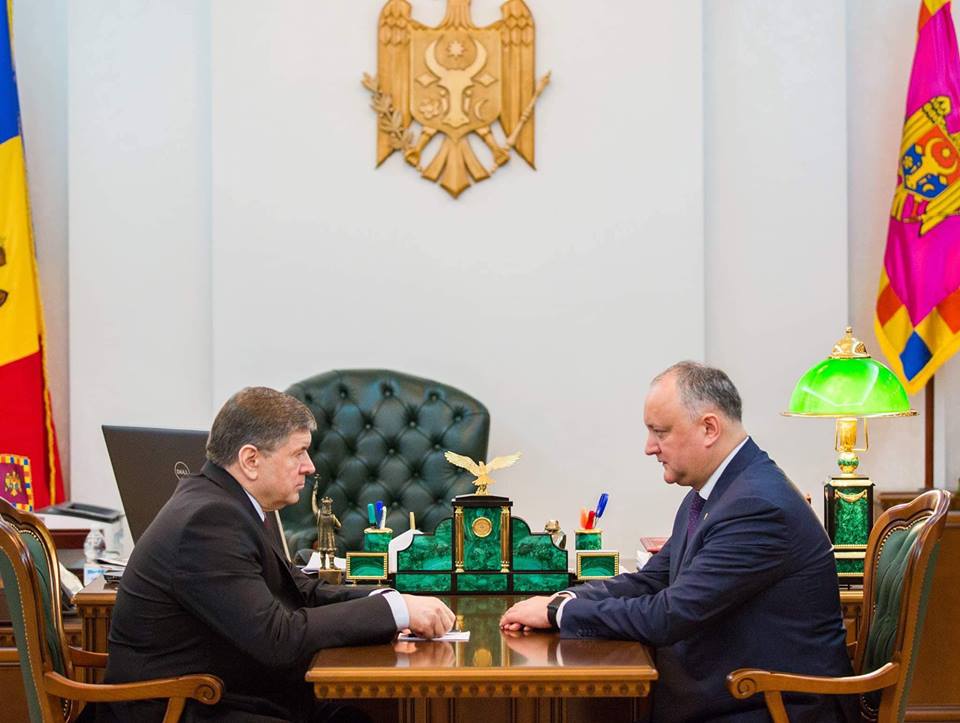 Today, President Igor Dodon announced that he had a meeting with the Moldovan ambassador to the Russian Federation, Andrei Neguta, regarding the recall of the diplomat by the MFAEI for internal consultations.
"I consider the decision of the ministry to be completely unexplained and irrational because Mr. Neguta fulfills his duties according to the requirements and is one of the most experienced specialists in the field of foreign diplomacy," Igor Dodon said.
For these reasons, the head of state reiterated that even though the Government approves the recall of the Moldovan ambassador from Moscow, he will not sign the decree in this respect.
The Ministry of Foreign Affairs and European Integration has submitted a motion requesting the recall of Ambassador Andrei Neguţă, to the Government.
Reminder: Oleg Vasnetov, the Ambassador of the Russian Federation to the Republic of Moldova, was summoned to the Ministry of Foreign Affairs and European Integration, where he was handed the protest note on the delayed granting of access to the Moldovan delegation, which is in Moscow on February 11, 2019 (at Moldovans Lionel Buruiana and Mihai Crihan, recently released from prison and transported to the capital of the Russian Federation).
Maia Sandu on Facebook deleting the Moldovan fake pages and accounts: They are DPM trolls who promote their party through propaganda and fake news
Party of Action and Solidarity Maia Sandu claims that the Democratic Party of Moldova (DPM) should be excluded from the electoral race for using undeclared money.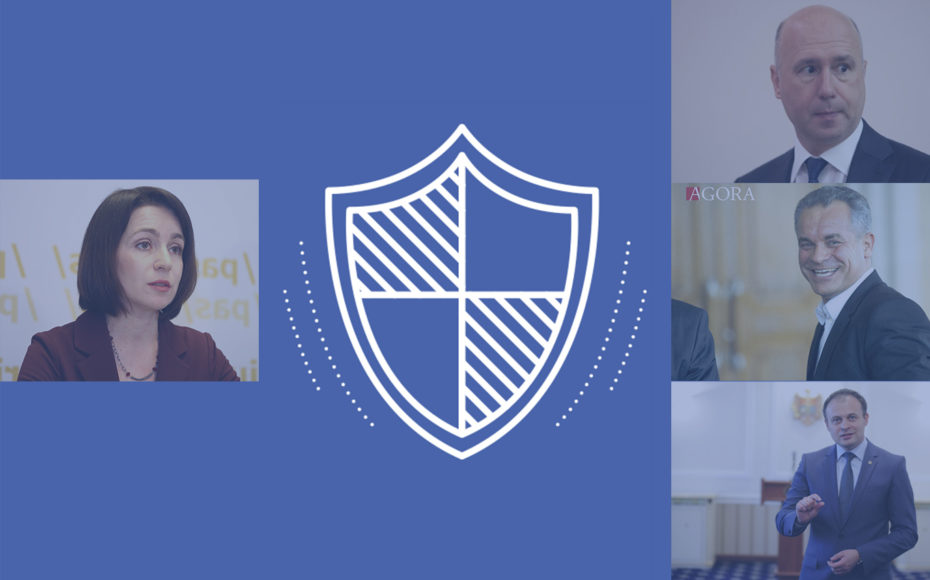 The statement was made after Facebook announced that it has deleted over 160 profiles and 28 Facebook pages and 8 Instagram accounts for "non-authentic behavior targeting people in Moldova".
Maia Sandu mentioned that there is clear evidence that the CEC must initiate the procedure for canceling the DPM's registration as an electoral competitor in these elections.
According to her, Facebook has officially stated that for the activity of trolls and fake pages denigrating the opposition and glorifying the government, "the pages created by DPM party promote it through propaganda and fake news", about 20,000 dollars were spent, money undeclared at the CEC.
"More serious is the fact that Facebook found that the work of some of these pages was linked to employees in the Government," Maia Sandu said.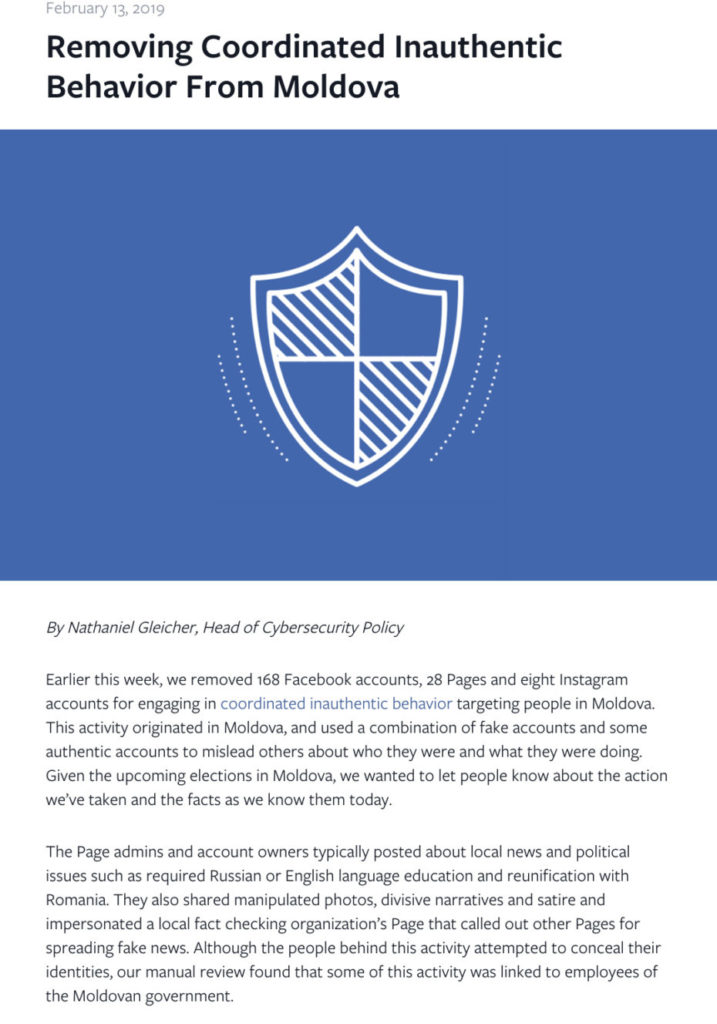 Note: In a press release, Facebook announced that this activity occurred in Moldova and used a combination of false accounts as well as some authentic accounts in order to mislead others about who they were and what they were doing.
"As for the comments or posts made by the employees of the public institutions, we'd like to mention that more than 200,000 employees are paid out of the state budget, and the Government of the Republic of Moldova does not check the activity on the private account of the social enterprises of the employees", the

Government's 

message

 said.
Moreover, according to the Government, employees have different political options and opinions, and the state is bound to keep the boundary between fighting the FakeNews phenomenon and guaranteeing freedom of expression for citizens.
"Therefore, in order to combat the phenomenon of FakeNews, we will ask for additional information from Facebook," the Government said.