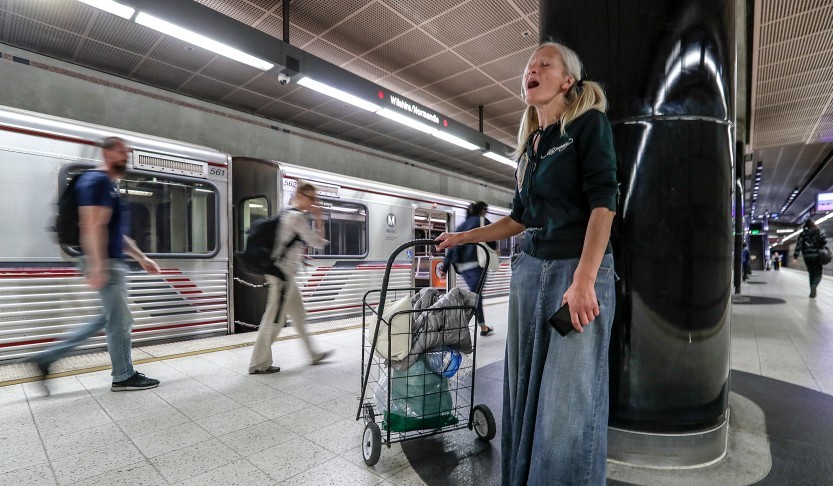 The story of Emily Zamourka – the Moldovan woman singing in the Los Angeles Metro who became an online phenomenon
A lot of people saw Emily Zamourka on the internet – a 52-year-old woman with a lovely voice, discovered and filmed by a Los Angeles policeman. She was singing Puccini's "A Mio Babbino Caro" at a subway station. Few people though, know that Emily is originally from the Republic of Moldova.
Daily Mail revealed her extraordinary story about a difficult childhood she had to endure in the Soviet Union and her failed American dream.
Emily (born Liudmila Grekova) is from Basarabeasca, being the ninth child of a Seventh-day Adventist religious couple. She was given up for adoption because of her mother's health but met her biological family when she was a teenager.
Also, she suffered an abusive marriage before moving to the US at the beginning of 90's. In recent years, she has struggled with health problems and even spent one Christmas in prison.
Emily recorded a CD but saw no success from it. Then, battled homelessness and eviction as she lived across three US states. She has been living on the street since 2017 after being evicted from her apartment because of sharing the apartment with pigeons she had taken home with her. The pigeons have also come between Emily and her family from US who have repeatedly said that they are prepared to offer her a home but not her beloved birds, as Daily Mail reported.
Recently, Emily suffered a fresh loss when her birth mother died aged 94.
She was recognised as a musical prodigy, a violinist and singer who also played the piano, but never managed to realise her dreams.
Now there is hope of change, as the director of her hometown Fine Arts School offered the 52-year-old classically-trained musician the chance to come back and teach music.
More about her story here.
Photo credit: Robert Gauthier / Los Angeles Times
The state of Public Health Emergency was again prolonged in Moldova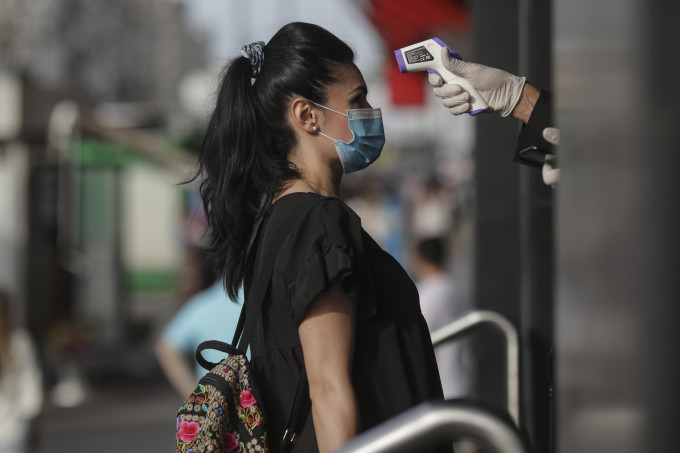 The National Extraordinary Public Health Commission (NEPHC) decided, on July 10, that the state of Public Health Emergency must be prolonged again until July 31, taking into consideration the large numbers of confirmed COVID-19 cases that continue to be recorded in the Republic of Moldova.
As the the Ministry of Health, Labour and Social Protection (MHLSP) informed, previously imposed restrictions still remain in place.
For example, restrictions regarding keeping social distance, hand hygiene rules, wearing masks in public transport, commercial spaces and closed public spaces, are maintained.  Also, there are restrictions, such as groups of maximum 3 people in public spaces, meetings with the participation of maximum 50 people with a strict evidence of their identity, restricted access to public spaces of people aged 63 and over, no private events, as well as nightclubs, educational, cultural, sport centres, rest camps, treatment institutions, cinemas, concert halls, theatres remain closed.
As of the NEPHC decision no. 20 of July 10, the access of foreign citizens and stateless persons is still forbidden on the territory of Moldova, with the following exceptions:
family members of the citizens of the Republic of Moldova;
persons holding a long-stay visa, a residence permit or a document equivalent to a residence permit issued by the authorities;
persons being on business trips, proved by a visa, residence permit or other equivalent document;
members of diplomatic missions and consular posts accredited in Republic of Moldova, of international organisations / missions, as well as members of their families or personnel who provide humanitarian aid;
passengers in transit, including those who are repatriated;
people travelling for health and humanitarian reasons (with the presentation of confirmatory documents);
cross-border workers;
drivers and service personnel, performing transportation of goods, crews and service personnel of aircraft, ships and trains.
Persons who enter the Republic of Moldova during this period have to fill in an epidemiological form, as well as a declaration on their own responsibility to comply with the self-isolation regime of 14 days in determined places.
Exception to the self-isolation provisions is established for the following categories of persons (if they do not show clinical signs of respiratory infection or fever):
drivers and service personnel, performing transportation of the goods, crews and service personnel of aircraft, ships and trains;
persons travelling for health or humanitarian reasons;
pupils and students, enrolled in abroad educational units, which have to take tests or exams;
persons being on business trips, proved by a visa, residence permit or other equivalent document;
cross-border workers;
members of diplomatic missions and consular posts accredited in Republic of Moldova, of international organisations / missions, as well as members of their families or personnel who provide humanitarian aid;
people in transit.
The COVID-19 pandemic had a significant social, economic and psychological impact on the population of the Republic of Moldova. According to a sociological study, conducted by the company Intelligent Data, the main negative effects of the COVID-19 pandemic are related to the lack of communication (33.8%), restricted travelling (33.6%), but also reduced incomes (23%).
At the same time, respondents also mentioned some positive effects of the pandemic, such as spending more time in the family (45.7%), savings due to reduced consumption (17.3%) and more time for hobbies (14.8%).
The MHLSP reported lately 19 208 confirmed cases of coronavirus, including 12 667 cases of people who recovered and 641 cases of death.
Photo: Inquam Photos| Octav Ganea
"Pobeda" – the last Moldovan kolkhoz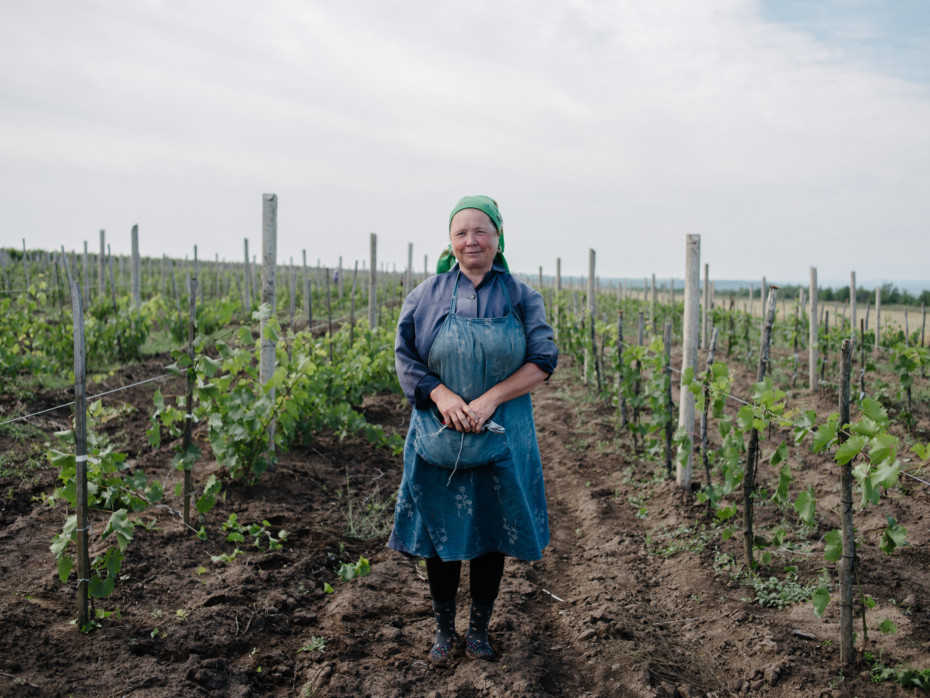 Copceac is a village situated near the Ukrainian border, being separated from the main territory of the Autonomous Territorial Unit (ATU) of Gagauzia. Locals proudly claim that their dialect is similar to the old Gagauz language and sounds more like orthodox version of Turkish. This could be caused by the enclaved position of the village: from one side, there is a national border with no crossing points and a Bulgarian settlement from another side.
That is not the only thing that was preserved through time in this village though. The village of Copceac has on its territory the last kolkhoz in Moldova and one of the few remaining from the entire region of Eastern Europe.
Kolkhoz "Pobeda" (tr. as "Victory") was founded in 1947. In its best times, workers of the collective farm were growing different crops, such as sunflower, corn, grapes, tobacco, plums, peaches, as well as were raising livestock. However, with the dissolution of the Soviet Union, a lot of things have changed.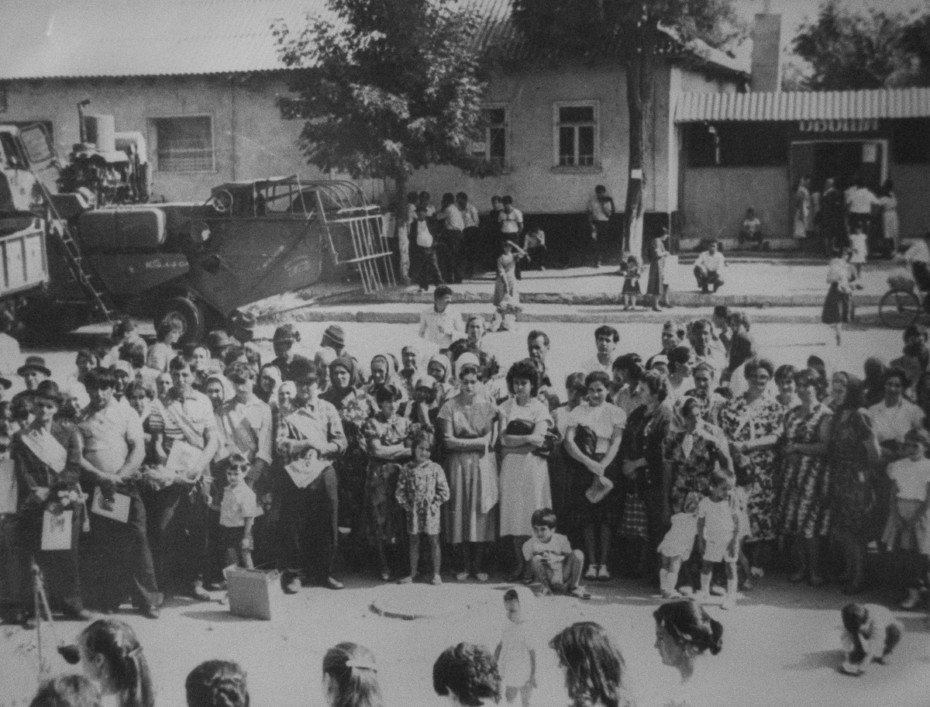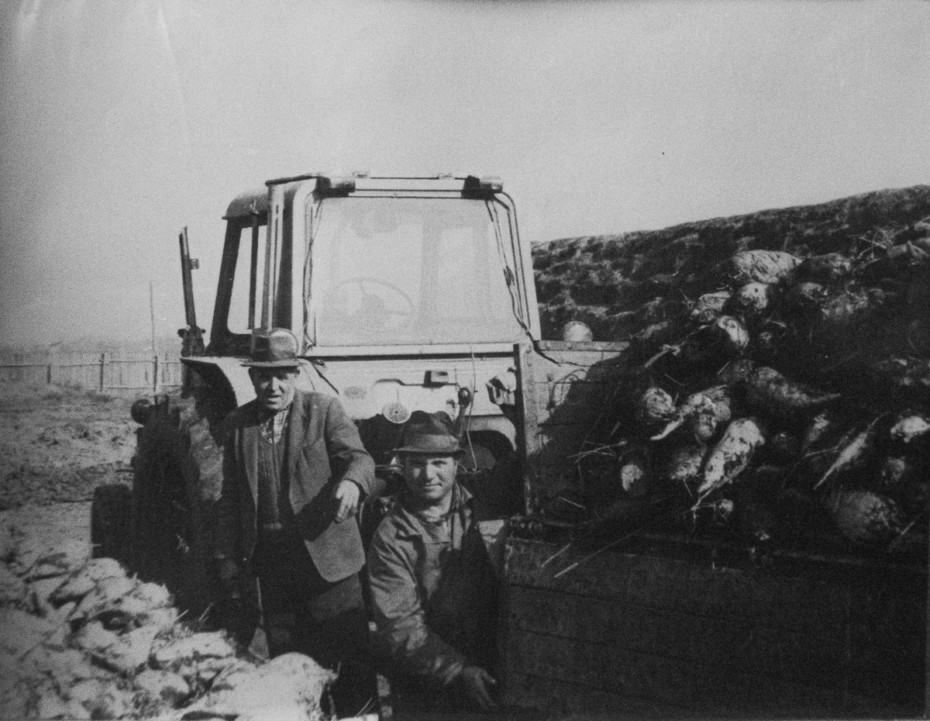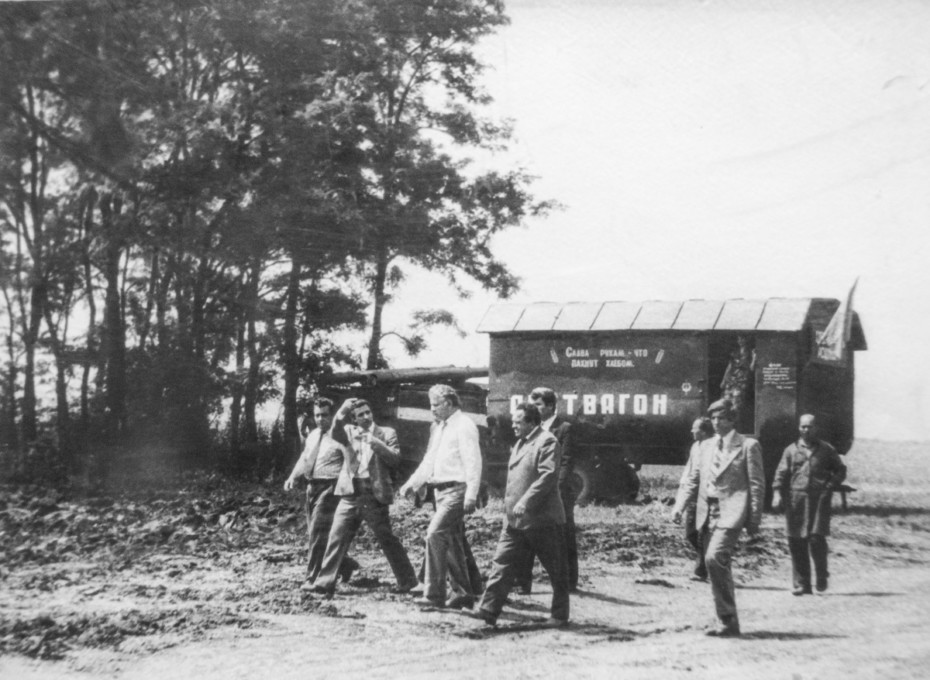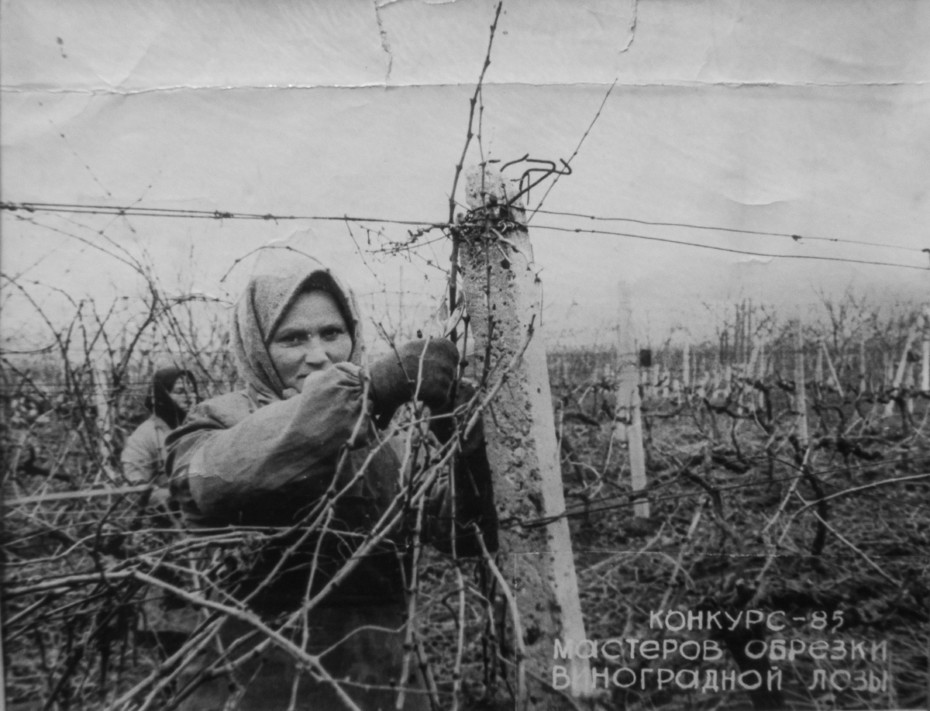 Workers and land sections' holders, who were used to the way things worked before, decided to continue the same way. Later on, the failed state program of land privatisation implemented during 90's only confirmed that the decision to continue as during the Soviet period was the right one.
Still, the workers of "Pobeda" cannot enjoy their victory at the moment, being quite sober about the situation at the farm. During the most productive Soviet times, there were around 4000 people working, while today this number shrunk to around 300. In Soviet times, one had few options to do something else. Nowadays, villagers choose mainly to leave the country for seasonal work. Others work in construction business to serve those who come back with savings to build a new house.
As some workers of the farm recalled, they were proud that it was doing well when other collective farms were broke. Meanwhile, thanks to the grants from the EU and subsidies from the state things got better.
In 2002, after the new legislation on the forms of property was adopted, Kolkhoz stopped to exist as legal entity, but still received state subsidies until 2009. For the last 11 years, there are no subsidies anymore, in contrast to other agricultural entities. When the management learned that no changes can be made to the law, they started to work on adjustment of farm's status according to the legal framework.
There is also a local bakery in Copceac. It was opened in 2006, being located right next to the kolkhoz mill. People who hold a land section in the kolkhoz have the right to leave their wheat harvest at the bakery and instead they receive coupons. Afterwards, they can exchange their coupons to freshly baked bread or flour.
The bakery produces 1500-2000 loaves a day. Five people per shift work at the bakery, two at the mill.
Giving the circumstances of Moldovan unstable politics, people are still pessimistic about the future of the country and continue to live in the present moment.
This article was made with the support of the National Endowment for Democracy.
This text is a translation. The original article here.
Photos: Ramin Mazur
Women from the left bank of the Dniester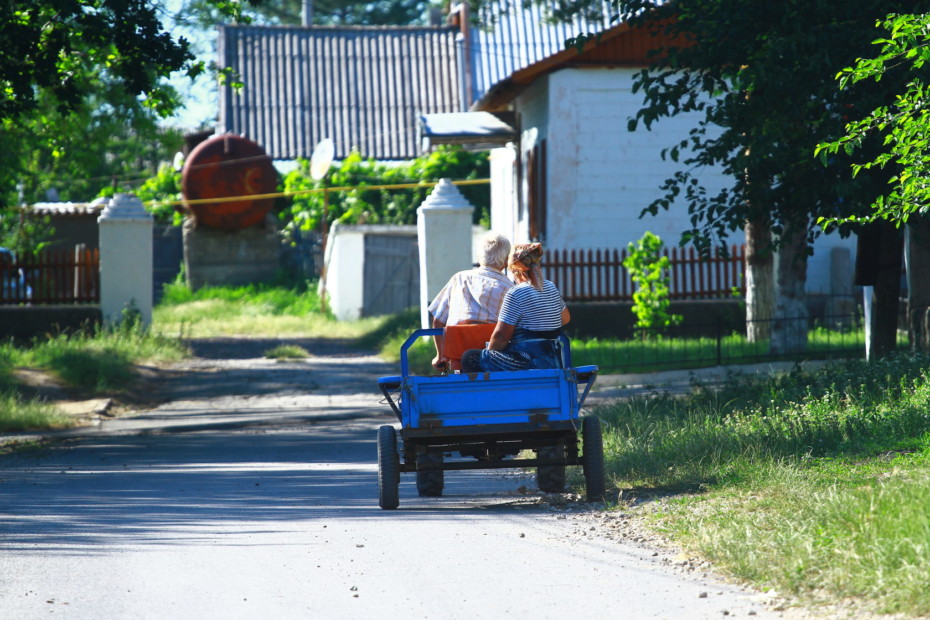 The village of Doroțcaia is located on the eastern side of the Dniester River, near a border crossing point installed by Transnistrian separatists back in 1992. The village, that was a battlefield during the Transnistrian war and went through gunfire and dropped bombs, is the home for 3038 inhabitants nowadays, according to the 2014 census.
"It used to be quiet in the morning. We worked until noon, after which we ran home when bombs and gunshots began to sound throughout the village. We were sleeping in cellars and were afraid that we might not wake up the next day," revealed Nina Diordiev, a resident of the village that is now under the control of Chisinau authorities.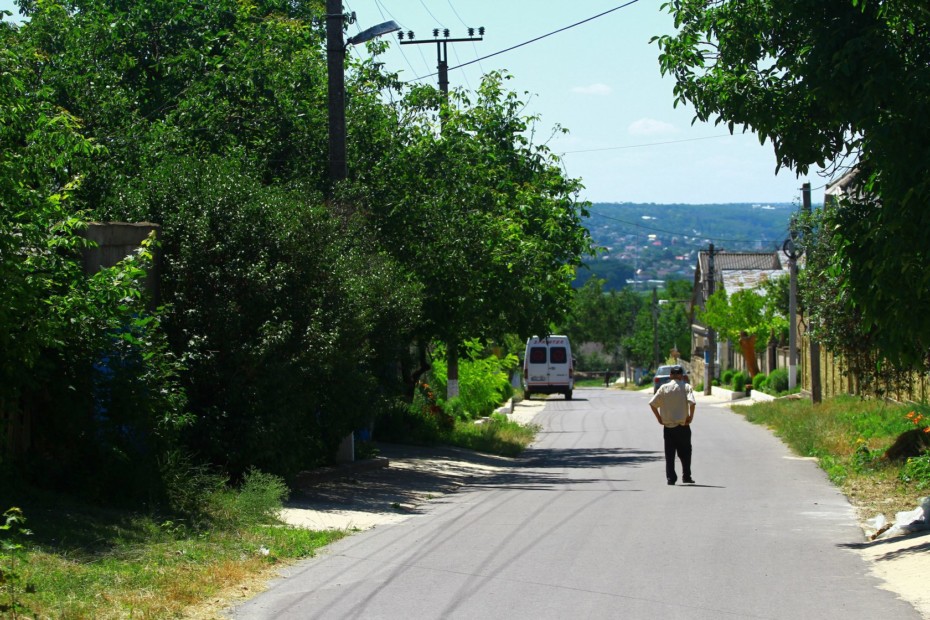 Most of the local agricultural lands are on the side controlled by Transnistrian authorities. That means people can't get to their lands without presenting their identity card. Many times the separatists did not allow the locals to reach their lands, which caused them great losses. However, people said that the situation has improved since August 2018 and now they can reach their lands safely.
Doroțcaia is a sun-kissed place, cooled by the wind coming from the Dniester and inundated in flowers' fragrance. The village has well-kept streets, a museum with centuries-old objects, a beautifully renovated cultural centre and many smiling people.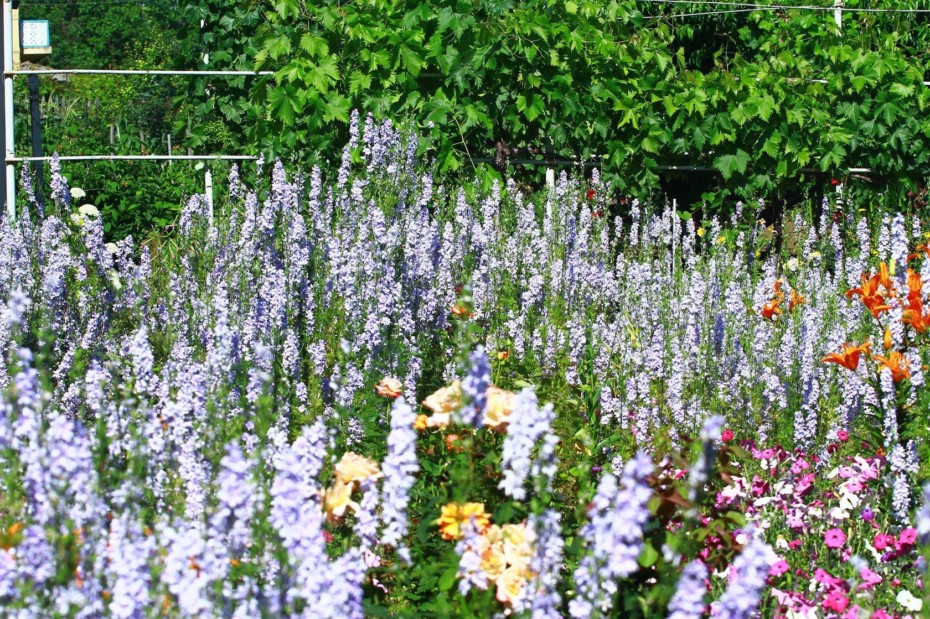 In Doroțcaia, there are 1560 women (51.3% of the total population). This article paints some of their portraits:
 Eugenia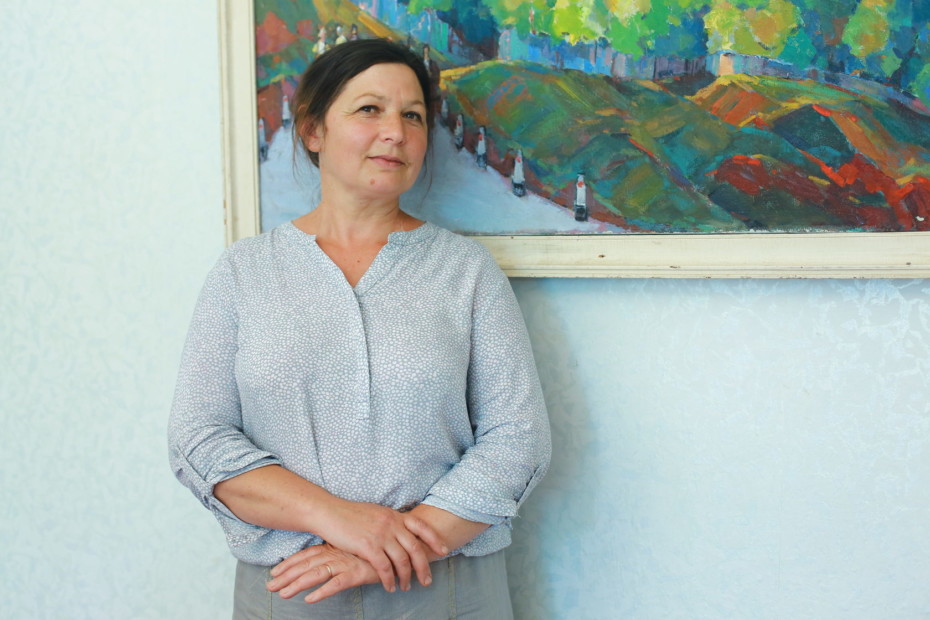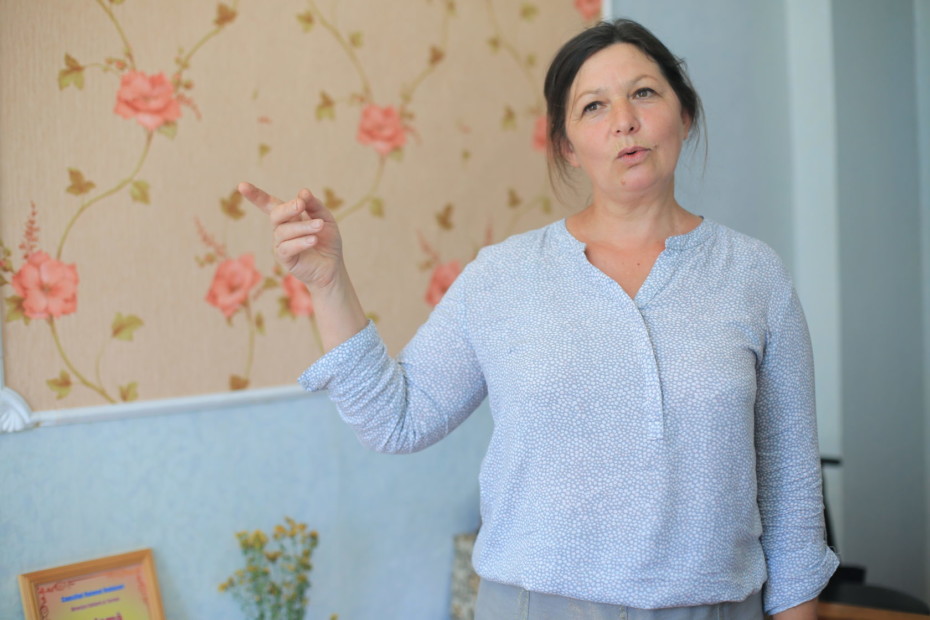 Eugenia Berzan has been the artistic coordinator of the cultural centre since 2011. Back then, she returned from France with her whole family. She managed to organise many concerts, while introducing modern concepts. Eugenia is the screenwriter, organiser of events and the one who stays behind the curtain and makes sure that everything works perfectly. Although she likes her job, Eugenia still thinks about moving to another country after her daughters graduate from high school. "To have a better future," as she says.
Mădălina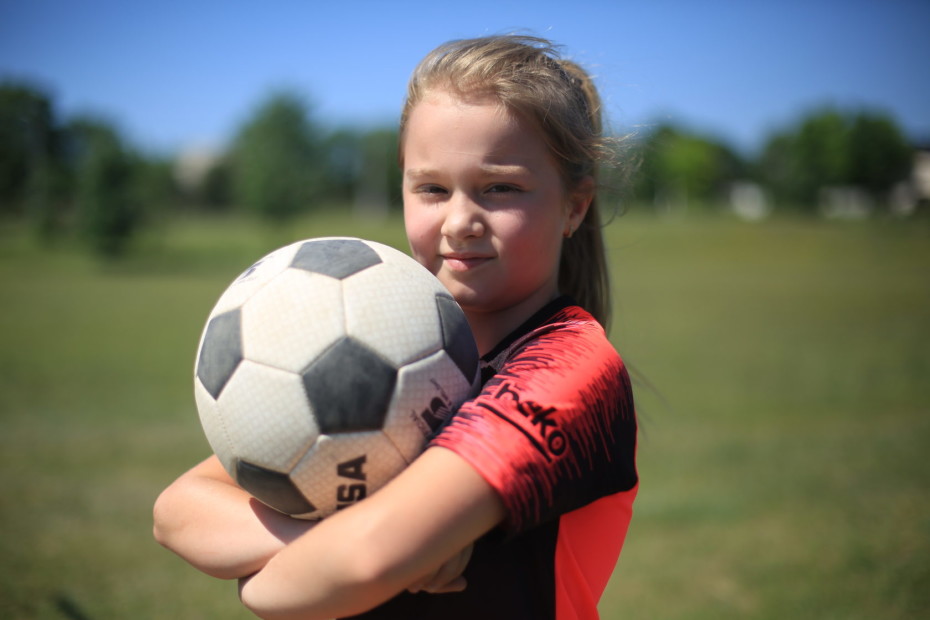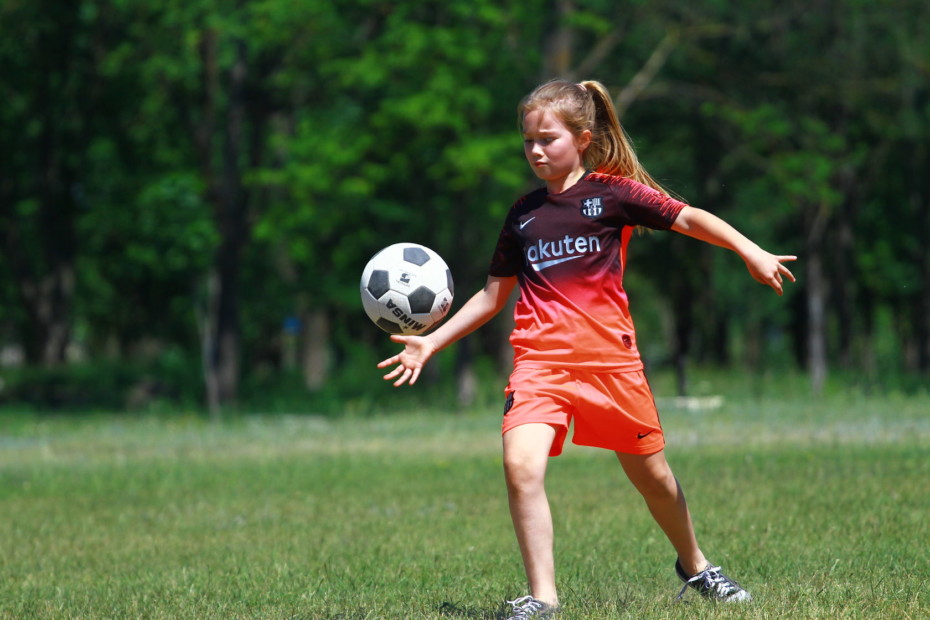 Mădălina Nicolaev is 8 years old and she really likes football. In time, boys had to accept her in their team. She likes to play so much that often she loses the track of time.
"My father told me that if I played so much, I would faint and fall. So I stay home until 4 p.m., after which I run to the stadium," she said. Mădălina remembers that her mother wanted her to go to dance lessons, but she chose football.
"Don't ask me how many times I've already changed soccer balls. You don't want to know…"
Galina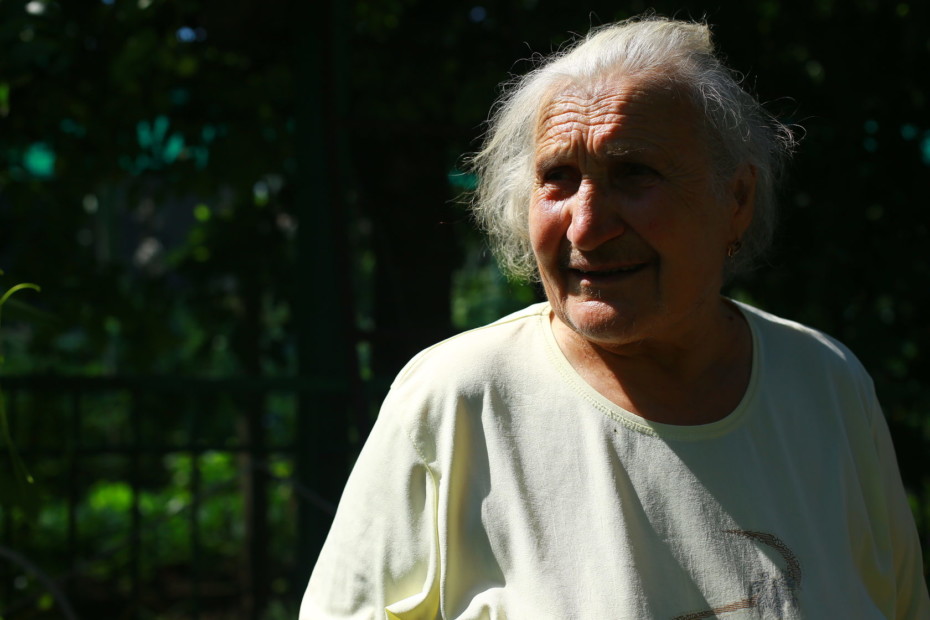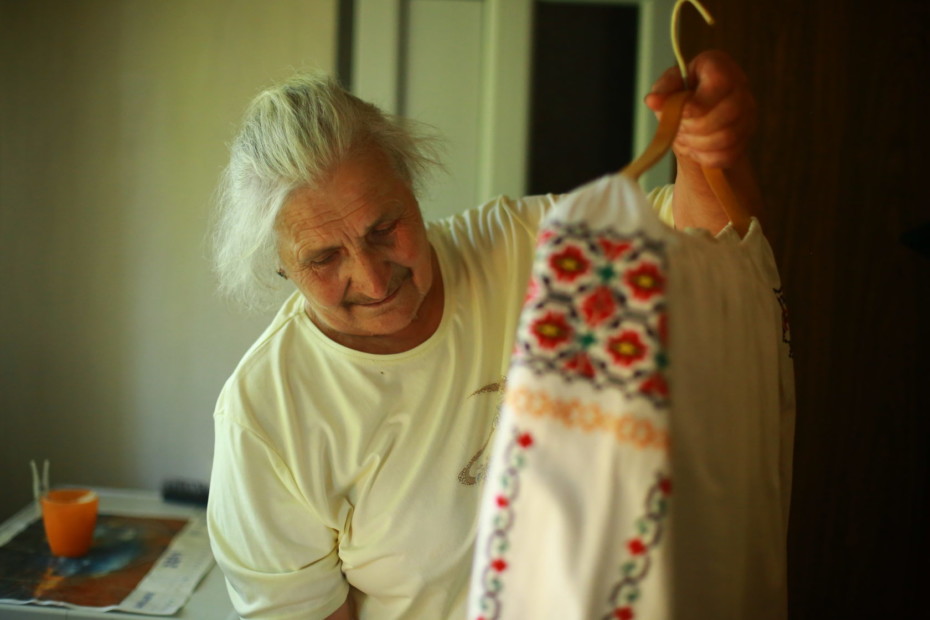 Galina Leașco is a former agronomist. She spends the whole day in the greenhouse where big and flavourful tomatoes grow. Galina also has rabbits, chickens and takes care of her large garden with flowers, trees and vegetables. She is a member of the Nistrenii Folk Ensemble and a woman that always laughs, even if her eyes are full of tears, as she confesses.
Before he died, her husband had been suffering from different illnesses for 20 years. The last years were the hardest times. After a stroke, he started to have epilepsy seizures. "I always had to be by his side, but I couldn't just stay at home, because I also had to support our three children," Galina recalled.  She used to take him to her job during the day, and she was staying up all night. In order to make the sleepless nights easier, she began to buy and read love novels and detectives, which are now gathered in a personal library.
Angel's star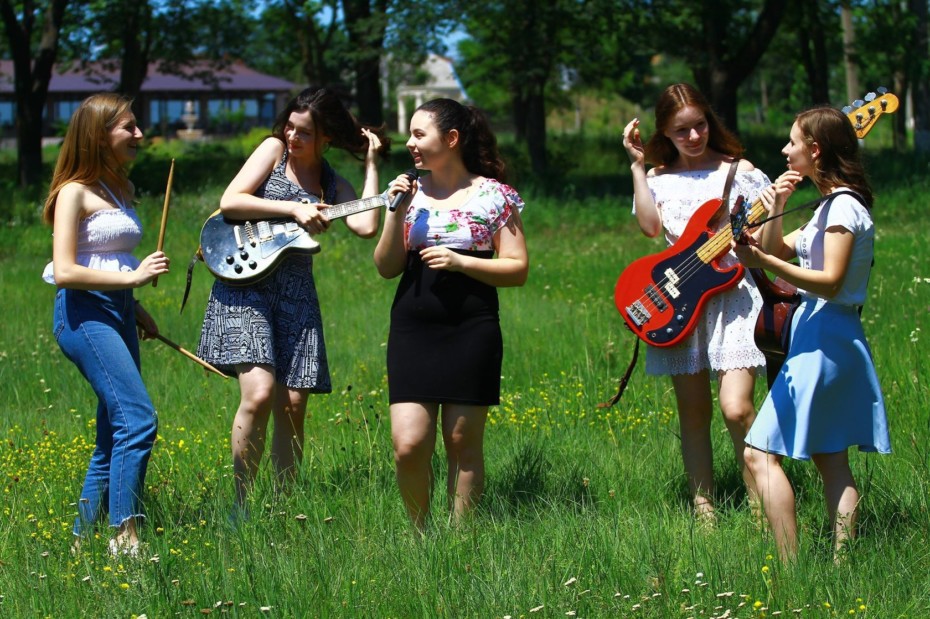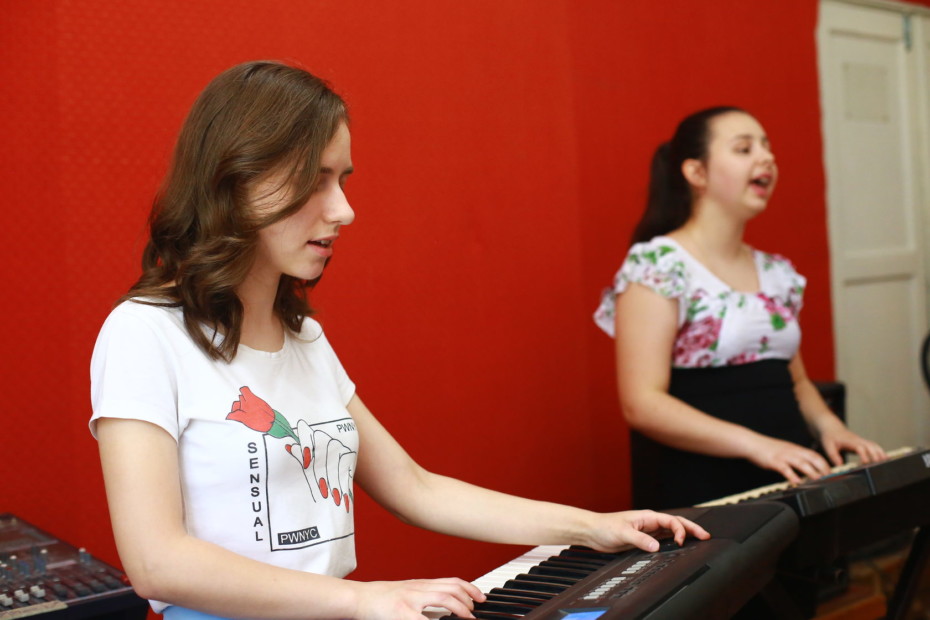 Beside a folk ensemble, a dance troupe and a marching band, there is a a band of five 18-year-old girls called Angel's Star in Doroțcaia. The band was formed about 5 years ago.
"I was in the 6th or 7th grade when I joined the band. It was already formed, but it still didn't have a name and they said they needed a drummer," said Ana, band's drummer. The girls are the winners of international contests, doing the rehearsals in a small room of the cultural centre. The room has the walls covered with red carpets, for a better sound.
Maria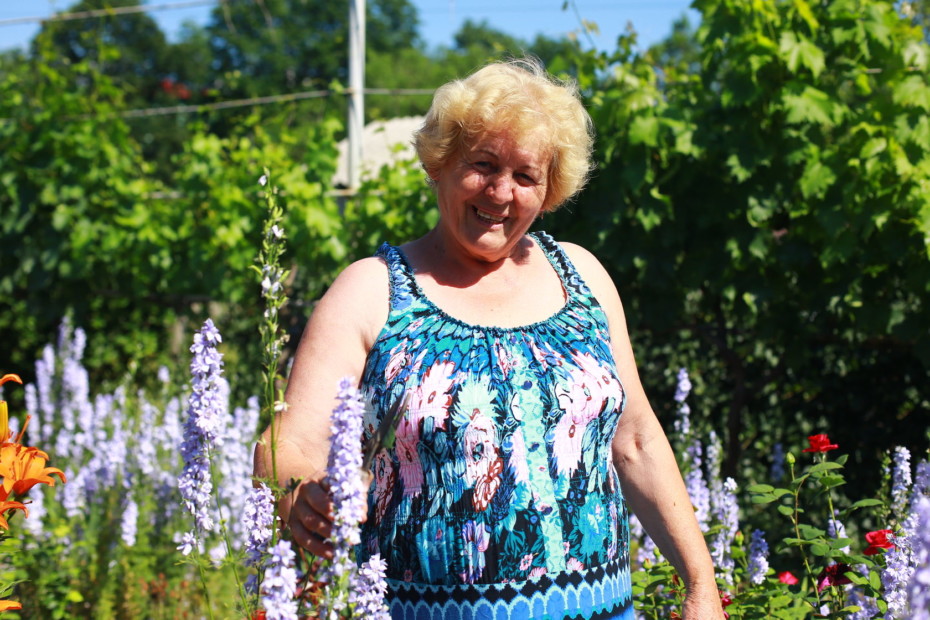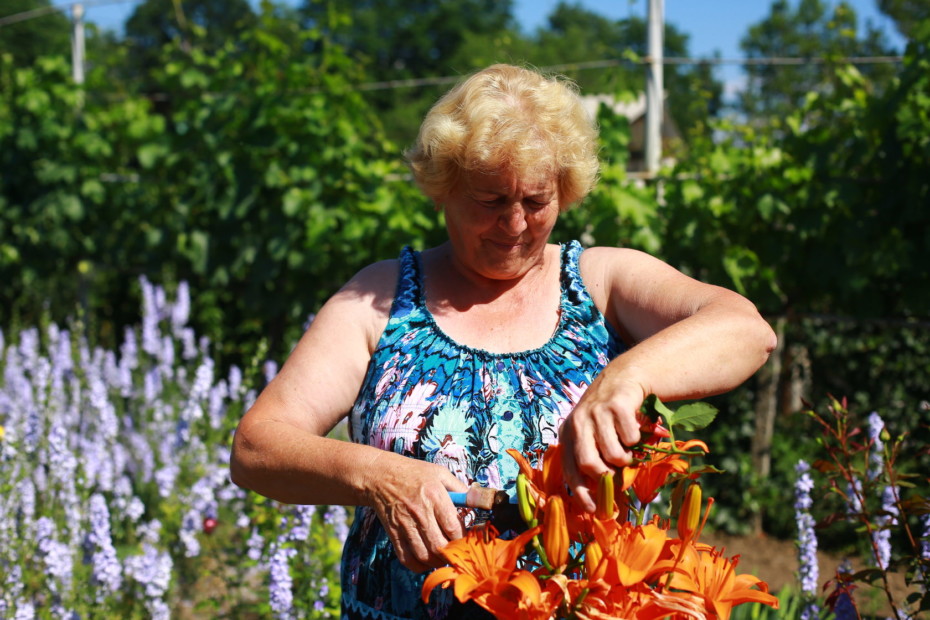 You can find the house of Maria Crocmazan amid flowers. She has a colourful and fragrant garden, which she takes care of every morning and evening, when the sun does not burn so hard. "In the morning, before work, I go to see them, talk to them and 'rebuke' the weed," confessed Maria, who works as head of village's warehouse for agricultural goods. Half of her life, she was surrounded by flowers. Maria has always loved them, planted and took care of them.
In Maria's garden, one can find over 100 rose bushes. She says that the best gift for her is a new flower bud, for which she would choose a place in her garden. Since 2013, Maria has been living in the house she bought from the former mayor of the locality – a hardworking person who built houses, a stadium, a cultural centre, a museum, schools, and an oil mill in the village.
Nina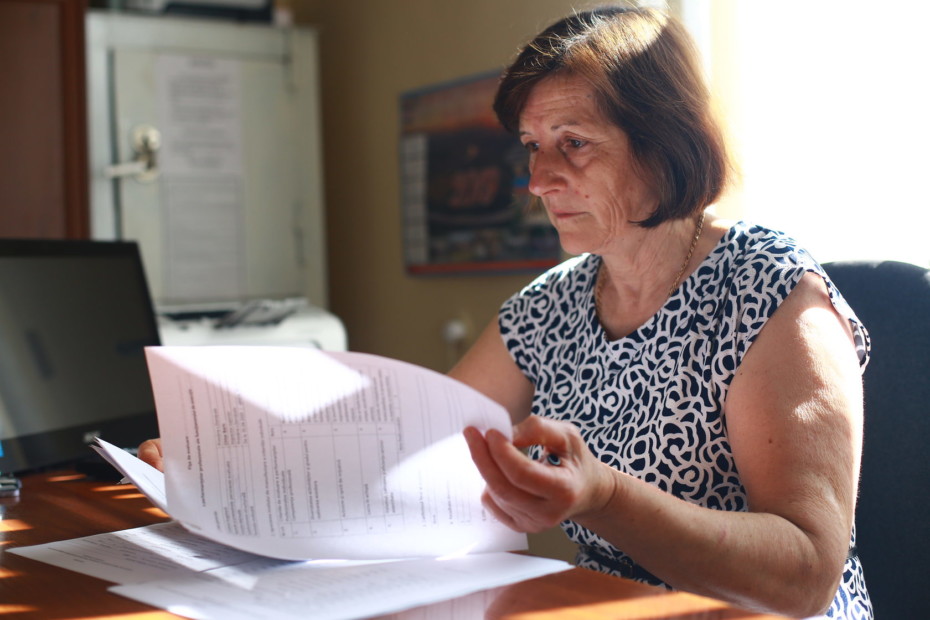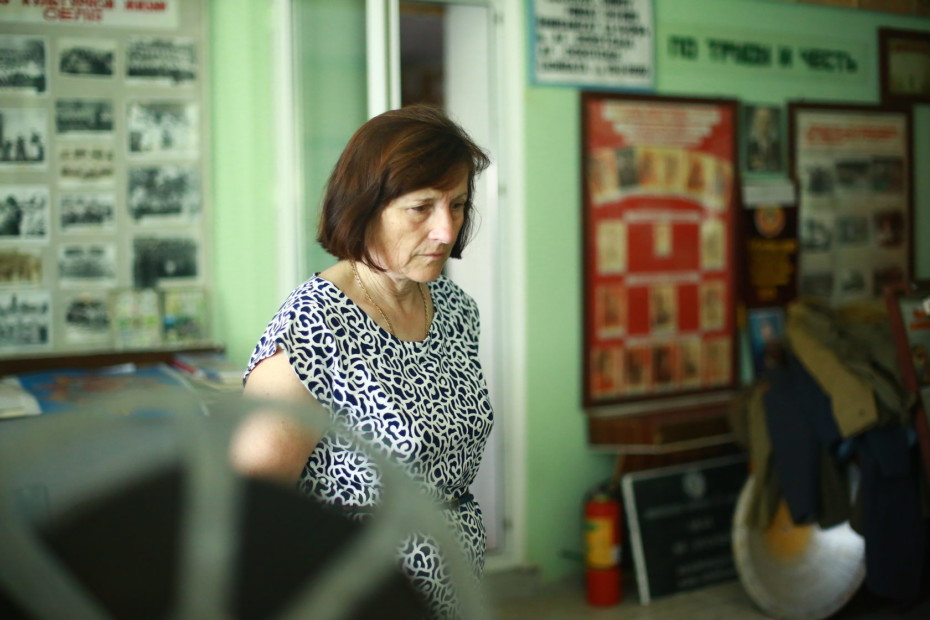 Nina Diordiev works as a secretary at the mayor's office. She told us that, during the '92 conflict, she had to come to work, issue reports and send building materials to people whose houses had been destroyed by bombs.
"It was awful. You never knew what was coming"
Nina use to say that during the summer there is no time for rest. After work, she has to work the land. "People rest during the winter," she said.
Elena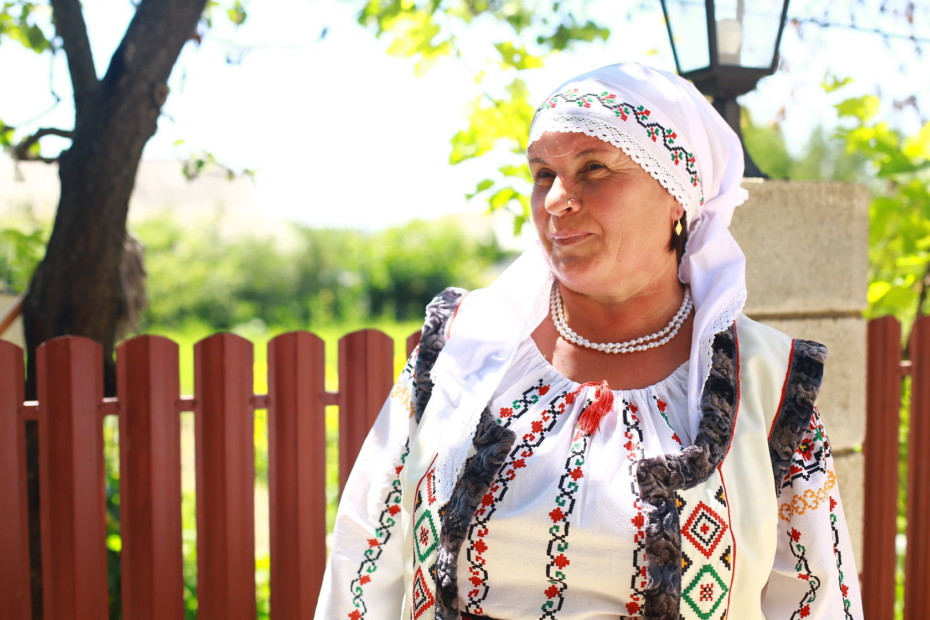 Elena Toderiță is responsible for cleaning at the town hall and sings in the Nistrenii Folk Ensemble along with other 20 members. At least, that's what she did until the pandemic. For the past four months, she has been singing in the kitchen. "Before, we used to say we don't have much time, but now we want to get together," she claimed.
Aunt Hana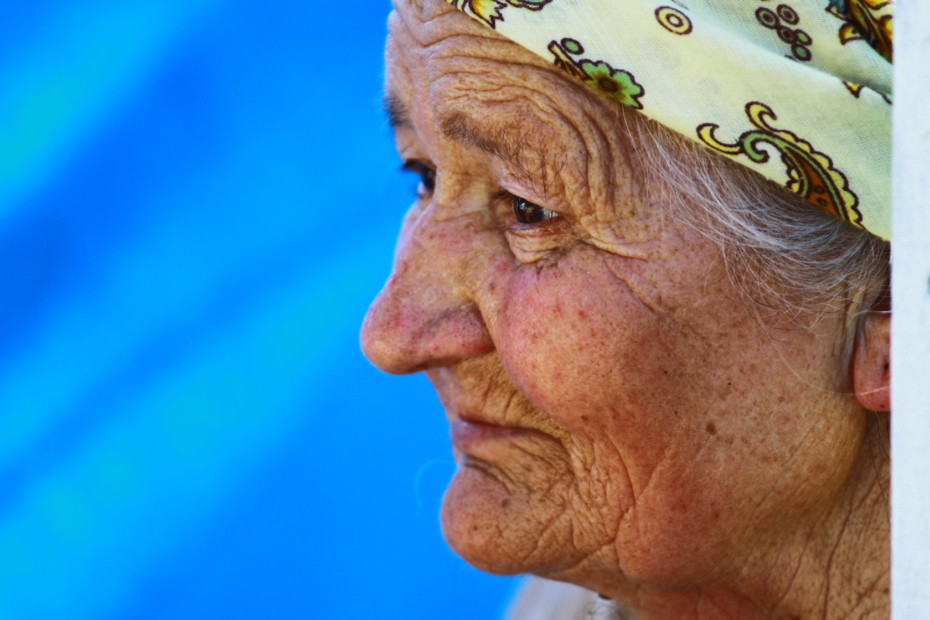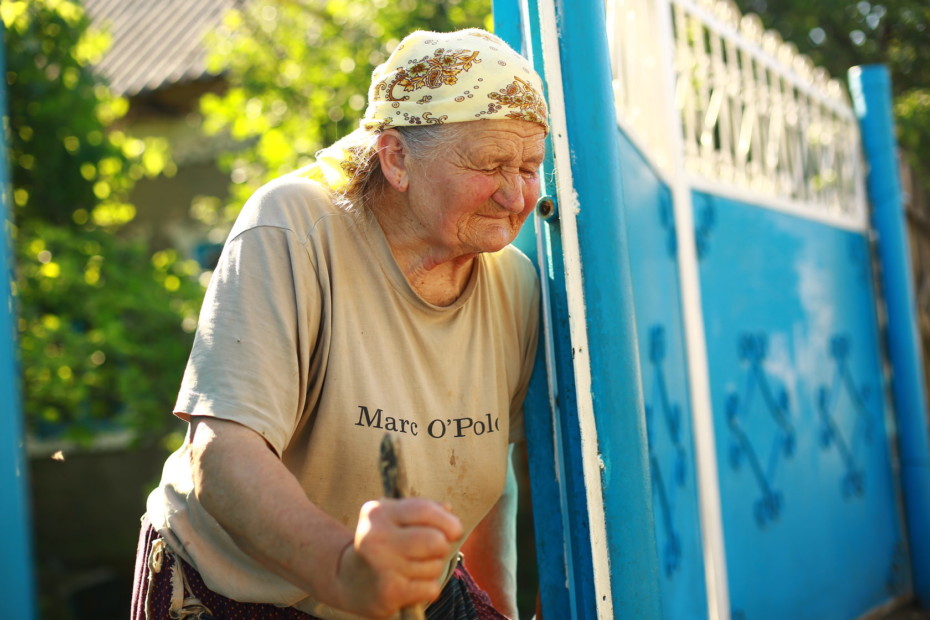 Ana Gherlac is a 77-year-old woman who is also called Aunt Hana by villagers. Her whole life was marked by two wars. "I worked my entire life, but I was left with nothing," she said. You can meet her at 8 o'clock in the morning on the way home, after she went twice to work her lands. Even if it's hot outside and this weakens her body, her yard is kept in good order. Previously, Aunt Hana had three cows. Now, she has chickens and geese.
"I didn't sleep at night. I cleaned, cooked, so that during the day I could go to work"
It's getting harder now. That day, she couldn't bring home her groceries bag from the store. "I walked a little and got down. Luckily, I met some villagers and they helped me," Aunt Hana confessed. In 1992, a bomb fell on her house's barn and shattered it. Her lungs were damaged when she tried to put out the fire.
This article was made with the support of the National Endowment for Democracy.
This text is a translation. The original article here.
Photos: Dionis Nicolai and Tatiana Beghiu