The boomerang of violence
"I could not reconcile with my dad. It was bad for me. He was beating me". Ion shakes his hands, plays with his fingers, bends them. His answers are short, he often does not find the words, though he is looking nervous. However, he responds well. Bored, but in a good way. In the last seven years, he stole everything he wanted, and the only punishment was the beating received from his stepfather. Last spring, Ion learned he was going to spend a decade in jail for murder.

Stories from diaspora// Doru Curoșu – from a volunteer to a successful trainer, speaker and entrepreneur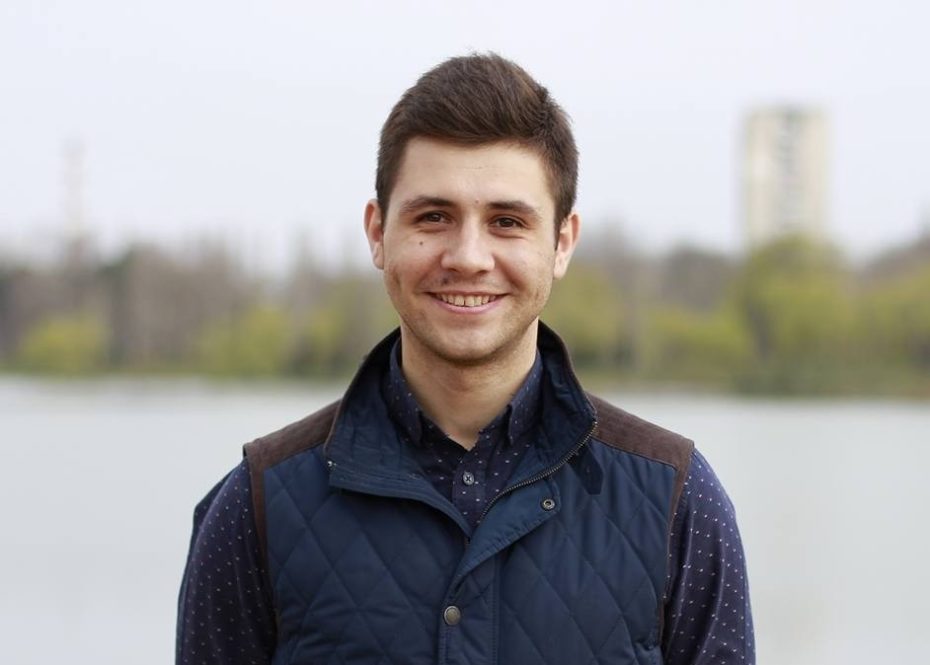 Doru is one of the most dynamic persons you could ever met. He is one of the few Moldovans who were mentioned in Forbes 30 under 30. Over the years, he participated in so many volunteering projects, that I would need some more space here to list them all. Doru is an HR expert, an international trainer and speaker, an entrepreneur, and simply an assertive person who, as it seems, could achieve anything.
About his career 'determiners'
Doru's successful career emerged from his volunteering activity. Indeed, volunteering experience has brought him where he is today.
Doru started his path at the AIESEC organisation. "AIESEC was the first organization I have been involved in since 2009. Actually, my life and work are determined by the values I learned back then. My professional activity is related to what I was doing in AIESEC." Our protagonist was a trainer and a coordinator of several important projects under the organisation's aegis.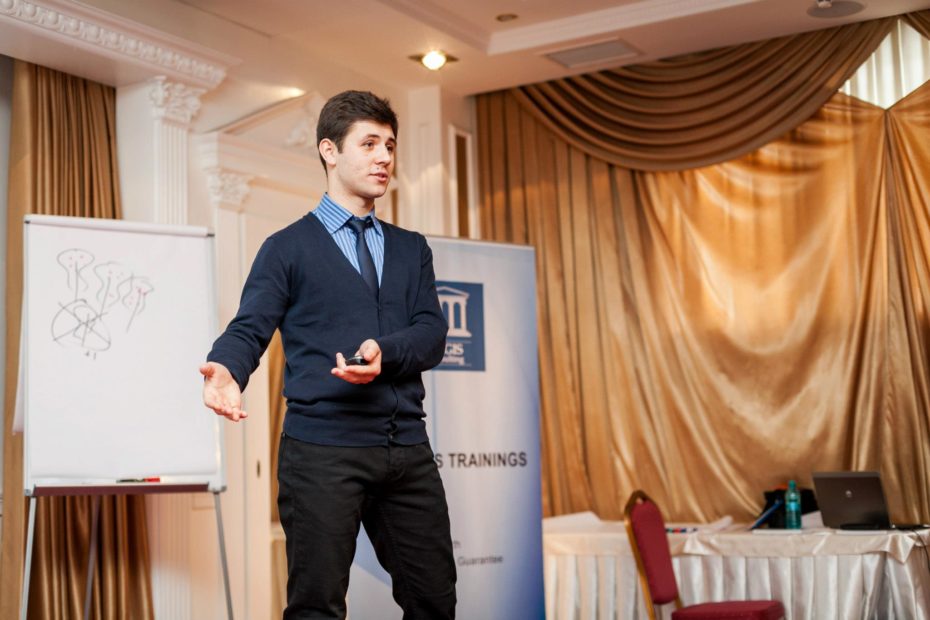 Another crucial experience that served as a runway for Doru's future professional career was his activity within the National Youth Council of Moldova. "There I experienced what it means to be a team manager, a colleague and an entrepreneur. The activity at the Council combined them all and taught me to have an impact while harnessing human capital." Doru says that he was lucky to work in a wonderful team of people with whom he would come back to work together at any time.
Doru has also been a board member of the European Youth Forum where he got useful insights regarding internationalism, globalization, European values ​​and many more. "During four years of volunteering, I have acquired as much information as I could about national and international policies, especially youth policies. I got the chance to travel a lot, discovered new cultures, met new people, got new ideas, which I tried to implement at home afterwards," Doru reveals.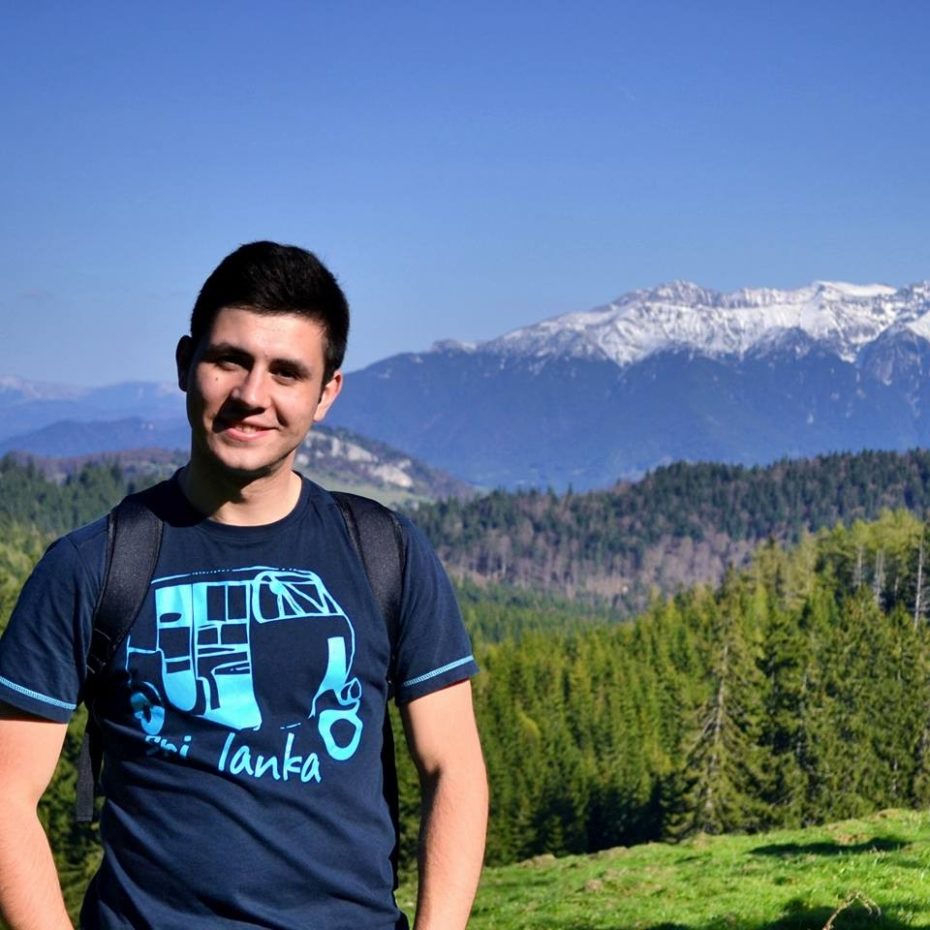 Doru believes that each person is unique in his own way.
"What is important is how the personal capabilities and experience are used to get yourself noticed. I have always tried to be very good in everything I do, to offer quality, enthusiasm, energy and dedication. I like helping those in need and trying to build 'bridges' for a better future for young people. Probably, that's how I made myself noticed, that's how the world got to know me."
There is one more essential determiner of a successful career, according to Doru – the network of contacts. "It has helped me since high school years. In 10 years, each experience has been adding value to who I am and to the way people know me. Every time my work brought results, it was noticed either in Moldova or internationally." Therefore, he was awarded the National Youth Prize in 2013 and was the first Moldovan nominated in Forbes 30 under 30.
About the spectrum of his activities
Besides building his own brand of delivering excellent training and team building services, Doru founded his own company named Camelot. "All the experience I gained as a volunteer was monetized and transformed into a qualitative and unique product on our market. Camelot is the company that offers unique, memorable and impactful experiences for those working with us. We offer training, team building, human resource management and event management consulting," specifies Doru.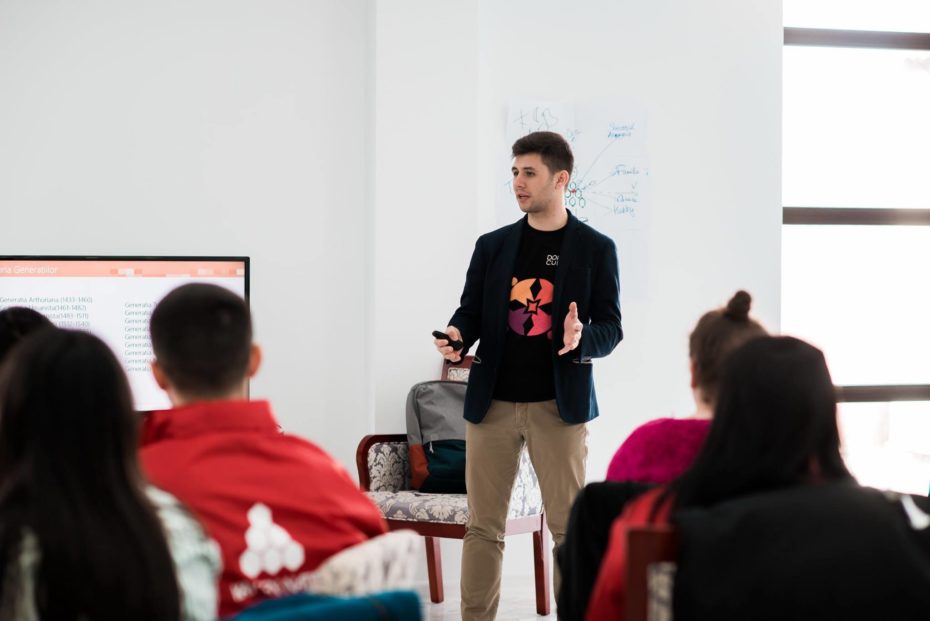 In parallel, Doru is doing his master's degree in Human Resources Management at Babeș-Bolyai University, Cluj-Napoca. He often commutes from Cluj-Napoca to Chișinău and back. When asked how he manages it; he often jokes that he learned teleportation. "I go to classes when I have to present projects, I am in Chișinău for training and team building activities, and I go to Bucharest for meetings with partners and potential clients. I am always on the road." It's not easy for Doru to do it all, still it is very rewarding in the end.
Just like his work, travelling is another 'drug' that gives him energy and inspiration, as Doru states. "The more I travel, the more I want to do it. Every visited country has had a huge impact on me." Until this moment, Doru managed to discover 49 countries and more than 200 cities from Europe and Asia. His personal top of countries is led by Georgia, Portugal and Sri Lanka. "The 50th country has to be very special. I hope it will be Peru, Colombia or India."
About the hidden part of the iceberg
Doru could tell from his personal experience how harsh the public opinion could be in regard to people that don't want to take the ordinary way and how inefficient the educational system in the Republic of Moldova became. Only few know about the challenges Doru had in his effort to combine university, job, travelling, sports and volunteering activity.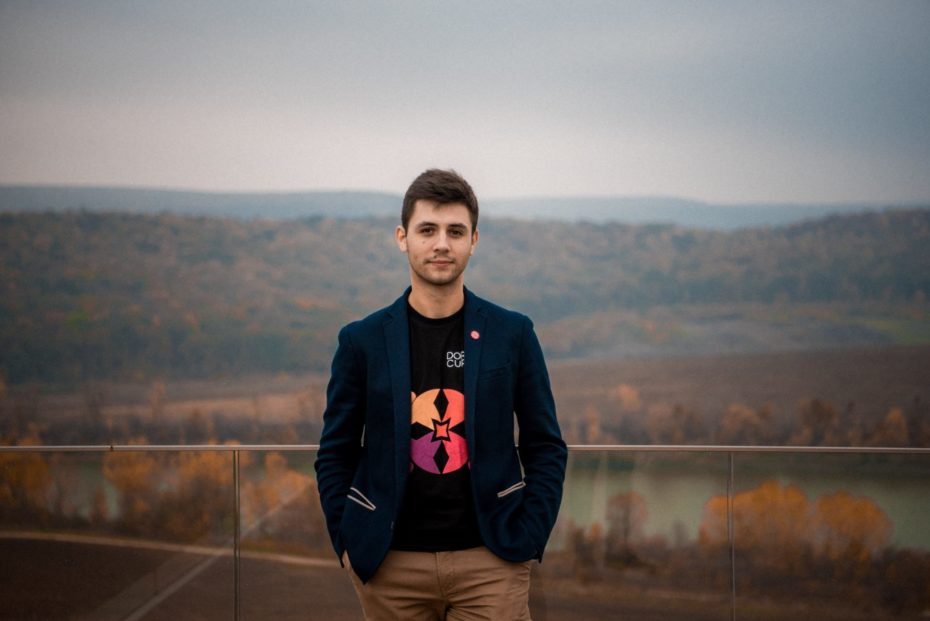 Only few know that our protagonist was forced to confront the traditionalist views of the Moldovan university system. "I had a conflict situation with the university where I was doing my bachelor's degree and, for 8 years, I have been investing my effort in graduating without giving up on our poor education system." He also had to confront some of the most trivial stigmata of the Moldovan society: <<A man has to make money. The rest is a waste of time.>> or <<Forbes? Did they pay you for it? How did it help?>>
Doru preferred to prioritize his own needs and aspirations. "My experience with formal education was not necessarily the most enjoyable, as I am not the person who accepts to waste time on things that do not add value." He considers that young people have to combine studies with other activities in order to be successful. It can be opening own business, volunteering, participating in international exchange of studies and volunteer programs, doing internships, organizing projects, events, etc.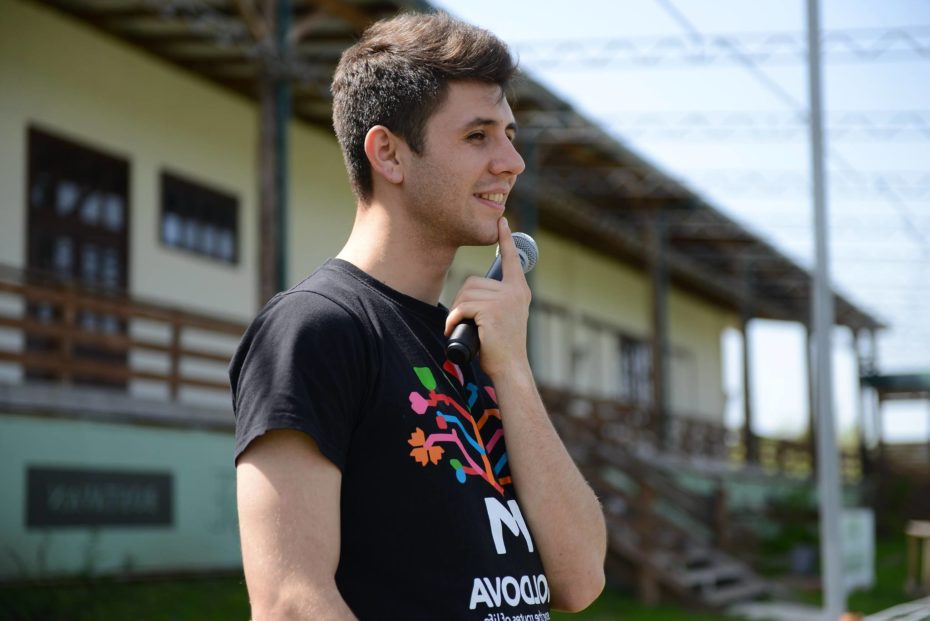 "University provides the theoretical basis. It represents only 20% of your employment portfolio, the remaining 80% comes from practical experience. Young people need education, but with no other experience besides, they will not be able to distinguish themselves on the labour market."
Doru declares himself a happy and a fulfilled person and, at the same time, he thinks there is still room for improvement: "That motivates me to never stop." He says that the key to the balance between personal and professional life is efficient communication. The rest can be managed through patience and hard work.
Photos: Facebook/ Doru Curoșu
East or West? Celebrating Victory Day and Europe Day at the same time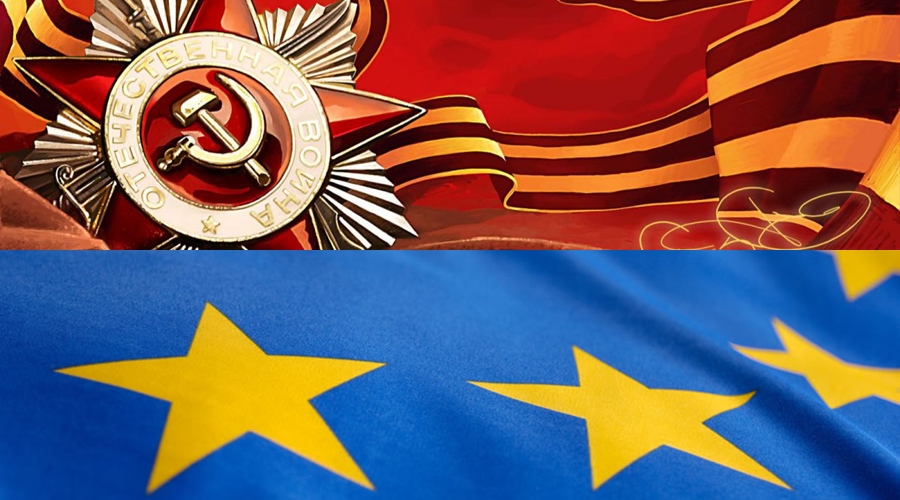 For 3 years, people in the Republic of Moldova have been debating what is more important: celebrating Victory Day or Europe Day on the 9th of May? In 2017, the Parliament of Moldova adopted a law to make Europe Day an official holiday in Moldova, along with Victory Day.
Every political party, regardless of the political views, organize a celebration on this day. This year, the Party of Socialists of the Republic of Moldova (PSRM) and the Șor Party organised concerts, parades and demonstrations for celebrating Victory Day, whereas the political bloc ACUM, the Liberal Party (LP) and the National Unity Party (NUP) celebrated Europe Day. Another political actor – the Democratic Party of Moldova (DPM) tried to please everyone and organised a holiday of "peace and prosperity for Moldova".
At the same time, the Moldovan Government decided to focus merely on Victory Day and postponed Europe Day for the following weekend, on May 11th-12th. In such a way, they considered the conflict of interests resolved.
Now it's the proper moment to ask: what is the problem with having 2 different holidays on the same day? In fact, they are not even contradictory. On the contrary, they are related, as the end of World War II and the surrender of the Allies armed forces (which is celebrated on May 8th in Europe) represented an important drive for the creation of the European Coal and Steel Community – the forerunner to the European Union. Actually, the only problem with it is the context of the Moldovan social and political behaviour.
First, both holidays are politicized and are transformed into an apple of discord deliberately, as the Moldovan politicians, especially those who are in power today, understand very well that a divided society means a weaker society; therefore, an easier to control society. The debates about directing Moldova to West (the EU) or East (the CIS) never stopped in Moldova. On May 9th, everyone argues about that: the governors, official representatives of the civil society, activists and, consequently, common people that instead of taking time to discuss their real problems, new businesses, initiatives, projects, protests against the injustice that is done to them, most of them are dividing in groups, spreading hatred and treating superficially the true meaning of both celebrations.
People forget that Victory Day is not about expensive concerts organised by the socialists or buckwheat with pickled cucumbers served in the city centre by the democrats. It is not about pompous demonstrations that involve children who are forced to dance synchronously instead of listening from their parents, grandparents and teachers about the tragic consequences of the Second World War.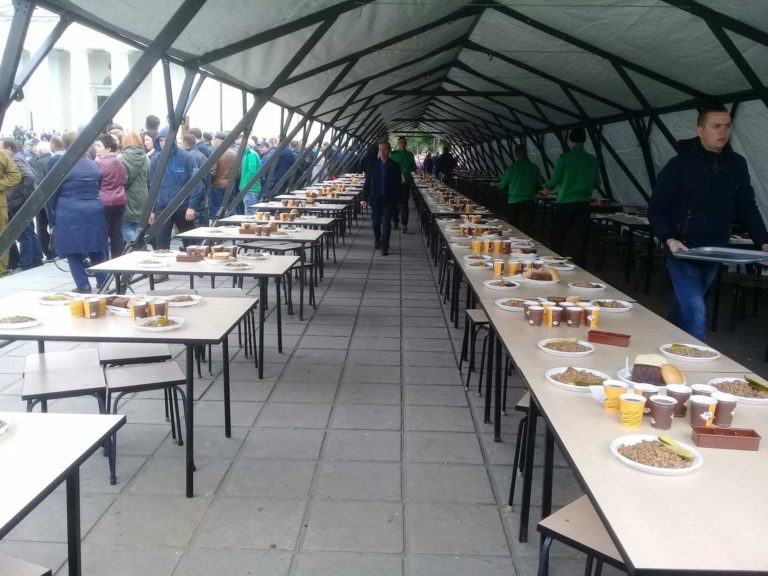 On the other hand, Europe Day is more than classical music concerts organised in the central park of the Moldovan capital. Behind the exposed photo galleries are people that have been working a lot, searched and applied for European funds, people that didn't expect somebody to simply come and save them from the poverty, corruption, injustice, etc. Unfortunately, such people are still not enough in Moldova and Europe Day is treated by the majority just as superficially as any other holiday in Moldova: an occasion to eat out, listen to concerts' music and have fun.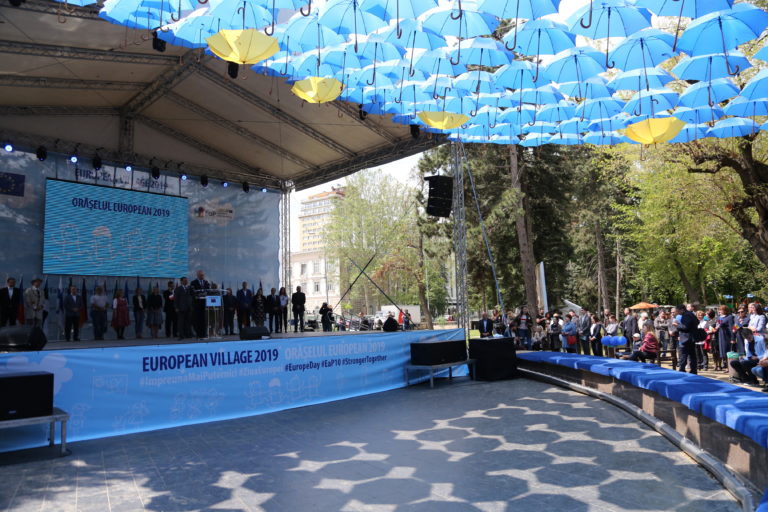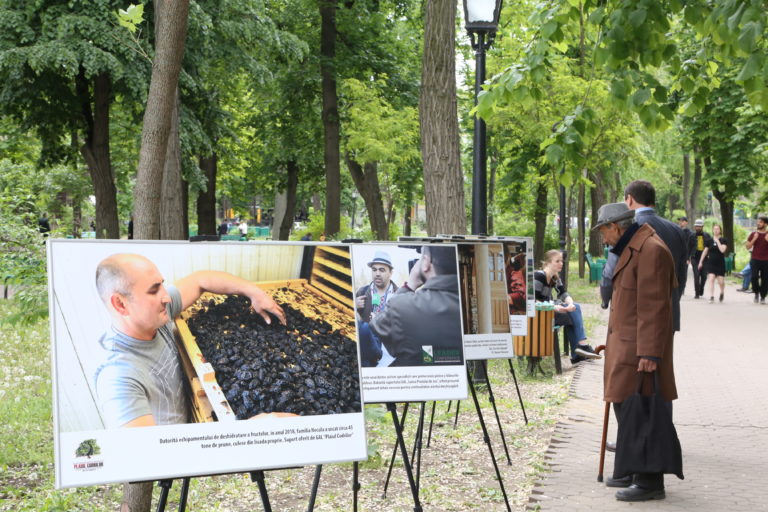 Moreover, the governmental institutions and some big media outlets present the events happening on May 9th as a natural occurrence. So, the fact that several political parties 'marked' their territories in the city centre of Chișinău, organizing their own events for their own electorate is considered normal. The direct use of propagandist methods combined with avoidance to declare the events' costs by the political parties is not a problem in Moldova.
We live nowadays in a country stuck between Eastern and Western worlds, which can perfectly make it without our existence. We live in a country with poor people, morally poor first of all, as we don't really know much about our past and don't care as much about our future.  None of these two holidays real meaning is interesting for the biggest majority of the population. We just love their symbolism that takes us back in the past or enables us to dream about the future. May 9th is just another reason to celebrate, not more than that.
Photos: Ziarul de Garda
Stories from diaspora// Natalia Ciobanu – the traveller who left everything behind for a journey around the globe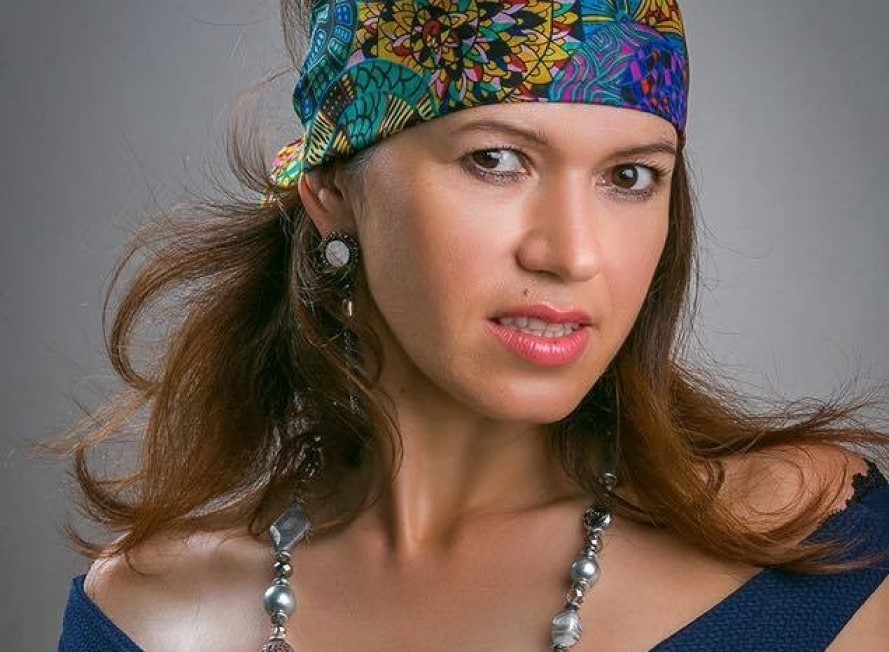 It started from a childhood dream and a personal challenge. Natalia Ciobanu had been practicing as a speech therapist in Paris when she decided to sell a part of her personal belongings, save some money and go on a trip around the world. Some of us only dream about the Monument Valley from the USA, Salar de Uyuni from Bolivia, Machu Picchu from Peru, The Great Wall of China, Mardi Himal Mountain from Nepal or Taj Mahal from India. Natalia already saw all of them and has got amazing plans for her future trips. Today's story is about her.
About her own concept of travelling
Natalia wanted to get out of the comfort zone and find her limits. "I chose to say 'goodbye' to materialism and to experience a minimalist lifestyle, having only a backpack with me. At the same time, I also wanted to explore the world, to admire the beauties of nature, to try out different cuisines and to see what happiness means for other people," Natalia says.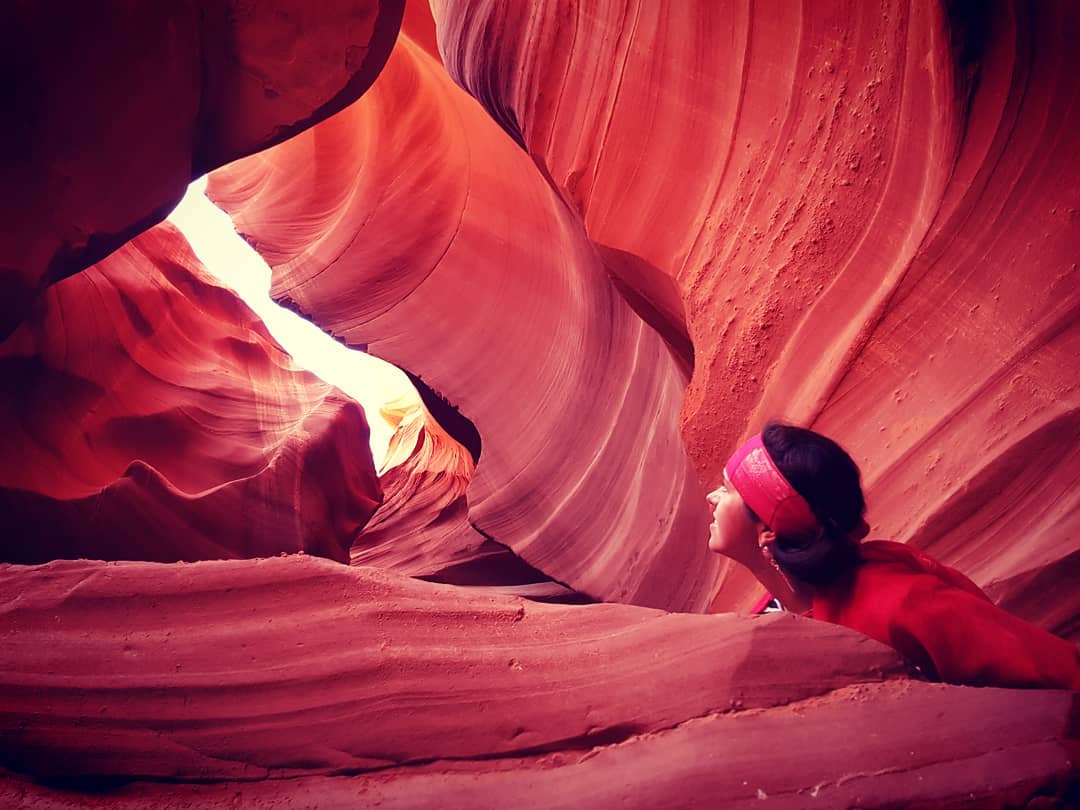 Even though she had this idea for a long period of time, the real impulse was given to her by her patients. 
"The cases of young patients who stayed in the hospital I was working at, being disabled for their lifetime, have accelerated my decision. Life can be short, and we should cherish every moment."
Hence, it wasn't just a usual trip for Natalia. Prior to the journey around the globe, Natalia already was an experienced traveller: Martinique, Dominican Republic, Seychelles, Mauritius, Jamaica, Cuba, Morocco, Italy, Spain, Portugal, Israel, England, Vietnam, Laos, Cambodia, Thailand, USA. "But these trips were made in more luxurious conditions. I was a tourist, not a traveller. This is why I needed a change and a new way of exploring things."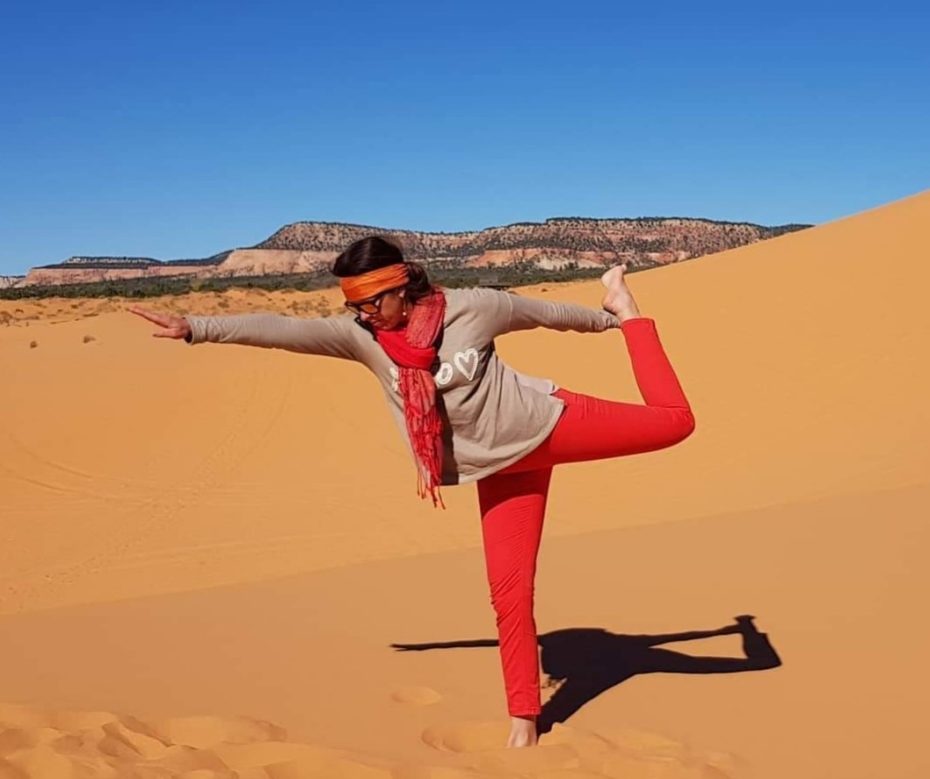 So, she tailored her own way of travelling: alone but open to making new acquaintances, challenging but so exciting, combined with practicing sports and trying out local food, clothes and customs, comfortable rather for the soul than for the body.
About the arrangements before the journey
The preparations were organised really fast: "It was spontaneous, and it was done faster than I expected. My decision was made in August last year. The request for the sabbatical leave was made in September. I received a positive answer in November and on January 6th I was already on the plane. It all happened so fast, I did not even have enough time to solve all my administrative issues," recalls Natalia. She didn't even manage to do all the necessary vaccinations.
"I know, for example, a person who planned for one year to go around the world and at the last moment cancelled everything." Surely, she didn't want the same.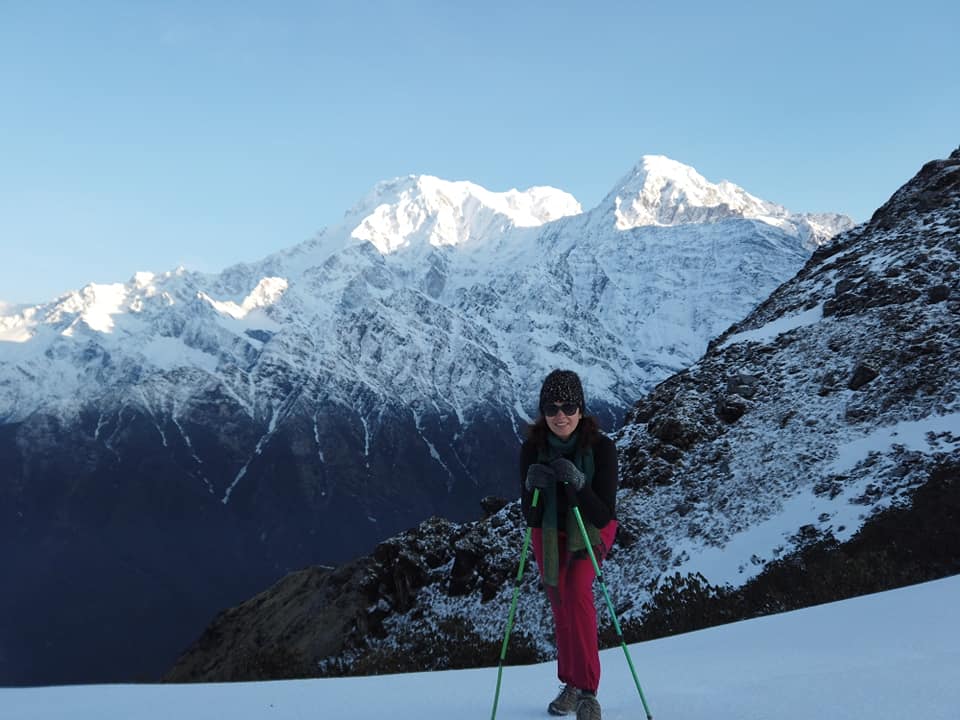 She first sold everything she could: her car, jewellery, clothes, shoes. She used her savings and arranged everything in 2 backpacks, a medical kit and a small bag for papers, money and her phone. That is all she needed, besides the courage and enthusiasm she already had.
"When I get back, I'll start everything from scratch."
Natalia doesn't plan her itinerary. She has no list of cities and places to visit. "I buy my airplane ticket in the very last moment. Just a ticket, no hostel, no idea about visits. Everything is improvised by taking into consideration my wish list, the geographical position of countries and the price of airline tickets. I make use of internet and the help from travellers I meet."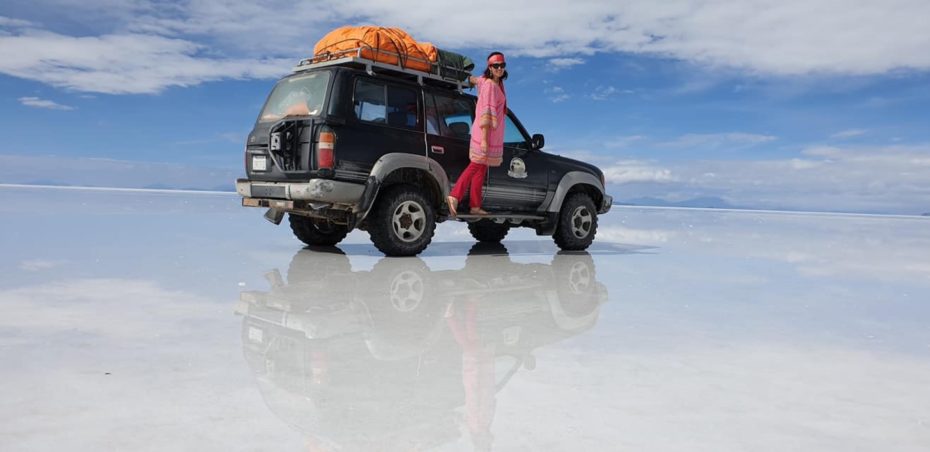 About her once in a lifetime trip
At the moment, Natalia explores India and, since she began her journey in January 2019, she already had the chance to travel to the most beautiful places in Argentina, Chili, Bolivia, Peru, Columbia, Ecuador, Japan, South Korea, China and Nepal. She visited the capital cities and globally recognized touristic attractions, but also got to less popular places, made a lot of friends among the local people and benefited from their hospitality and their priceless recommendations.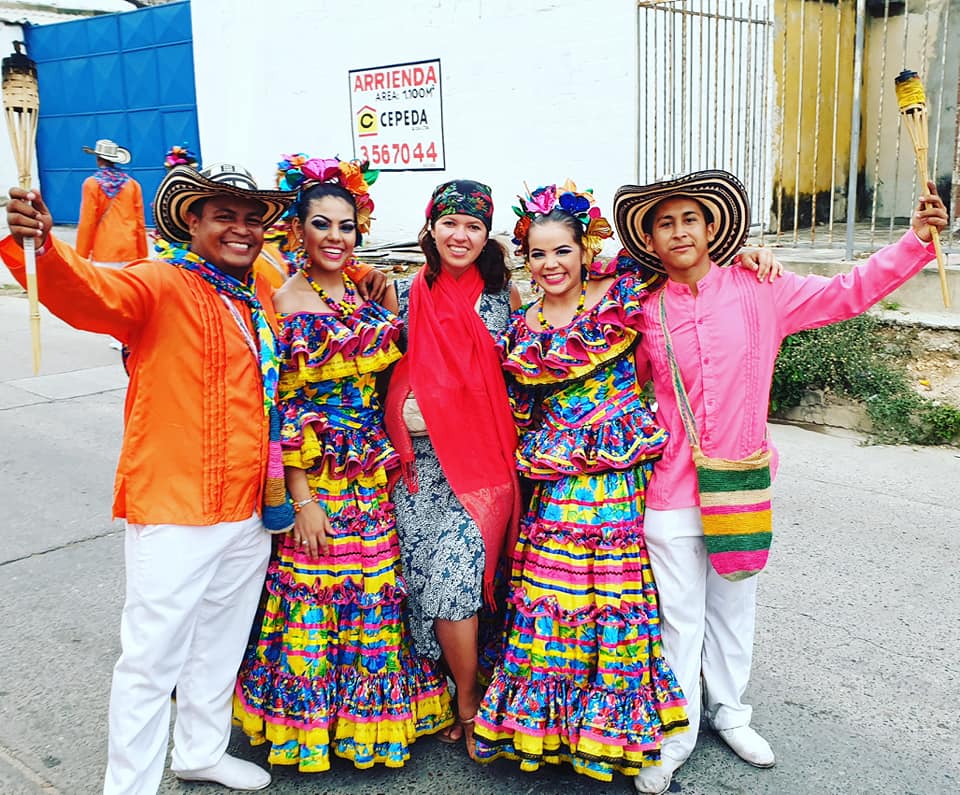 Natalia would love to go back to some places one day. "The Carnival of Barranquilla was a great experience. Japan impressed me with its hospitality and sakura. In South Korea I was invited to have dinner with people I met for the first time. I would love to see again the Iguazu Falls in Argentina, the Uyuni salt flat, Peru's Machu Picchu Mountain, Cotopaxi Volcano in Ecuador… Now, in India, I can hardly wait for the Dalai Lama event."
About the flip side of the coin
Nonetheless, not everything went smoothly. "I lost 2 airplane tickets. In one case, I did not have the right to make a stop in China, although I had a transit visa. In the second case, I did not have an exit ticket from that country." Natalia says that India provoked a great cultural shock for her. "It's hard to understand what's going on in my soul." She also had difficulties in communicating with Chinese people, as the majority of them hardly speak English.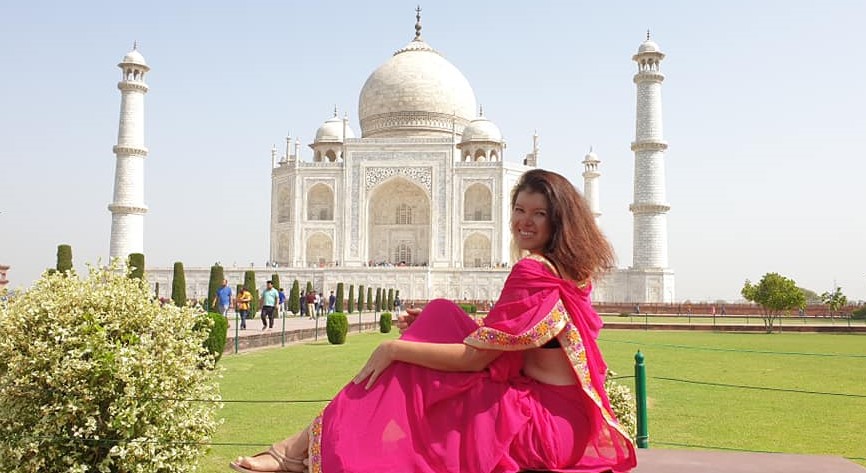 Then, she got deeper and observed other important problems existent in the countries she visited. "There are environmental problems everywhere, especially in undeveloped countries where people are not educated to protect nature and the governments do not have the necessary means to manage the garbage. India shocked me completely, as there is misery everywhere, same in Bolivia and Peru. The plastic is a real problem. I became aware the dangerous consequences of our actions because I can observe the difference, since I have been travelling for 15 years," states Natalia. Our protagonist often collects garbage during her trips, as she wants to make at least a small contribution.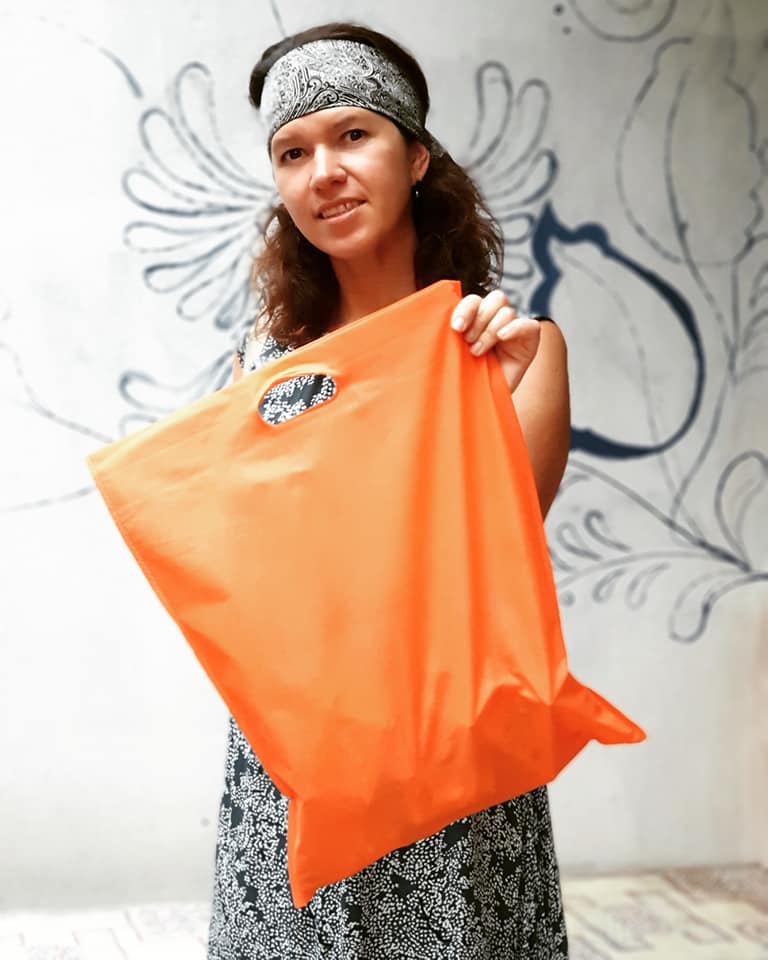 Extremist religions represent one of the current problems of our planet, according to Natalia. "I felt this the most in India, where the Kashmir region is dangerous. The bombings in Sri Lanka have postponed my trip to this country, which I really wanted to visit."
"The poverty I saw in Bolivia, Peru, Nepal and India hit me like a ton of bricks. I couldn't ignore the sexual aggression problem in Nepal and India and the always tensioned atmosphere in Colombia, Ecuador and Argentina."
About her main takeaways
Natalia changed a lot since she first started to travel and surely the metamorphosis is still in process, as she is today in one of the most contrasting countries of this world. She has got some thoughts on developing eco and rural tourism in the Republic of Moldova. "I would need a team and sponsors for implementing them."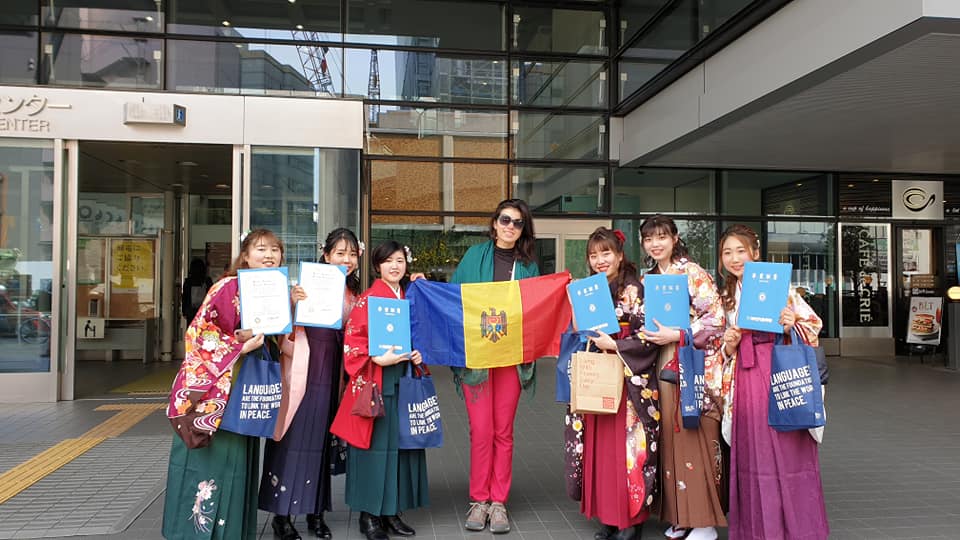 What is really important, is that she found out so many things about herself and the surrounding world. Natalia has a message for other experimenters who would like to do it as well:
"As long as we are in good health and have the will, new horizons need to be explored. We must learn to detach ourselves from a materialist life and appreciate lasting things, as well as people that will be there for us no matter what. To make a trip around the world means to accept challenges, to open oneself, to experience, to learn, to get acquainted with different people, to tolerate other civilizations, to appreciate changes, and to simply love life. So, I invite you to have beautiful and emotional journeys."
Photos: personal archive