"PROHIBITED VOTE = DEFRAUDED ELECTIONS". The bloc 'ACUM' demands that Diaspora is able to vote with expired passports // VIDEO
This morning, the electoral bloc 'ACUM' organized a public action in front of the Central Electoral Commission with the title "PROHIBITED VOTE = DEFRAUDED ELECTIONS". The participants were dissatisfied with the fact that Moldovan citizens from abroad will not be able to vote based on expired passports in the February 24 elections.
The co-chair of the bloc 'ACUM', Maia Sandu, said that the CEC wants to ban the vote for ±100.000 of Moldovan citizens and that this is a violation of the Constitution.
In all these years, the CEC issued election decisions confirming citizens' right to vote regardless of the status of their passports.
"We are at the CEC today because these elections are neither free nor fair. CEC and other state institutions do not see or want to take an attitude based on the reported abuses committed by certain electoral contestants. […] The Commission sends signals stating that it will NOT allow our fellow citizens who are abroad to vote within valid foreign passports," declared Maia Sandu.
Representatives of the Diaspora, who attended the event, mentioned that their right to vote was restricted.
"Our Government likes our money sent abroad, but they don't seem to like our vote," said a Moldovan woman, established for 3 years now, in the UK.
The protesters have asked the Central Electoral Commission to make a decision based on allowing citizens abroad to vote by expired acts, as in the previous elections.
Photo: Privesc.eu
Stories from diaspora// Dumitrița Gore – a violinist who performs on the best stages of Europe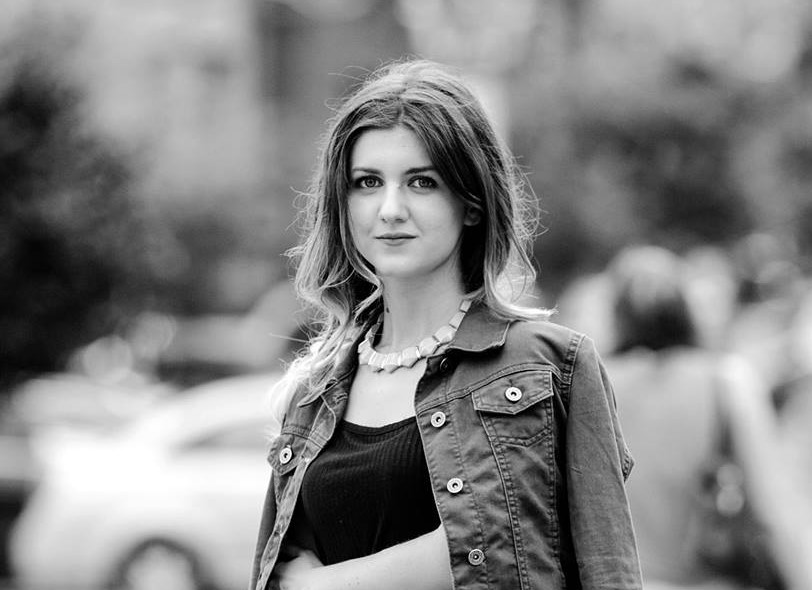 Dumitrița is a violinist who is in love with classical music and violin. People usually say about such talents: "She was meant to play music." Arduous and passionate, romantic and beautiful, she always radiates on stage. Dumitrița is really young but already managed to have a lot of achievements and so much is yet to come…
About the way it started
Dumitrița loved music since her childhood. "In my family no one is a musician, but we sing a lot, especially when we get together for holidays." When she was 7 years old, her mom brought her at the Music Lyceum "Ciprian Porumbescu" in Chișinău. Dumitrița says that at that moment she didn't know what instrument she wanted to play. "I think the choice was, in fact, more of my mother. At that age I did not realize what instrument I would like to play. I liked music, I had a musical hearing and my mother decided I should try, and that's how it all started," recalls Dumitrița.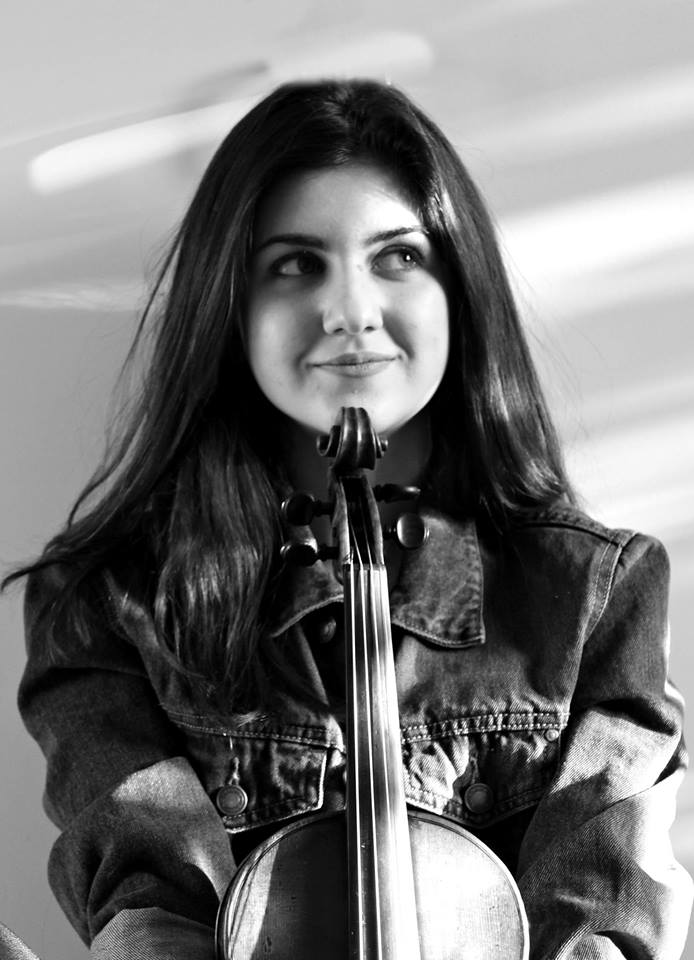 It didn't take too much time for her to understand that this is what she would love to do her entire life. Every day, Dumitrița fell in love more and more with classical music. "Ever since I started learning at the Music Lyceum "Ciprian Porumbescu", I did not think I could do something else besides music."  The help and inspiration she got from her teachers, the passion about music, and the motivation from her successes at the national and international competitions convinced Dumitrița to continue playing violin.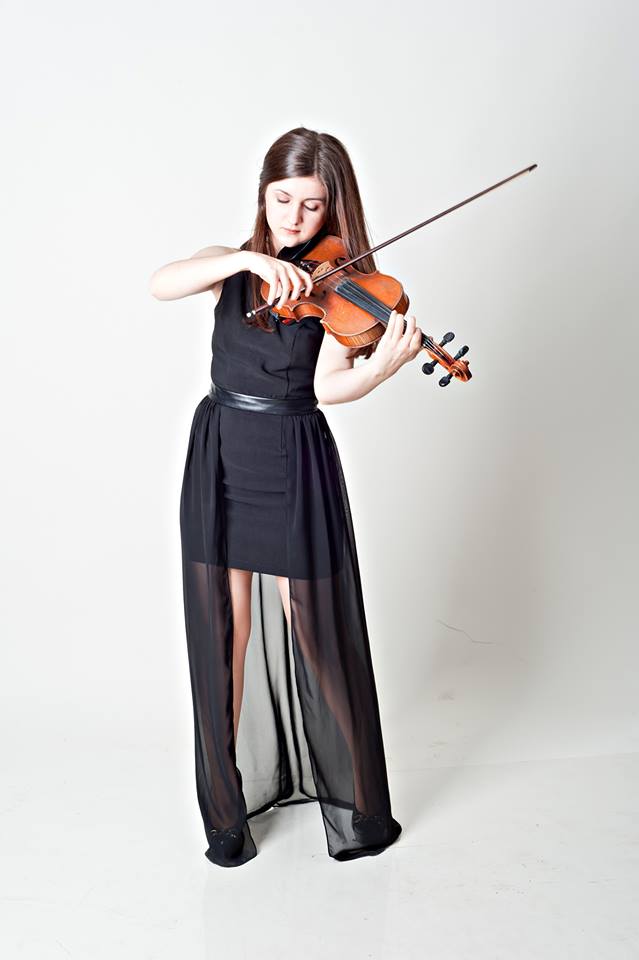 "Since I was 14, I started playing in youth orchestras where I had the opportunity to meet a lot of people from different corners of the world." Our protagonist made her solo debut at the age of 16 with the Moldovan National Chamber Orchestra and participated in more than 15 national and international competitions. Among the most important awards she won were the 1st Prize at the "Nedyalka Semionova" International Violin Competition (Bulgaria), the 1st Prize at the National Competition "Paul Constantinescu" (Romania) and the 2nd Prize at the International Competition "Eugen Coca" (R. of Moldova). "Every prize carries a distinct significance for me because each of them is about a lot of work and shivering. The first contest I participated in – the "Eugen Coca" International Competition, was special though, as it was in the 4th grade and was the one that made me spread my wings," specifies Dumitrița.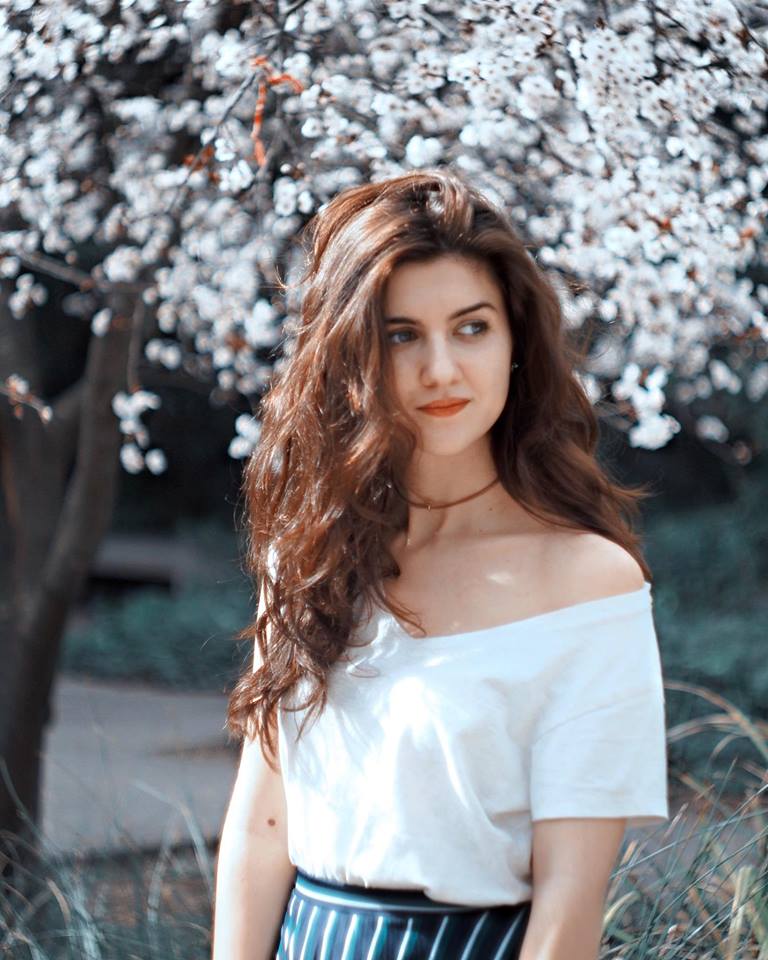 About her experience abroad
Dumitrița understood that she would like to continue her studies abroad while she was still studying in Moldova. "I realized that it would open more doors and help me to progress more." Later, she decided to apply to the University of Music and performing Arts in Mannheim, where she is currently studying. "Here in Germany, the attitude towards music differs greatly from that in Moldova. Classical music is loved, studies are made at a top-level and the competition is very high. That makes me think I have chosen well" she states.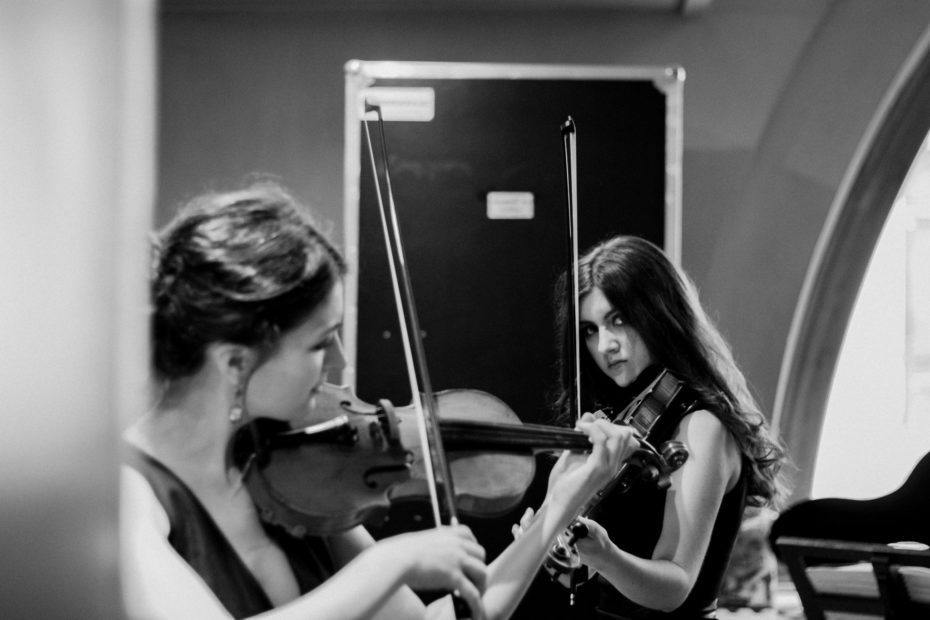 Dumitrița managed to perform in such orchestras as the German Kurpfälzisches Kammerorchester, Youth Orchestra Romania-Moldova, Moldovan Youth Orchestra, Romanian Youth Orchestra, Romanian Symphony Orchestra, etc. Recently, Dumitrița got the chance to be a violinist in one of the best European youth orchestras – Gustav Mahler Youth Orchestra. Moreover, for more than two years, she has been playing a Charles Adolphe Gand violin, dated 1855.
"In fact, I play in many more orchestras, as a member or a substitute. One can't be a permanent member in the youth orchestras. Usually, they organize projects and tours for several weeks, to which I am invited. Sometimes, there are auditions, like in the case of  Gustav Mahler Youth Orchestra. It is not something stable or systematical, as a job. That enables me to play in several orchestras, as well as to play more chamber music, which I really like and that inspires me a lot."
As time went by, she gathered experience and a lot of wonderful memories. "I remember that at the last concert in the spring tour with the Gustav Mahler Youth Orchestra in Musikverein, Vienna, during the third symphony by Gustav Mahler, you could see tears in the eyes of both audiences and those on stage. It was a magical and a very emotional moment," reveals Dumitrița.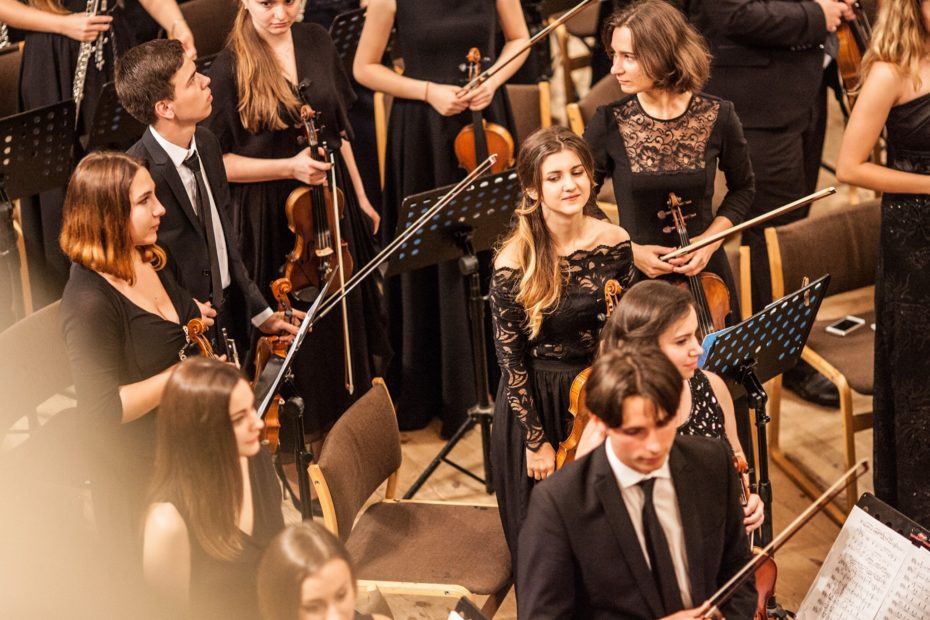 About her little secrets
Dumitrița plays in many orchestras, studies at university and even makes some time for other hobbies she has – travelling and photography. "I'm lucky that the profession I chose gives me the possibility to travel quite often. I have projects in different locations of the world, but I get a special satisfaction when I have the opportunity to spend a few days of vacation and to recharge my batteries. For some time now, I've discovered my passion for photography, and that's what I do more and more often," she says.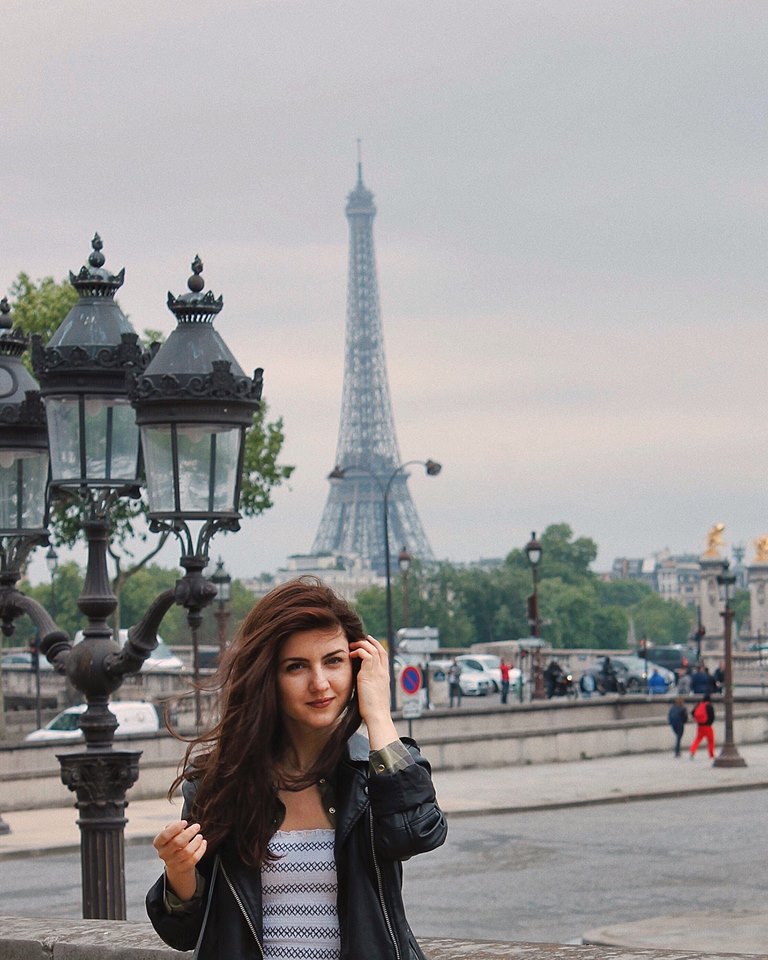 Our protagonist says that there is no secret of succeeding to do so many things at the same time. "What helps me, in general, is that I am an ambitious person, and I do not give up easily. I have established my priorities and I try to not give too much meaning to the disappointing moments."
Dumitrița still feels a connection with her homeland due to the fact that she has her family in Moldova and she also often craves for the Moldovan traditional food, as she says.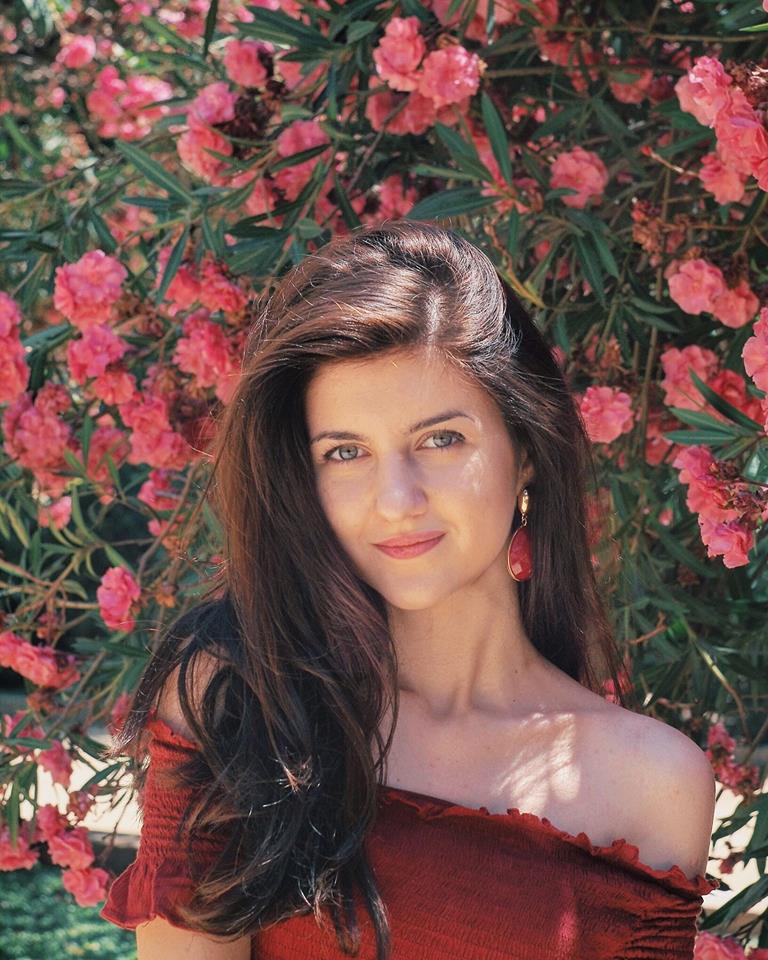 There is one more thing that is not widely known about Dumitrița: the violin she plays – the Charles Adolphe Gand violin, is a real treasure, literally, as it was estimated as having a value of about $75 000.  "I am playing this violin on generous loan from Prof. Gottfried Schatz. It is a special instrument with very strong and very warm sound at the same time. Only after I started playing this violin, I understood how much a really good instrument can help you. It's a whole new feeling. The pleasure of creating music grows enormously when playing such an instrument. Still, it's also an enormous responsibility, so I always do my best to keep it safe, take care of it and when I travel, I never let it out of my sight," Dumitrița reveals.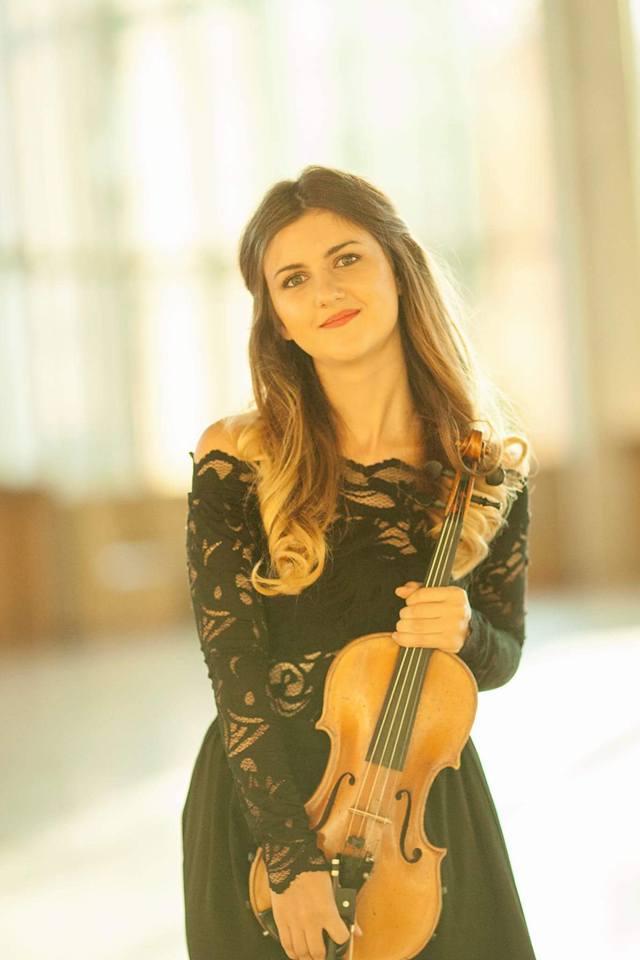 Photos: Facebook/Dumitriţa Gore
Stories from diaspora // Constantin Botezat – the young artist from Moldova who gathered his experience in 5 different countries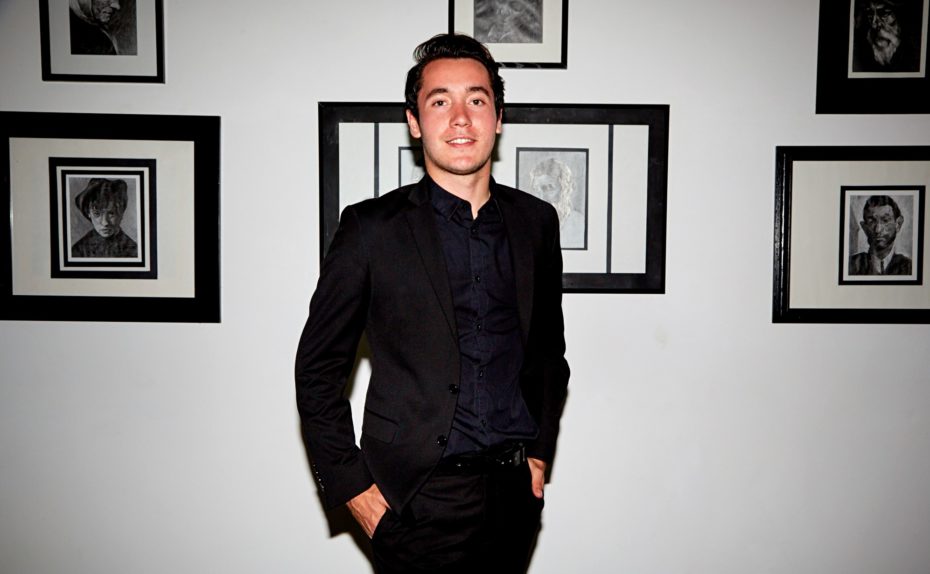 Constantin Botezat is a talented artist who comes from the Republic of Moldova. Generating harmony between painting and graphic design is a part of his daily work. His works were exhibited in London, New York, Los Angeles and even Hollywood. He accepted to tell us his story.
About his first art 'manifesto'
Since his childhood, Constantin has been passioned by art in all its different shapes and forms. He was lucky to have parents that noticed his excitement and contributed to its development. Consequently, Constantin became a student at the Igor Vieru Academic School of Fine Arts in Chișinău. Still, there is one more decisive element besides his passion and the parents' support – the mentorship provided by his teachers. "The greatest influence was exercised by my school teachers who had a great impact on my life," says Constantin.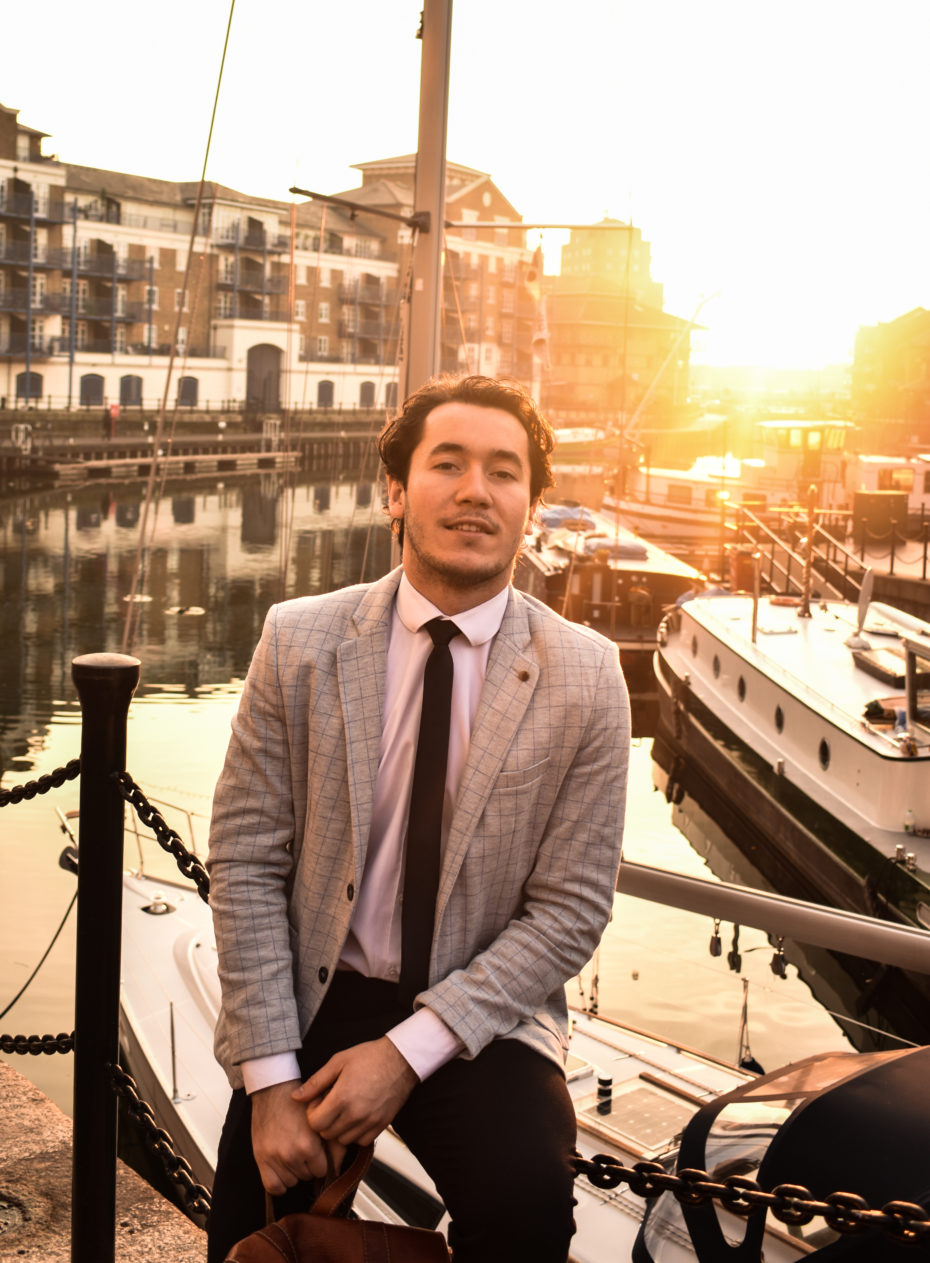 His first exhibition took place at the "Târgu Mureș" Library from Chișinău.
"I was a 15 years old teenager at that time, with a strong desire to express myself but, at the same time, a little unconfident because of the society and the surrounding atmosphere."
Since that moment, Constantin changed a lot. Today, he is a perseverant, determined, talented, bold and, what is more important, a self-reliant artist who knows for sure that hard work results in desires and dreams fulfillment.
After high school, he studied Design and Applied Arts at the University of Art and Design in Cluj-Napoca and Graphic Design at the Academy of Art in Bari. Constantin gathered his first experience while collaborating with a contemporary art gallery in Cluj-Napoca. Afterwards, he did some internships in Lisbon and London. "I am enormously grateful that I had the chance to study in all these cities. In all of them I managed to make wonderful friends and to learn about a very exciting world that inspired me to continue this path. In every city I started everything from the scratch." Constantin plans to write a book one day about all the cultural amalgam experienced during the past four years of his life.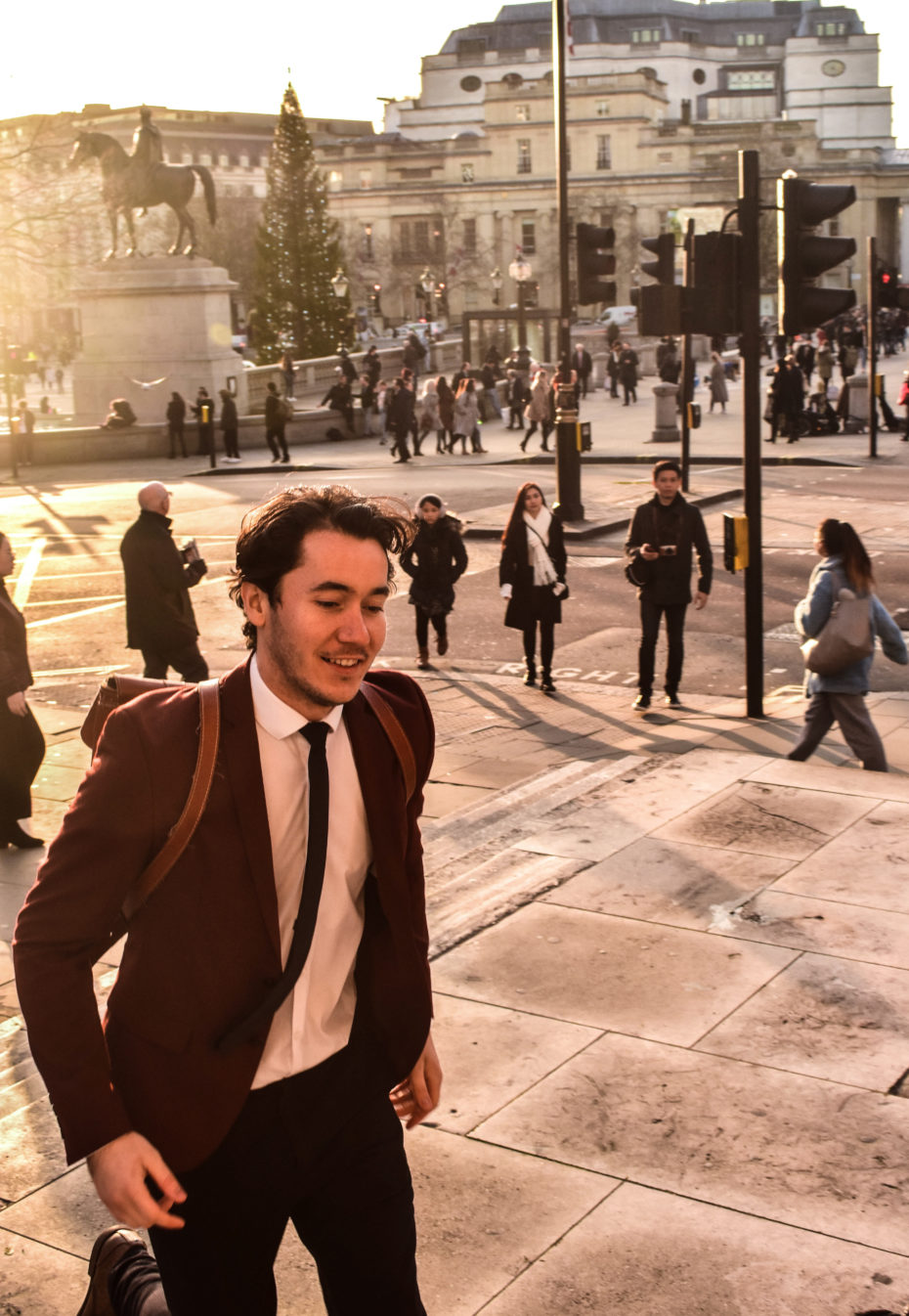 About art creation and expression
"For me, painting and graphic design enter into a dialogue. I think both are based on the same principles." At present, Constantin is doing an internship as a graphic art designer at a British magazine and, in parallel, organizes his own art exhibitions in London. One of his goals is to become an art manager and coordinate a team of artists "who will bring a fresh view into the art world," as he states.
He has a busy schedule, but all his work culminates with wonderful results. "Up till now, I managed to organize 38 national and international exhibitions. The purpose of these exhibitions was actually to promote the image of the Romanian people, traditions and culture," highlights Constantin. Recently, Constantin opened his exposition called "The spirit of the Bessarabian landscape" which was a part of an event organized by the EBRD cultural program and the Embassy of the Republic of Moldova in the UK.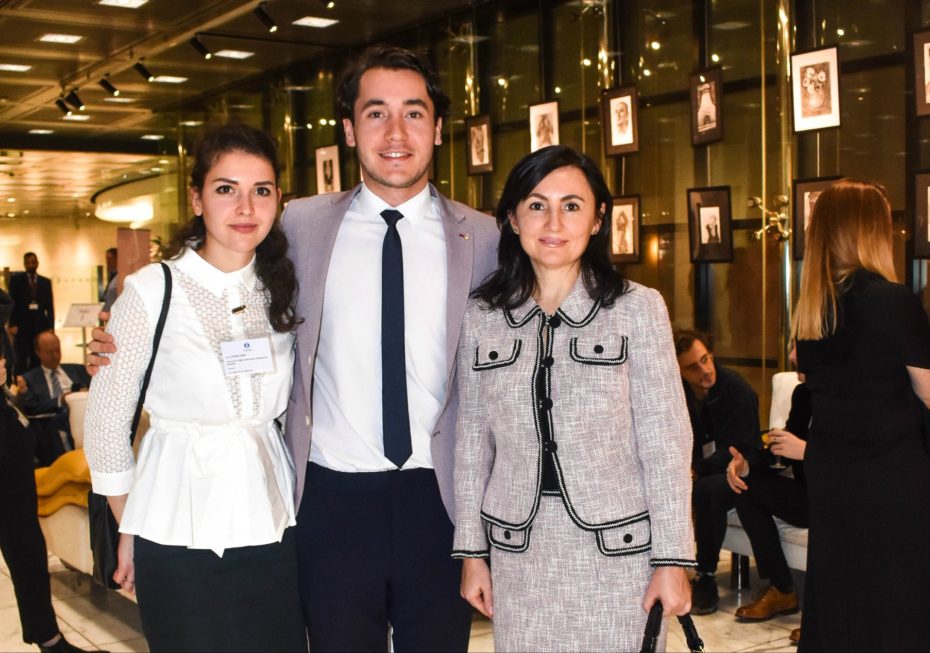 2016 was a special year for Constantin. His paintings were exhibited in the USA. "I always wanted to create transoceanic exhibitions and art projects. As I had this opportunity to go to the US, I started to create a series of works that I have presented at several exhibitions." The first event took place at the Alpine Art Gallery in Salt Lake City, Utah, followed by a Hollywood event at the Zen Art Gallery and the third event was organized at the Hive Gallery in Los Angeles. During all this time, Constantin had the support of his American and Romanian friends, for which he is extremely grateful.
That was only the beginning. "These events certainly made me much more self-confident and determined to create more. I realised that everything is in our hands and anyone is able to create whatever he wants regardless of nationality, religion, or gender." Next, international exhibitions were organised by Constantin in New York, Lisbon and London.
All these public presentations represent for him a possibility to have a direct contact with the public who is interested in artistic values and searches for inspiration, according to the young painter. This year, Constantin was able to participate in 3 group exhibitions, all of which took place in London at the Espacio Gallery.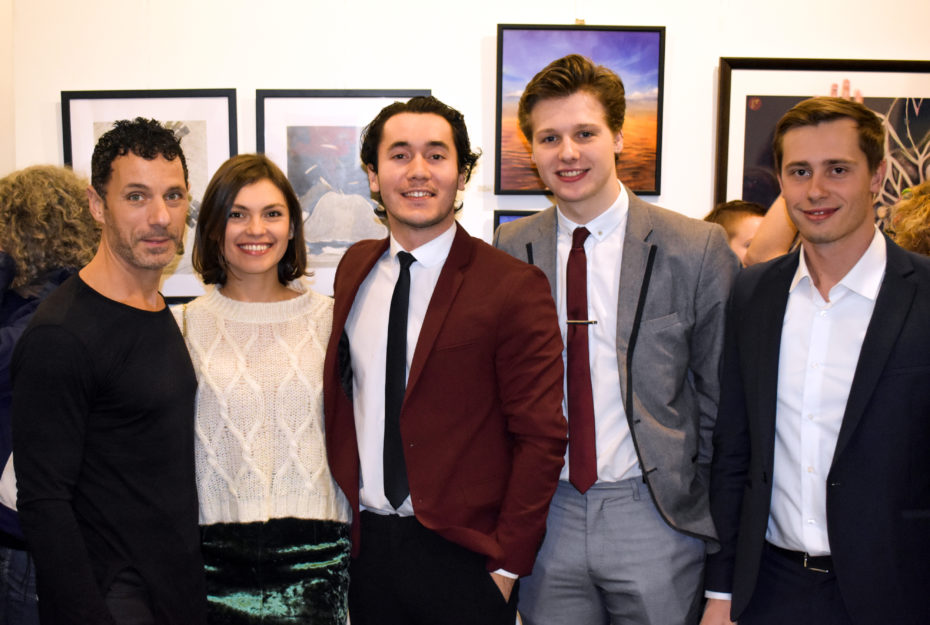 Nowadays, Constantin lives and works in London, which he considers a great city with lots of opportunities. "Through the magazine I work at, I had the chance to meet many personalities from cinematography, fashion, painting. I managed to attend film festivals and premieres. Also, I managed to meet international actors, to go to London Fashion Week and take pictures of new collections. Still, I think London is just one chapter of my activity, the most interesting is yet to come," says Constantin.
Our protagonist is an artist with pragmatic views. He sees the creation process as an instinctive one: "I think most artists feel when a work is completed." At the same time, he tries to be well-organized, while being guided by his goals: "I think in this way I become more motivated to get the things done and to reach the desired result."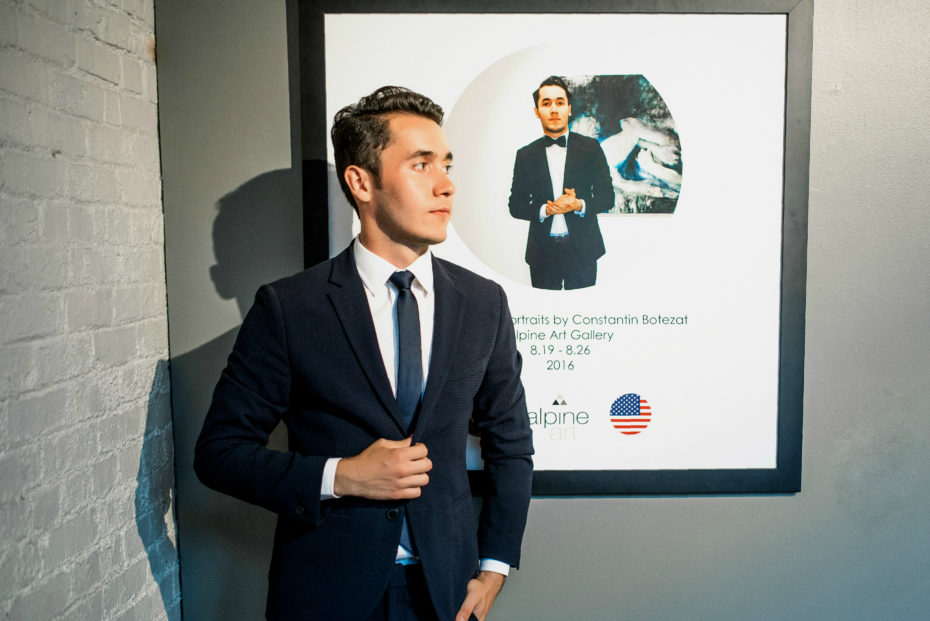 About the young generation of artists from Moldova
Constantin expressed his hope for a better future for his homeland – Moldova, through implementing correct reforms. He says that anyone who wants it, should have the possibility to leave. However, it is important to not forget where you started from and to come back, eventually.
"Certainly, many students at arts in the Republic of Moldova dream to continue their studies abroad and I think that is a beautiful purpose. I would love to know that more and more people receive the opportunity to study and travel around the world, as these experiences help to see the world with new eyes and, on the other hand, to cherish the things that have already been achieved."
Constantin thinks that the young artists from Moldova are very talented and have a tremendous potential. "The most important thing for them is to be self-reliant and to get support from their parents. It is important to invest in the education of new generations because they represent the future of our country," states Constantin.
Photos: personal archive
The flow of Moldovan migrants to the Russian Federation is the lowest since the collapse of the USSR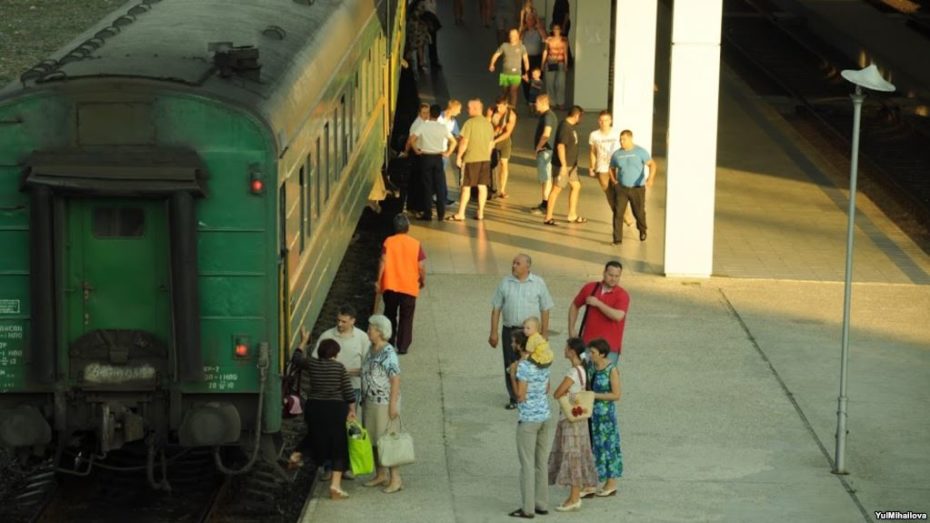 In 2018, the flow of migrants to Russia amounted to 124,900 people – the smallest indicator in the whole period after the collapse of the Soviet Union, explains the Institute of Sociological Forecasting and Research in the Russian Federation.
These data were published in the monthly monitoring of the socio-economic situation and the health of the population. However, keep in mind that these figures represent specifically the migrants who have registered at the entrance to Russia for a period of 9 months to 5 years, after which they consider themselves automatically gone.
The number of migrants to Russia has dropped from almost all countries except Armenia, Azerb, ijan and Turkmenistan. The number of those who came from Usbekistan and Ukraine has dropped the most, countries from which the largest number of migrants in the past migrated to Russia. From these countries, in 2018, there are 3.2 times fewer migrants than before.
The report shows that the number of migrants in the Republic of Moldova has decreased from 18,600 people in 2012 to 7,700  people in 2018.