Mass Exodus from Moldova, the Fastest Shrinking Country in the World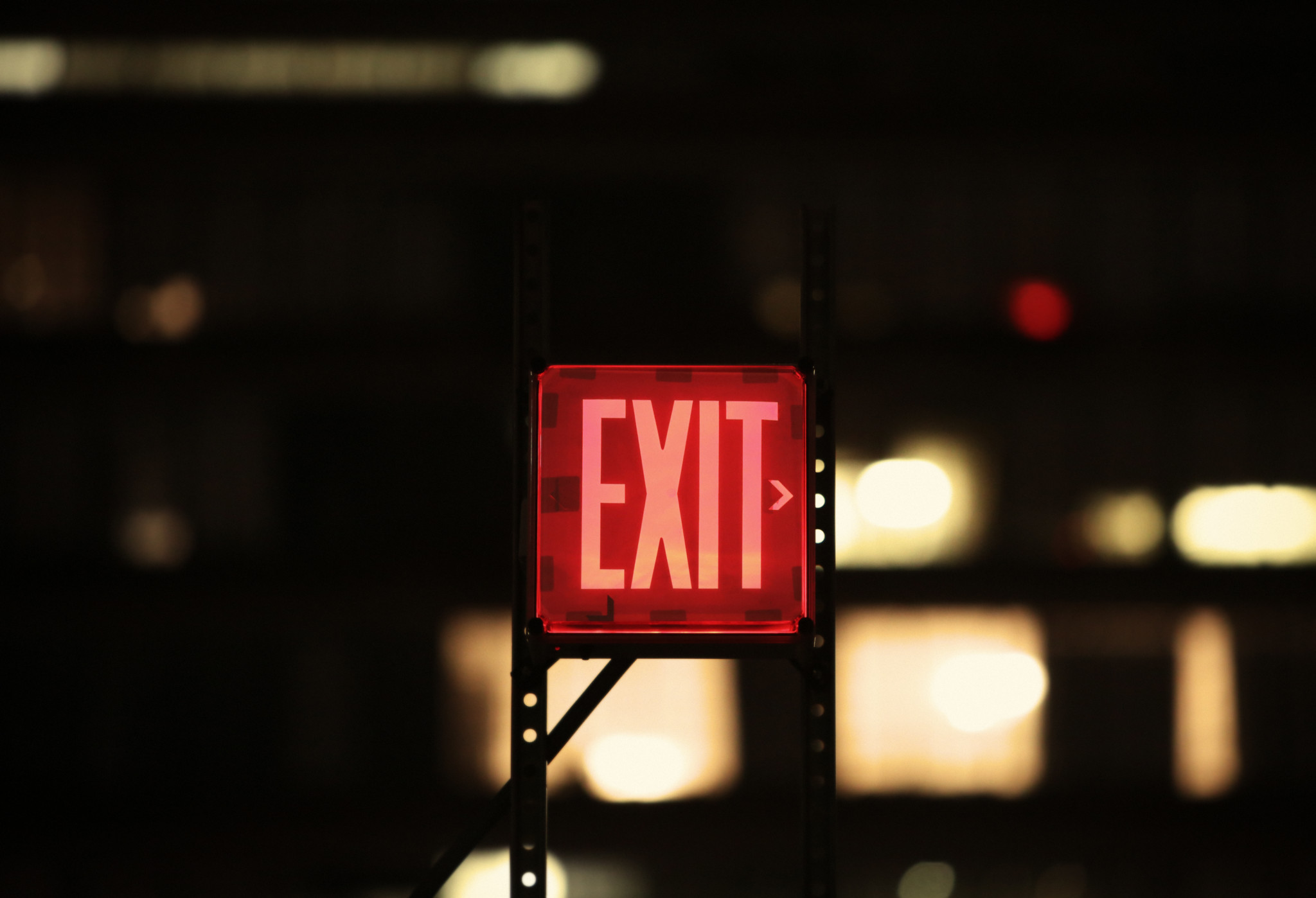 CHISINAU, Moldova — On a rainy October day, two years ago, Oleg Bumbac, 29, landed at Luton Airport, in southern England. While walking on the airstairs, dressed in a blue business suit, Bumbac realized that he left Moldova for good.
"I felt a bittersweet feeling of guilt and excitement. I did it, I said to myself," remembered Bumbac. After six years of medical school and four years of working as an emergency doctor in Moldova, he realized that he couldn't live anymore with a salary of 134 Euro a month. He needed to leave.
Bumbac is not the only Moldovan fed up with the country enough to move away. More than 15 percent of Moldova's population, some 550 thousand citizens, currently live outside Moldova, according to Civis Centre of sociological, political and psychological investigations. The total number of migrants translates into a third of the employable population while every fifth of them is actually a highly qualified worker (teacher, doctor, economist or engineer). According to BBC, four people exit the country for a better life every hour, making Moldova the fastest shrinking country in the world.
Moldova is now at a crossroads. After almost twenty years, the country faces the first direct presidential elections. On Nov. 14, the day after the second round, pro-Russia candidate Igor Dodon or pro-Europe rival Maia Sandu will officially become the head of state. If pro-Russia candidate Igor Dodon wins presidency, Moldova could forge closer ties with Russia again. Meanwhile, Bumbac will vote for a European future in the heart of England. "In the first round, there weren't enough ballots. I am afraid that not everyone will be able to vote on Nov. 13, but I am so moved. Moldovans across the world are gathering together to choose their president," said Bumbac .
From Moldova to England
Oleg Bumbac was born in a small village, surrounded by vineyards and fruit gardens, called Hajdieni in northern Moldova. He graduated the lyceum in Glodeni city, where he edited a local newspaper with a close friend. As a child, Bumbac loved to study and was the teachers' first candidate for different academic competitions. After graduating school, the boy decided to become a doctor, so he moved to Chisinau, the capital of Moldova. "The admission contest was fierce. More than fifteen candidates competed for each place," Bumbac said. Yet, he managed to get a state-funded scholarship at the Faculty of General Medicine.
After six years of challenging studies, Bumbac got his first job as an emergency assistant in the Municipal Emergency Hospital. "I didn't expect it to be easy, but it felt impossible. I don't remember days when the emergency kit had everything it was supposed to. I had the most important medicine, but the kit was never full." Meanwhile, in 2013, Bumbac's salary was about 100 Euro for ten 24-hour shifts per month while the living wage (the minimum income necessary to meet basic needs) was 98 EUR. In order to survive, Bumbac used to take more shifts. "Of course, I chose the cheapest rent. But to be able to pay even that, I had to take 15-18 shifts every month. Sometimes, I had to stay for 48 hours straight, because there were not enough doctors, which also happened frequently," Bumbac stated.
Even employed as an emergency room doctor, Bumbac didn't receive more than 130 EUR. According to him, every emergency medical team should have at least one doctor and two to three assistants, but these teams were never complete. "So I had to respond to the patient's request completely alone. A lot of pressure was put on the doctors. And, of course, in these stressful conditions, I was not allowed to make any mistakes," said Bumbac.
The idea of leaving Moldova was always in the back of his head. "A lot of my colleagues had left and I was so tired to live slightly above minimum wage. I wasn't able to buy clothes, books or to travel anywhere," said Bumbac. He managed to survive because of his mother who also left the country and started working in Greece in order to help the family. For more than 15 years, she cooked pastries and taught Russian language. "She was my help, I wouldn't have made it without her," said Bumbac.
During the following six months, Bumbac passed through a lot of interviews, collected recommendation letters and prepared for the big journey. When he was told that he had gotten a job at a private hospital in England, he needed a few minutes to realize his life was about to change drastically. "I had very mixed feelings. I left my job with a feeling of guilt, because I was leaving my colleagues behind, amazing doctors, who are not guilty that the medical system in Moldova is ruined. But I was also so excited! I knew it was going to be huge," said Bumbac.
Two years ago, on Oct. 16, Bumbac passed for the first time the threshold of the British hospital. "I was excited, but also very stressed. I had to prove that I am a good doctor if I wanted to stay. I even took a small bag because I didn't know what this unbelievable journey would bring," said Bumbac.
Now Bumbac lives in London and is the hospital's doctor on call. Every day, he supervises up to 60 patients or more, responds to all kinds of emergencies and works with his patients' physicians on their follow-up treatment. He talks warmly with his patients about Moldova. "I even have this prepared presentation. It sounds like this: Moldova is a tiny country between Romania and Ukraine. It has the biggest wine cellars in the world and the tastiest wine in Eastern Europe," said Bumbac like talking to an invisible camera. At work, on his desk, he keeps a small traditional clay bell. "It has Moldova written on it and it has this small vine leaf as the bell clapper, so that I don't forget where I should return," he said.
No wind of change
On 7th of April, thousands of demonstrators claimed that 2009 parliamentary election results were fraudulent and gathered in major cities of Moldova demanding a recount, a new election, or resignation of the communist government. In Chisinau, where the number of protesters rose above 30,000, the demonstration escalated into a riot. On this day, Bumbac protested peacefully in the center of the capital. "I am not a rebel. I couldn't throw stones, but I was on the side of those who did, because that communist government deserved the stones. Unfortunately, the change that we had brought [the pro-European parties] didn't fulfill our expectations for a bright European future," he said. At these presidential elections, Bumbac thinks that Moldova has a chance to start over. "Watching the debates, I realized that Igor Dodon is a rasist, intolerant person. Maia Sandu is the only honest candidate, that has a plan on fighting the corruption', said Bumbac. "If we don't win this battle, I sincerely don't see any perspectives in Moldova for now," he said.
According to a national survey, conducted by Magenta research company in March 2016, 83 percent of citizens of Moldova think that the country is going in the wrong direction while 60 percent of Moldavans claim that they are worse off than they were last year. On top of it, 74 percent are convinced that the situation will either not change or will become even worse.

Vitalie Varzari, a local consultant at the International Organization for Migration believes that "the lack of trust in the state institutions, the disappointment in the society and the country encouraged migration." On the other hand, Ruslan Sintov, sociologist and director of Civis Centre of sociological, political and psychological investigations, is convinced that the effects of the disappointment are yet to be seen. "If the economic situation in the country does not get better, people will continue to leave. According to our surveys, another 100 thousand citizens have intentions to leave Moldova in the next 12 months. Moreover, the number of those who took all their family members with them doubled during the last two years," Sintov affirmed.
Ruslan Sintov, sociologist and director of Civis Centre of sociological, political and psychological investigations. Photo: Victoria Colesnic
Vitalie Varzari, local consultant at the International Organization for Migration. Photo: Victoria Colesnic
Experts agree that the most frightening phenomenon is the unwillingness of the citizens to return. "If in 2012, the migrants were saving money to buy a house here, now the number of those willing to invest in real estate in Moldova is decreasing dramatically. If in 2013, 40 percent of migrants were interested to invest in Moldova, then by now, this intention has shrunk by a third," Sintov continued, explaining that it all comes down to the $1 billion embezzlements. "The decision to leave the country is a difficult one, so we can't expect a massive and quick response from the population, but we are convinced that even more people will leave Moldova, if nothing changes."
Bumbac sees his leave as a form of protest against the reality in Moldova. "What else can doctors do? If they quit, they will starve. If they change the job, they will lose their profession. So the only solution is to leave the country. This is the only way to attract the government's attention. People will suffer, but then again they already do. The protests don't work. People stayed in the streets for almost a year and nothing changed," recalled Bumbac the large scale anti-corruption demonstrations in Moldova during 2015.
However, Bumbac is one of the few willing to return someday. "I think I will stay in the U.K. for the next ten years, but then I would like to come back and implement the things I learnt. I still feel indebted to our medical system that formed me as a specialist". The man recognizes that he has no idea how he will be able to do that. "Probably, I will have to save money so that I don't need to survive with Moldova's salary. You know, I realized that managing to live in Moldova is actually a luxury," added Bumbac and chuckled, looking through the window.
There are three Harvard University graduates in the government of PM Maia Sandu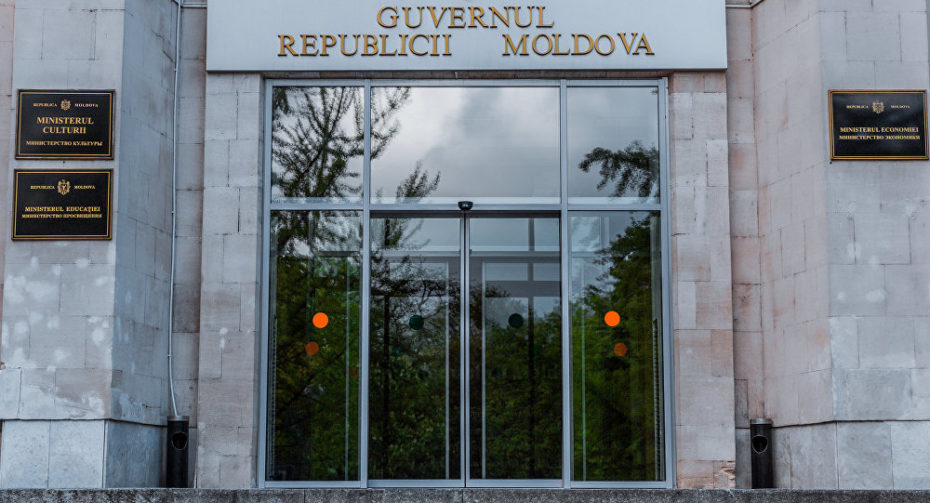 Three of the cabinet members in Chisinau have master degrees at from Harvard University. These are the Minister of Finance, (Natalia Gavriliţă) Minister of Economy (Vadim Brânzan), and Prime Minister Maia Sandu.
Newsweek.ro made a comparison of the members of the Government of Chisinau with those of the Cabinet of Ministers in Bucharest.
Vadim Brânzan, the new Minister of Economy in the Chisinau Executive, is a professor of physics, yet between 1999 and 2001 he took a Masters Degree in Finance at Harvard University. From 2001 to 2019, he worked for various investment companies in London, New York, and Miami, the latter being Miami's Logos Advisers, specializing in "angel investments," which is aimed at helping startups.
Maia Sandu assigned Natalia Gavriliţă as Minister of Finance. Natalia has a Masters degree at the John F. Kennedy School of Governance, Harvard University. From 2015 until today she was a director of a London investment fund. Gavriliță also worked at the European Commission and the World Bank. She worked in countries such as Bangladesh, Belgium, Ghana, India, Indonesia, Kazakhstan, Kosovo, the Kyrgyz Republic, Moldova, Nigeria, the Occupied Palestinian Territories (OPT), the Russian Federation, South Africa, Tajikistan, United Kingdom, USA, Zambia.
Moldova's Minister of Agriculture is Georgeta Mincu, who holds a Master's degree at the University of Dublin.
Nicu Popescu, the new Foreign Minister in Chisinau, is a Doctor of Political Sciences, a title obtained at the Central European University (CEU) in Budapest, with the thesis: "Stealth: EU and post-Soviet conflicts". Popescu is a professor at the Po-Paris School of Science.
Finally, the new Moldovan Prime Minister Maia Sandu has a Masters degree at the Kennedy School of Government, Harvard University, and has worked at the World Bank in Washington DC.
Stories from diaspora// Marian Cepoi: "While the things are not changing in Moldova, its citizens are given a second chance abroad."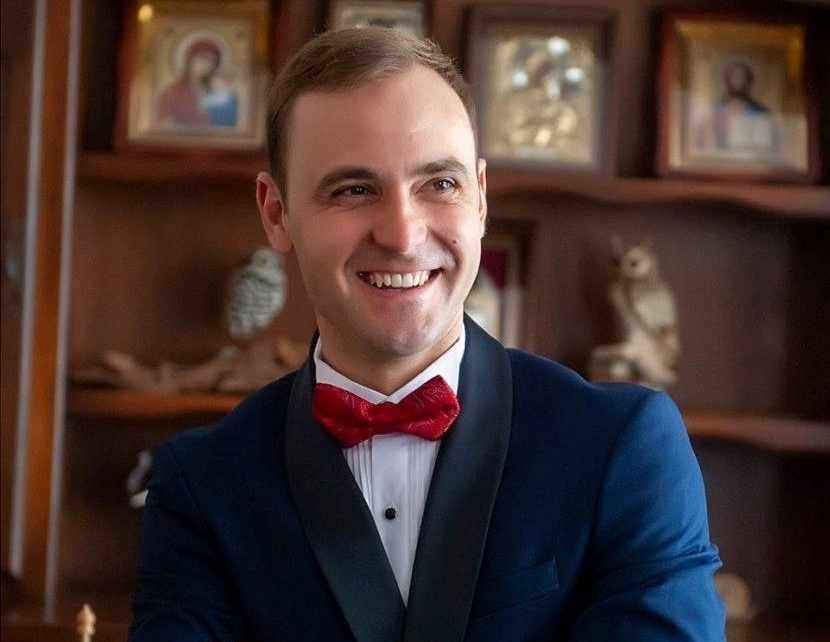 Marian Cepoi is an ambitious and hardworking person from Moldova who is currently working as a policy assistant at the European Commission, while living in Brussels, Belgium. He is the protagonist of this week's story from diaspora.
About working for the EU
Marian wakes up early every day. He has settled down into a morning routine: exercises, reflecting and a healthy breakfast. "I have noticed that I am feeling better during the day if I wake up earlier and have more time for morning activities. If you do not hurry up in the morning, your entire day will seem to be longer, with more time to achieve the always-infinite list of proposed tasks," he says.
Marian's list of daily tasks is really long: coordinating the organisation of meetings, drafting policy and working documents and briefings, liaising and communicating with internal and external actors, etc. Therefore, getting an energy boost in the morning is really useful.
However, his morning habits are not the only source of enthusiasm and efficiency. Marian also gets his energy from the joy of doing what he really likes. "European Affairs are an interdisciplinary topic and you never get bored with only one type of activity. It is a nice combination between political science, economics, law, development studies, communication, diplomacy, etc." It is clear that Marian loves his job at the European Commission. "It is a big community of people with more or less the same profile, education and activities. You feel a member of this big family."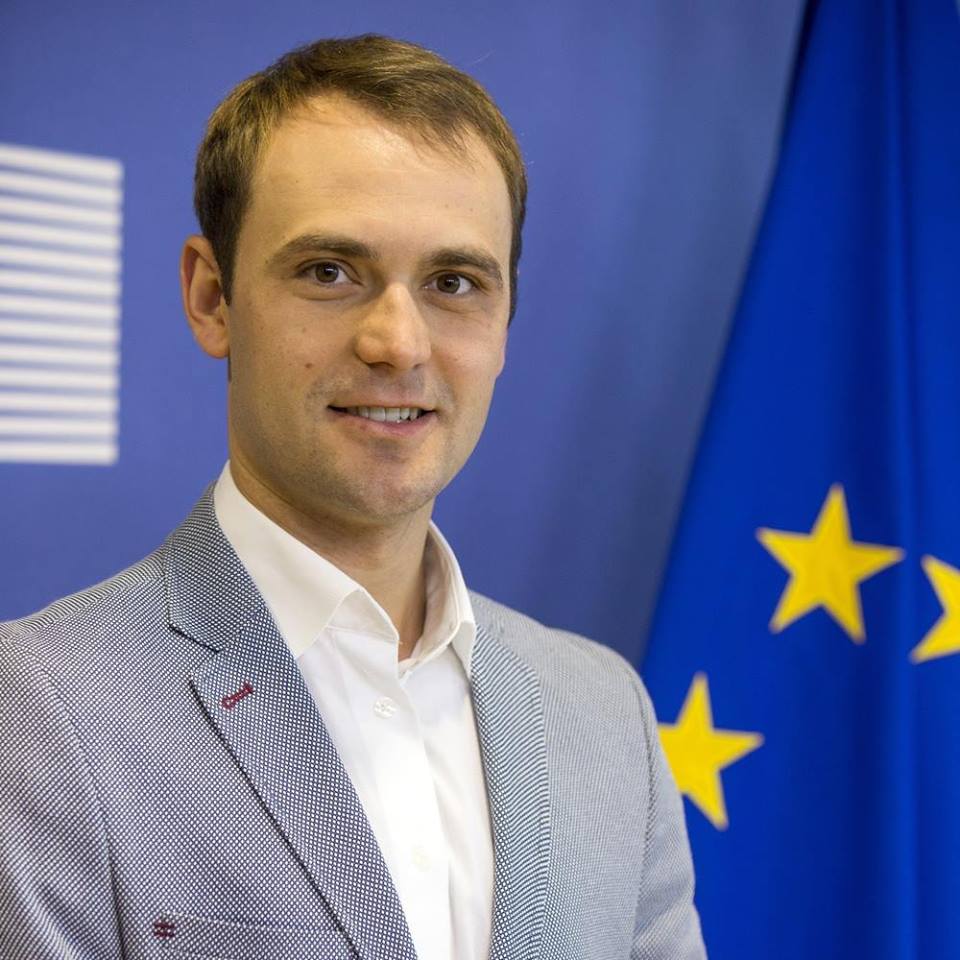 Furthermore, Marian also enjoys living in Brussels: "It is a Babylon of our era. Here you do not feel like a foreigner and your language accent will not be judged. It allows me to be far from home, develop myself, and, at the same time, to not feel as a stranger – the way I would have been felt if I was working and living in another country or city."
At the same time, our protagonist reveals some aspects of having a job at a European institution: "The work style is very different. The specificity of having 28 countries on equal foot developed here a strong common sense of co-decision, negotiation and respect for the opinion of other people. Even at the lower levels all decisions are taken after a wide internal and external consultation process."  In the end, everybody is aware of their own contribution and no conflict of interests during the implementation process could appear, according to Marian.
Of course, there is the other side of the coin as well. "All these advanced democratic practices generate a complex system and, sometimes, it may appear slow, over-regulated, and too bureaucratic. However, without bureaucracy, that in fact assures the rules compliance, the European Union would have not been capable to extend at such a large scale, both in terms of number of countries and in terms of competences," explains Marian.
About the prerequisites to enter the EU institutions' competitive system
Marian did his master's degree in European Studies at the College of Europe. "The College of Europe was a 'visa' for Brussels and for working at EU institutions in my case. It is almost impossible to enter the EU institutions, being from a third country, if you do not have a diploma with good results from a prestigious university, as well as prior relevant work experience."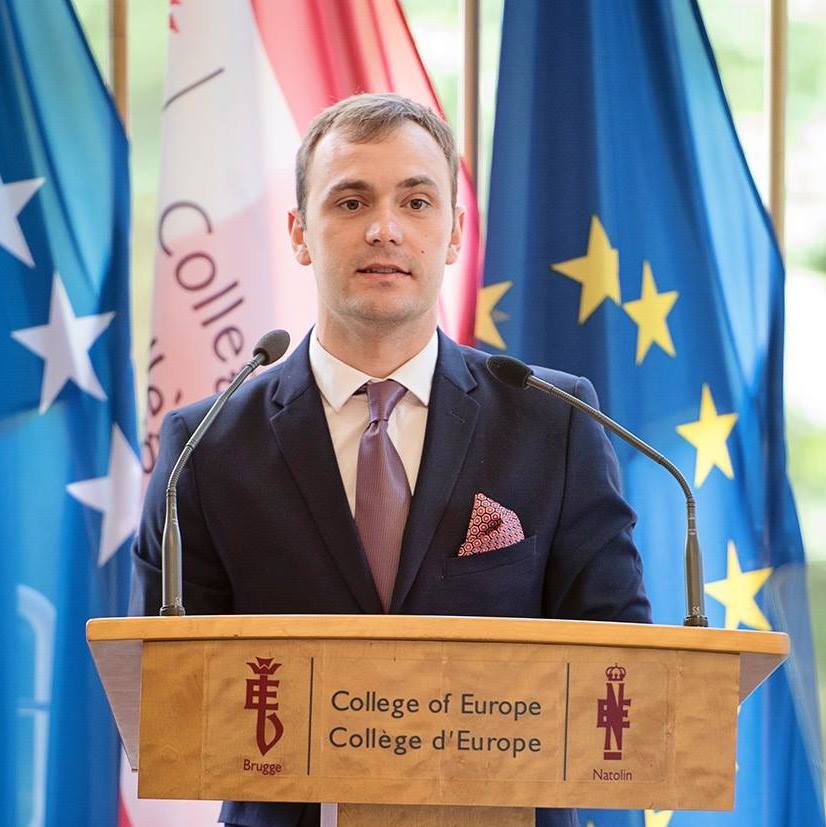 Marian says that studies at such high ranked abroad universities develop teamwork skills, self-studying abilities, public speaking, debating skills, critical thinking, self-confidence, research skills, and many more. "The experience at the College of Europe also taught me stress management, prioritization and self-organisation. It helped me adjust my already formed profile to the Western high work and life standards."
To those young people who are working hard in Moldova and want to get to the next level, he recommends to go for a master's degree abroad. "It will be the element which will complete their profile and prepare them for the international competition and career."
Prior to his master's degree, Marian gained his work experience as a policy researcher at IDIS VIITORUL and as a coordinator at Promo-LEX in the Republic of Moldova.
About the Moldova-EU Association Agreement
"If the current Association Agreement were fully implemented, 80% of Moldova's situation would be adjusted to the European standards. It indeed means that the quality of life would grow as well." Marian claims that the implemented reforms in the justice sector, for example, would attract significant EU funds and foreign investments. "At the EU level, there are enough money, but they don't arrive in Moldova because of lack of structural reforms."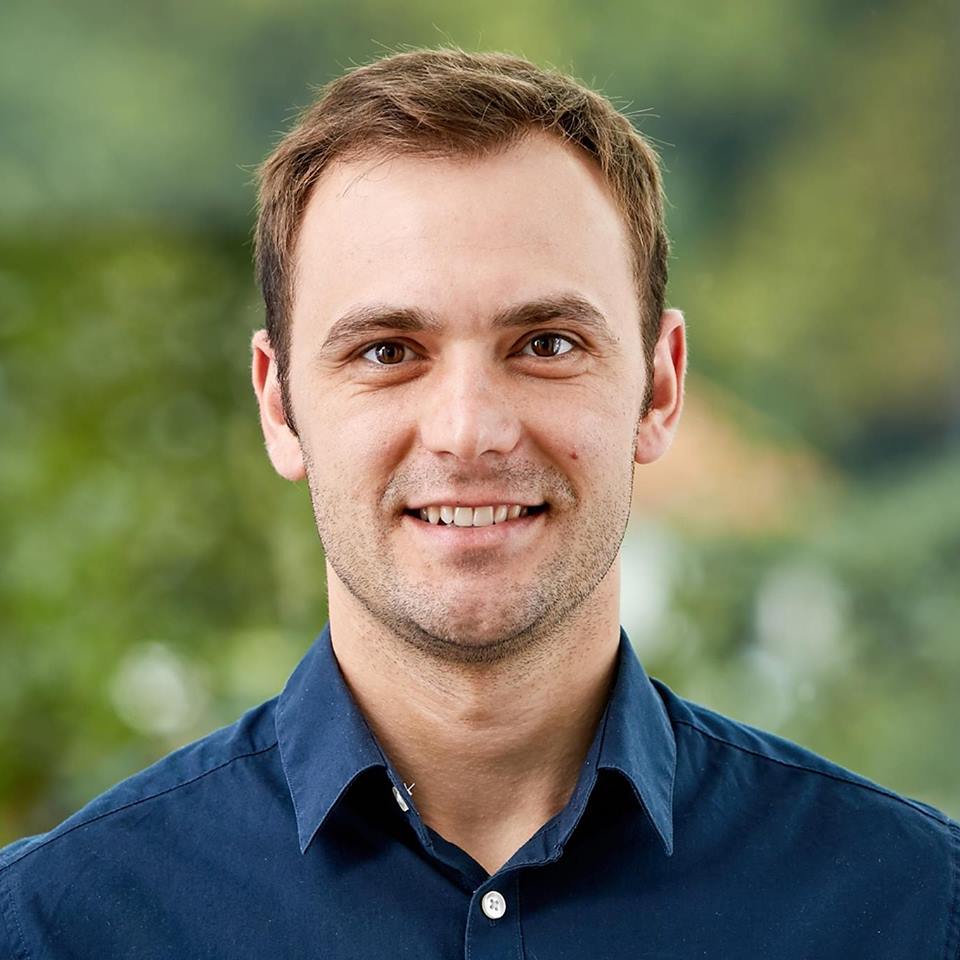 According to Marian, it's good that Moldovans have the opportunities to travel, work and live abroad. Still, as he mentions, without having good living conditions at home, it turns into a negative effect, as people simply leave their country for good. "The Moldovan diaspora has significantly grown in the last 5 years. People settle abroad together with their families, in the countries where they see a future for their children. This is a phenomenon without precedent in the history of the Republic of Moldova and I am afraid of its consequences. So, urgent significant changes in Moldova are needed if we want to still have it populated," he says.
Marian will continue to work hard and look to a brighter future for his country and his family. "I want to profit from every single day and climb another step on my Everest!"
Photos: Facebook/ Marian Cepoi
Stories from diaspora// Doru Curoșu – from a volunteer to a successful trainer, speaker and entrepreneur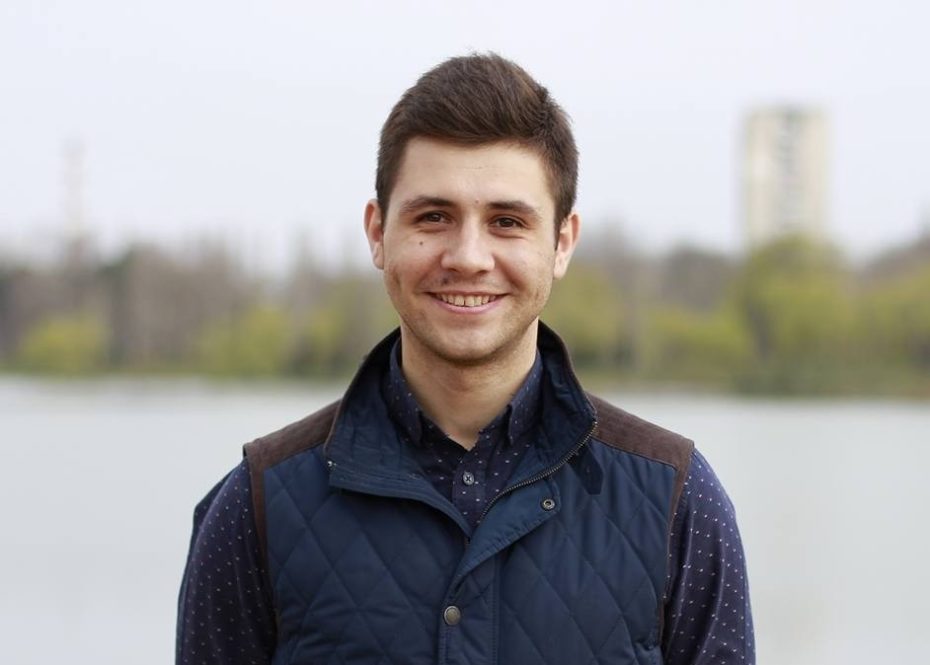 Doru is one of the most dynamic persons you could ever met. He is one of the few Moldovans who were mentioned in Forbes 30 under 30. Over the years, he participated in so many volunteering projects, that I would need some more space here to list them all. Doru is an HR expert, an international trainer and speaker, an entrepreneur, and simply an assertive person who, as it seems, could achieve anything.
About his career 'determiners'
Doru's successful career emerged from his volunteering activity. Indeed, volunteering experience has brought him where he is today.
Doru started his path at the AIESEC organisation. "AIESEC was the first organization I have been involved in since 2009. Actually, my life and work are determined by the values I learned back then. My professional activity is related to what I was doing in AIESEC." Our protagonist was a trainer and a coordinator of several important projects under the organisation's aegis.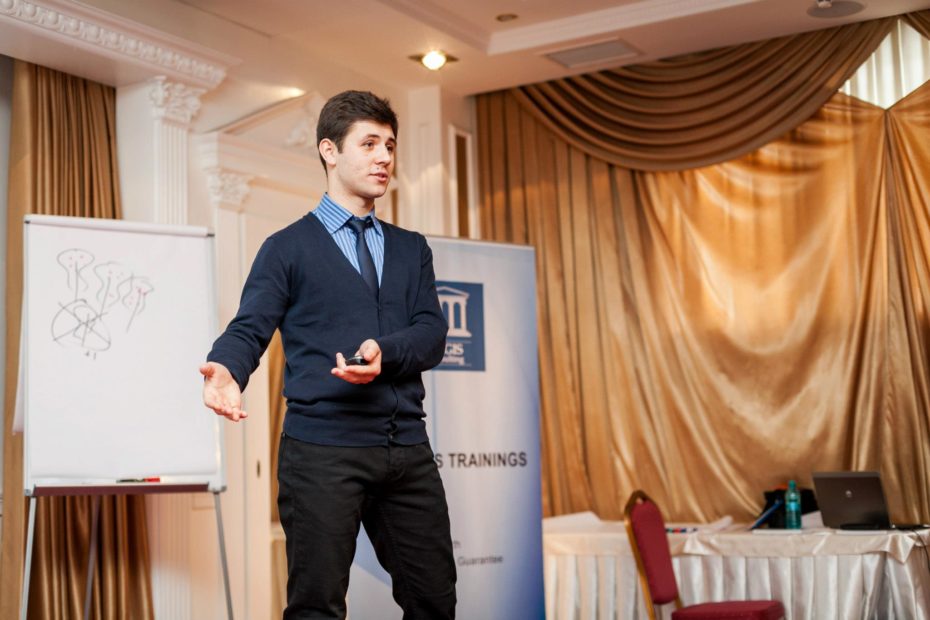 Another crucial experience that served as a runway for Doru's future professional career was his activity within the National Youth Council of Moldova. "There I experienced what it means to be a team manager, a colleague and an entrepreneur. The activity at the Council combined them all and taught me to have an impact while harnessing human capital." Doru says that he was lucky to work in a wonderful team of people with whom he would come back to work together at any time.
Doru has also been a board member of the European Youth Forum where he got useful insights regarding internationalism, globalization, European values ​​and many more. "During four years of volunteering, I have acquired as much information as I could about national and international policies, especially youth policies. I got the chance to travel a lot, discovered new cultures, met new people, got new ideas, which I tried to implement at home afterwards," Doru reveals.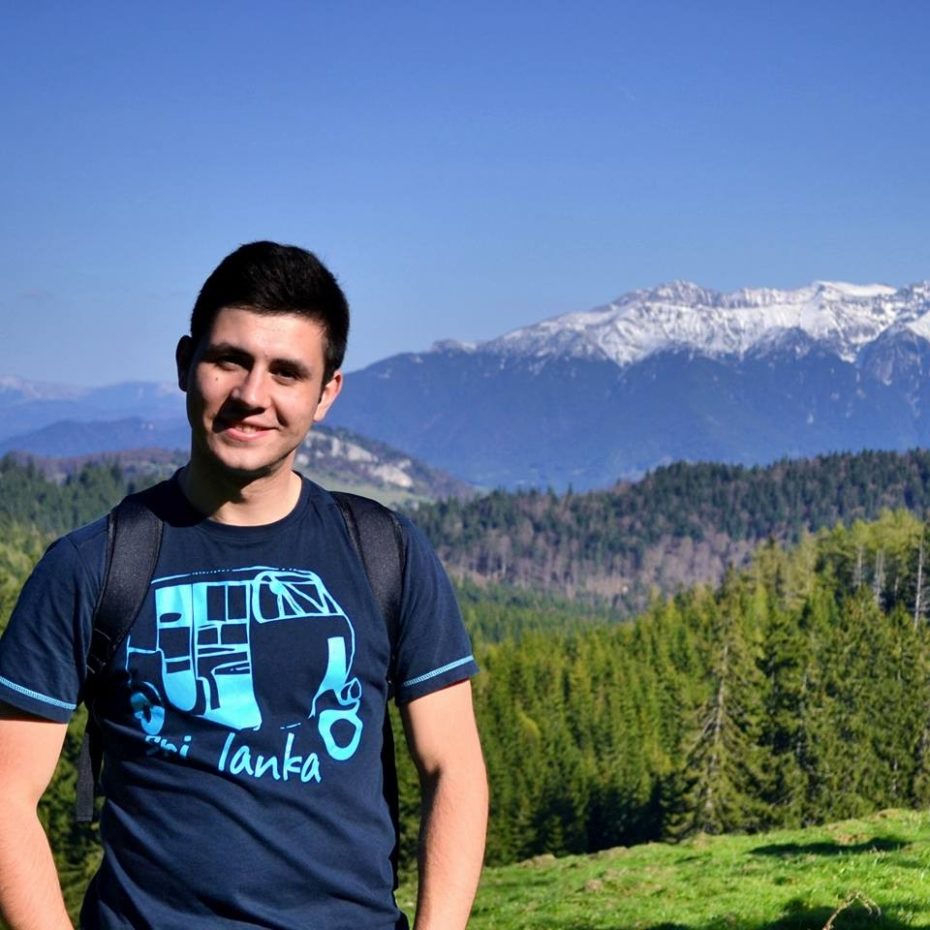 Doru believes that each person is unique in his own way.
"What is important is how the personal capabilities and experience are used to get yourself noticed. I have always tried to be very good in everything I do, to offer quality, enthusiasm, energy and dedication. I like helping those in need and trying to build 'bridges' for a better future for young people. Probably, that's how I made myself noticed, that's how the world got to know me."
There is one more essential determiner of a successful career, according to Doru – the network of contacts. "It has helped me since high school years. In 10 years, each experience has been adding value to who I am and to the way people know me. Every time my work brought results, it was noticed either in Moldova or internationally." Therefore, he was awarded the National Youth Prize in 2013 and was the first Moldovan nominated in Forbes 30 under 30.
About the spectrum of his activities
Besides building his own brand of delivering excellent training and team building services, Doru founded his own company named Camelot. "All the experience I gained as a volunteer was monetized and transformed into a qualitative and unique product on our market. Camelot is the company that offers unique, memorable and impactful experiences for those working with us. We offer training, team building, human resource management and event management consulting," specifies Doru.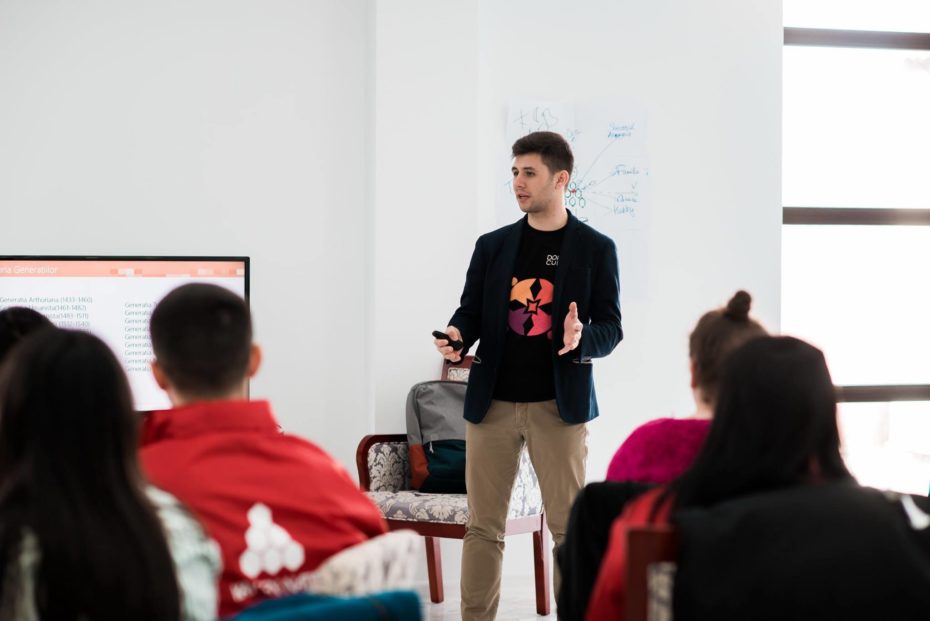 In parallel, Doru is doing his master's degree in Human Resources Management at Babeș-Bolyai University, Cluj-Napoca. He often commutes from Cluj-Napoca to Chișinău and back. When asked how he manages it; he often jokes that he learned teleportation. "I go to classes when I have to present projects, I am in Chișinău for training and team building activities, and I go to Bucharest for meetings with partners and potential clients. I am always on the road." It's not easy for Doru to do it all, still it is very rewarding in the end.
Just like his work, travelling is another 'drug' that gives him energy and inspiration, as Doru states. "The more I travel, the more I want to do it. Every visited country has had a huge impact on me." Until this moment, Doru managed to discover 49 countries and more than 200 cities from Europe and Asia. His personal top of countries is led by Georgia, Portugal and Sri Lanka. "The 50th country has to be very special. I hope it will be Peru, Colombia or India."
About the hidden part of the iceberg
Doru could tell from his personal experience how harsh the public opinion could be in regard to people that don't want to take the ordinary way and how inefficient the educational system in the Republic of Moldova became. Only few know about the challenges Doru had in his effort to combine university, job, travelling, sports and volunteering activity.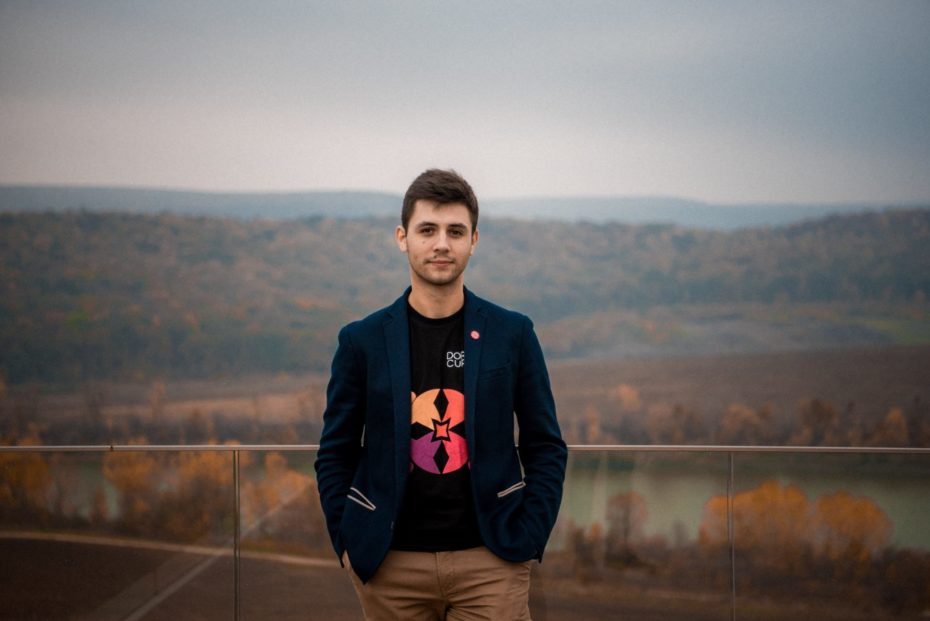 Only few know that our protagonist was forced to confront the traditionalist views of the Moldovan university system. "I had a conflict situation with the university where I was doing my bachelor's degree and, for 8 years, I have been investing my effort in graduating without giving up on our poor education system." He also had to confront some of the most trivial stigmata of the Moldovan society: <<A man has to make money. The rest is a waste of time.>> or <<Forbes? Did they pay you for it? How did it help?>>
Doru preferred to prioritize his own needs and aspirations. "My experience with formal education was not necessarily the most enjoyable, as I am not the person who accepts to waste time on things that do not add value." He considers that young people have to combine studies with other activities in order to be successful. It can be opening own business, volunteering, participating in international exchange of studies and volunteer programs, doing internships, organizing projects, events, etc.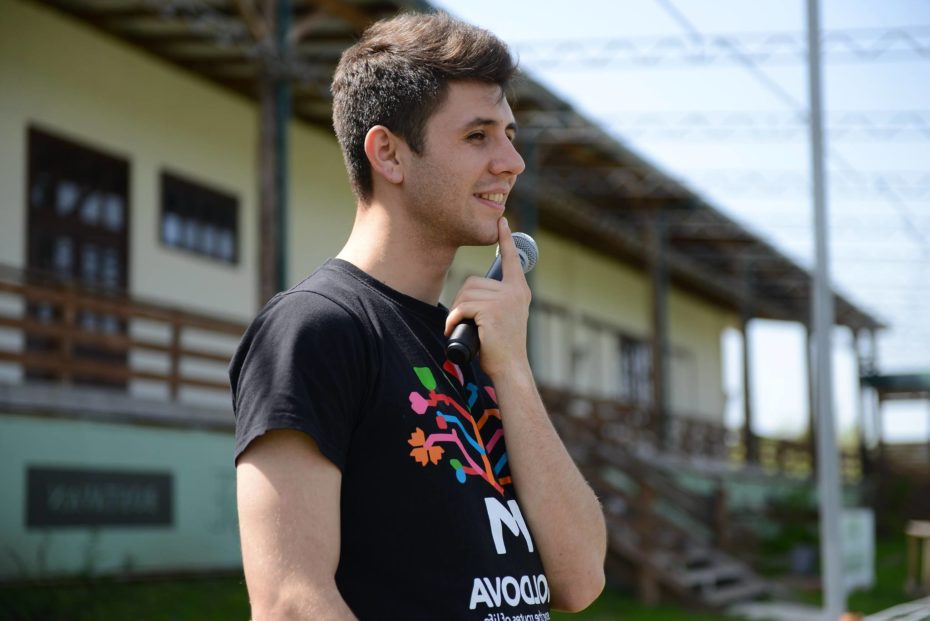 "University provides the theoretical basis. It represents only 20% of your employment portfolio, the remaining 80% comes from practical experience. Young people need education, but with no other experience besides, they will not be able to distinguish themselves on the labour market."
Doru declares himself a happy and a fulfilled person and, at the same time, he thinks there is still room for improvement: "That motivates me to never stop." He says that the key to the balance between personal and professional life is efficient communication. The rest can be managed through patience and hard work.
Photos: Facebook/ Doru Curoșu