What does the Kremlin regime really want from the upcoming Moldovan elections?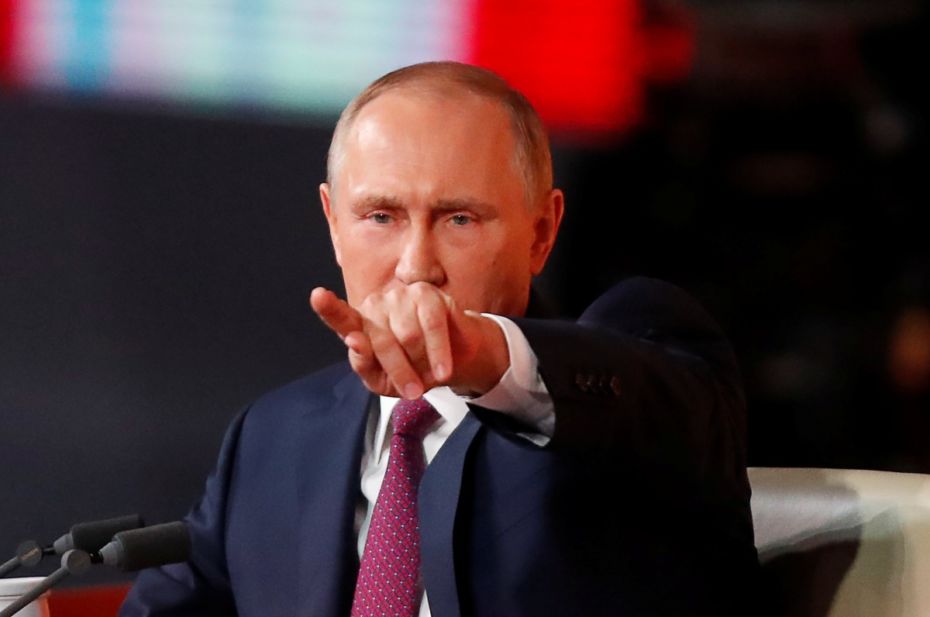 I was at an international event and was asked by a participant whether Putin still has influence in the Republic of Moldova. The lady was an elderly Russian who has lived in several countries in exile in the European Union and was forced to leave after a long fighting experience for the Russian (including electoral) rights in her native country.
I did not know what to answer at first, because I saw a myriad of ways in which the Kremlin (which is often something other than Russia) exercises its influence in the Republic of Moldova.
The Russian vice is weakening
Naturally, I started off with the army in the Transnistrian conflict, which Yeltsin's Kremlin had promised to bring home in 1999, but which Putin's Kremlin had forgotten there. The remnants of this 14th Army have always offered pseudo-authorities in the strip a feared whip for legitimate authorities in Chisinau (or whatever they may be), who have never hurried to solve the problem. And there are no changes, as the OSCE responds to the interests of the East, NATO does not get involved because the Moldovans are afraid of the alliance, and the 5 + 2 negotiation format is long overdue.
I kept going on talking about the economic and energy dependence on the Kremlin, which could shut down the gas tap at any time or reject exports coming from the Republic of Moldova. There is hope that we will finally be able to connect to the Iasi-Ungheni-Chisinau pipeline. While export leverage can be less and less used, as only 15.5% go to the CIS states compared with 70% of the EU, Russia has gone far beyond Romania (8% versus 29%). We do not need the same amount of investments from the Russians as in the old days, as their investments have reached the 6th place, being exceeded by 5 European states. Workplaces and remittances of Moldovans working in Russia are another chapter in which the Kremlin is losing ground year after year, the first being reoriented to the EU after the Russians' harassment, but also after the overall decline in Russian living standards. In 2018, money sent home by Moldovans in the EU accounted for 40% of the total, while those in Russia only 28%.
Tanks, propaganda and corrupt politicians
All data from above should make us more optimistic if we live in a democracy where things are in tune with the general interest of the population. But Moldova is not a democracy anymore, and the Moldovan population is not (only) formed of independent and well-informed citizens. The (geo) political orientation of our fellow citizens makes us remain pessimistic. Although the natural aspirations for a better life of Moldovans translate into the weakening of the Russian vignette, the Kremlin remaining only with their traditional tank and the new gas tap, too many of us continue to look at the Moldova Socialist Party/Democratic Party supporters, the subordinates from Chisinau of the Kremlin, with hope and confidence, as if they knew to do nothing but steal and lie in an organized way. In addition, the perception of the Moldovans is that Russia remains our most important economic partner, as it was before the Association Agreement, embargo, and other events that radically changed our dependence in recent years.
Part of the explanation of this attitude has its place in propaganda and in the fake news in the laboratories of Russian manufacturers of information garbage. Being Russian-speaking and having a Soviet past (and present), many Moldovans fall victim to these messages harmful to democracy, cohesion and the well-being of modern society. Moreover, the Kremlin knows this and speculates this vulnerability to the fullest, working hard to plant hatred and mistrust in everything that does not fit in the old Soviet templates, including their partners in Chisinau, people close to the President Dodon's Moldovan Socialist Party, who control TV/Radio channels such as RTR, NTV, CTC, Accent TV, THT Bravo, Ren-TV and many others. Although only two of these are in the top 6 at the audience, the other ones are very influential among the population looking for entertainment and simple explanations for complicated issues.
These TV channels, duplicated by the Sputnik.md, vedomosti.md or kp.md sites, present the so-called socialists as partners of the Kremlin lords, while they are only fewer children their achievements, which mimic authority, power, and control in a mournful manifestation of people truly incapable of something better. We are talking about a female party leader who has enriched her relatives and colleagues from the money saved by citizens (Zinaida Greceanii); about a candidate who was enriched "only by the district counselor salary" in the Kroll report (Piotr Puscari); about another one who is beating his fellow citizens because he can not be taken into account altogether; or one who swears that he lives only from the financial gifts he received during his birthday (Veaceslav Lupov). Thus, he's also an important actor in the Kroll report (this time, only a Shor Party member).
The threat of installing anti-European authoritarianism is real
In November, one of the recent credible polls showed us that in any configuration, the Chişinău Parliament will be a pro-Kremlin, anti-European and an anti-Moldovan one (which might turn into a large Transnistria). From the President Dodon's Socialist Party to the Democratic Party of Moldova, the Moldovan Communist Party – parties with a high chance of forming a post-election coalition – all proved to be adepts of authoritarianism, doubling with a sort of local Soviet patriotism. Only oligarch Plahotniuc's Democratic Party of Moldova (PDM) has been self-titled, since leading a discretionary republic, as a so-called "pro-European" party, and in the summer became a "pro-Moldova". At that time, the relationship of subordination between Plahotniuc and Dodon began to grow more and more. It became clear that the President of the Republic of Moldova is in the ingrained situation of being pulled by two rails: one from the Armeneasca 44 street in Chisinau and another from the Piata Rosie 1 street.
The threat of the establishment of a Trans-Partisan group of greedy admirers of Putin is real. And if it succeeds, nothing will stop further deepening the crisis in which the Republic of Moldova lies, plundering the resources of the state, destroying families and ruining the lives of those whom they will banish, as did the Putin regime that chased the lady I answered the question to.
Therefore, our participation in the February 24th elections is vital for the Moldovan society, for the relatives, friends and people we hold.
Translated by Arina Livadari
Stories from diaspora// Doru Curoșu – from a volunteer to a successful trainer, speaker and entrepreneur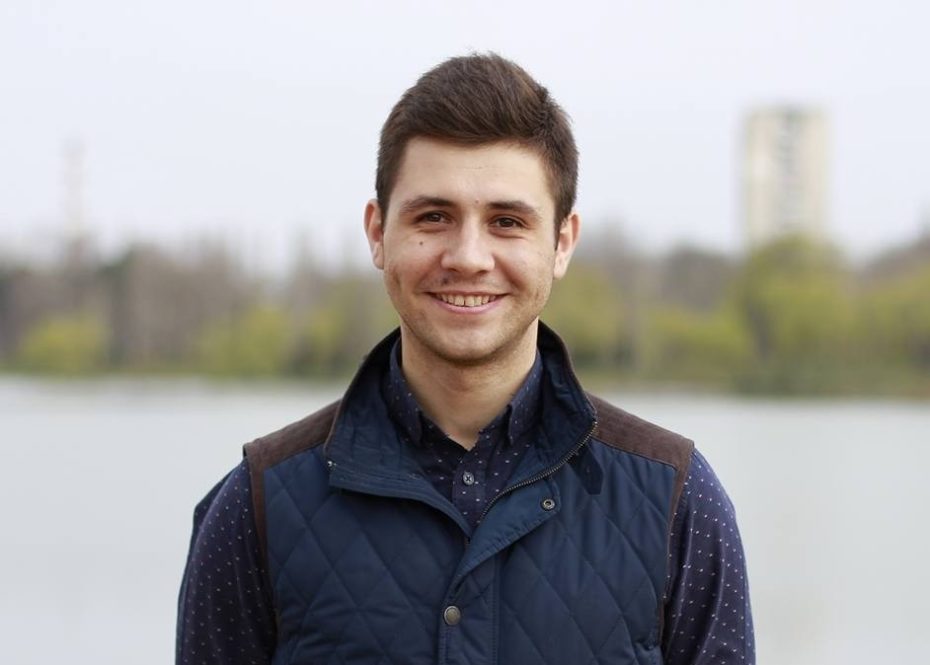 Doru is one of the most dynamic persons you could ever met. He is one of the few Moldovans who were mentioned in Forbes 30 under 30. Over the years, he participated in so many volunteering projects, that I would need some more space here to list them all. Doru is an HR expert, an international trainer and speaker, an entrepreneur, and simply an assertive person who, as it seems, could achieve anything.
About his career 'determiners'
Doru's successful career emerged from his volunteering activity. Indeed, volunteering experience has brought him where he is today.
Doru started his path at the AIESEC organisation. "AIESEC was the first organization I have been involved in since 2009. Actually, my life and work are determined by the values I learned back then. My professional activity is related to what I was doing in AIESEC." Our protagonist was a trainer and a coordinator of several important projects under the organisation's aegis.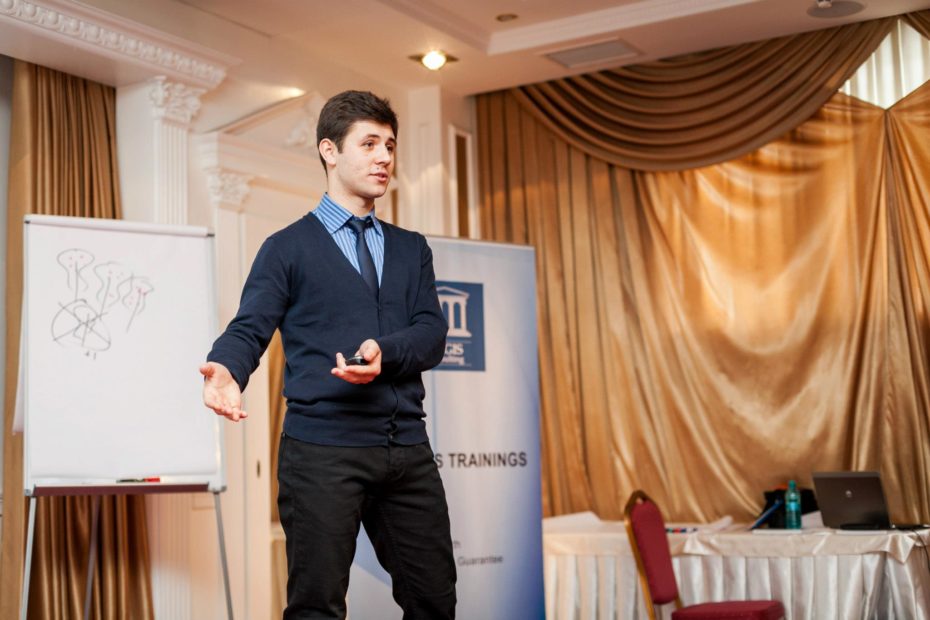 Another crucial experience that served as a runway for Doru's future professional career was his activity within the National Youth Council of Moldova. "There I experienced what it means to be a team manager, a colleague and an entrepreneur. The activity at the Council combined them all and taught me to have an impact while harnessing human capital." Doru says that he was lucky to work in a wonderful team of people with whom he would come back to work together at any time.
Doru has also been a board member of the European Youth Forum where he got useful insights regarding internationalism, globalization, European values ​​and many more. "During four years of volunteering, I have acquired as much information as I could about national and international policies, especially youth policies. I got the chance to travel a lot, discovered new cultures, met new people, got new ideas, which I tried to implement at home afterwards," Doru reveals.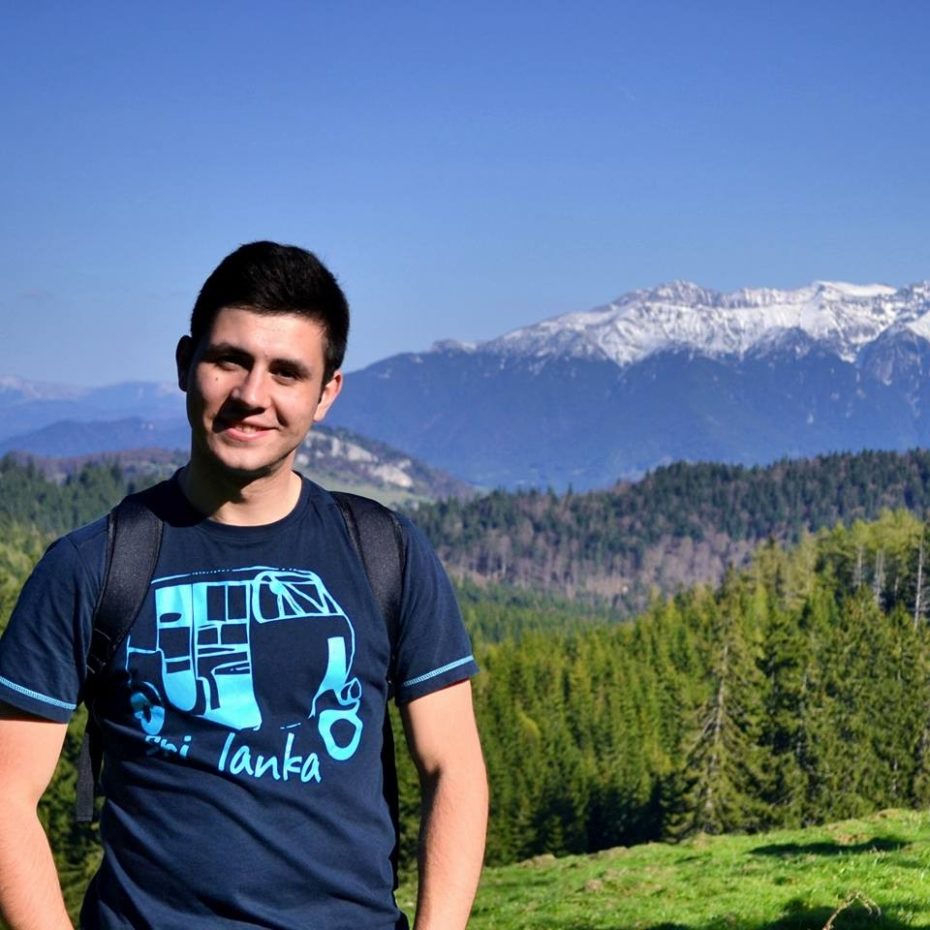 Doru believes that each person is unique in his own way.
"What is important is how the personal capabilities and experience are used to get yourself noticed. I have always tried to be very good in everything I do, to offer quality, enthusiasm, energy and dedication. I like helping those in need and trying to build 'bridges' for a better future for young people. Probably, that's how I made myself noticed, that's how the world got to know me."
There is one more essential determiner of a successful career, according to Doru – the network of contacts. "It has helped me since high school years. In 10 years, each experience has been adding value to who I am and to the way people know me. Every time my work brought results, it was noticed either in Moldova or internationally." Therefore, he was awarded the National Youth Prize in 2013 and was the first Moldovan nominated in Forbes 30 under 30.
About the spectrum of his activities
Besides building his own brand of delivering excellent training and team building services, Doru founded his own company named Camelot. "All the experience I gained as a volunteer was monetized and transformed into a qualitative and unique product on our market. Camelot is the company that offers unique, memorable and impactful experiences for those working with us. We offer training, team building, human resource management and event management consulting," specifies Doru.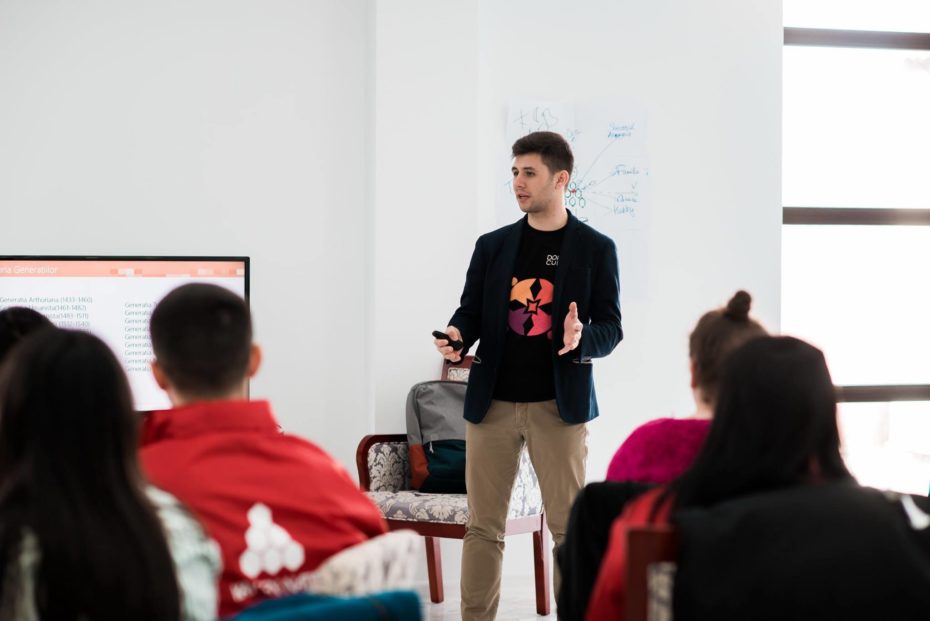 In parallel, Doru is doing his master's degree in Human Resources Management at Babeș-Bolyai University, Cluj-Napoca. He often commutes from Cluj-Napoca to Chișinău and back. When asked how he manages it; he often jokes that he learned teleportation. "I go to classes when I have to present projects, I am in Chișinău for training and team building activities, and I go to Bucharest for meetings with partners and potential clients. I am always on the road." It's not easy for Doru to do it all, still it is very rewarding in the end.
Just like his work, travelling is another 'drug' that gives him energy and inspiration, as Doru states. "The more I travel, the more I want to do it. Every visited country has had a huge impact on me." Until this moment, Doru managed to discover 49 countries and more than 200 cities from Europe and Asia. His personal top of countries is led by Georgia, Portugal and Sri Lanka. "The 50th country has to be very special. I hope it will be Peru, Colombia or India."
About the hidden part of the iceberg
Doru could tell from his personal experience how harsh the public opinion could be in regard to people that don't want to take the ordinary way and how inefficient the educational system in the Republic of Moldova became. Only few know about the challenges Doru had in his effort to combine university, job, travelling, sports and volunteering activity.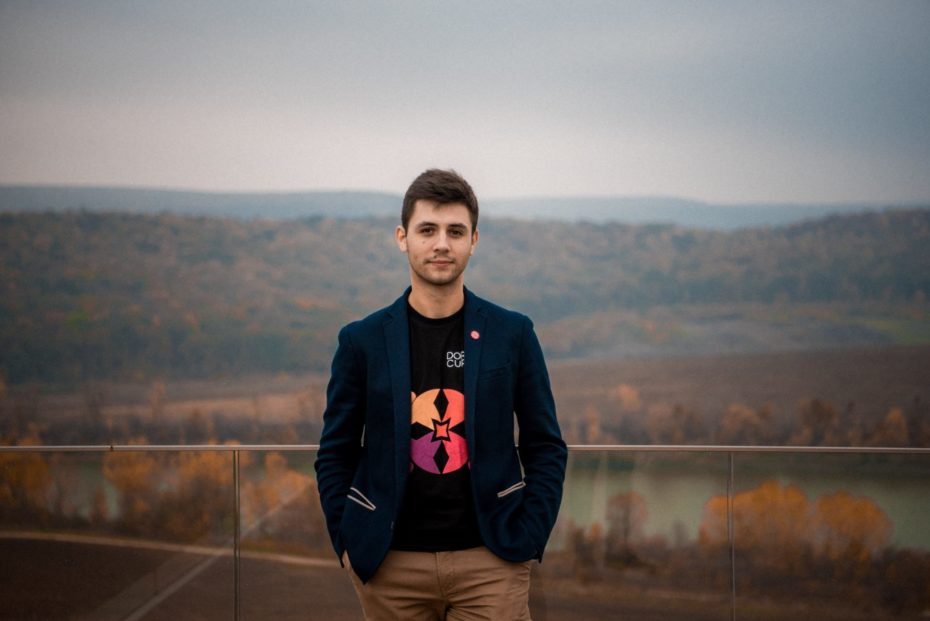 Only few know that our protagonist was forced to confront the traditionalist views of the Moldovan university system. "I had a conflict situation with the university where I was doing my bachelor's degree and, for 8 years, I have been investing my effort in graduating without giving up on our poor education system." He also had to confront some of the most trivial stigmata of the Moldovan society: <<A man has to make money. The rest is a waste of time.>> or <<Forbes? Did they pay you for it? How did it help?>>
Doru preferred to prioritize his own needs and aspirations. "My experience with formal education was not necessarily the most enjoyable, as I am not the person who accepts to waste time on things that do not add value." He considers that young people have to combine studies with other activities in order to be successful. It can be opening own business, volunteering, participating in international exchange of studies and volunteer programs, doing internships, organizing projects, events, etc.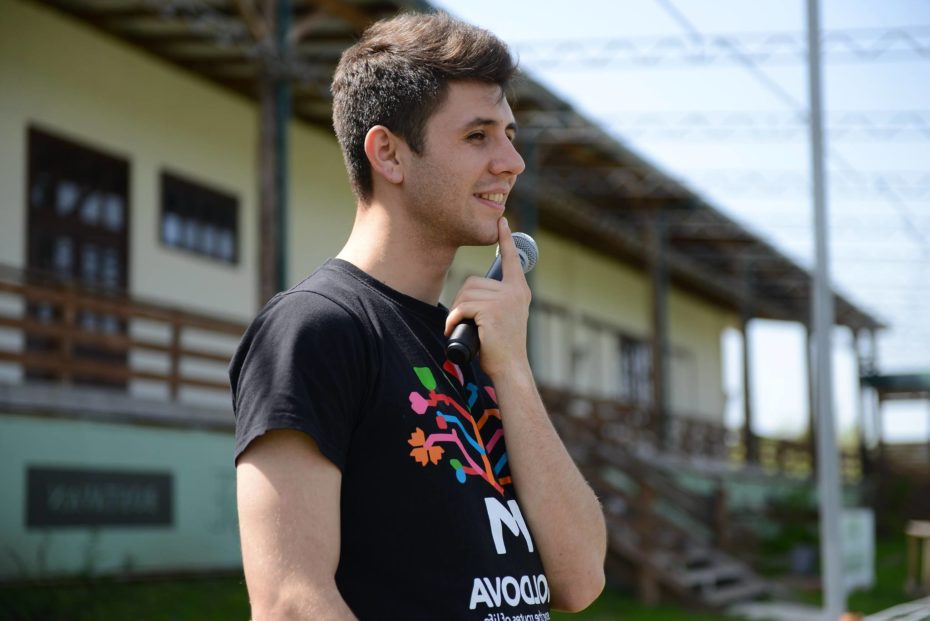 "University provides the theoretical basis. It represents only 20% of your employment portfolio, the remaining 80% comes from practical experience. Young people need education, but with no other experience besides, they will not be able to distinguish themselves on the labour market."
Doru declares himself a happy and a fulfilled person and, at the same time, he thinks there is still room for improvement: "That motivates me to never stop." He says that the key to the balance between personal and professional life is efficient communication. The rest can be managed through patience and hard work.
Photos: Facebook/ Doru Curoșu
Tatiana Verega, a Moldovan dancer, has achieved a world record for planking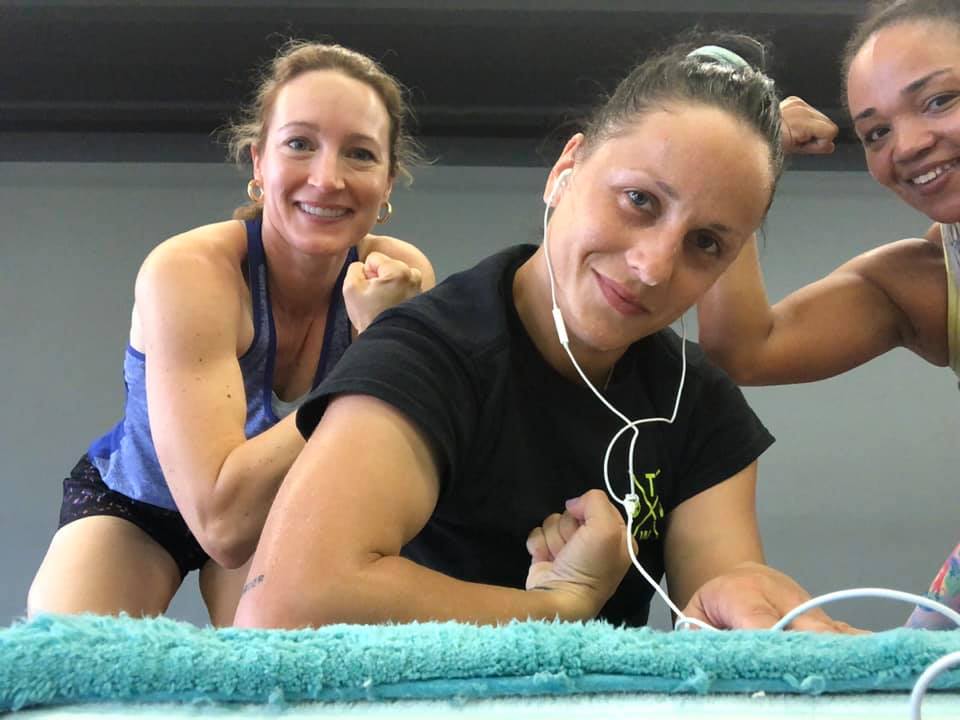 Tatiana Verega is famous for her successes in the dance world, especially in the US, where she lives for 5 years now. She has recorded a world record after staying in the plank position for 3 hours and 45 minutes. The record has not yet been recorded in the Guinness Book of Records.
At the same time, Tatiana has launched a fundraising for the Galveston Chance to Dance program – a dance program sponsored by Tatiana Verega and her dance studio in America, DLS Dance. The funds will help cover the costs of bringing professional instructors out of the state to work with young dancers in summer workshops.
In 2012, the artist decided to go to the USA, and in 2013 Tatiana Verega opened her own dance studio called "DLS Dance Studio" where she trains children. Every day, Tatiana instructs 5-7 classes a day at her dance studio, as well as teaching lessons at various schools in the city. Likewise, another activity that occupies much of his spare time is fitness.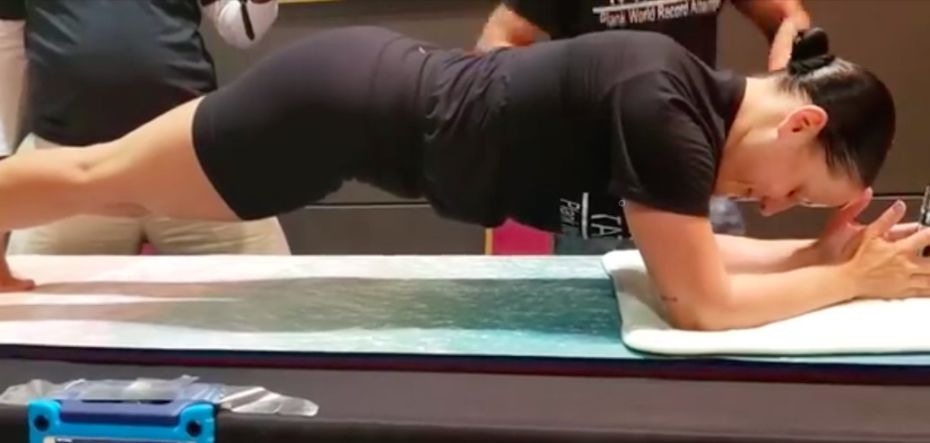 Stories from diaspora// Natalia Ciobanu – the traveller who left everything behind for a journey around the globe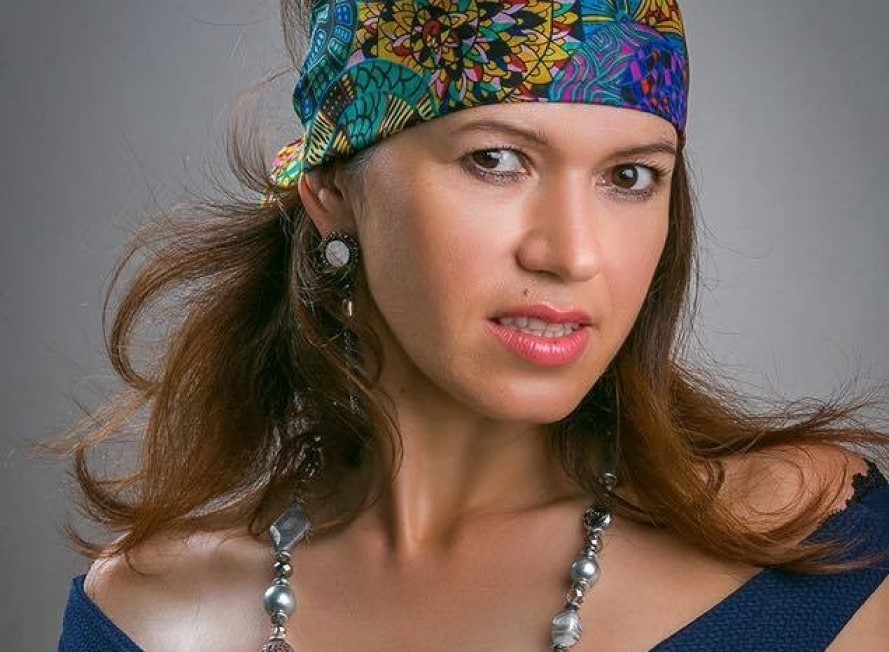 It started from a childhood dream and a personal challenge. Natalia Ciobanu had been practicing as a speech therapist in Paris when she decided to sell a part of her personal belongings, save some money and go on a trip around the world. Some of us only dream about the Monument Valley from the USA, Salar de Uyuni from Bolivia, Machu Picchu from Peru, The Great Wall of China, Mardi Himal Mountain from Nepal or Taj Mahal from India. Natalia already saw all of them and has got amazing plans for her future trips. Today's story is about her.
About her own concept of travelling
Natalia wanted to get out of the comfort zone and find her limits. "I chose to say 'goodbye' to materialism and to experience a minimalist lifestyle, having only a backpack with me. At the same time, I also wanted to explore the world, to admire the beauties of nature, to try out different cuisines and to see what happiness means for other people," Natalia says.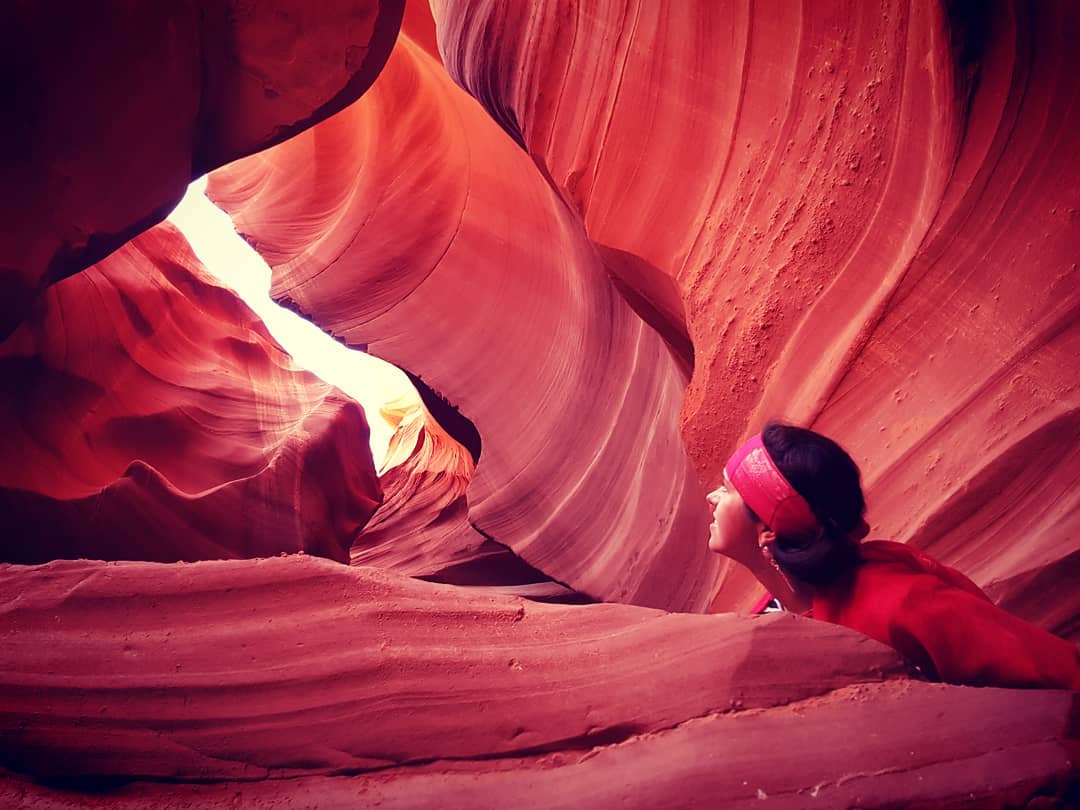 Even though she had this idea for a long period of time, the real impulse was given to her by her patients. 
"The cases of young patients who stayed in the hospital I was working at, being disabled for their lifetime, have accelerated my decision. Life can be short, and we should cherish every moment."
Hence, it wasn't just a usual trip for Natalia. Prior to the journey around the globe, Natalia already was an experienced traveller: Martinique, Dominican Republic, Seychelles, Mauritius, Jamaica, Cuba, Morocco, Italy, Spain, Portugal, Israel, England, Vietnam, Laos, Cambodia, Thailand, USA. "But these trips were made in more luxurious conditions. I was a tourist, not a traveller. This is why I needed a change and a new way of exploring things."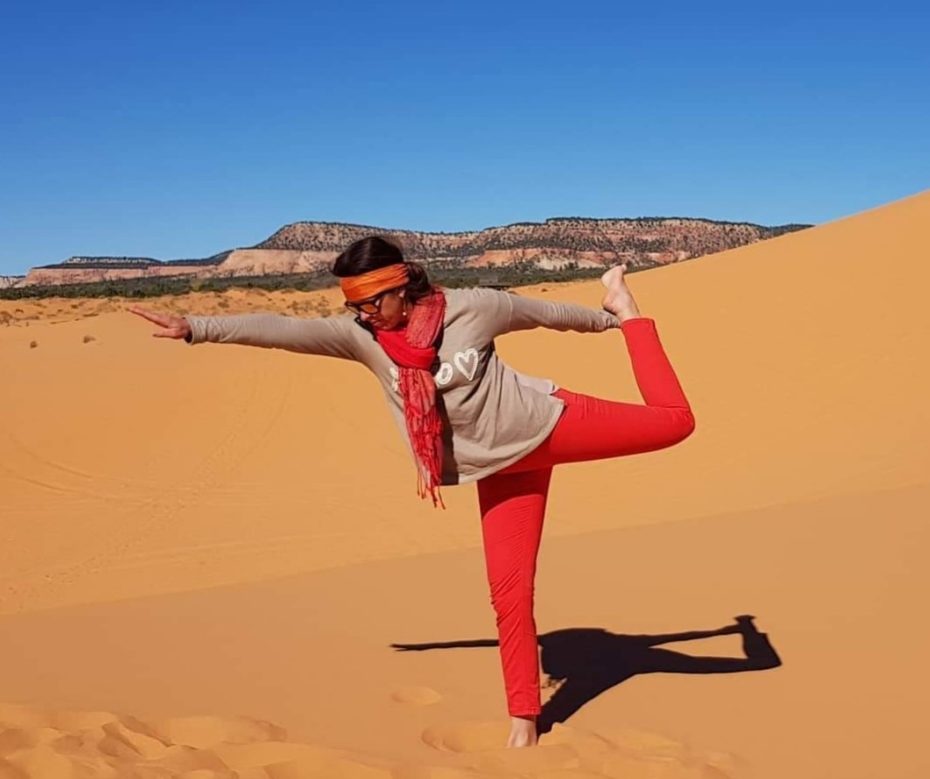 So, she tailored her own way of travelling: alone but open to making new acquaintances, challenging but so exciting, combined with practicing sports and trying out local food, clothes and customs, comfortable rather for the soul than for the body.
About the arrangements before the journey
The preparations were organised really fast: "It was spontaneous, and it was done faster than I expected. My decision was made in August last year. The request for the sabbatical leave was made in September. I received a positive answer in November and on January 6th I was already on the plane. It all happened so fast, I did not even have enough time to solve all my administrative issues," recalls Natalia. She didn't even manage to do all the necessary vaccinations.
"I know, for example, a person who planned for one year to go around the world and at the last moment cancelled everything." Surely, she didn't want the same.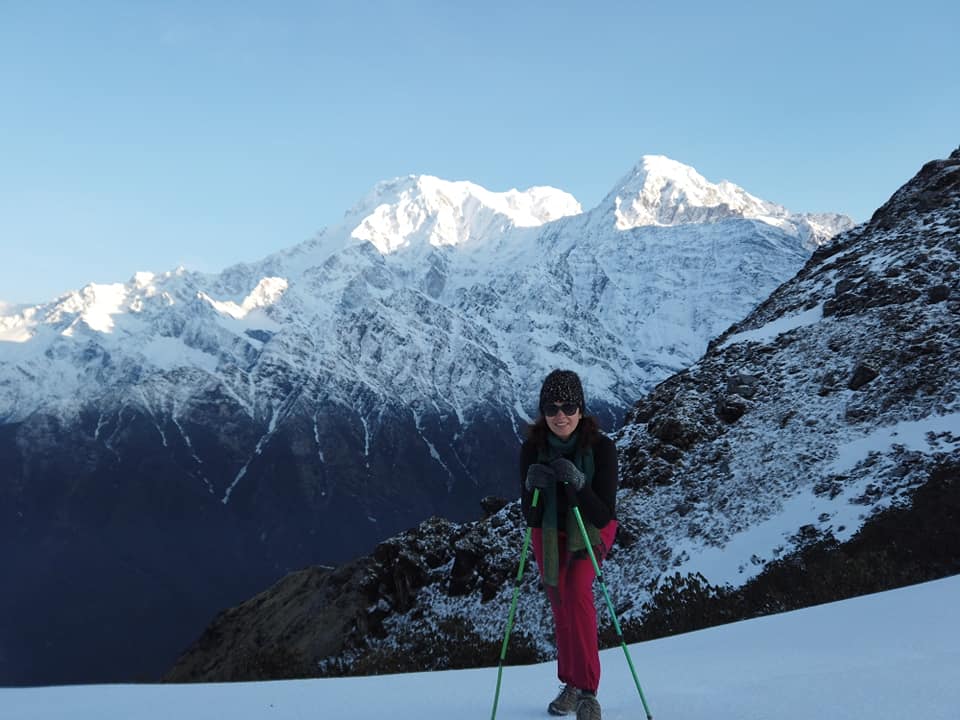 She first sold everything she could: her car, jewellery, clothes, shoes. She used her savings and arranged everything in 2 backpacks, a medical kit and a small bag for papers, money and her phone. That is all she needed, besides the courage and enthusiasm she already had.
"When I get back, I'll start everything from scratch."
Natalia doesn't plan her itinerary. She has no list of cities and places to visit. "I buy my airplane ticket in the very last moment. Just a ticket, no hostel, no idea about visits. Everything is improvised by taking into consideration my wish list, the geographical position of countries and the price of airline tickets. I make use of internet and the help from travellers I meet."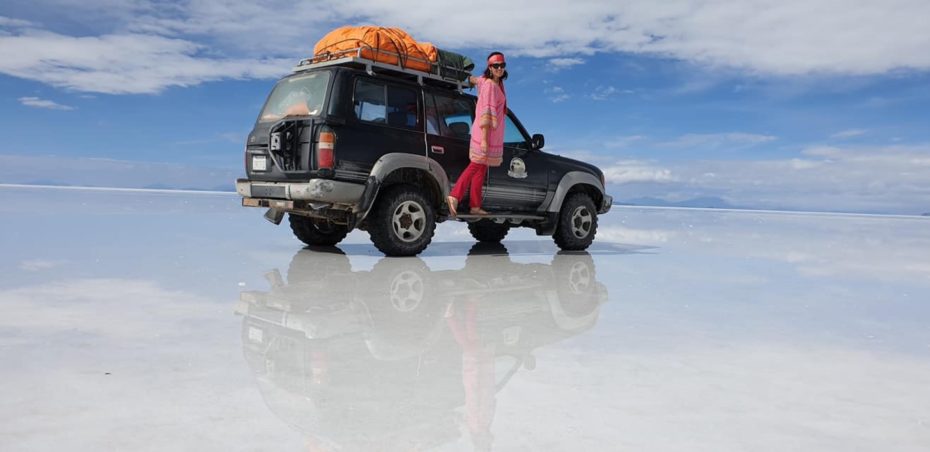 About her once in a lifetime trip
At the moment, Natalia explores India and, since she began her journey in January 2019, she already had the chance to travel to the most beautiful places in Argentina, Chili, Bolivia, Peru, Columbia, Ecuador, Japan, South Korea, China and Nepal. She visited the capital cities and globally recognized touristic attractions, but also got to less popular places, made a lot of friends among the local people and benefited from their hospitality and their priceless recommendations.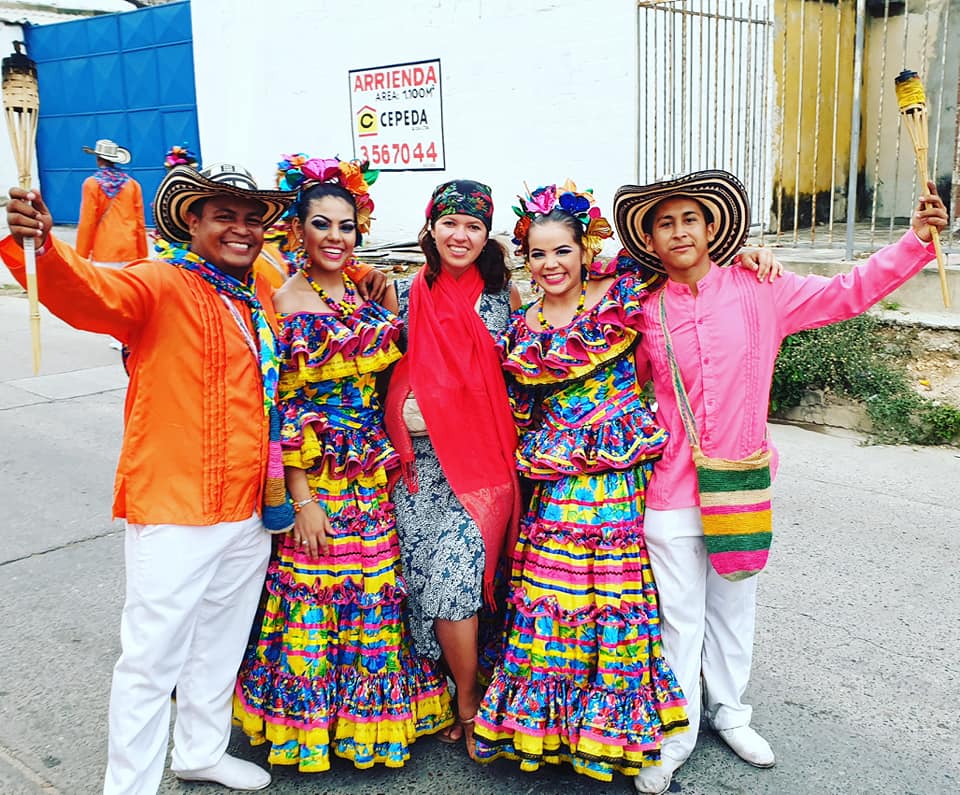 Natalia would love to go back to some places one day. "The Carnival of Barranquilla was a great experience. Japan impressed me with its hospitality and sakura. In South Korea I was invited to have dinner with people I met for the first time. I would love to see again the Iguazu Falls in Argentina, the Uyuni salt flat, Peru's Machu Picchu Mountain, Cotopaxi Volcano in Ecuador… Now, in India, I can hardly wait for the Dalai Lama event."
About the flip side of the coin
Nonetheless, not everything went smoothly. "I lost 2 airplane tickets. In one case, I did not have the right to make a stop in China, although I had a transit visa. In the second case, I did not have an exit ticket from that country." Natalia says that India provoked a great cultural shock for her. "It's hard to understand what's going on in my soul." She also had difficulties in communicating with Chinese people, as the majority of them hardly speak English.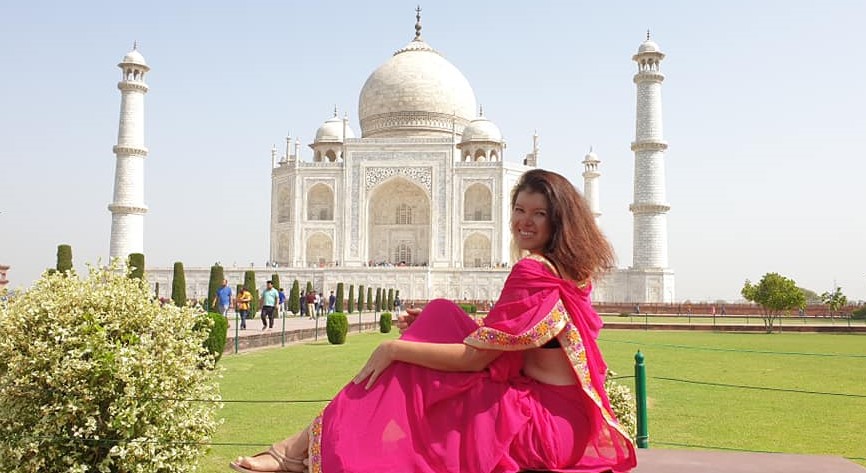 Then, she got deeper and observed other important problems existent in the countries she visited. "There are environmental problems everywhere, especially in undeveloped countries where people are not educated to protect nature and the governments do not have the necessary means to manage the garbage. India shocked me completely, as there is misery everywhere, same in Bolivia and Peru. The plastic is a real problem. I became aware the dangerous consequences of our actions because I can observe the difference, since I have been travelling for 15 years," states Natalia. Our protagonist often collects garbage during her trips, as she wants to make at least a small contribution.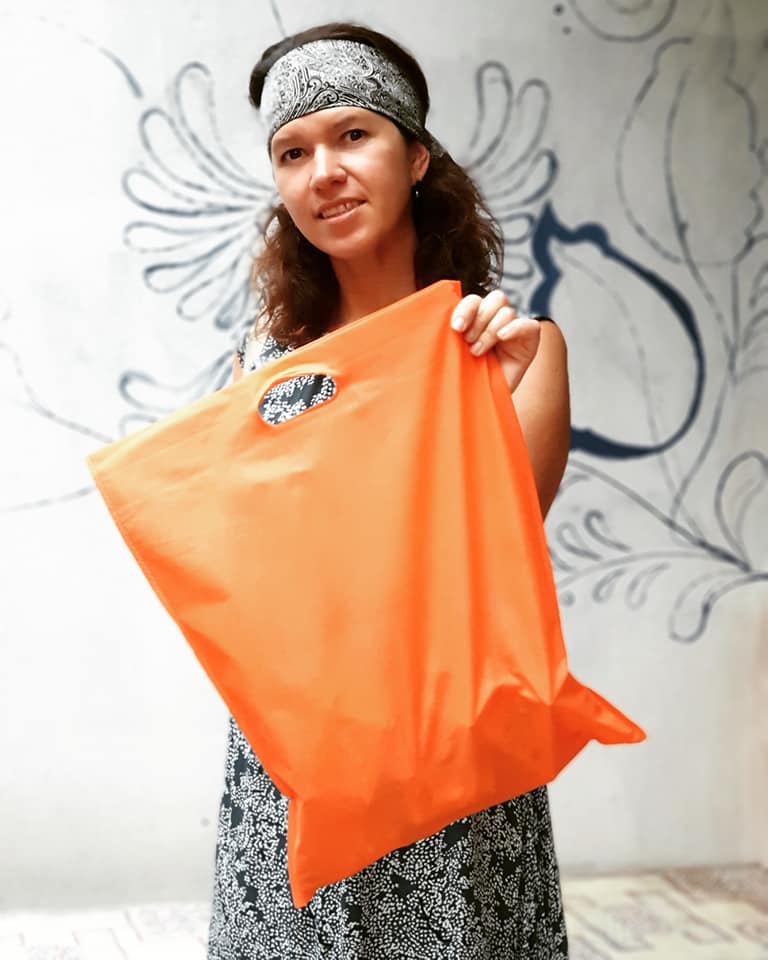 Extremist religions represent one of the current problems of our planet, according to Natalia. "I felt this the most in India, where the Kashmir region is dangerous. The bombings in Sri Lanka have postponed my trip to this country, which I really wanted to visit."
"The poverty I saw in Bolivia, Peru, Nepal and India hit me like a ton of bricks. I couldn't ignore the sexual aggression problem in Nepal and India and the always tensioned atmosphere in Colombia, Ecuador and Argentina."
About her main takeaways
Natalia changed a lot since she first started to travel and surely the metamorphosis is still in process, as she is today in one of the most contrasting countries of this world. She has got some thoughts on developing eco and rural tourism in the Republic of Moldova. "I would need a team and sponsors for implementing them."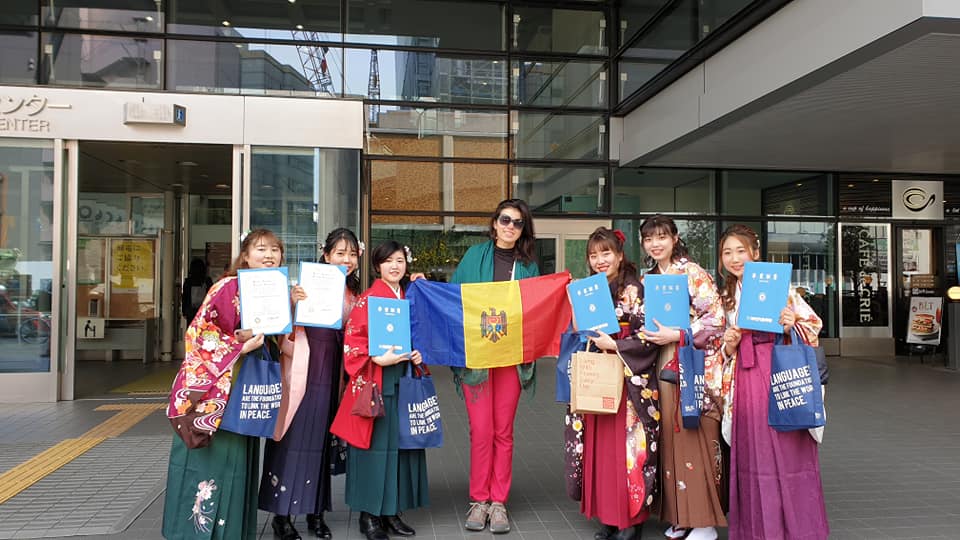 What is really important, is that she found out so many things about herself and the surrounding world. Natalia has a message for other experimenters who would like to do it as well:
"As long as we are in good health and have the will, new horizons need to be explored. We must learn to detach ourselves from a materialist life and appreciate lasting things, as well as people that will be there for us no matter what. To make a trip around the world means to accept challenges, to open oneself, to experience, to learn, to get acquainted with different people, to tolerate other civilizations, to appreciate changes, and to simply love life. So, I invite you to have beautiful and emotional journeys."
Photos: personal archive