Analysts about the vote in the European Parliament: "The document is extremely critical and attests to serious conflicts"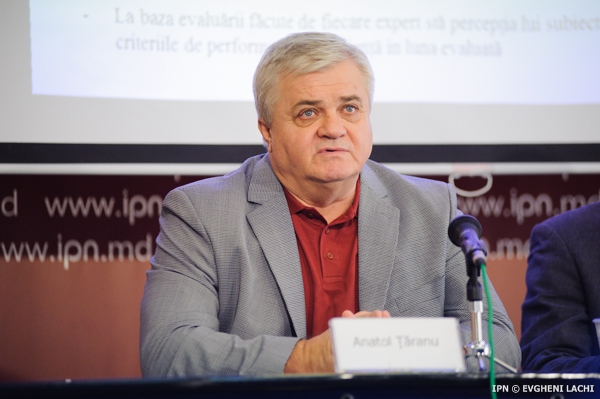 The resolution adopted on Moldova in the European Parliament yesterday definitively closed the page on what was called the "honeymoon" of the Republic of Moldova's relationship with the European Union.
This is the opinion analyst Anatol Ţăranu, who declared that this position has put a definitive end on what is called "The Republic of Moldova – a success story" in relation to the EU. The public debates were organized by the IPN agency, ZiarulNational writes.
According to Ţăranu, the document adopted by the MEPs is extremely critical and attests to the serious skirmishes that have occurred based on the functioning of the democratic institutions.
The analyst says that the resolution was received, naturally, with satisfaction by the Moldovan society as well as by the opposition political forces. And vice versa, for the time being, the government does not have very prompt reactions.
"The European Union is the main development partner for the Republic of Moldova and the worsening of relations with the EU would mean nothing but the diminishing of the economic, political and other relations. And this can not be manifested, including at the level of life, to the quality of life of citizens of the Republic of Moldova. " concluded Anatol Ţăranu, quoted by IPN.
The case for a Moldovan MEP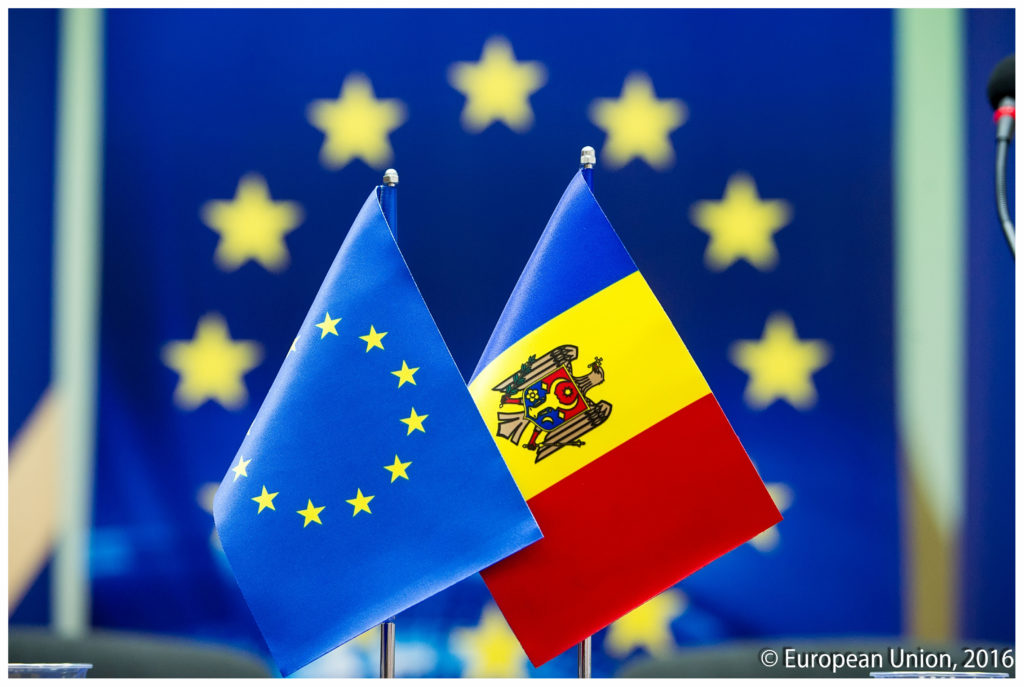 "Where is Moldova?"- a commonly asked question everywhere East of Bucharest, and also a British board game. Few know about the existence of the Republic of Moldova, an ex-Soviet republic which got its independence in 1991 and is sandwiched between Romania and Ukraine.
If one happens to know where is Moldova, it is for a bad reason. It is currently competing with Ukraine for the position of the poorest country in Europe with a GDP per capita hovering somewhere around $5000 per capita (PPP). It constantly comes up as a top origin country for trafficked persons in the US Department of State reports. Around 1 billion US dollars, or one-eighth of its GDP, were taken out of the country's three banks during 2013-2014 through high-risk loans with the help of EU-based shell companies. It still illegally hosts around 1400 Russian troops on its territory and has not achieved an effective political deal for more than 27 years with a separatist republic in its East. Moldova is also a country with one of the fastest shrinking population in the world and one of the biggest shares of remittances in the GDP. Other than the Epic Sax Guy, Ozone's "Dragostea din Tei", and the recently rediscovered wine culture, Moldova is not recognized for good in Europe.
Its recent political successes in foreign policy are limited to three major developments in the relations with the EU: the visa-free regime for Moldovan citizens, the Association Agreement, and the Deep and Comprehensive Free Trade Area (DCFTA). These developments have not only created a framework of cooperation with the EU in areas ranging from rule of law and democratization to market rules and migration but also allowed Moldovan citizens and companies to explore the European Union. Since 2014, around 1,5 million citizens (in a country of 2,9 million) are reported to have traveled to the EU, and the Moldovan companies increased their exports to the EU by at least 10%. In the meantime, the EU also managed to become Moldova's most important trade and investment partner, overcoming the CIS market by three times in trade value. It is a reality now that the EU is more engaged politically and economically in Moldova than Russia.
But Moldova's presence in the EU is visible more often in another form: over 600 thousand Moldovans holding the Romanian citizenship. As a result of Romania's efforts to reintegrate citizens from former Soviet-occupied Romanian territories, more and more Moldovan citizens, mostly Romanian-speaking ones, have started to obtain (or re-obtain, as officially stated) Romanian citizenship for various reasons. After easily proving family roots in the pre-1945 Romania, Moldovans thus could regain their official status of ethnic Romanians, could visit their lost families in current Romania, and, last but not least, travel and work freely in the EU. It has been argued that the latter has been a major motivation for obtaining a Romanian passport, even for those who don't necessarily identify themselves as ethnic Romanians. This motivation is occasionally criticized in both Romania and Moldova, but one thing is certain: the actions of the "little man" should not be judged and rather be viewed from a very rational perspective in the poorest of Europe's regions. Consider this: the lack of interest of Moldovan Romanians in Romania's public life and Romanian politics does worry many "mainland" Romanians. But this assumption does not hold any longer.
At least 2 Moldova-born legislators were elected in Romania's bicameral parliament, over 30 thousand Moldovans used the ballot box (in Moldova) in the last Parliamentary and Presidential elections to express their voice in Romania's politics, tens of thousands of Moldovans live and pay taxes in Romania. Most recently, the political integration of Moldovans in Romania has gone to the next level: the European level. Moldova's former PM Iurie Leancă (whose premiership witnessed the massive bank frauds) is now the third candidate in the list of Pro România, following ex-PM Victor Ponta and the outgoing Regional Policy Commissioner Corina Crețu. With a failed political career back in Moldova, Leancă has the greatest chance of becoming the first Moldovan MEP in EU's history, considering Ponta and Crețu's potential comeback to Romanian domestic politics. Another Moldovan on an EP election list is Daniela Șerban, capital markets professional, but the chances of her getting an MEP seat are quite low, despite Alianța 2020's potential high score on 26 May.
It has to be said that Moldovan do not vote only for other Moldovans in Romania. People's Movement led by Ukraine-born Eugen Tomac has maintained appeal amongst Moldovan Romanians due to the policy of reintegration and assistance formerly promoted by ex-President Traian Băsescu in regards to Moldovans and the Republic of Moldova. Băsescu might win his MEP seat largely thanks to the support of Moldovans. Although not able to integrate Moldovan Romanians in their EP election lists, the traditional Social-Democrats and National Liberals are likely to gather support in Moldova only with the help of party links with the governing Democrats and the opposition ACUM bloc in Moldova.
Voter turnout numbers from 26 May will show whether the Moldovan Romanians feel relevant to raise their voice in the second biggest election in the world. More importantly, it will reveal (or reconfirm) a relatively new aspect of the changing EU polity: its permeability for voters who have never lived in the EU but are nevertheless attracted to its norms and prosperity.
On the other side of the "fence", the EU has to embrace Moldova and Moldovans now more than ever. This deepening of the relations should not happen at the expense of the reform conditionality on EU's help, nor should it be seen as a geopolitical challenge to Russia. Overlooking the slow progress of reforms has led to the demise of the Eastern Partnership's "success story" and the democratic backsliding in Moldova's political system, where the ambiguously "pro-EU" government does not bother cooperating with the "pro-Russian" systemic opposition on the basis of power-sharing.
Overlooking Moldova now would be a mistake the EU could not afford. Overlooking Moldovan Romanians would be something the EU could not avoid. Moldovans might integrate faster into the EU than their own Republic.
East or West? Celebrating Victory Day and Europe Day at the same time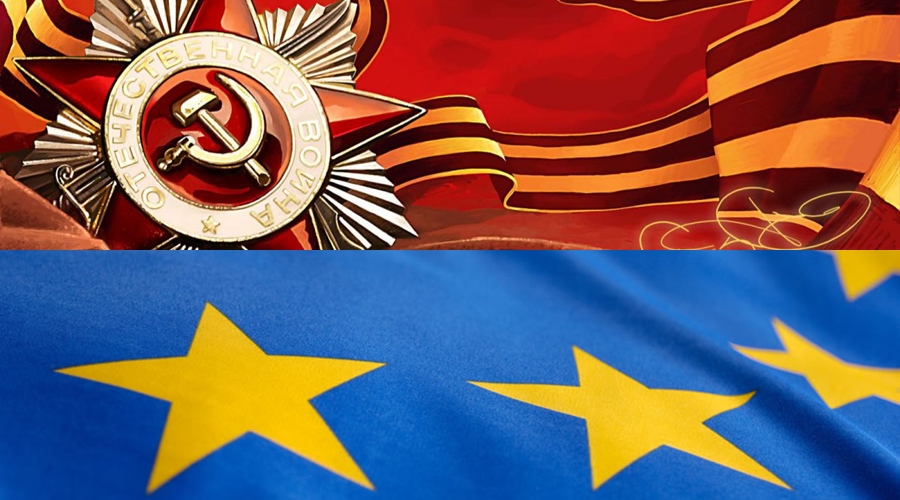 For 3 years, people in the Republic of Moldova have been debating what is more important: celebrating Victory Day or Europe Day on the 9th of May? In 2017, the Parliament of Moldova adopted a law to make Europe Day an official holiday in Moldova, along with Victory Day.
Every political party, regardless of the political views, organize a celebration on this day. This year, the Party of Socialists of the Republic of Moldova (PSRM) and the Șor Party organised concerts, parades and demonstrations for celebrating Victory Day, whereas the political bloc ACUM, the Liberal Party (LP) and the National Unity Party (NUP) celebrated Europe Day. Another political actor – the Democratic Party of Moldova (DPM) tried to please everyone and organised a holiday of "peace and prosperity for Moldova".
At the same time, the Moldovan Government decided to focus merely on Victory Day and postponed Europe Day for the following weekend, on May 11th-12th. In such a way, they considered the conflict of interests resolved.
Now it's the proper moment to ask: what is the problem with having 2 different holidays on the same day? In fact, they are not even contradictory. On the contrary, they are related, as the end of World War II and the surrender of the Allies armed forces (which is celebrated on May 8th in Europe) represented an important drive for the creation of the European Coal and Steel Community – the forerunner to the European Union. Actually, the only problem with it is the context of the Moldovan social and political behaviour.
First, both holidays are politicized and are transformed into an apple of discord deliberately, as the Moldovan politicians, especially those who are in power today, understand very well that a divided society means a weaker society; therefore, an easier to control society. The debates about directing Moldova to West (the EU) or East (the CIS) never stopped in Moldova. On May 9th, everyone argues about that: the governors, official representatives of the civil society, activists and, consequently, common people that instead of taking time to discuss their real problems, new businesses, initiatives, projects, protests against the injustice that is done to them, most of them are dividing in groups, spreading hatred and treating superficially the true meaning of both celebrations.
People forget that Victory Day is not about expensive concerts organised by the socialists or buckwheat with pickled cucumbers served in the city centre by the democrats. It is not about pompous demonstrations that involve children who are forced to dance synchronously instead of listening from their parents, grandparents and teachers about the tragic consequences of the Second World War.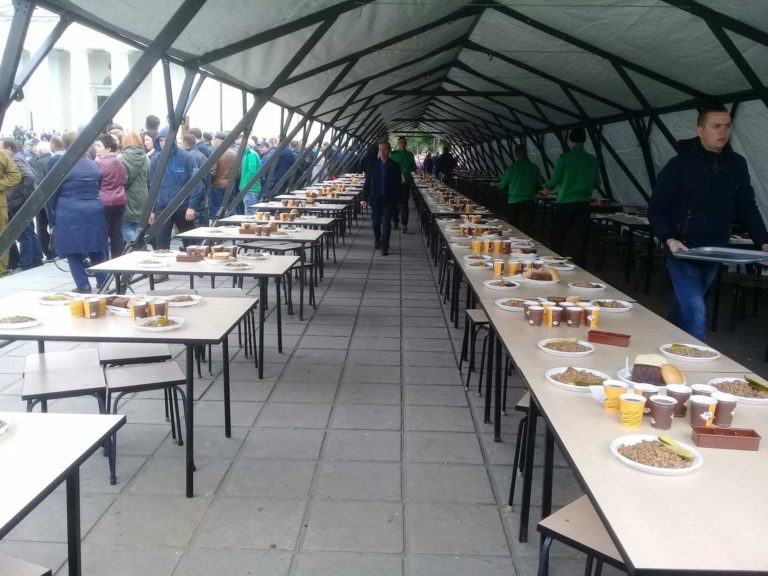 On the other hand, Europe Day is more than classical music concerts organised in the central park of the Moldovan capital. Behind the exposed photo galleries are people that have been working a lot, searched and applied for European funds, people that didn't expect somebody to simply come and save them from the poverty, corruption, injustice, etc. Unfortunately, such people are still not enough in Moldova and Europe Day is treated by the majority just as superficially as any other holiday in Moldova: an occasion to eat out, listen to concerts' music and have fun.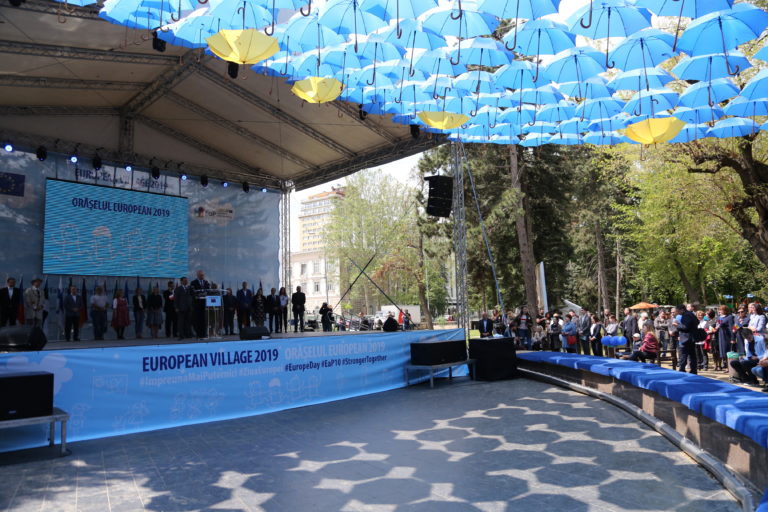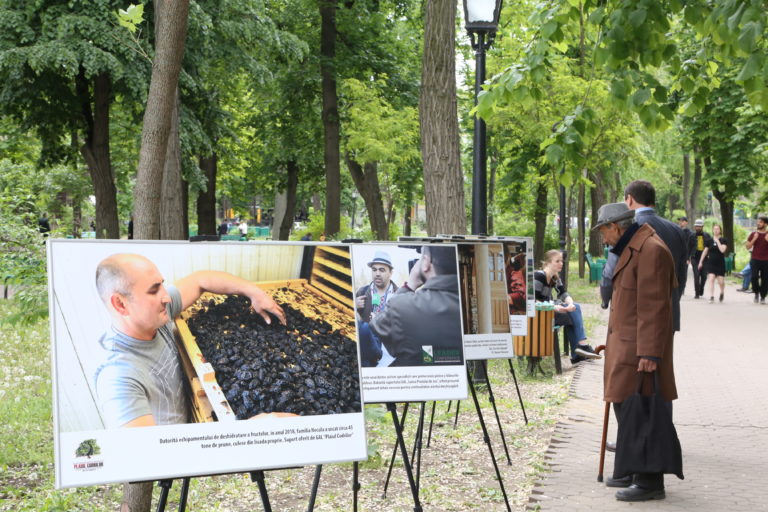 Moreover, the governmental institutions and some big media outlets present the events happening on May 9th as a natural occurrence. So, the fact that several political parties 'marked' their territories in the city centre of Chișinău, organizing their own events for their own electorate is considered normal. The direct use of propagandist methods combined with avoidance to declare the events' costs by the political parties is not a problem in Moldova.
We live nowadays in a country stuck between Eastern and Western worlds, which can perfectly make it without our existence. We live in a country with poor people, morally poor first of all, as we don't really know much about our past and don't care as much about our future.  None of these two holidays real meaning is interesting for the biggest majority of the population. We just love their symbolism that takes us back in the past or enables us to dream about the future. May 9th is just another reason to celebrate, not more than that.
Photos: Ziarul de Garda
Why do Moldovans have fewer official holidays but still don't work more than Germans?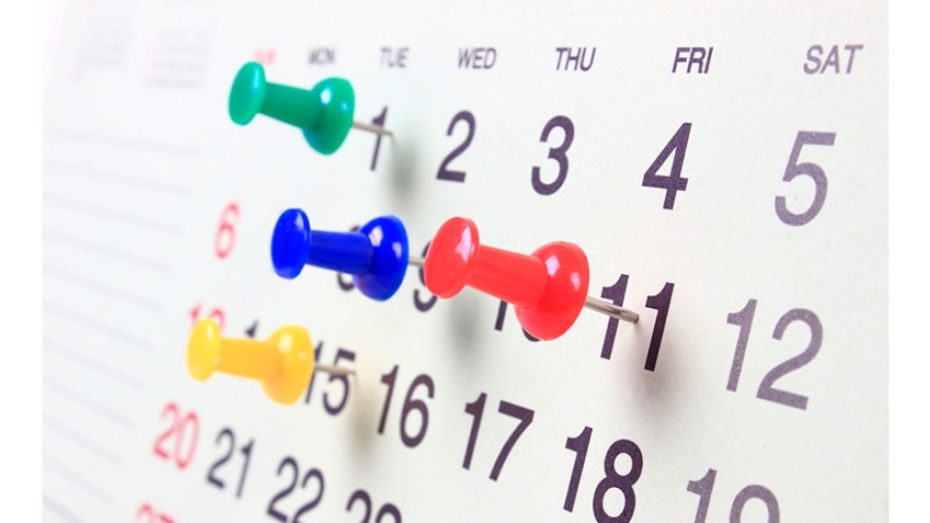 I am an emigrant. Several years ago, I left my home country – Moldova and, after several changes, I ended up in Germany. No, I am not telling you my life story. You just would need some background information to understand why I decided to call your attention to this sensitive topic.
Every year, I encounter the same situation: a lot of people from Moldova are complaining about too many public holidays in Moldova, empty streets and paralysed public services. Especially during this period: Orthodox Easter Monday (April 29th), Labour Day (May 1st), Memorial Easter (May 6th), Victory Day or Europe day (May 9th) – a reason for one more dissension in the Moldovan society, all of them in just two weeks.
So, in a way, it is understandable why some people are not very happy about it. But are they not happy because of the public holidays' existence or because of the way things are taken care of during these days?
There are a lot of countries in this world that have more public holidays per year. One of them is Germany. That's true, one of the most hard-working nations in this world (at least according stereotypes) has slightly more public holidays than we, Moldovans, do. So, does that mean that Germans work less throughout the year? Not necessarily.
Well, let's take it one by one.
First of all, as compared to the Moldovan people that have 12 public holidays in 2019, Germans, in particular Bavarian people (this is the region where I live in) have 13 officially declared public holidays for the same year. Nonetheless, I never heard that Germans would collectively and continuously complain about that. On the contrary, they love it.
Somehow, they got used to the fact that on national public holidays and on Sundays everything is closed, including the grocery stores. In bigger cities, there is still at least one open grocery store at the central train station. In smaller towns, people have the option of gas stations stores only.
Now imagine how people in Moldova would react if one day the government would decide to implement such a measure and almost all grocery stores would be closed on Sundays. It would be a catastrophe!
Germans learned to plan, to prepare everything in advance. That is one thing that Moldovans need to learn as well.
One more important aspect is that some service industries are still open: public transportation is still punctual, even though, it comes less often, there are enough hotels, cafes and restaurants that provide their services, as well as entertainment and sport institutions like theaters, cinemas, museums, swimming pools, tennis courts and so on, remain open. And of course, the emergency services such as fire, medical, police services are available. People that work in these areas usually receive supplemental pay for working on Sundays and holidays. They understand that their job is important for other people who want to be safe or go out during their free time. At the same time, nobody expects postal services, administrative institutions, fashion shops, travel agencies, family doctors, lawyers to work in these days.
What do I want to actually say through this article? It is not as much about the amount of working time as it is about the efficiency of the effort. It is the government's job to assure the basic public services during the national public holidays (e.g., public transportation) and it is the people's job to adapt to the free days setting and plan everything in advance. That refers to Moldovans as well – we should stop complaining and try to be more productive during the working days, so that no frustrations would appear when we have our free days, which are, by the way, not as many as we think.