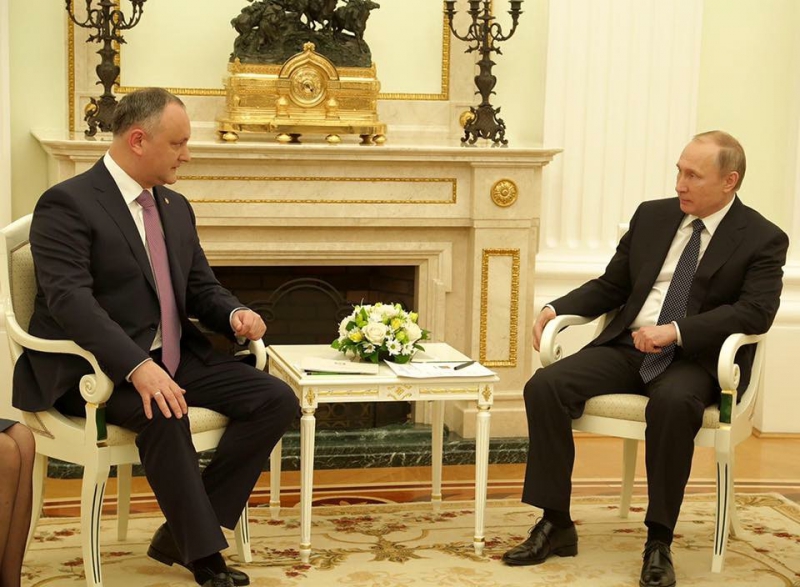 On March 17th, Moldova's President, Igor Dodon, met with the Russian President, Vladimir Putin, in Moscow. The meeting, a follow-up of the one from January 17th, was delayed by almost 4 hours, making Dodon wait for Putin.
The topics discussed by the two Presidents varied from the Moldovan exports to the much-promised "Strategic Partnership".
First, Dodon thanked the Russian President for the positive solution to the problem of wine exports to Russia. He even brought, presumably as a gift, some wine bottles of Putin's collection from Cricova cellars, to which the latter was surprised to receive gifts of his own.
Second, the Moldovan President expressed his gratitude for the migration amnesty for Moldovan migrant workers, at the same time asking to introduce a prolonged amnesty after March 20th for other 33 thousand Moldovan citizens with residence penalties. Putin reportedly promised to prolong the amnesty. In this context, another proposed measure was to sign a citizenship agreement on the dual citizenship, so that the Moldovans living in Russia do not give up their citizenship.
To stress his friendly position towards Russia, Dodon condemned and called "demarche" the note sent by the Parliament and Government regarding the abuses Moldovan officials recently faced at the Russian border control.
On the Transnistrian conflict settlement, Dodon told Putin he would plan a meeting with the Transnistrian leader Vadim Krasnoselsky until the end of March.
Last, but not least, Dodon proposed to the Russian leader to have a consultation on concluding a new Treaty of "Strategic Partnership" between Moldova and Russia, beside the already existing Friendship and Collaboration Treaty.
Dodon was accompanied by the Socialist leader and deputy, Zinaida Greceanîi, and his foreign policy adviser and future Ambassador to Russia, Andrei Neguță.
Before meeting Putin, President Dodon participated the Business Forum "Russia-Moldova", together with Russian potential investors in Moldova. He declared that, on political level, he will always support the extension of economic relations between the two two states.