Stories from diaspora// Iuliana Motologa – a world-class fashion trainer based in Dubai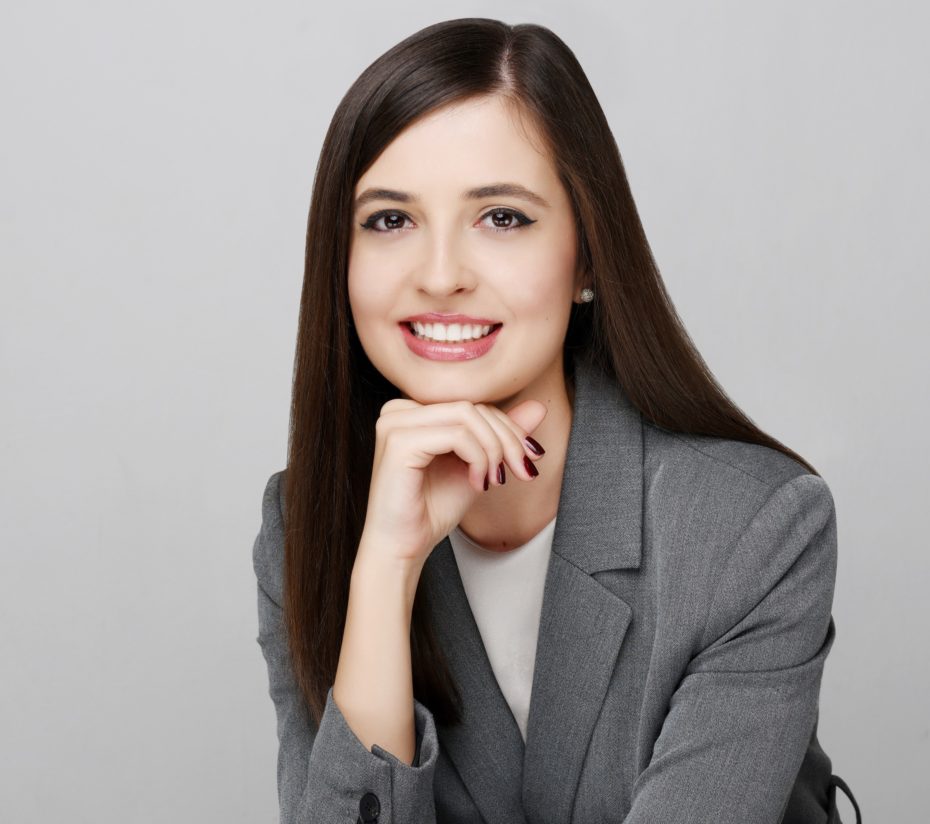 This week, we want to introduce to you a very special girl from the Republic of Moldova. Her aspirations have a very exotic and, in the same time, stylish form, literally, because she lives in Dubai and works for one of the most reputable companies in the fashion industry. Her name is Iuliana Motologa.
For the beginning, we asked Iuliana to describe her personality, as nobody could 'paint' her portrait better than she does: "I consider myself an ambitious dreamer. I am very passionate in whatever I do in life and people who don't share my passion might find me strange and hard to understand." Iuliana puts so much heart and soul in whatever she does. She considers herself loyal, appreciating the same in return. "I have a critical eye or let's call it, a keen eye for perfection that creates a constant inner battle within, between the desired utopia and the acceptable reality. On a different note, behind this determined, self-controlled and independent façade, I am a teenager at heart."
About fashioning her own dreams
4 years ago, Iuliana took an important and courageous decision: doing a master's degree remotely, at the University of Liverpool, along with working at one of the top fashion companies in the world. How was it possible to combine them? "With many cups of coffee and countless late nights," claims Iuliana. "It was a challenging stage of my life that stretched me to the limit and pushed my boundaries further than I could've ever imagined they could reach."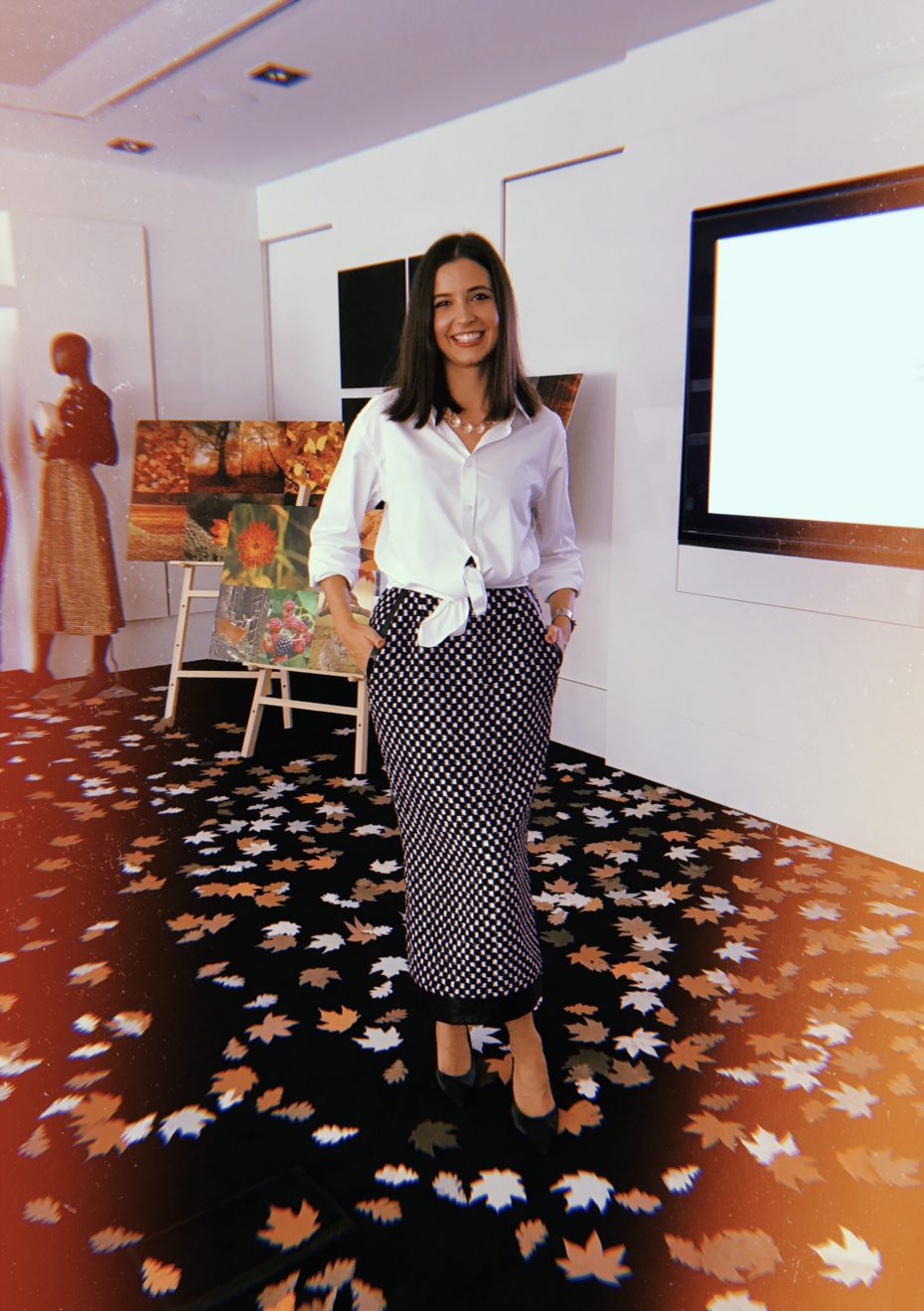 Iuliana always dreamt of having a progressive and smooth learning path, being able to experience the joy and problems of a normal student's life, as she states.
"My case was different, as I chose to be independent, earn my living and invest in my education, rather than await support from my family."
Moreover, it wasn't a sudden decision. It took her around 2 years to understand and decide which path she wanted to follow. First, Iuliana moved to the United Arab Emirates and gained her work experience at a British luxury fashion house. "Having a minimum of 2 years work experience was a criterion for selection in the master's programme I had chosen in marketing, a degree I knew would help me grow in my desired career path," says Iuliana.
All of us know or guess how hard it is to study and work in the same time. As Iuliana told us, doing that in the UAE was even more challenging: "My Master's programme with the University of Liverpool wasn't flexible at all, as some might think when they hear about distance learning. Our programme was well structured, starting with a clear syllabus and ending with precise and strict deadlines. Just to give you some numbers: there were a total of 8 core modules, each one with a duration of 8 weeks and 2 weeks break in between. In addition, we spent 40 weeks on our final project, conducting our own research and writing the dissertation. We used to spend an average of 25 hours per week studying, apart from the 48 hours of work per week, as per the UAE law." A simple mathematical calculation, gets us a result of about 73 hours of work per week, that meaning around 10 hours every single day (!) Would you now say that it was so hard for you to do it?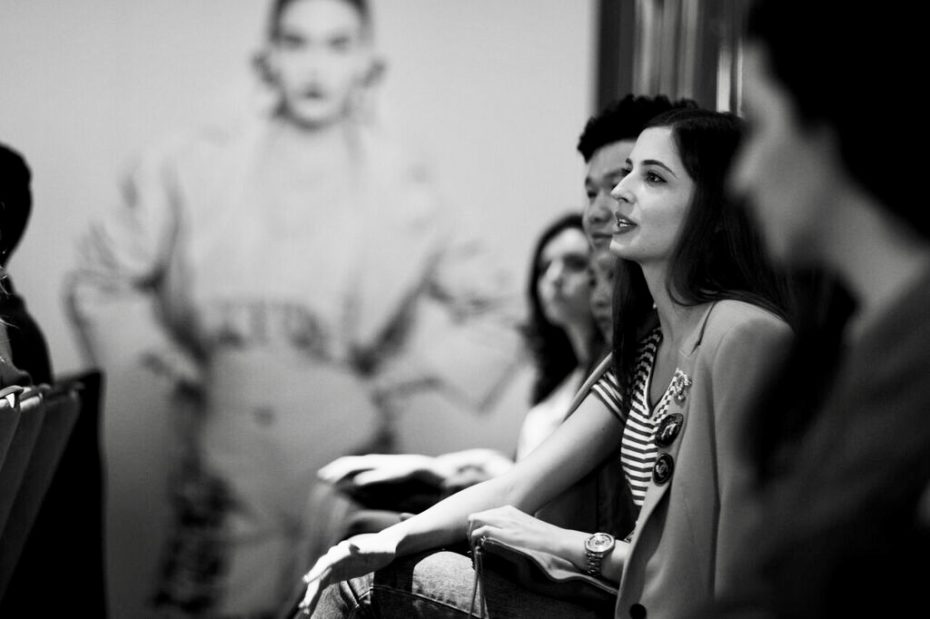 Of course, Iuliana had her own methods to resist to such a workload. "To keep me sane, I was trying to travel as much as I could in the 2 weeks of University breaks, scheduling a holiday from work at the same time. I frequently went on 'wellness retreats' to tropical destinations or to explore new countries," recalls Iuliana.
About the benefits of working as a trainer in the fashion industry
"Ever since I had my first interview with my employer in 2014, I expressed a wish to develop myself in this direction, and I started from scratch, learning everything, as a sales assistant." This is how Iuliana describes her beginnings at the company she is currently working at.
Today, she holds the position of a fashion trainer for Middle East and India. "Now I work for the fashion division, training retail teams on product and brand knowledge with a deep focus on client experience, it's the best job ever! I interact on a daily basis with more than 35 nationalities, people of different ages, cultures and seniority levels, based in several countries across the region. I constantly learn exciting new things about them," claims Iuliana.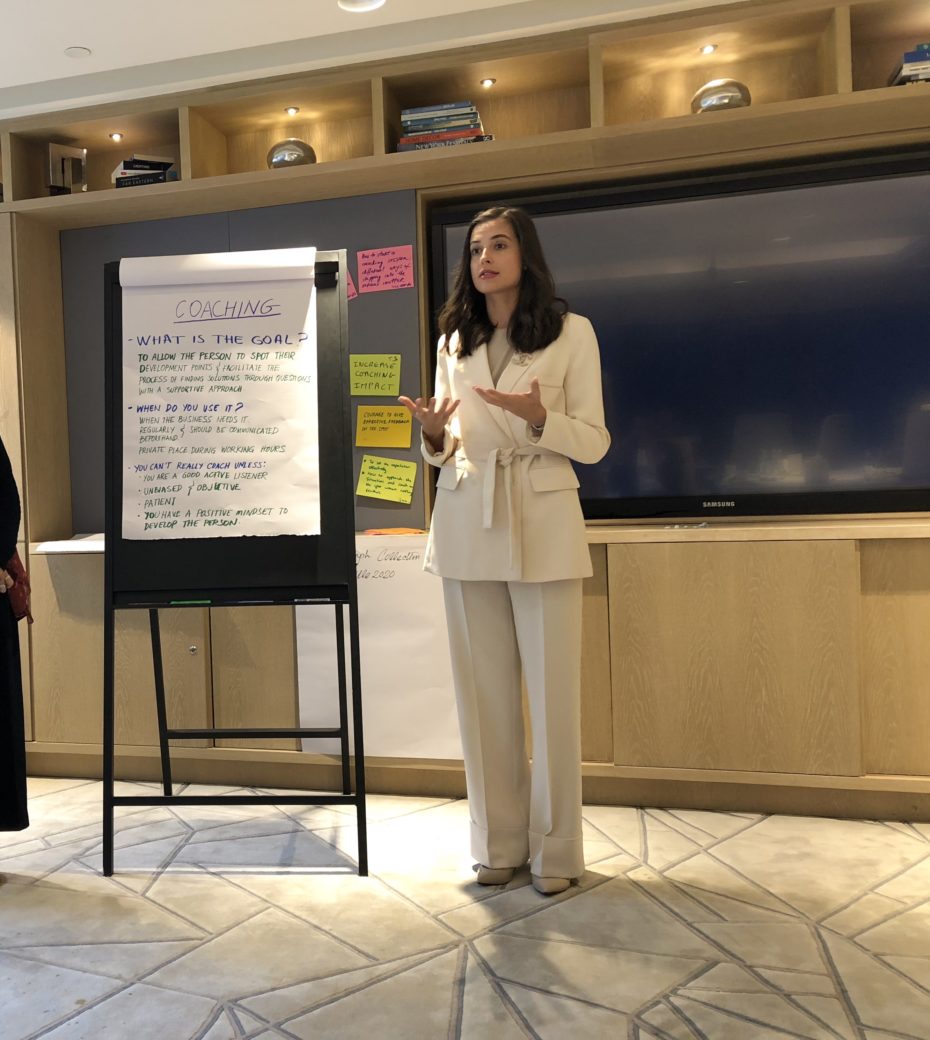 Iuliana discovered her passion for training over the course of working as a sales assistant: "There was no job opening, and I had no idea where my passion will take me. I just continued doing what I loved the most for almost two years, never failing to complete my official job's tasks." And she really loves her job. "What I like the most about my job is that I'm changing my role from coach to trainer and facilitator depending on the situation. The longer I am in the role, the more I realize that my job is not just to pass new information to the audience, but often, to launch new ideas for discussion and facilitate the course of communication."
The main benefits of working for one of the best companies in the fashion industry, according to Iuliana, is to be surrounded by the best people and that every day, she comes to work with positive thoughts and a smile on her face.
Her job enables Iuliana to have an active lifestyle.  "I travel often and even when I'm in the country, I don't sit in front of the computer from 9 to 6. Luckily, my job is dynamic and also creative to some extent, which means I'd be on the phone, driving, changing locations, meeting different people, organizing training sessions etc. 60% of my time is preparation and the rest is delivery."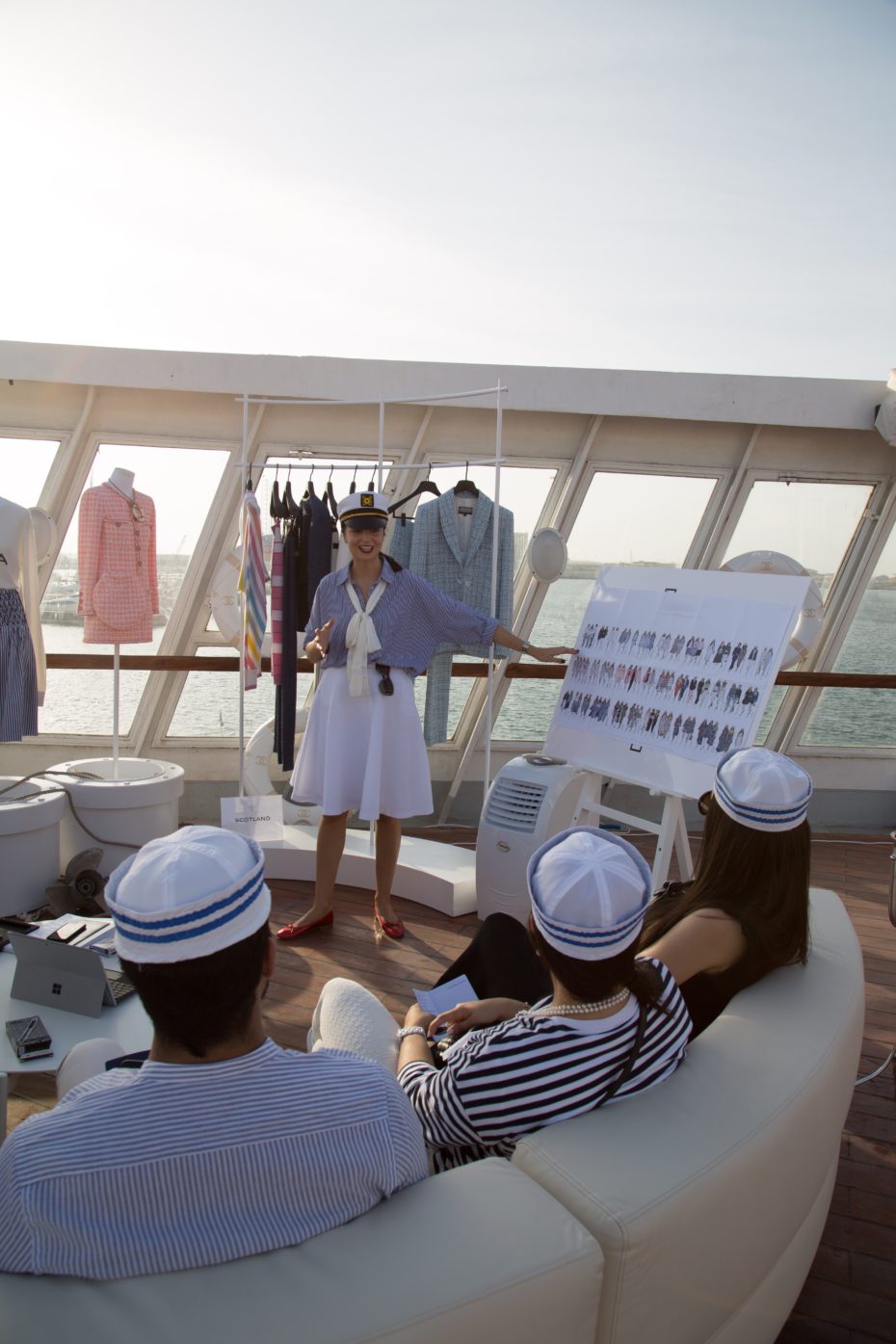 "I'm very lucky to be able to travel for work to places like Beirut, Delhi, Doha, Kuwait, Paris and Amsterdam. At times, I choose to extend my weekend and explore the city. When I come back to Dubai, I prefer to have relaxing weekends, catch up with friends, and go to my Salsa classes." Iuliana reveals that she is in a constant quest for an interesting sport activity, which she would share with a friend.
About living in a completely different world
Iuliana lives in Dubai – a fast-paced city that can host people of any nationality, with any preferences and lifestyle. "There are so many things to try and activities to embrace in Dubai. You can enjoy yoga, surfing, sport kite, Latino dances, horse-riding, dune bashing etc. The comment that most of expats will tell you is that there is not enough time to practice all of them. Time is money indeed and we can all feel it here," states Iuliana.
Iuliana says that a must-have thing in such a city is a car. "The city is spread out. So, having a car is essential for getting around easily although there is a public transport system. It's much more convenient and comfortable to have your own vehicle, especially in the hot summer months."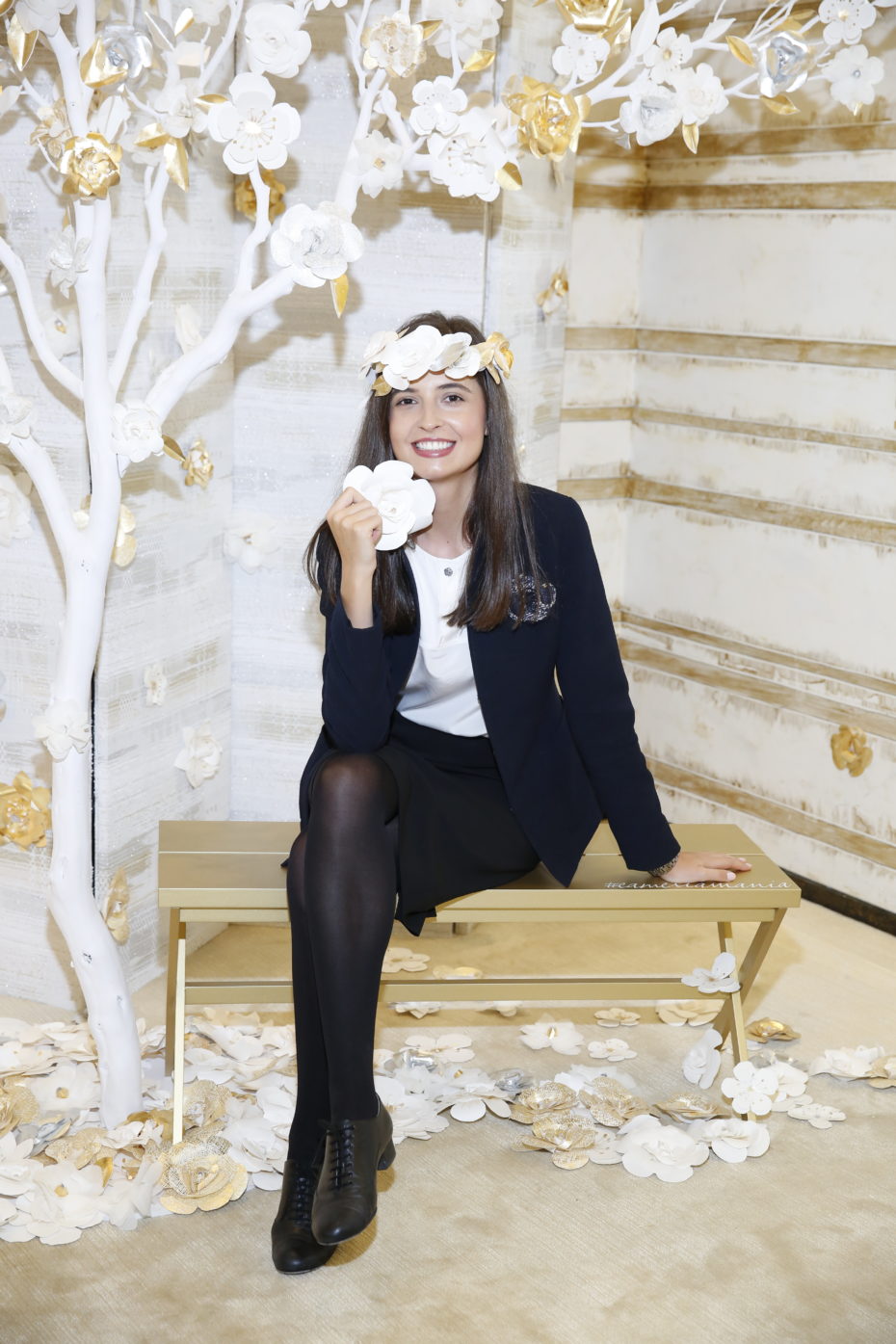 She was only 22 when she moved to Dubai. Iuliana lived in Moldova until she turned 19, went to USA through a summer programme in Texas, studied in Northern Italy for a bit less than a year and had an internship in Switzerland. "The latter one was an eye-opening experience that planted the wanderlust seed in my heart. It equipped me with courage to tap into the Middle Eastern world."
Her views and mindset suffered a big transformation since she moved to Dubai. "I tend to think that this change has left a major footprint on who I am today. I've learned to keep my mind open and my face straight when talking to someone from a different background," she says.
Iuliana entered a diverse new colourful world. "There is not one single Arab culture. There are multiple cultures that translate in different behaviours, dialects, and traditions within this region. The Arab world is composed of so many countries from North Africa to the Asian continent, and what was a surprise for me is that, sometimes they don't even understand each other's Arabic sentences because of the dialect. The Gulf countries remain a mystery for me, as I had only professional interaction with true locals, but I can tell you about Lebanese, Syrians, Egyptians, Jordanians, Palestinians, Moroccans, Iraqi, Iranians who have one thing in common: the love for food, and their food is absolutely delicious!" Our protagonist says that she was able to give up on the traditional Moldovan "plăcinte", for the food she tried there.
People of Arabic cultures are friendly, light-hearted, and very warm, as Iuliana states.
"They are very passionate (pretty much like me), but short-temper people. You'd hear many times them saying: "do not awaken the Arab within me."
Still, there are things she didn't manage to get used to: "Until today, I can't get used to the fact that the work week starts on Sunday and ends on Thursday."
About her short escapades to Moldova
"I come back home once every 4-5 months to see my dear family. Luckily, they are all in one place, so I get to see them all at once. Most of my friends have moved abroad though, and we try to meet regularly somewhere in Europe." Iuliana prefers coming home in summer or for New Year. "All of my trips back home must include a visit to one of the wineries, or a rustic restaurant somewhere outside Chișinău. I enjoy taking my family out and pampering them while I'm at home."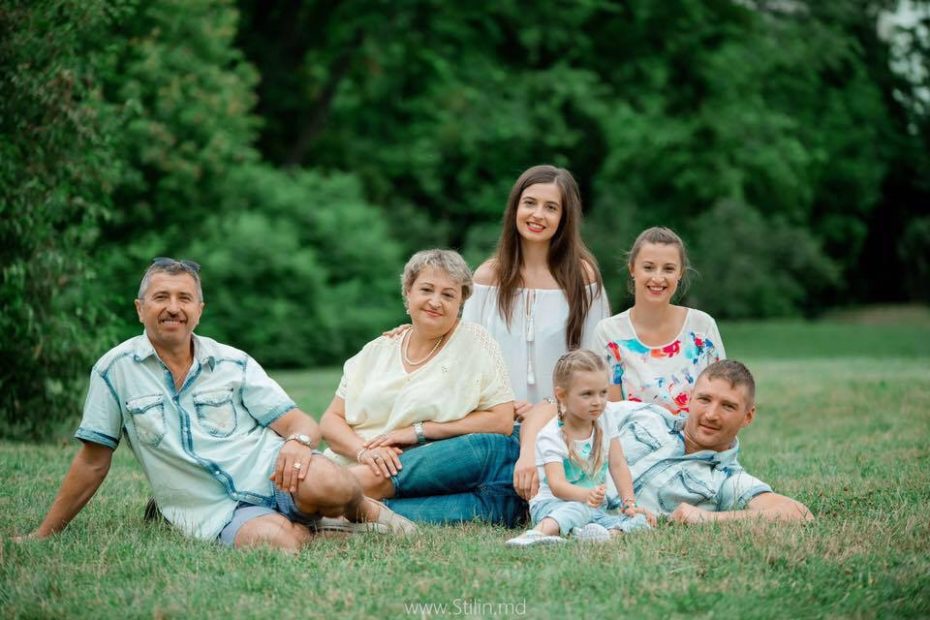 Iuliana highlights the big contrasts between Chișinău and Dubai in terms of nature and the taste of fruits and vegetables in summer. "The number of trees and the intensity of the fresh air is something I can't neglect when coming from Dubai to Chișinău. The flavour of our fruits and vegetables in summer and all the organic options sold in the outdoor markets is something I constantly long for while living in Dubai." Yet, the gloomy atmosphere is noticed by Iuliana as well: "When I'm in Moldova, I can sense a deep melancholy and nostalgia surrounding people passing by."
About her future plans
Iuliana is not going to leave Dubai any time soon. "Dubai has been my settled place for a longer period of time (5 years and a half now to be exact). This place has offered me so many opportunities I could maybe only dream of at my age."
"I've invested so much of my time and efforts into what I have now, that for the moment, I just want to enjoy the fruits of my work without thinking of where is 'next'? Unless an opportunity falls on top of my head out of nowhere."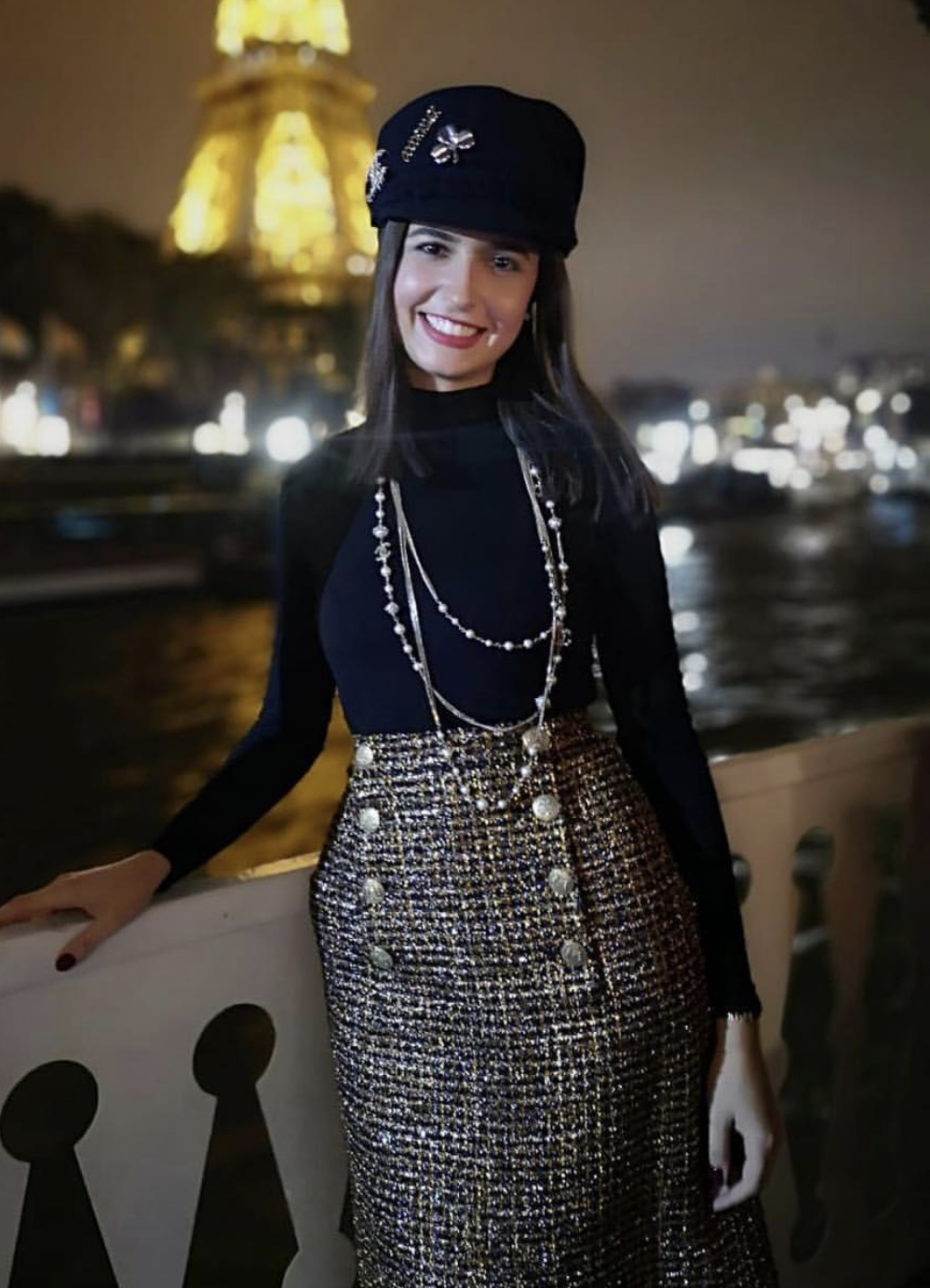 As Iuliana says, a lot of things have changed as compared to 8 years ago when she would've left everything to move to the US. "I don't think and wish the same anymore."
For now, she dreams of learning horse riding and eventually buy a horse. "My father might laugh while reading this, because this is what the 5 years old Iuliana always wanted. I would love to learn how to ride a horse professionally and even buy my own horse eventually." There is one more thing: "I want to ensure a peaceful life for my parents and show them the world. I'm determined to do that."
Photos: personal archive
There are three Harvard University graduates in the government of PM Maia Sandu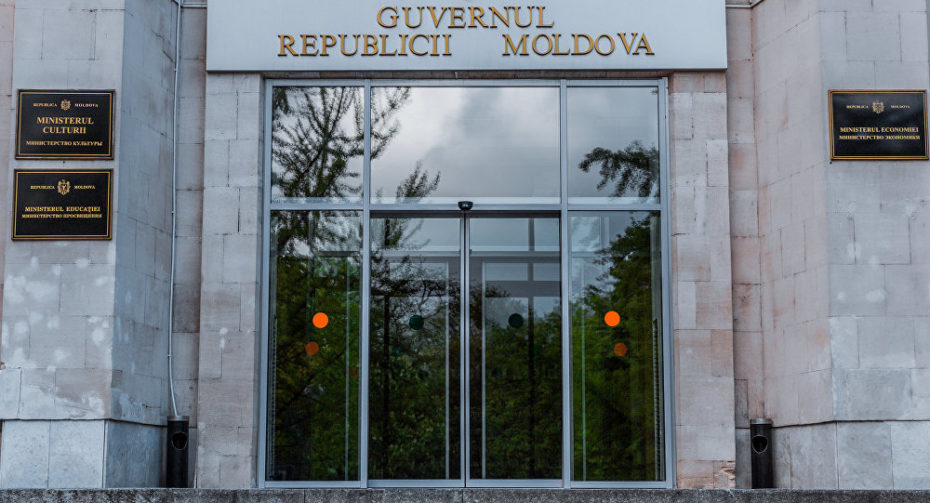 Three of the cabinet members in Chisinau have master degrees at from Harvard University. These are the Minister of Finance, (Natalia Gavriliţă) Minister of Economy (Vadim Brânzan), and Prime Minister Maia Sandu.
Newsweek.ro made a comparison of the members of the Government of Chisinau with those of the Cabinet of Ministers in Bucharest.
Vadim Brânzan, the new Minister of Economy in the Chisinau Executive, is a professor of physics, yet between 1999 and 2001 he took a Masters Degree in Finance at Harvard University. From 2001 to 2019, he worked for various investment companies in London, New York, and Miami, the latter being Miami's Logos Advisers, specializing in "angel investments," which is aimed at helping startups.
Maia Sandu assigned Natalia Gavriliţă as Minister of Finance. Natalia has a Masters degree at the John F. Kennedy School of Governance, Harvard University. From 2015 until today she was a director of a London investment fund. Gavriliță also worked at the European Commission and the World Bank. She worked in countries such as Bangladesh, Belgium, Ghana, India, Indonesia, Kazakhstan, Kosovo, the Kyrgyz Republic, Moldova, Nigeria, the Occupied Palestinian Territories (OPT), the Russian Federation, South Africa, Tajikistan, United Kingdom, USA, Zambia.
Moldova's Minister of Agriculture is Georgeta Mincu, who holds a Master's degree at the University of Dublin.
Nicu Popescu, the new Foreign Minister in Chisinau, is a Doctor of Political Sciences, a title obtained at the Central European University (CEU) in Budapest, with the thesis: "Stealth: EU and post-Soviet conflicts". Popescu is a professor at the Po-Paris School of Science.
Finally, the new Moldovan Prime Minister Maia Sandu has a Masters degree at the Kennedy School of Government, Harvard University, and has worked at the World Bank in Washington DC.
Stories from diaspora// Marian Cepoi: "While the things are not changing in Moldova, its citizens are given a second chance abroad."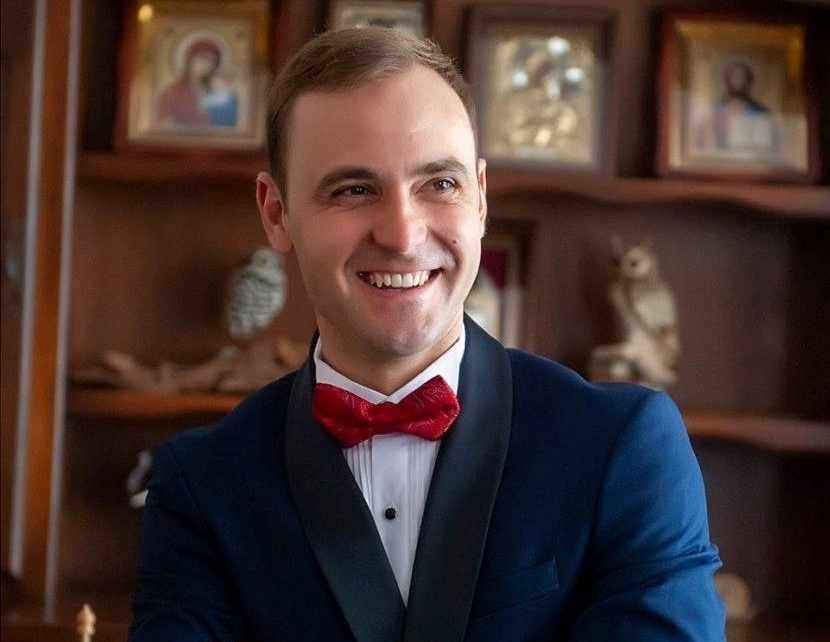 Marian Cepoi is an ambitious and hardworking person from Moldova who is currently working as a policy assistant at the European Commission, while living in Brussels, Belgium. He is the protagonist of this week's story from diaspora.
About working for the EU
Marian wakes up early every day. He has settled down into a morning routine: exercises, reflecting and a healthy breakfast. "I have noticed that I am feeling better during the day if I wake up earlier and have more time for morning activities. If you do not hurry up in the morning, your entire day will seem to be longer, with more time to achieve the always-infinite list of proposed tasks," he says.
Marian's list of daily tasks is really long: coordinating the organisation of meetings, drafting policy and working documents and briefings, liaising and communicating with internal and external actors, etc. Therefore, getting an energy boost in the morning is really useful.
However, his morning habits are not the only source of enthusiasm and efficiency. Marian also gets his energy from the joy of doing what he really likes. "European Affairs are an interdisciplinary topic and you never get bored with only one type of activity. It is a nice combination between political science, economics, law, development studies, communication, diplomacy, etc." It is clear that Marian loves his job at the European Commission. "It is a big community of people with more or less the same profile, education and activities. You feel a member of this big family."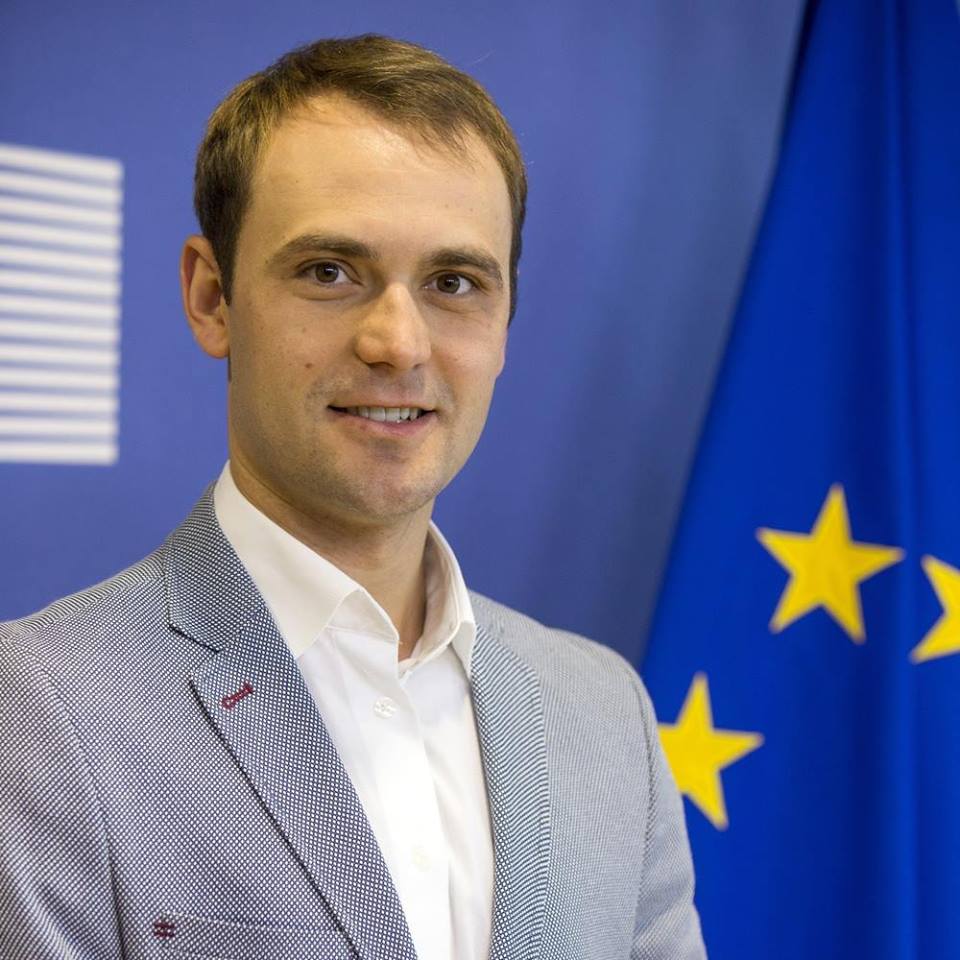 Furthermore, Marian also enjoys living in Brussels: "It is a Babylon of our era. Here you do not feel like a foreigner and your language accent will not be judged. It allows me to be far from home, develop myself, and, at the same time, to not feel as a stranger – the way I would have been felt if I was working and living in another country or city."
At the same time, our protagonist reveals some aspects of having a job at a European institution: "The work style is very different. The specificity of having 28 countries on equal foot developed here a strong common sense of co-decision, negotiation and respect for the opinion of other people. Even at the lower levels all decisions are taken after a wide internal and external consultation process."  In the end, everybody is aware of their own contribution and no conflict of interests during the implementation process could appear, according to Marian.
Of course, there is the other side of the coin as well. "All these advanced democratic practices generate a complex system and, sometimes, it may appear slow, over-regulated, and too bureaucratic. However, without bureaucracy, that in fact assures the rules compliance, the European Union would have not been capable to extend at such a large scale, both in terms of number of countries and in terms of competences," explains Marian.
About the prerequisites to enter the EU institutions' competitive system
Marian did his master's degree in European Studies at the College of Europe. "The College of Europe was a 'visa' for Brussels and for working at EU institutions in my case. It is almost impossible to enter the EU institutions, being from a third country, if you do not have a diploma with good results from a prestigious university, as well as prior relevant work experience."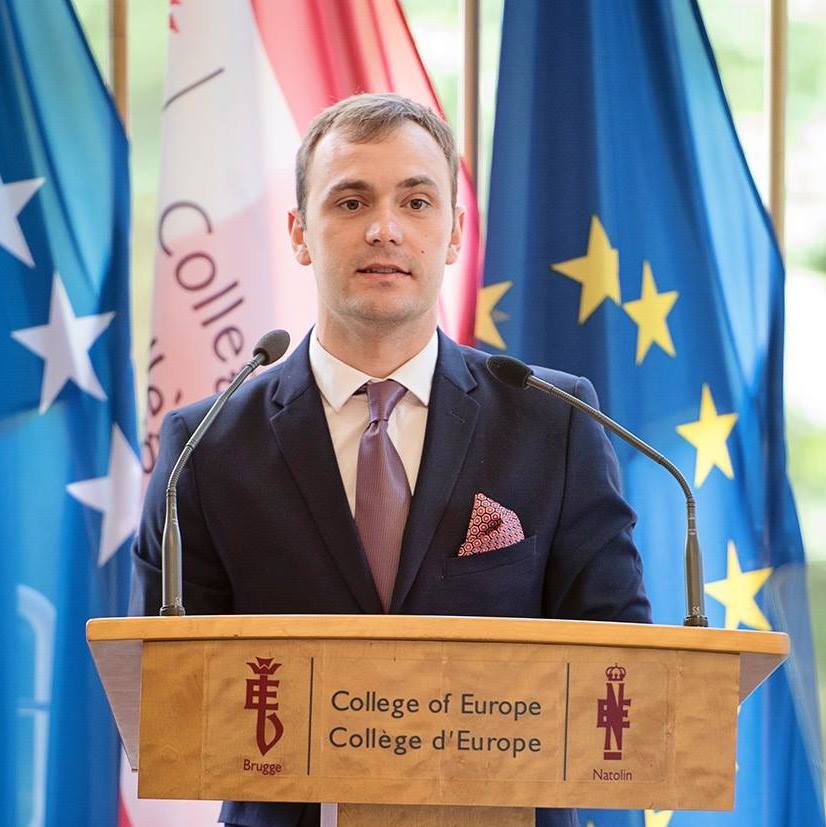 Marian says that studies at such high ranked abroad universities develop teamwork skills, self-studying abilities, public speaking, debating skills, critical thinking, self-confidence, research skills, and many more. "The experience at the College of Europe also taught me stress management, prioritization and self-organisation. It helped me adjust my already formed profile to the Western high work and life standards."
To those young people who are working hard in Moldova and want to get to the next level, he recommends to go for a master's degree abroad. "It will be the element which will complete their profile and prepare them for the international competition and career."
Prior to his master's degree, Marian gained his work experience as a policy researcher at IDIS VIITORUL and as a coordinator at Promo-LEX in the Republic of Moldova.
About the Moldova-EU Association Agreement
"If the current Association Agreement were fully implemented, 80% of Moldova's situation would be adjusted to the European standards. It indeed means that the quality of life would grow as well." Marian claims that the implemented reforms in the justice sector, for example, would attract significant EU funds and foreign investments. "At the EU level, there are enough money, but they don't arrive in Moldova because of lack of structural reforms."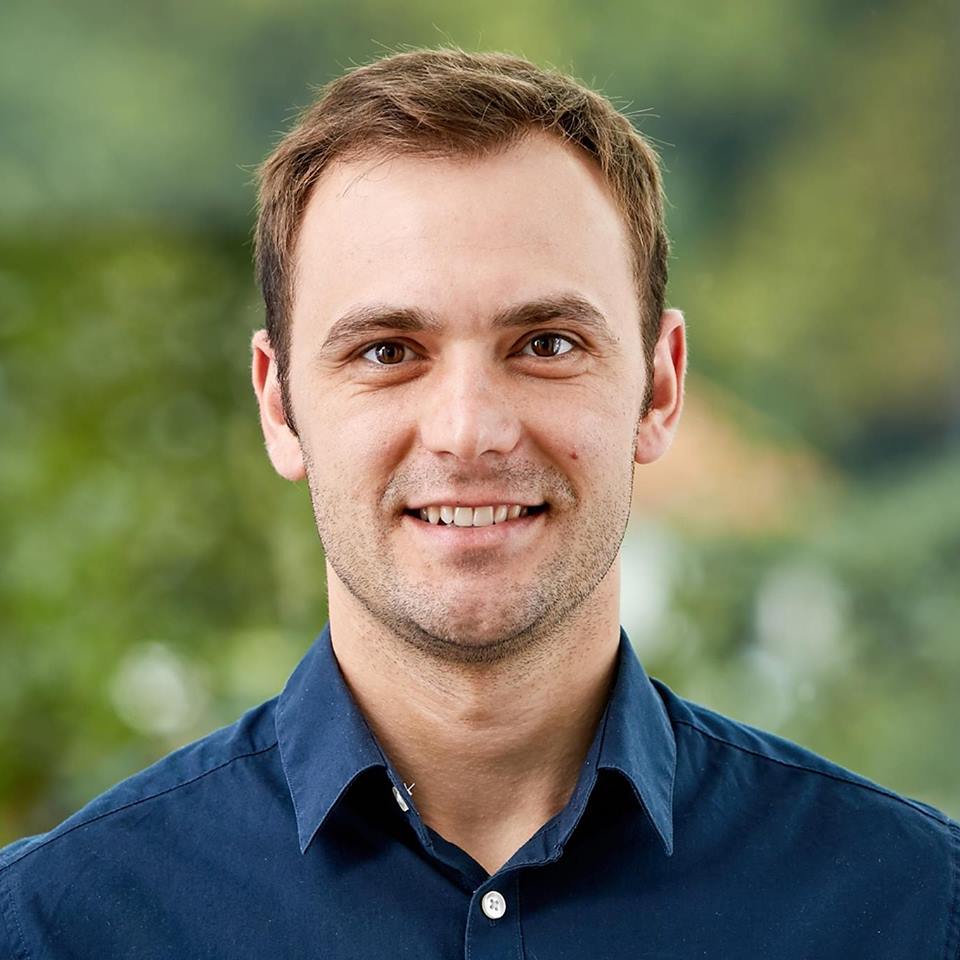 According to Marian, it's good that Moldovans have the opportunities to travel, work and live abroad. Still, as he mentions, without having good living conditions at home, it turns into a negative effect, as people simply leave their country for good. "The Moldovan diaspora has significantly grown in the last 5 years. People settle abroad together with their families, in the countries where they see a future for their children. This is a phenomenon without precedent in the history of the Republic of Moldova and I am afraid of its consequences. So, urgent significant changes in Moldova are needed if we want to still have it populated," he says.
Marian will continue to work hard and look to a brighter future for his country and his family. "I want to profit from every single day and climb another step on my Everest!"
Photos: Facebook/ Marian Cepoi
Stories from diaspora// Doru Curoșu – from a volunteer to a successful trainer, speaker and entrepreneur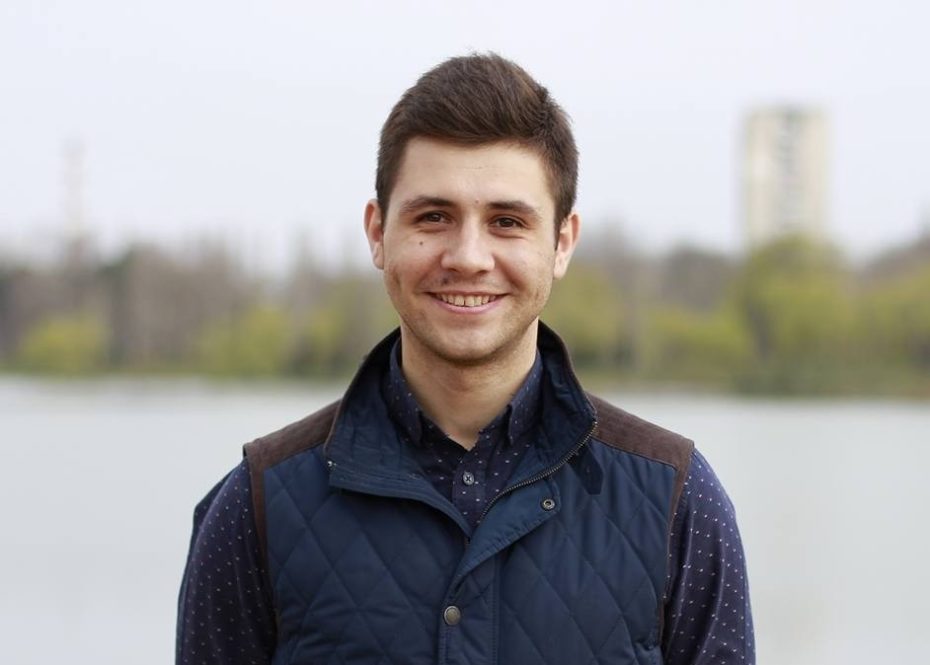 Doru is one of the most dynamic persons you could ever met. He is one of the few Moldovans who were mentioned in Forbes 30 under 30. Over the years, he participated in so many volunteering projects, that I would need some more space here to list them all. Doru is an HR expert, an international trainer and speaker, an entrepreneur, and simply an assertive person who, as it seems, could achieve anything.
About his career 'determiners'
Doru's successful career emerged from his volunteering activity. Indeed, volunteering experience has brought him where he is today.
Doru started his path at the AIESEC organisation. "AIESEC was the first organization I have been involved in since 2009. Actually, my life and work are determined by the values I learned back then. My professional activity is related to what I was doing in AIESEC." Our protagonist was a trainer and a coordinator of several important projects under the organisation's aegis.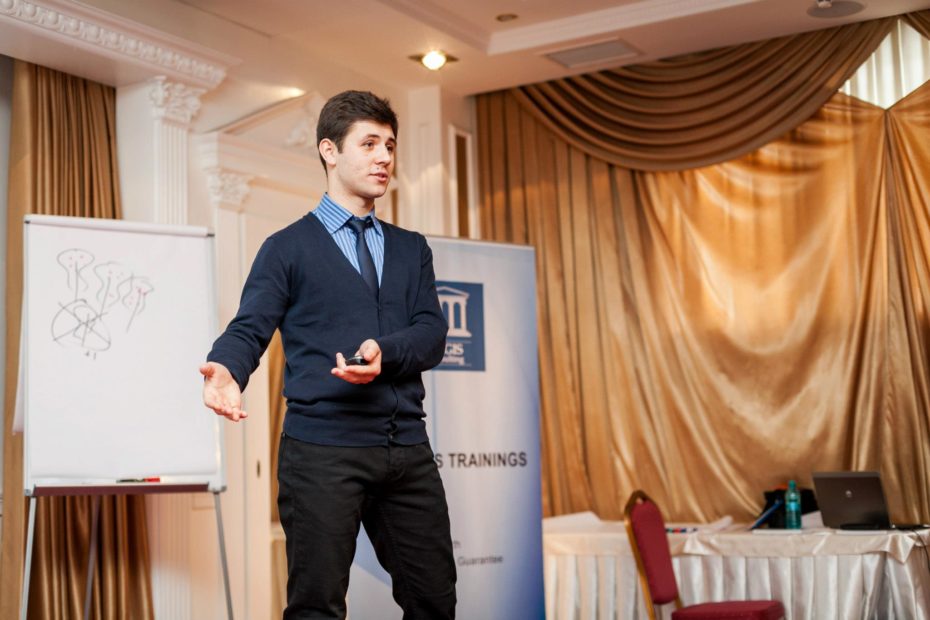 Another crucial experience that served as a runway for Doru's future professional career was his activity within the National Youth Council of Moldova. "There I experienced what it means to be a team manager, a colleague and an entrepreneur. The activity at the Council combined them all and taught me to have an impact while harnessing human capital." Doru says that he was lucky to work in a wonderful team of people with whom he would come back to work together at any time.
Doru has also been a board member of the European Youth Forum where he got useful insights regarding internationalism, globalization, European values ​​and many more. "During four years of volunteering, I have acquired as much information as I could about national and international policies, especially youth policies. I got the chance to travel a lot, discovered new cultures, met new people, got new ideas, which I tried to implement at home afterwards," Doru reveals.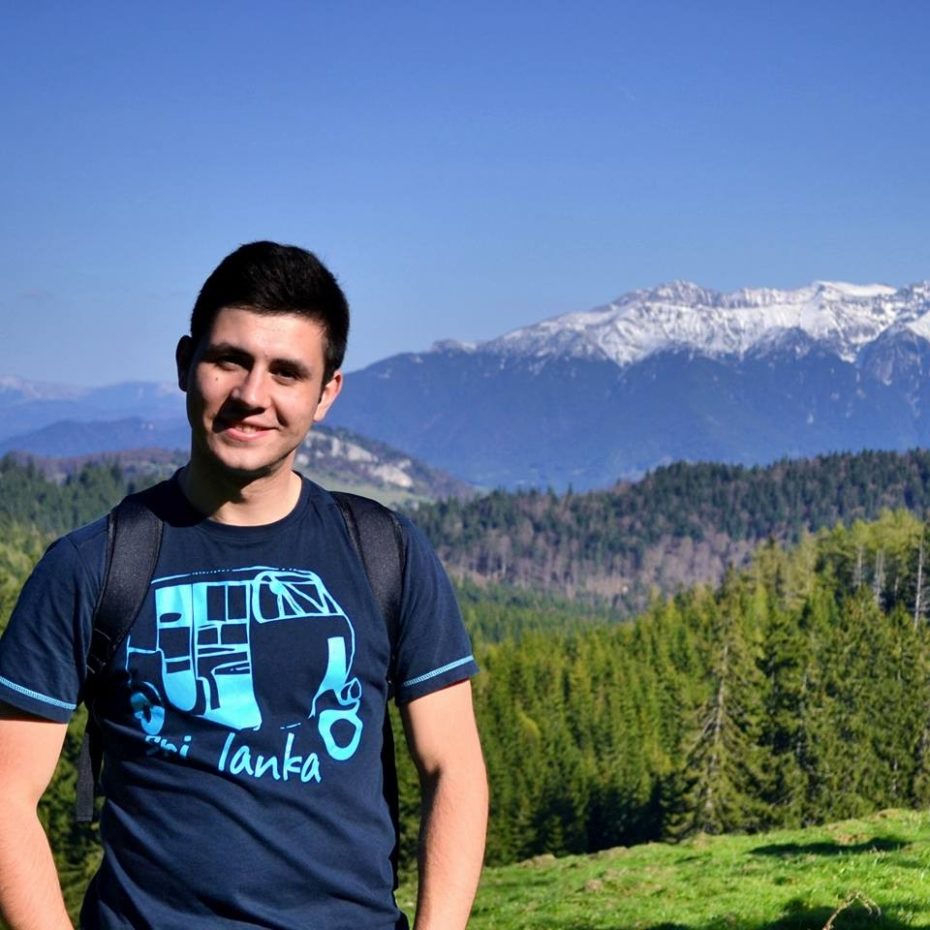 Doru believes that each person is unique in his own way.
"What is important is how the personal capabilities and experience are used to get yourself noticed. I have always tried to be very good in everything I do, to offer quality, enthusiasm, energy and dedication. I like helping those in need and trying to build 'bridges' for a better future for young people. Probably, that's how I made myself noticed, that's how the world got to know me."
There is one more essential determiner of a successful career, according to Doru – the network of contacts. "It has helped me since high school years. In 10 years, each experience has been adding value to who I am and to the way people know me. Every time my work brought results, it was noticed either in Moldova or internationally." Therefore, he was awarded the National Youth Prize in 2013 and was the first Moldovan nominated in Forbes 30 under 30.
About the spectrum of his activities
Besides building his own brand of delivering excellent training and team building services, Doru founded his own company named Camelot. "All the experience I gained as a volunteer was monetized and transformed into a qualitative and unique product on our market. Camelot is the company that offers unique, memorable and impactful experiences for those working with us. We offer training, team building, human resource management and event management consulting," specifies Doru.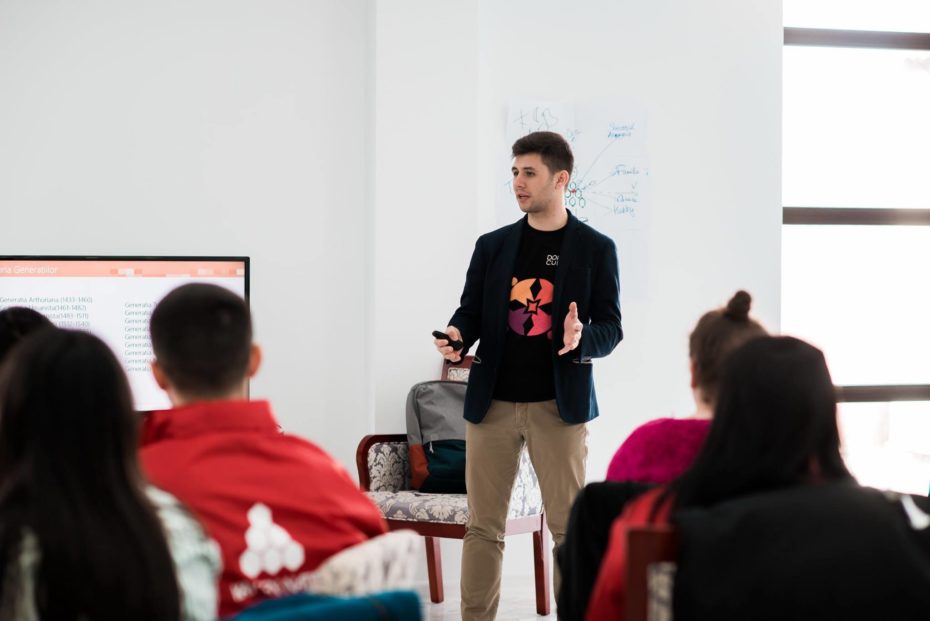 In parallel, Doru is doing his master's degree in Human Resources Management at Babeș-Bolyai University, Cluj-Napoca. He often commutes from Cluj-Napoca to Chișinău and back. When asked how he manages it; he often jokes that he learned teleportation. "I go to classes when I have to present projects, I am in Chișinău for training and team building activities, and I go to Bucharest for meetings with partners and potential clients. I am always on the road." It's not easy for Doru to do it all, still it is very rewarding in the end.
Just like his work, travelling is another 'drug' that gives him energy and inspiration, as Doru states. "The more I travel, the more I want to do it. Every visited country has had a huge impact on me." Until this moment, Doru managed to discover 49 countries and more than 200 cities from Europe and Asia. His personal top of countries is led by Georgia, Portugal and Sri Lanka. "The 50th country has to be very special. I hope it will be Peru, Colombia or India."
About the hidden part of the iceberg
Doru could tell from his personal experience how harsh the public opinion could be in regard to people that don't want to take the ordinary way and how inefficient the educational system in the Republic of Moldova became. Only few know about the challenges Doru had in his effort to combine university, job, travelling, sports and volunteering activity.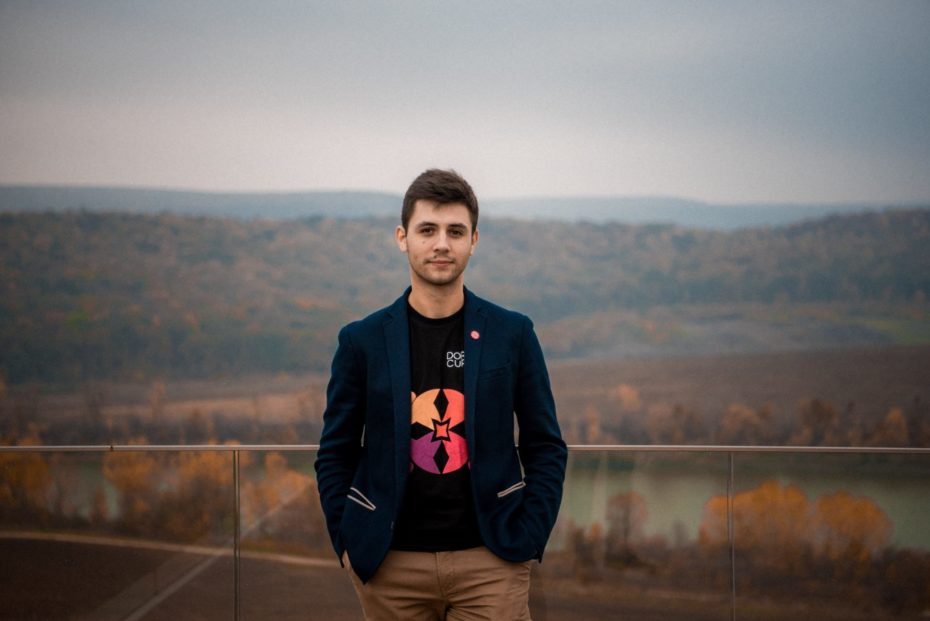 Only few know that our protagonist was forced to confront the traditionalist views of the Moldovan university system. "I had a conflict situation with the university where I was doing my bachelor's degree and, for 8 years, I have been investing my effort in graduating without giving up on our poor education system." He also had to confront some of the most trivial stigmata of the Moldovan society: <<A man has to make money. The rest is a waste of time.>> or <<Forbes? Did they pay you for it? How did it help?>>
Doru preferred to prioritize his own needs and aspirations. "My experience with formal education was not necessarily the most enjoyable, as I am not the person who accepts to waste time on things that do not add value." He considers that young people have to combine studies with other activities in order to be successful. It can be opening own business, volunteering, participating in international exchange of studies and volunteer programs, doing internships, organizing projects, events, etc.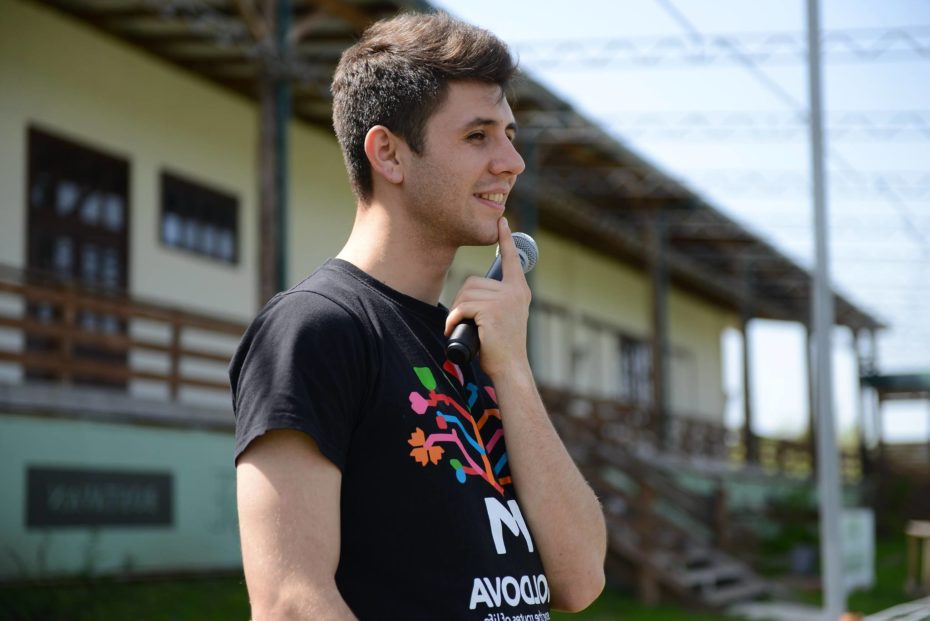 "University provides the theoretical basis. It represents only 20% of your employment portfolio, the remaining 80% comes from practical experience. Young people need education, but with no other experience besides, they will not be able to distinguish themselves on the labour market."
Doru declares himself a happy and a fulfilled person and, at the same time, he thinks there is still room for improvement: "That motivates me to never stop." He says that the key to the balance between personal and professional life is efficient communication. The rest can be managed through patience and hard work.
Photos: Facebook/ Doru Curoșu