Stories from diaspora// Iuliana Motologa – a world-class fashion trainer based in Dubai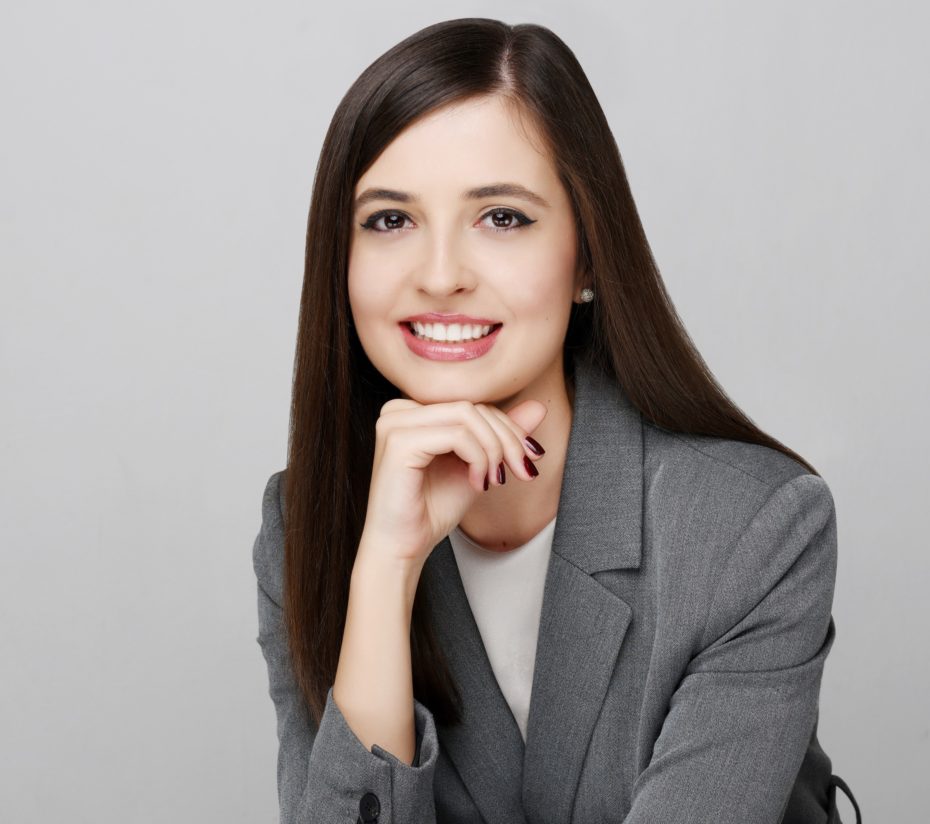 This week, we want to introduce to you a very special girl from the Republic of Moldova. Her aspirations have a very exotic and, in the same time, stylish form, literally, because she lives in Dubai and works for one of the most reputable companies in the fashion industry. Her name is Iuliana Motologa.
For the beginning, we asked Iuliana to describe her personality, as nobody could 'paint' her portrait better than she does: "I consider myself an ambitious dreamer. I am very passionate in whatever I do in life and people who don't share my passion might find me strange and hard to understand." Iuliana puts so much heart and soul in whatever she does. She considers herself loyal, appreciating the same in return. "I have a critical eye or let's call it, a keen eye for perfection that creates a constant inner battle within, between the desired utopia and the acceptable reality. On a different note, behind this determined, self-controlled and independent façade, I am a teenager at heart."
About fashioning her own dreams
4 years ago, Iuliana took an important and courageous decision: doing a master's degree remotely, at the University of Liverpool, along with working at one of the top fashion companies in the world. How was it possible to combine them? "With many cups of coffee and countless late nights," claims Iuliana. "It was a challenging stage of my life that stretched me to the limit and pushed my boundaries further than I could've ever imagined they could reach."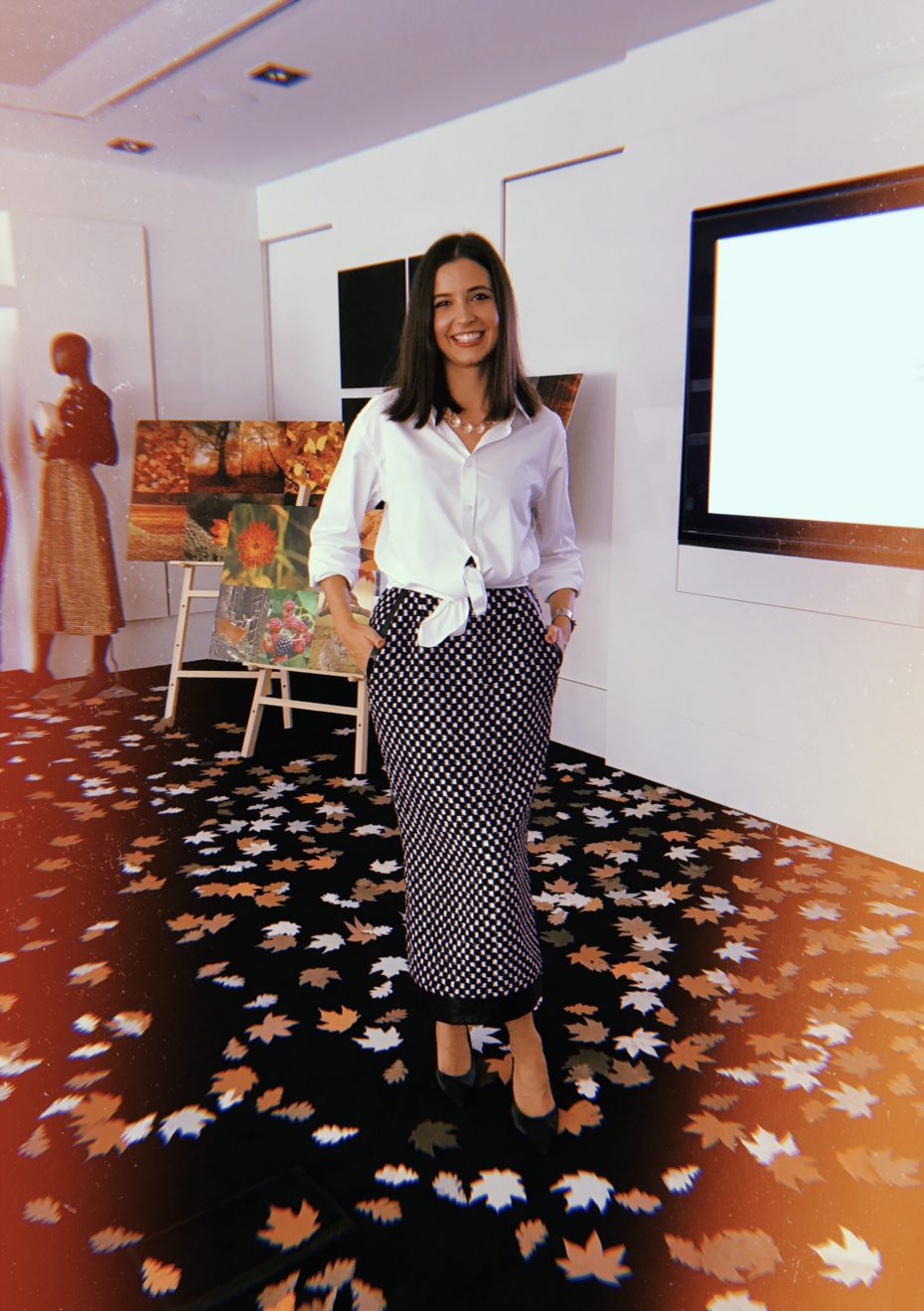 Iuliana always dreamt of having a progressive and smooth learning path, being able to experience the joy and problems of a normal student's life, as she states.
"My case was different, as I chose to be independent, earn my living and invest in my education, rather than await support from my family."
Moreover, it wasn't a sudden decision. It took her around 2 years to understand and decide which path she wanted to follow. First, Iuliana moved to the United Arab Emirates and gained her work experience at a British luxury fashion house. "Having a minimum of 2 years work experience was a criterion for selection in the master's programme I had chosen in marketing, a degree I knew would help me grow in my desired career path," says Iuliana.
All of us know or guess how hard it is to study and work in the same time. As Iuliana told us, doing that in the UAE was even more challenging: "My Master's programme with the University of Liverpool wasn't flexible at all, as some might think when they hear about distance learning. Our programme was well structured, starting with a clear syllabus and ending with precise and strict deadlines. Just to give you some numbers: there were a total of 8 core modules, each one with a duration of 8 weeks and 2 weeks break in between. In addition, we spent 40 weeks on our final project, conducting our own research and writing the dissertation. We used to spend an average of 25 hours per week studying, apart from the 48 hours of work per week, as per the UAE law." A simple mathematical calculation, gets us a result of about 73 hours of work per week, that meaning around 10 hours every single day (!) Would you now say that it was so hard for you to do it?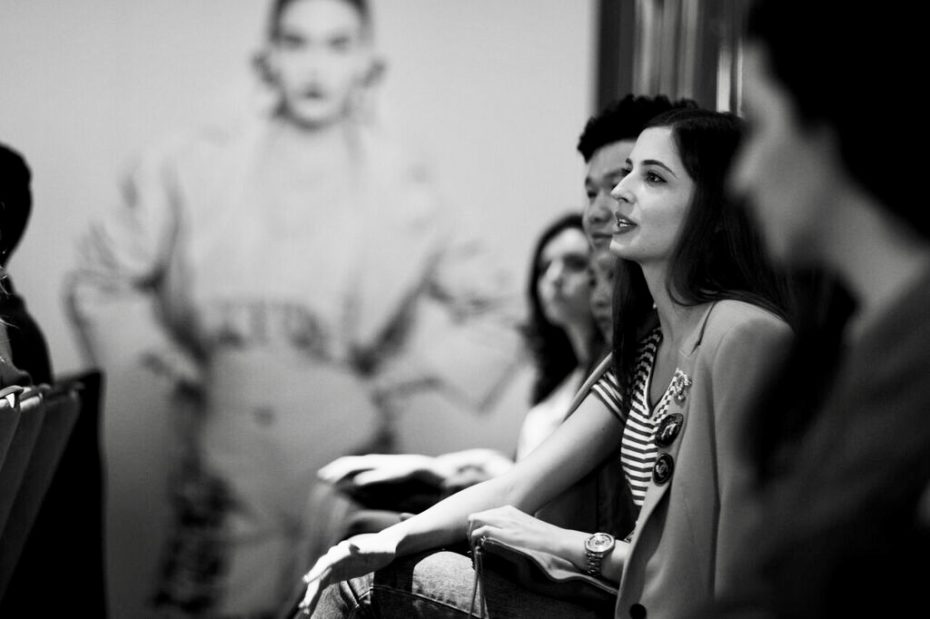 Of course, Iuliana had her own methods to resist to such a workload. "To keep me sane, I was trying to travel as much as I could in the 2 weeks of University breaks, scheduling a holiday from work at the same time. I frequently went on 'wellness retreats' to tropical destinations or to explore new countries," recalls Iuliana.
About the benefits of working as a trainer in the fashion industry
"Ever since I had my first interview with my employer in 2014, I expressed a wish to develop myself in this direction, and I started from scratch, learning everything, as a sales assistant." This is how Iuliana describes her beginnings at the company she is currently working at.
Today, she holds the position of a fashion trainer for Middle East and India. "Now I work for the fashion division, training retail teams on product and brand knowledge with a deep focus on client experience, it's the best job ever! I interact on a daily basis with more than 35 nationalities, people of different ages, cultures and seniority levels, based in several countries across the region. I constantly learn exciting new things about them," claims Iuliana.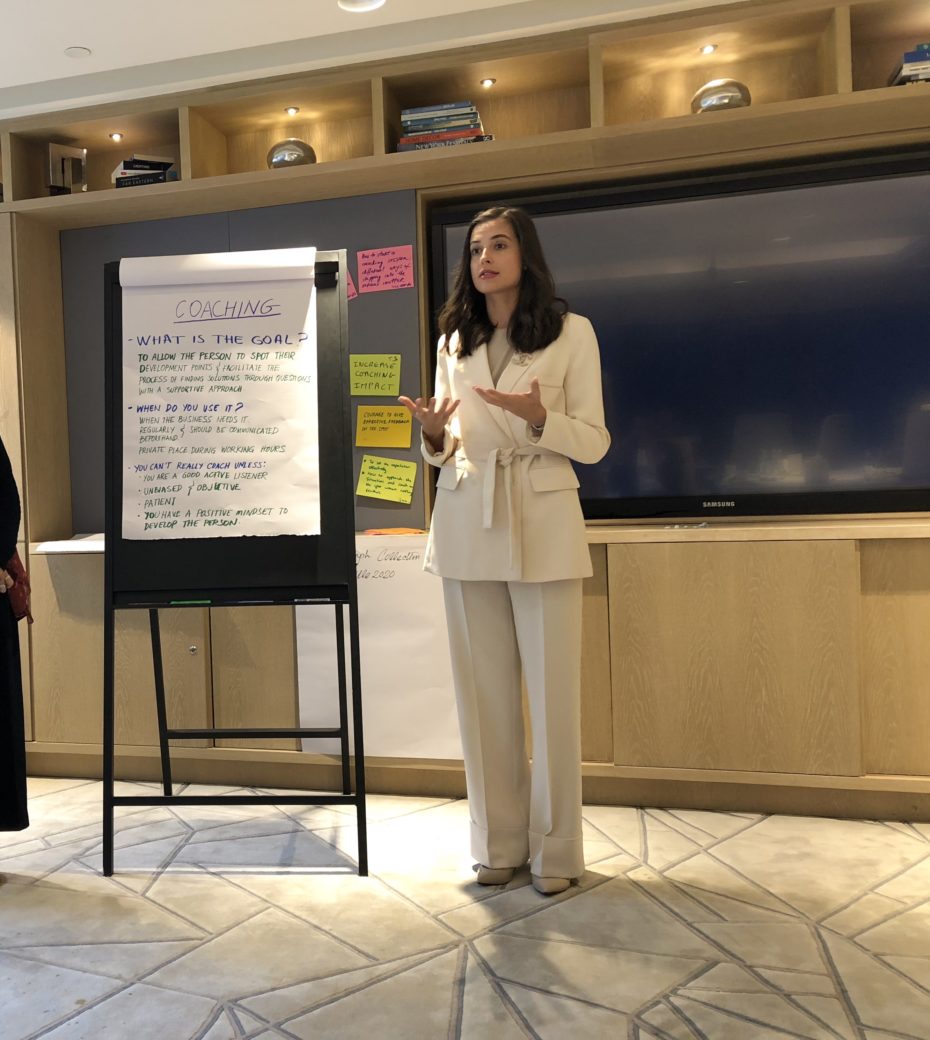 Iuliana discovered her passion for training over the course of working as a sales assistant: "There was no job opening, and I had no idea where my passion will take me. I just continued doing what I loved the most for almost two years, never failing to complete my official job's tasks." And she really loves her job. "What I like the most about my job is that I'm changing my role from coach to trainer and facilitator depending on the situation. The longer I am in the role, the more I realize that my job is not just to pass new information to the audience, but often, to launch new ideas for discussion and facilitate the course of communication."
The main benefits of working for one of the best companies in the fashion industry, according to Iuliana, is to be surrounded by the best people and that every day, she comes to work with positive thoughts and a smile on her face.
Her job enables Iuliana to have an active lifestyle.  "I travel often and even when I'm in the country, I don't sit in front of the computer from 9 to 6. Luckily, my job is dynamic and also creative to some extent, which means I'd be on the phone, driving, changing locations, meeting different people, organizing training sessions etc. 60% of my time is preparation and the rest is delivery."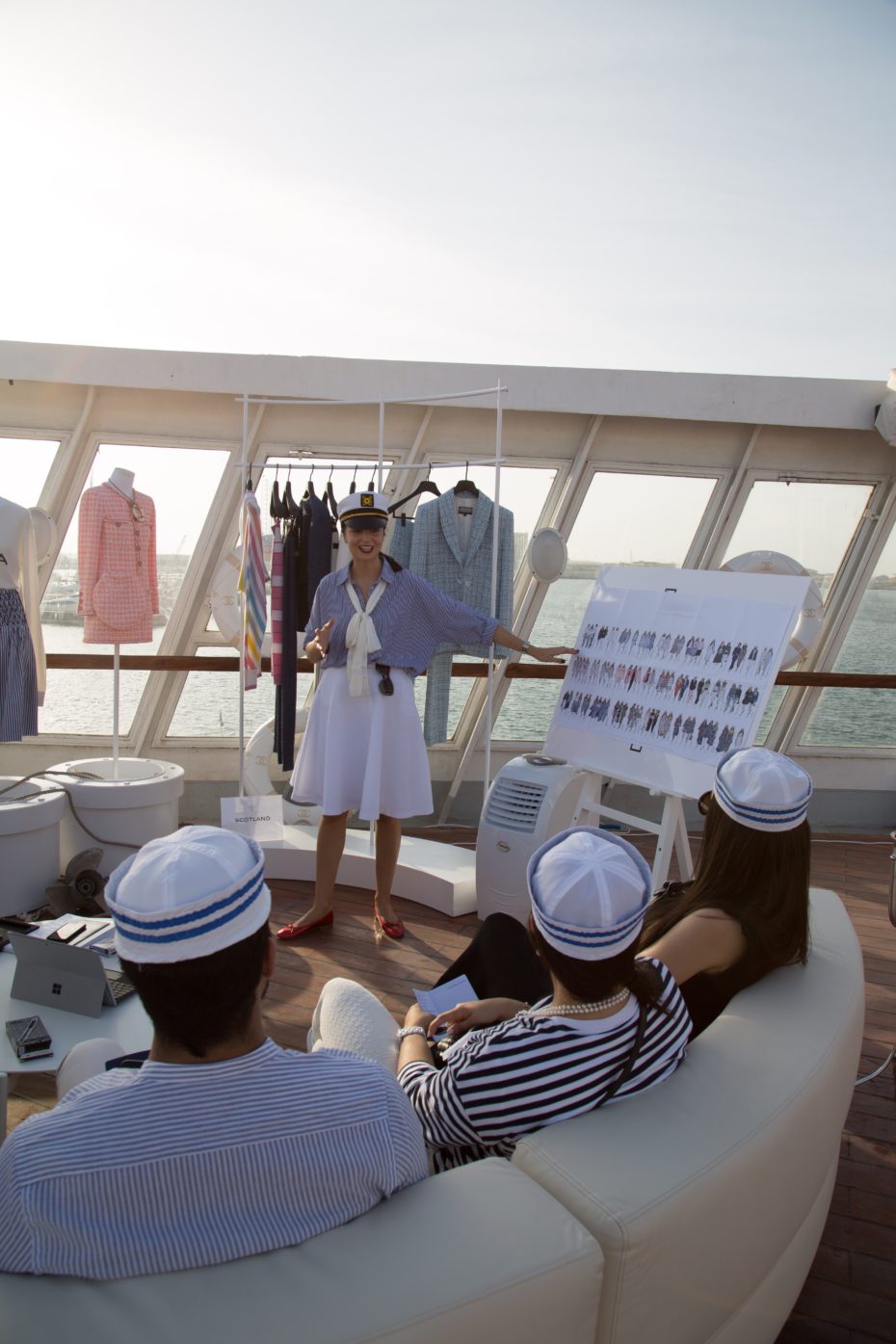 "I'm very lucky to be able to travel for work to places like Beirut, Delhi, Doha, Kuwait, Paris and Amsterdam. At times, I choose to extend my weekend and explore the city. When I come back to Dubai, I prefer to have relaxing weekends, catch up with friends, and go to my Salsa classes." Iuliana reveals that she is in a constant quest for an interesting sport activity, which she would share with a friend.
About living in a completely different world
Iuliana lives in Dubai – a fast-paced city that can host people of any nationality, with any preferences and lifestyle. "There are so many things to try and activities to embrace in Dubai. You can enjoy yoga, surfing, sport kite, Latino dances, horse-riding, dune bashing etc. The comment that most of expats will tell you is that there is not enough time to practice all of them. Time is money indeed and we can all feel it here," states Iuliana.
Iuliana says that a must-have thing in such a city is a car. "The city is spread out. So, having a car is essential for getting around easily although there is a public transport system. It's much more convenient and comfortable to have your own vehicle, especially in the hot summer months."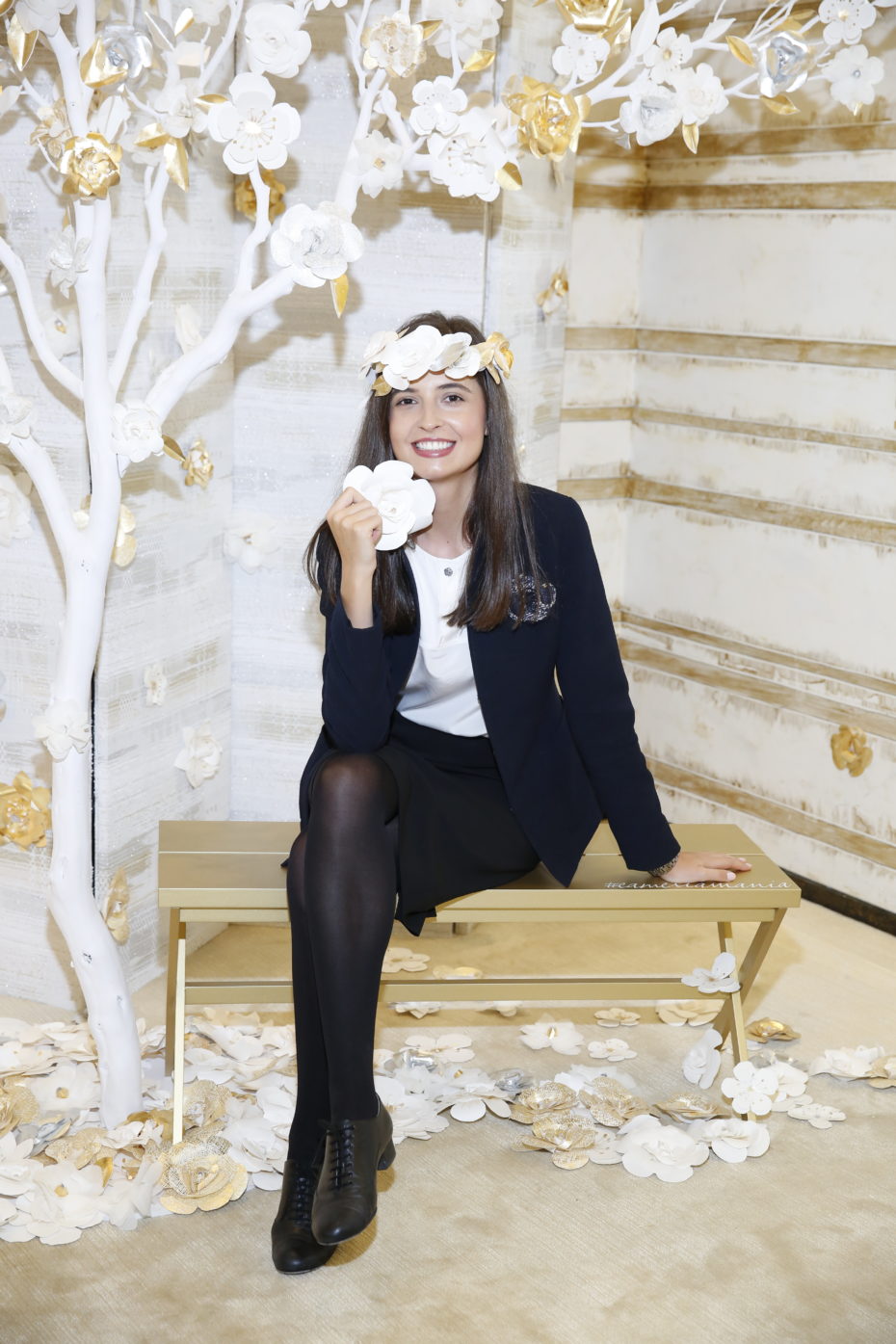 She was only 22 when she moved to Dubai. Iuliana lived in Moldova until she turned 19, went to USA through a summer programme in Texas, studied in Northern Italy for a bit less than a year and had an internship in Switzerland. "The latter one was an eye-opening experience that planted the wanderlust seed in my heart. It equipped me with courage to tap into the Middle Eastern world."
Her views and mindset suffered a big transformation since she moved to Dubai. "I tend to think that this change has left a major footprint on who I am today. I've learned to keep my mind open and my face straight when talking to someone from a different background," she says.
Iuliana entered a diverse new colourful world. "There is not one single Arab culture. There are multiple cultures that translate in different behaviours, dialects, and traditions within this region. The Arab world is composed of so many countries from North Africa to the Asian continent, and what was a surprise for me is that, sometimes they don't even understand each other's Arabic sentences because of the dialect. The Gulf countries remain a mystery for me, as I had only professional interaction with true locals, but I can tell you about Lebanese, Syrians, Egyptians, Jordanians, Palestinians, Moroccans, Iraqi, Iranians who have one thing in common: the love for food, and their food is absolutely delicious!" Our protagonist says that she was able to give up on the traditional Moldovan "plăcinte", for the food she tried there.
People of Arabic cultures are friendly, light-hearted, and very warm, as Iuliana states.
"They are very passionate (pretty much like me), but short-temper people. You'd hear many times them saying: "do not awaken the Arab within me."
Still, there are things she didn't manage to get used to: "Until today, I can't get used to the fact that the work week starts on Sunday and ends on Thursday."
About her short escapades to Moldova
"I come back home once every 4-5 months to see my dear family. Luckily, they are all in one place, so I get to see them all at once. Most of my friends have moved abroad though, and we try to meet regularly somewhere in Europe." Iuliana prefers coming home in summer or for New Year. "All of my trips back home must include a visit to one of the wineries, or a rustic restaurant somewhere outside Chișinău. I enjoy taking my family out and pampering them while I'm at home."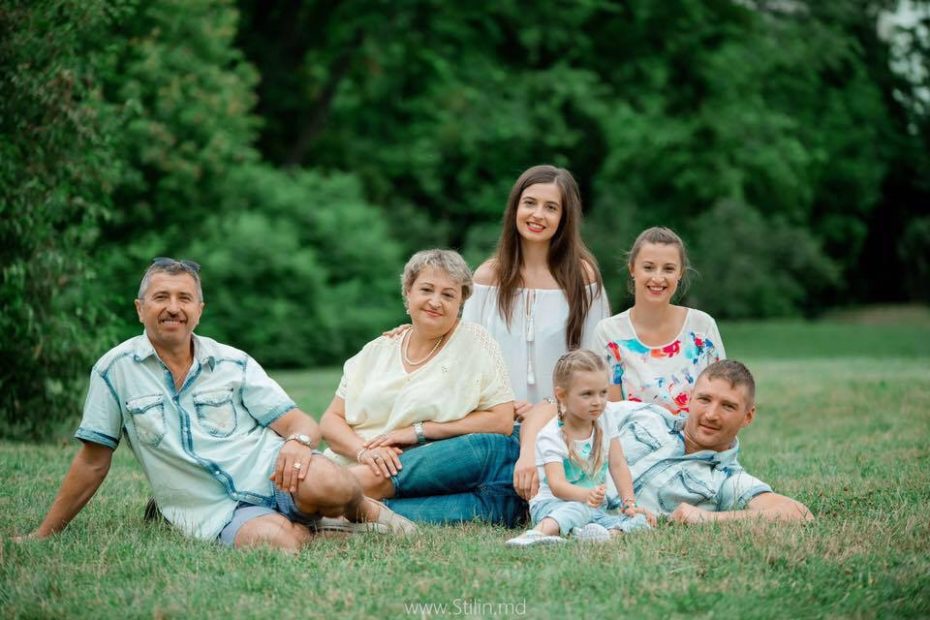 Iuliana highlights the big contrasts between Chișinău and Dubai in terms of nature and the taste of fruits and vegetables in summer. "The number of trees and the intensity of the fresh air is something I can't neglect when coming from Dubai to Chișinău. The flavour of our fruits and vegetables in summer and all the organic options sold in the outdoor markets is something I constantly long for while living in Dubai." Yet, the gloomy atmosphere is noticed by Iuliana as well: "When I'm in Moldova, I can sense a deep melancholy and nostalgia surrounding people passing by."
About her future plans
Iuliana is not going to leave Dubai any time soon. "Dubai has been my settled place for a longer period of time (5 years and a half now to be exact). This place has offered me so many opportunities I could maybe only dream of at my age."
"I've invested so much of my time and efforts into what I have now, that for the moment, I just want to enjoy the fruits of my work without thinking of where is 'next'? Unless an opportunity falls on top of my head out of nowhere."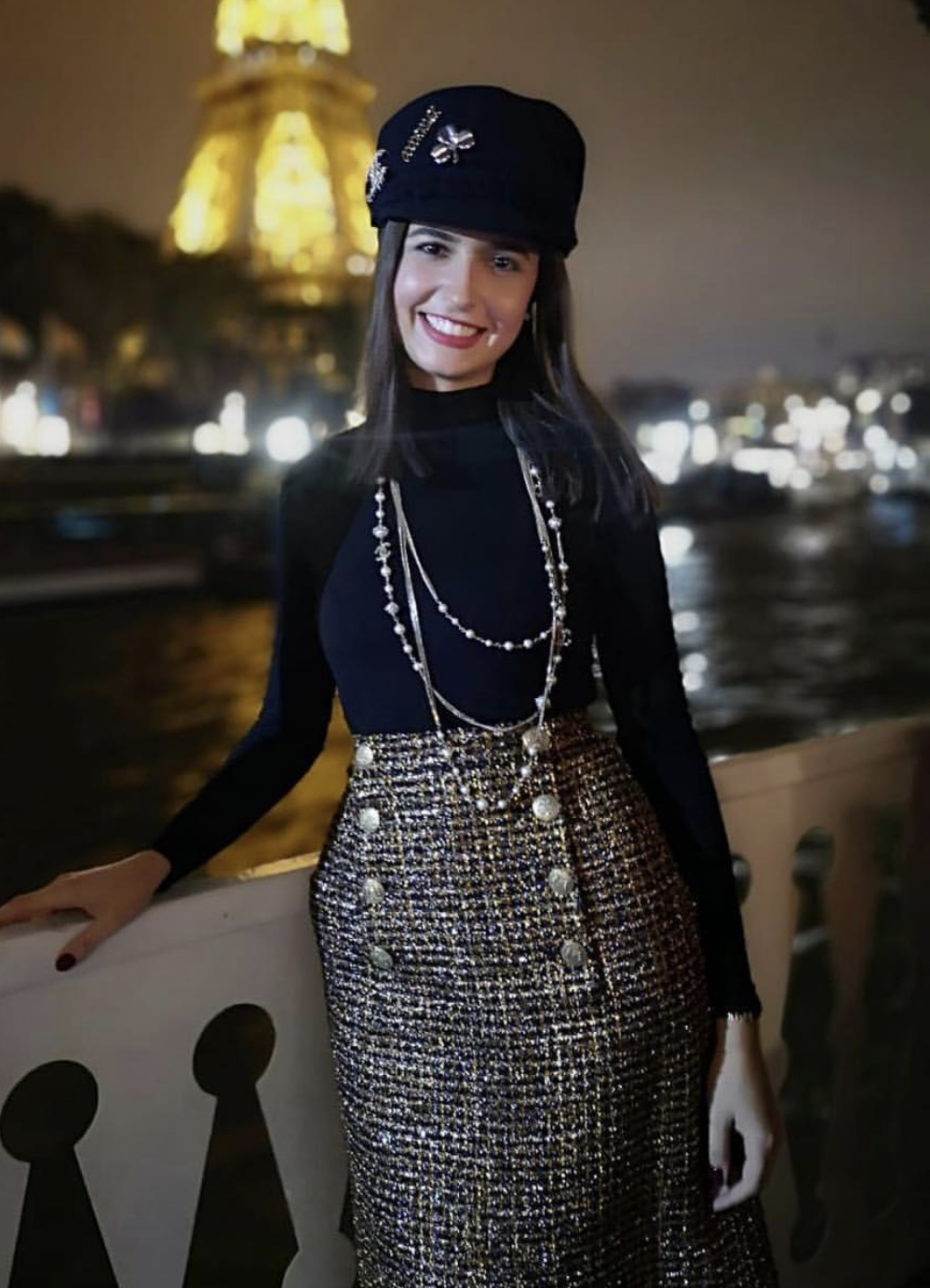 As Iuliana says, a lot of things have changed as compared to 8 years ago when she would've left everything to move to the US. "I don't think and wish the same anymore."
For now, she dreams of learning horse riding and eventually buy a horse. "My father might laugh while reading this, because this is what the 5 years old Iuliana always wanted. I would love to learn how to ride a horse professionally and even buy my own horse eventually." There is one more thing: "I want to ensure a peaceful life for my parents and show them the world. I'm determined to do that."
Photos: personal archive
How much alcohol do Moldovans consume? The repercussions and solutions of this problem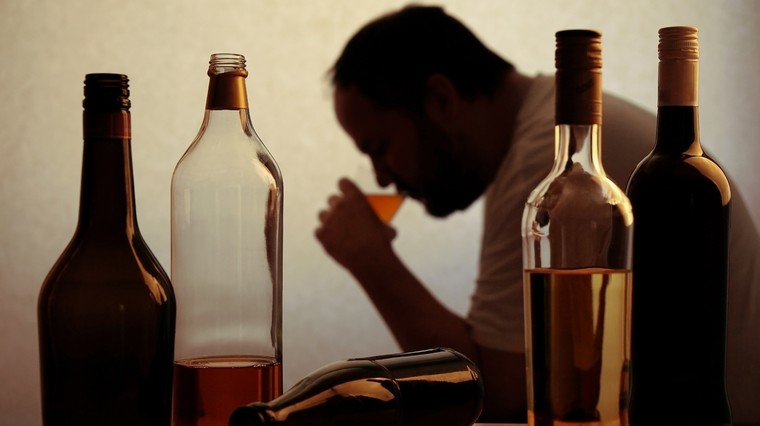 The Republic of Moldova is one of the few countries in this world that celebrates the "National Wine Day". The celebration is organised every year on first weekend of October. Thousands of people gather, at that time, in the city centre of Chișinău to taste newly appeared on the market, as well as popular types of wine produced by wineries from all over the country. The fete of 2019 hosted 68 wine producers.
At the same time, the World Health Organisation (WHO) Global status Report on Alcohol and Health for 2018 says that Moldova has the highest levels of alcohol consumption per capita in the world. Even though the trend of alcohol consumption in Moldova is decreasing, as it dropped from 21.6 litres per capita in 2005 to 15.1 litres per capita in 2016 for persons over 15 years, that still does not remove it from this top.
According to the report, Moldovans mostly drink wine – 57% of their consumption is represented by wine, followed by 25% spirits and 16% beer.
Alcohol and health
It is not as important to analyse the quantity of the drunk alcohol, as the way it is consumed and the effects on the population. Therefore, the same WHO report states that, in 2016, 1907 persons out 100 000 died of liver cirrhosis, 188 out of 100 000 died of road traffic injuries and 799 out of 100 000 died of cancer. According to national statistics, there were also recorded 3.5 deaths per 100,000 people caused by alcohol intoxication in 2016.
Alcohol is the cause of over 200 different diseases, including: neuropsychiatric disorders (epilepsy, depression, anxiety), digestive disorders (alcoholic liver cirrhosis, acute and chronic pancreatitis, alcoholic gastropathy), cancers (of the digestive tract and breast) or cardiovascular diseases (ischaemic, hemorrhagic, hypertension). Sexual dysfunctions are also very common – impotence for men and frigidity for women. When consuming an excessive amount of alcohol, the general tone of the body decreases, the interests, the goals in life disappear.
Alcohol abuse by pregnant women presents an essential danger to the unborn child. When a pregnant woman drinks, alcohol is accumulated in the fetus's body. The toxic effect is extremely high during intrauterine development, causing irreversible damage to the central nervous system of fetus: neurons do not develop properly, some cells are destroyed, others develop abnormally, as Ministry of Health is warning.
Alcohol and teenagers
Young people alcohol consumption is another alarming phenomenon in the Moldovan society. The data (the 2015 ESPAD Report) shows that, in Moldova, 82% of pupils in 8th and 9th grades have consumed alcohol at least once in their lifetime. About 9% of them declared that they already suffered an alcohol intoxication.
Alcohol and drivers
This year, traffic police officers discovered 3751 cases of drunk drivers. Because of drunk drivers, 30 people lost their lives on the country's roads, and 134 suffered traumas. According to the National Patrol Inspectorate, the information campaigns, operations and sanctions applied by the police seem to be ignored by the drivers, which endanger the safety in road traffic.
Alcohol and violence
In addition to the impact on health and high risk of causing traumas, the excessive alcohol consumption may have dramatic social consequences, such as relational problems (deterioration of family relationships, separation, divorce, abuse and neglect of children), loss of friends, material difficulties, loss of work, loss of home, social exclusion, legal issues (fines, imprisonment), inappropriate sexual behaviour (unprotected sex, rape, unwanted pregnancy), etc.
According to the WHO report, men consume 4 times more alcohol than women. Therefore, the consumption of alcoholic beverages increases the risk of domestic violence, especially towards women.
A report from 2011 on violence against women in the Republic of Moldova shows that 79% of respondents consider excessive alcohol consumption to be the main cause of domestic violence and a share of 38.7% of women in Moldova are victims of physical violence because of their consuming alcohol husband, whereas 50,4% of women are victims of sexual violence. Even though the data may be a bit outdated and the situation could have been improved in the meantime, the numbers are more than alarming.
Identified solutions
Moldova has a national policy regarding alcohol consumption, implemented excise taxes on alcohol and restrictions for selling alcoholic beverages. In 2012, the Ministry of Health adopted an eight-year national plan to ban certain advertisements, raised taxes on hard liquor, restricted sales hours and raised the legal drinking age from 16 to 18. Also, the government reduced the legal blood alcohol content, made penalties more severe and increased breath testing.
Various measures are tried to be implemented by the local authorities as well. In 2018, the former mayor of Puhoi village, Petru Frunze, promoted an innovative project. He invited 20 alcohol addicted persons to sign an agreement with the mayor's office, which obligated them to stop consuming alcoholic beverages for half a year. Instead, he promised them jobs and cash prizes worth 1,000 MDL.
The purpose of the initiative was to determine capable to work but alcohol-dependent citizens to be hired and work, thus to reduce domestic violence. Petru Frunze believes that in order to solve the problem of alcoholism in the country, a specialised institution must be created, as Moldova.org reported.
"There should be someone who always watches over them, because otherwise they fall into temptation. It would be good to have an institution at the national level to deal with such things, to develop rehabilitation programs for alcohol addicts. In addition, the problem begins in the teenage years. Even if young people are graduating, they are not encouraged to start to work. There are many jobs that are not so well paid, but still a salary of 5,000-6,000 lei is a better alternative than becoming alcoholic. The state must get involved."
Currently, the project is no longer carried out in Puhoi. However, it may serve as a good example of trying to solve such social problems on the local level.
Last year, the National Probation Inspectorate, which aims to implement the measures of reintegration of the Moldovan offenders in the society, set up a method to fight drunk or drugged drivers: their driving licences are withdrawn. In order to recover them, drivers have to take special courses.
The program was called "Drink & Drive" and started in March 2019, including 12 sessions. During two of them, the beneficiaries go to the Legal Medicine Centre and the Emergency Hospital. They participate in the autopsy process and even wash the bodies or their places of storage, and in case of emergency, they must provide assistance to road accident victims.
At the same time, the National Police of Moldova launched a telephone line (067 112 902) exclusively for the notification of the Police regarding the cases of drivers driving or attempting to drive their cars while being drunk.
A still existing problem
According to Time, accurate figures for Moldova are hard to reach because up to 70% of consumed alcohol is homemade wine. At the same time, while taxes on hard liquor were raised, beer and wine are still cheap. There is no legal requirement of asking beer and wine consumers to present their ID in Moldovan pubs and bars.
Moreover,  the existing regulations are not effectively enforced. For example, most bars and supermarkets don't care about the legal time restrictions, nor the about the legal age limits, especially in the countryside.
The law on preventing and combating domestic violence in Moldova still contains lacuna and is not fully enforced to fight this phenomenon.
Photo: time.com
A new documentary about the Soviet past of Moldova will be soon released – "The Soviet Garden"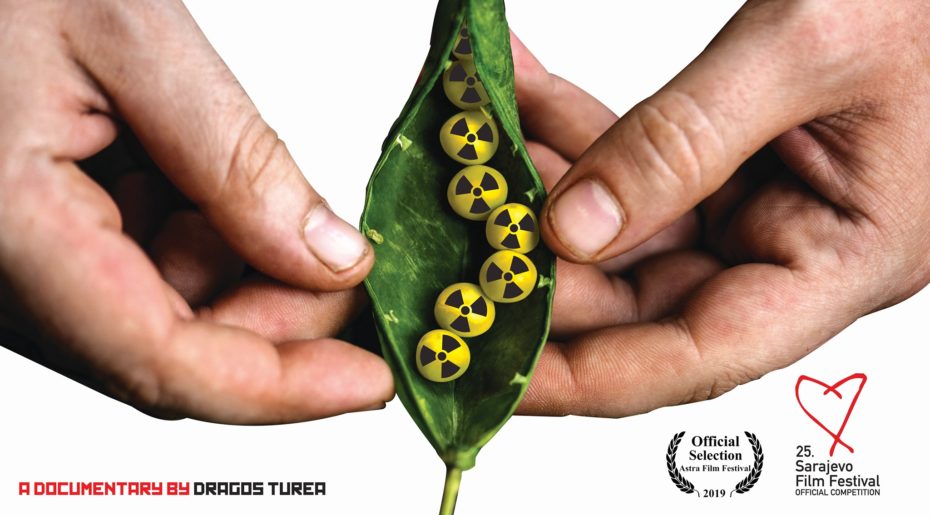 "The Soviet Garden" is a documentary about a filmmaker from Moldova who was investigating the Soviet experiments in atomic gardening. While inspecting his grandmother's mysterious death, Dragos Turea, a filmmaker from Moldova, discovered a secret scientific experiment – the plan of Nikita Khrushchev to transform Moldova into a Soviet Garden through the application of atomic energy in local agriculture.
From the moment Nikita Khrushchev decided so, the Moldovan soil was supposed to radiation experiments. The radiation was used to cause mutations in seeds and fruit to obtain crops that are more resistant to climatic conditions or are of higher volumes. All for the sake of harvesting an unprecedented crop, which will feed the whole Soviet Union. "To get water for irrigating the fields, even the rivers were forced to run up the hill," says Dragoș Turea in the documentary. There were always goals to be reached, records to be exceeded in the Moldovan Soviet Socialist Republic.
People here were very proud that they deceived nature and executed the Communist Party's order to grow high volumes of crop, in order to feed the Soviet working class. The price for those experiments is paid today – radiation infected lands, population still being kept uninformed, more and more people suffering from cancer, infested equipment hidden in bunkers, reduced biodiversity, lost seed heritage… Many of those who were involved in those experiments have died very early.
Produced by Parmis Film Studio and RovaFilm, directed by Dragos Turea, "The Soviet Garden" had its world premiere at Sarajevo Film Festival, which was organised from 16 to 23 August, 2019. On October 31st, the movie will be released in Moldova. The premiere will be at the Patria Cinema.
This is an unique chance for people of Moldova, as well as people from abroad (as the movie will have English subtitles) to get to know more about atomic gardening in Moldova, a phenomenon that was hidden from the public, and maybe to reflect more about the relationship between ecological problems and politics.
The trailer of the documentary:
More information here.
Photo: Facebook/The Soviet Garden
Interesting facts about Chișinău on its Annual Fete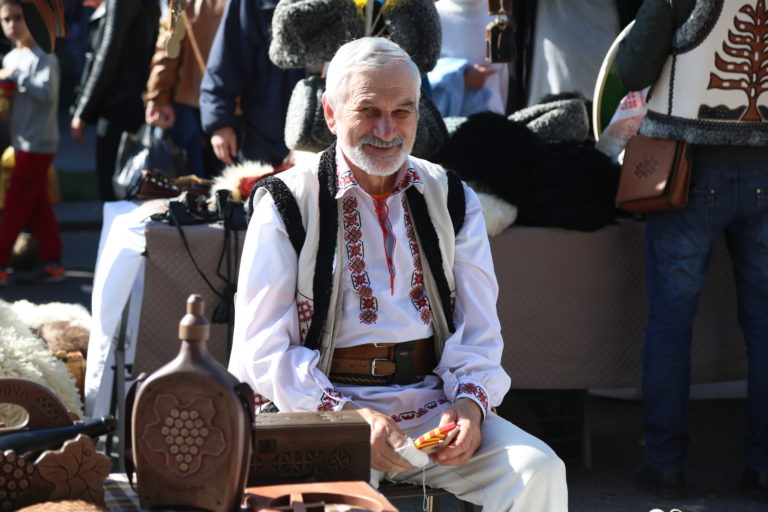 Every year, on October 14th , the residents of Chișinău celebrate the Annual Fete of the city. You can find below some interesting facts about the celebration of this day and about the history of the capital city in general.
Every year, besides the usual festivity organised in the city centre of Chișinău, a religious ceremony dedicated to the celebration of the feast day of the "Nativity of Lord" Metropolitan Cathedral is conducted.
Another tradition, on Chișinău's Annual Fete, is the laying of flowers at the monument of the Ștefan cel Mare in the centre of the capital, at 8 a.m.
Even though the actual anniversary of Chișinău must be celebrated on July 17th, as the locality was documentarily mentioned for the first time on this date in 1436, it is still used to count its age in October.
This year, a wide range of cultural, social and artistic manifestations were organised: exhibitions of crafts, florist, books, paintings and graphics, a musical-choreographic show, food courts, the Municipal Merit Award hosted by the Organ Hall, recitals of a choir from Estonia and a music school from Israel, entertainment activities for elder people, musical shows and concerts with the participation of national and international singers, folk music orchestras, as well as a marching band from Romania. The scheduled events end at 11 p.m. with a firework show.
The Annual Fete of Chișinău is celebrated since 1995, when Serafim Urecheanu – the mayor of that time of Chișinău – decided to do so. Initially, it was celebrated on the first Sunday of October. The situation changed due to a decree signed by Vladimir Voronin, the country president back then, who decided to organise the "National Wine Day" on the first Sunday of October. Thus, the municipality had to find a solution to separate the two holidays. The moment happily coincided with ending of the renovation works of the Metropolitan Cathedral, "The Birth of the Lord" on October 14th, 2001.
The Annual Fete of Chișinău is celebrated on the same day as the Annual Fete of Tiraspol and Iași.
Chișinău became the capital city by the decision of Metropolitan Gavriil Bănulescu-Bodoni and the senator of the city in 1818.
The capital city has a population of 844 605 people, out of which 30893 are children, according to data from the State Register of Population.
There are 215 282 cars and 292 900 apartments registered in Chișinău.
The longest street in the capital city is the Muncești street, having a length of 13 km, the shortest one – Valeri Cikalov street, which has 41 m.
About 7% of the total area of the municipality is occupied by green areas and 2.3% is covered by water, that means about 3 square meters of green land for each resident of the city.
Also, the capital of the Republic of Moldova is twinned with 16 other cities from different countries of the world such as: Odessa, Iași, Ankara, or Grenoble.
More facts about Chișinău can be found in the infographic made by TV8.
Photo: zdg.md