Vadim Krasnoselski won the so-called presidential elections by 62,3% in the Transnistrian separatist region of Moldova, reports novostipmr.com.
Former speaker of the Supreme Soviet of the un-recognized Pridnestrovian Moldovan Republic (PMR) won 157410 votes of the people of Transnistria.
Former president Evgeny Shevchuk got 27,38%, Oleg Horjan- 3,17%, Vladimir Grigoriev- 0,67%, Irina Vasilaki- 0,6%, Alexandr Deli- 0,55%. 3,4% or 8593 people voted against everyone.
The total turnout at the elections constituted 59,16%.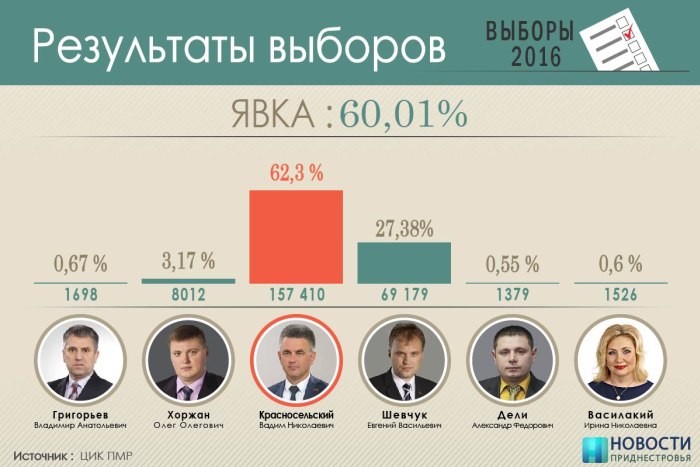 On December 12th, Krasnoselski came with a statement on his election and his priorities as president of PMR. He thinks it is necessary for Transnistrian economy to integrate in the "Eurasian and Russian economies", which it should form strong economic ties, so that the political ties become tighter.
Speaking about Ukraine and Moldova, Krasnoselski said he would build "good neighborly relations" with focus on economical, humanitarian and cultural domains, but especially on the political recognition and status of the region.
The President-elect of the Republic of Moldova, Igor Dodon, "sincerely" congratulated "Vadim Nikolaevich" on the victory and expressed his belief that the election would open a new page of the relations between Chișinău and Tiraspol, hoping for a meeting in the "following weeks".

Ion Tăbârță, political expert at IDIS Viitorul, declared for Moldova.ORG that the election of Krasnoselski would possibly move the cold relations between Chișinău and Tiraspol. This would be the case because the newly-elected Transnistrian leader is close to Sheriff corporation, which is now interested in opening the market to the European Union through Moldova. Tăbârșă thinks that Kremlin will still hold power in the region in the geopolitical issues, even if Krasnoselski will be against some moves.
Moldova former Reintegration Ministers, Eugen Carpov (2011-2014) and Vasile Șova (2002-2009), declared for Deschide.md that the dialogue on the conflict settlement would be continued, despite possible hesitations of Krasnoselskii, but the relations with Chișinău would not change, let alone Transnistria's geopolitical course. Carpov emphasized that the elections do not actually hold any legal basis, since they took place in a ", self-proclaimed, un-recognized, anti-constitutional area".
Vadim Krasnoselski, 46, previously held position of president of the administration council of local mobile network company Interdnestrkom, part of Sheriff corporation. General of the local militia, Krasnoselski exercised the function of Interior Minister during the presidency of Igor Smirnov, between 2007 and 2012. According to RISE.md, he is intensely promoted by TSV, a local TV channel created by Sheriff founders Victor Guşan and Ilya Kazmaly.
The Pridnestrovian Moldovan Republic declared its independence from the Republic of Moldova in 1990 and insisted on it in the 1992 war with the Moldovan constitutional authorities. PMR was not recognized by the United Nations and not even by the Russian Federation, who de-facto controls and supports, politically and financially, the region.